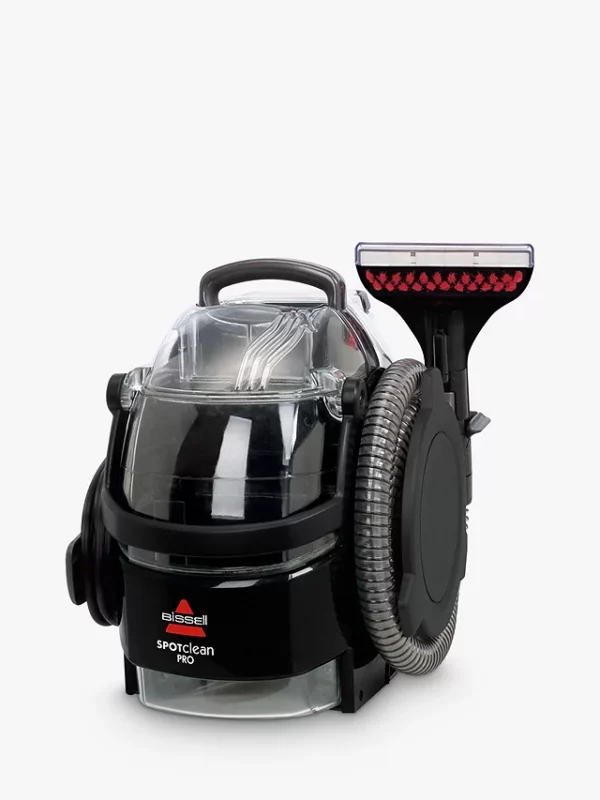 BISSELL SpotClean Pro Spot Cleaner
Description
BISSELL SpotClean Pro Spot Cleaner
Spots and stains disappear in seconds with the BISSELL® SpotClean™ Pro, wherever they are. The lightweight, portable design allows you to remove stains from stairs and upholstery as well as carpets and rugs. The SpotClean™ Pro comes with an extra-long power cord plus a selection of brushes to remove 'just happened' stains as well as older, ingrained marks wherever they may occur.
Emergency Spot Cleaning
The SpotClean™ Pro quickly and easily lifts away spots, spills and stains – use on carpets, rugs, upholstery, cars and more.
Powerful Performance
750W of powerful vacuum suction, combined with the brushing action and cleaning solution removes dirt and stains with ease.
Clean Anywhere, Anytime
The 1.5m long hose and 6.5m long cord give you the range to clean every corner of your home and even reach to the car, whenever you need to.
Large Capacity Tanks
The clean and dirty water tanks can hold 2.8L each, for less trips to the sink. Their easy-grip design allows for a quick fill and an easy empty of each tank.
Lightweight and Compact
The compact design is lightweight, for easy storage in small spaces when not in use. The water tanks are removable so you only need to take the tank to the sink – not the entire machine.
Includes BISSELL Formula
| Winner Name | Ticket Number | Draw Date |
| --- | --- | --- |
| Megan Barratt | 409 | 01/09/2022 |
| Ticket Number | Date | Name |
| --- | --- | --- |
| 1 | 2022-08-31 21:22:08 | Natasha Cleave |
| 2 | 2022-08-24 17:24:14 | Frances Miller |
| 3 | 2022-08-30 23:10:16 | Kelly A Russell |
| 4 | 2022-08-23 09:49:43 | Philippa Lohmeyer |
| 5 | 2022-08-23 12:27:00 | Robert Cox |
| 6 | 2022-08-30 22:26:36 | Holli Sherratt |
| 7 | 2022-08-31 14:12:26 | Amy Barr |
| 8 | 2022-08-31 21:22:08 | Natasha Cleave |
| 9 | 2022-08-31 19:36:56 | Alan Clarke |
| 10 | 2022-08-30 16:53:03 | Heather Baker |
| 11 | 2022-08-27 15:01:25 | Paul Goodenough |
| 12 | 2022-08-26 21:13:07 | Katie Kelly |
| 13 | 2022-08-27 15:01:25 | Paul Goodenough |
| 14 | 2022-08-23 07:32:19 | Juliet Phillips |
| 15 | 2022-08-31 20:30:20 | Danger mouse |
| 16 | 2022-08-31 19:52:23 | Caroline Wiltshire |
| 17 | 2022-08-31 08:49:09 | Zoe Tribble |
| 18 | 2022-08-23 12:32:08 | Robert Cox |
| 19 | 2022-09-01 09:14:20 | Alysia Bates |
| 20 | 2022-08-31 19:52:23 | Caroline Wiltshire |
| 21 | 2022-08-23 20:17:21 | Lisa Roberts |
| 22 | 2022-08-31 21:34:35 | Jenny King |
| 23 | 2022-09-01 09:25:37 | Natalie D |
| 24 | 2022-08-23 07:24:56 | Danger mouse |
| 25 | 2022-09-01 11:19:17 | Miah Kurn |
| 26 | 2022-08-31 09:27:12 | Heidi Griffiths |
| 27 | 2022-08-31 20:07:54 | Jonny Boy |
| 28 | 2022-08-31 07:27:22 | Ria Dance |
| 29 | 2022-08-30 23:10:16 | Kelly A Russell |
| 30 | 2022-08-31 07:45:27 | Emma Henwood |
| 31 | 2022-08-30 16:53:03 | Heather Baker |
| 32 | 2022-08-31 08:58:39 | Philippa Lohmeyer |
| 33 | 2022-09-01 12:45:10 | Emma Caddy |
| 34 | 2022-08-31 15:52:54 | jan blackler |
| 35 | 2022-09-01 09:09:53 | Lauren Freer |
| 36 | 2022-08-23 12:32:08 | Robert Cox |
| 37 | 2022-08-30 22:27:17 | Linda Beer |
| 38 | 2022-08-31 20:07:52 | Stacey Taylor |
| 39 | 2022-08-28 10:33:33 | Tracy Brown |
| 40 | 2022-08-25 23:57:28 | Jill Higham |
| 41 | 2022-08-31 14:12:26 | Amy Barr |
| 42 | 2022-09-01 11:59:33 | Sian Beer |
| 43 | 2022-08-31 19:50:34 | Victoria Harris |
| 44 | 2022-09-01 09:25:38 | Chelsea Easton |
| 45 | 2022-08-31 19:36:50 | Kelly Wilson |
| 46 | 2022-09-01 15:55:13 | S T L |
| 47 | 2022-09-01 09:58:23 | Kerry Ferns |
| 48 | 2022-08-30 19:36:03 | Trina . |
| 49 | 2022-09-01 13:14:43 | Christine Swift |
| 50 | 2022-08-25 10:47:04 | Jacqui Robinson |
| 51 | 2022-09-01 16:55:00 | Olivia Patchett |
| 52 | 2022-09-01 08:21:07 | 9louise steer |
| 53 | 2022-09-01 11:19:17 | Miah Kurn |
| 54 | 2022-09-01 10:47:45 | Jess Roberts |
| 55 | 2022-08-31 22:20:55 | Amy Hardware |
| 56 | 2022-08-26 18:55:28 | Ana Chard |
| 57 | 2022-08-31 09:14:58 | Sebrina Robinson |
| 58 | 2022-08-31 08:49:09 | Zoe Tribble |
| 59 | 2022-08-30 22:27:17 | Linda Beer |
| 60 | 2022-09-01 12:29:50 | Benjamin Cook |
| 61 | 2022-08-31 21:34:35 | Jenny King |
| 62 | 2022-09-01 12:29:50 | Benjamin Cook |
| 63 | 2022-08-31 21:20:26 | Robynne Wilson |
| 64 | 2022-08-31 08:15:34 | Emma Lawson |
| 65 | 2022-08-24 10:35:14 | Kirsty Chalk |
| 66 | 2022-09-01 06:06:59 | Rachel Salloway |
| 67 | 2022-09-01 11:51:29 | Tim Strugnell |
| 68 | 2022-09-01 11:19:17 | Miah Kurn |
| 69 | 2022-09-01 15:47:44 | ZJ H |
| 70 | 2022-09-01 15:18:11 | Linda Beer |
| 71 | 2022-08-31 16:44:56 | Stephanie Pickford |
| 72 | 2022-08-27 00:04:46 | Emma Henwood |
| 73 | 2022-08-31 22:20:55 | Amy Hardware |
| 74 | 2022-08-27 15:01:25 | Paul Goodenough |
| 75 | 2022-09-01 12:42:12 | Joanna Brailsford-Dunn |
| 76 | 2022-08-28 10:05:10 | Clare Keating |
| 77 | 2022-09-01 11:38:35 | Moira stokes |
| 78 | 2022-08-31 22:20:55 | Amy Hardware |
| 79 | 2022-09-01 17:14:42 | Karen Hawthorne |
| 80 | 2022-08-31 08:45:19 | Sharron McPhee |
| 81 | 2022-09-01 12:00:56 | Jenny King |
| 82 | 2022-08-28 08:24:31 | Jo Disley |
| 83 | 2022-08-25 12:57:22 | Angela Dodd |
| 84 | 2022-08-31 19:52:23 | Caroline Wiltshire |
| 85 | 2022-08-31 09:35:49 | Linda Beer |
| 86 | 2022-09-01 14:19:31 | Sophie Woods |
| 87 | 2022-08-30 22:27:17 | Linda Beer |
| 88 | 2022-08-31 22:20:55 | Amy Hardware |
| 89 | 2022-09-01 10:19:09 | Kelvin Courtenay |
| 90 | 2022-08-23 12:32:08 | Robert Cox |
| 91 | 2022-08-31 22:29:46 | Jessica Stephens |
| 92 | 2022-08-31 19:52:23 | Caroline Wiltshire |
| 93 | 2022-08-31 18:54:42 | Georgia Samuel |
| 94 | 2022-09-01 14:35:00 | Tyler Ward |
| 95 | 2022-08-31 22:22:23 | Hollie Brown |
| 96 | 2022-08-31 10:05:27 | Chelsea Poynter |
| 97 | 2022-09-01 08:41:13 | Laura Godfrey |
| 98 | 2022-08-31 21:16:41 | Chelsea Mcvicker |
| 99 | 2022-09-01 07:06:03 | Rachel chalk |
| 100 | 2022-08-30 15:09:23 | Loren Sellick |
| 101 | 2022-08-31 19:59:10 | Amanda Moore |
| 102 | 2022-08-31 21:20:26 | Robynne Wilson |
| 103 | 2022-09-01 12:25:44 | Suzi Gooding |
| 104 | 2022-09-01 12:25:44 | Suzi Gooding |
| 105 | 2022-08-26 20:19:29 | Joanne Snowden |
| 106 | 2022-08-30 20:58:58 | Amy Leslie |
| 107 | 2022-08-31 22:29:46 | Jessica Stephens |
| 108 | 2022-08-31 21:20:26 | Robynne Wilson |
| 109 | 2022-09-01 02:22:39 | Natalie Hewitt |
| 110 | 2022-08-31 18:25:21 | AP A |
| 111 | 2022-09-01 13:42:29 | Andrea Sikorjakova |
| 112 | 2022-08-27 07:53:38 | Louise Gilpin |
| 113 | 2022-09-01 14:19:31 | Sophie Woods |
| 114 | 2022-09-01 13:10:25 | Ian Whitford |
| 115 | 2022-09-01 15:47:44 | ZJ H |
| 116 | 2022-08-25 09:01:13 | Meisha Williams |
| 117 | 2022-08-31 19:27:01 | Nicolle Pearce |
| 118 | 2022-08-27 15:01:25 | Paul Goodenough |
| 119 | 2022-08-28 07:45:05 | stephanie malyon |
| 120 | 2022-08-31 22:08:37 | Leah Moore |
| 121 | 2022-09-01 12:00:56 | Jenny King |
| 122 | 2022-08-31 20:42:48 | Ciara Gilson |
| 123 | 2022-08-30 22:03:32 | Jade La'moon |
| 124 | 2022-08-31 00:30:44 | Jo Disley |
| 125 | 2022-09-01 14:35:00 | Tyler Ward |
| 126 | 2022-08-30 23:10:16 | Kelly A Russell |
| 127 | 2022-08-29 22:04:29 | Emma Church |
| 128 | 2022-08-31 01:23:32 | Natalie Hewitt |
| 129 | 2022-08-31 00:30:44 | Jo Disley |
| 130 | 2022-08-31 19:36:56 | Alan Clarke |
| 131 | 2022-09-01 02:22:17 | Annette M |
| 132 | 2022-08-25 10:47:04 | Jacqui Robinson |
| 133 | 2022-09-01 15:18:11 | Linda Beer |
| 134 | 2022-08-27 16:29:11 | Tanisha Bennett |
| 135 | 2022-09-01 15:18:11 | Linda Beer |
| 136 | 2022-08-30 22:26:36 | Holli Sherratt |
| 137 | 2022-09-01 11:38:57 | Jodie England |
| 138 | 2022-08-31 22:44:09 | Sarah Dennis |
| 139 | 2022-09-01 17:21:33 | L C |
| 140 | 2022-08-31 19:58:31 | Holly Walmsley |
| 141 | 2022-09-01 10:03:12 | Danger mouse |
| 142 | 2022-08-30 20:59:32 | Lisa Soper |
| 143 | 2022-09-01 12:29:50 | Benjamin Cook |
| 144 | 2022-09-01 15:55:13 | S T L |
| 145 | 2022-08-31 19:58:31 | Holly Walmsley |
| 146 | 2022-09-01 15:18:11 | Linda Beer |
| 147 | 2022-09-01 09:09:53 | Lauren Freer |
| 148 | 2022-08-31 20:17:56 | Nicola Fusco |
| 149 | 2022-08-29 22:20:20 | Kate Coley |
| 150 | 2022-09-01 16:57:07 | Helen Bowler |
| 151 | 2022-08-31 07:45:27 | Emma Henwood |
| 152 | 2022-09-01 15:55:13 | S T L |
| 153 | 2022-08-31 20:42:48 | Ciara Gilson |
| 154 | 2022-09-01 12:53:17 | Kyle Jago |
| 155 | 2022-08-24 10:35:14 | Kirsty Chalk |
| 156 | 2022-08-25 23:57:28 | Jill Higham |
| 157 | 2022-08-31 20:13:06 | Kayleigh Dilling |
| 158 | 2022-09-01 16:25:04 | Natasha Roche |
| 159 | 2022-09-01 16:07:03 | Anna Benney |
| 160 | 2022-09-01 08:21:07 | 9louise steer |
| 161 | 2022-09-01 16:57:53 | Chelsea Easton |
| 162 | 2022-09-01 11:59:33 | Sian Beer |
| 163 | 2022-08-31 15:52:54 | jan blackler |
| 164 | 2022-08-31 11:06:28 | Jodie James |
| 165 | 2022-09-01 17:04:51 | Lindsey Evans |
| 166 | 2022-09-01 14:19:31 | Sophie Woods |
| 167 | 2022-09-01 16:17:15 | Wendy Bowman |
| 168 | 2022-09-01 13:26:14 | Dev Nursing |
| 169 | 2022-08-28 08:24:31 | Jo Disley |
| 170 | 2022-08-31 21:36:27 | Ryan Chivers |
| 171 | 2022-08-30 09:38:46 | Trudi Parnell |
| 172 | 2022-08-31 21:42:19 | Lorraine Mcardle |
| 173 | 2022-08-31 11:41:30 | Gemma Gorringe |
| 174 | 2022-08-24 10:35:14 | Kirsty Chalk |
| 175 | 2022-09-01 16:48:32 | Leon J |
| 176 | 2022-09-01 17:01:32 | Ellen Wheatley |
| 177 | 2022-08-31 11:11:28 | Amy Whitlam |
| 178 | 2022-08-31 22:20:55 | Amy Hardware |
| 179 | 2022-09-01 08:41:13 | Laura Godfrey |
| 180 | 2022-08-26 12:03:28 | Gary Knights |
| 181 | 2022-08-23 11:41:16 | Kate Coley |
| 182 | 2022-08-25 10:47:04 | Jacqui Robinson |
| 183 | 2022-08-30 17:34:21 | Alexandra Kelly |
| 184 | 2022-08-30 10:55:42 | Emma Knights |
| 185 | 2022-08-31 19:07:59 | Cheryl Boyd |
| 186 | 2022-08-31 09:14:58 | Sebrina Robinson |
| 187 | 2022-08-30 22:27:17 | Linda Beer |
| 188 | 2022-09-01 11:38:57 | Jodie England |
| 189 | 2022-08-29 12:28:02 | Chelsea Mcvicker |
| 190 | 2022-08-31 22:10:13 | L G M |
| 191 | 2022-09-01 14:38:26 | Kelly Campbell |
| 192 | 2022-09-01 11:59:33 | Sian Beer |
| 193 | 2022-08-31 21:20:26 | Robynne Wilson |
| 194 | 2022-08-31 20:38:09 | Sian Baldwin |
| 195 | 2022-08-28 10:05:10 | Clare Keating |
| 196 | 2022-08-31 21:49:53 | Sonia Price |
| 197 | 2022-08-31 16:22:57 | Emma Nixon |
| 198 | 2022-08-31 21:36:27 | Ryan Chivers |
| 199 | 2022-08-31 19:36:56 | Alan Clarke |
| 200 | 2022-08-31 21:20:26 | Robynne Wilson |
| 201 | 2022-08-24 17:24:14 | Frances Miller |
| 202 | 2022-08-27 15:01:25 | Paul Goodenough |
| 203 | 2022-09-01 14:19:31 | Sophie Woods |
| 204 | 2022-08-28 10:05:10 | Clare Keating |
| 205 | 2022-08-31 22:15:10 | Sian Beer |
| 206 | 2022-08-31 22:15:10 | Sian Beer |
| 207 | 2022-09-01 08:58:31 | Caroline Godfrey |
| 208 | 2022-08-26 17:43:29 | penelope walker |
| 209 | 2022-08-31 19:20:43 | Marie Tucker |
| 210 | 2022-08-31 20:33:39 | Deborah Penman |
| 211 | 2022-09-01 13:42:29 | Andrea Sikorjakova |
| 212 | 2022-08-25 10:47:04 | Jacqui Robinson |
| 213 | 2022-09-01 15:18:11 | Linda Beer |
| 214 | 2022-09-01 14:23:08 | Laura Lee |
| 215 | 2022-09-01 11:59:33 | Sian Beer |
| 216 | 2022-08-31 22:08:37 | Leah Moore |
| 217 | 2022-08-31 19:07:59 | Cheryl Boyd |
| 218 | 2022-08-31 21:36:27 | Ryan Chivers |
| 219 | 2022-09-01 11:38:57 | Jodie England |
| 220 | 2022-09-01 16:57:53 | Chelsea Easton |
| 221 | 2022-08-31 20:17:56 | Nicola Fusco |
| 222 | 2022-09-01 16:09:38 | Natasha Lawrence |
| 223 | 2022-08-31 19:32:28 | Maria Evans |
| 224 | 2022-09-01 17:14:42 | Karen Hawthorne |
| 225 | 2022-08-31 19:58:31 | Holly Walmsley |
| 226 | 2022-09-01 02:22:17 | Annette M |
| 227 | 2022-08-31 22:29:46 | Jessica Stephens |
| 228 | 2022-09-01 02:22:39 | Natalie Hewitt |
| 229 | 2022-09-01 12:25:44 | Suzi Gooding |
| 230 | 2022-08-31 23:09:08 | Joseph Clifford |
| 231 | 2022-08-31 22:22:23 | Hollie Brown |
| 232 | 2022-09-01 11:59:33 | Sian Beer |
| 233 | 2022-09-01 14:47:52 | Melanie jackson Jackson |
| 234 | 2022-09-01 10:19:09 | Kelvin Courtenay |
| 235 | 2022-09-01 17:01:32 | Ellen Wheatley |
| 236 | 2022-08-25 10:47:04 | Jacqui Robinson |
| 237 | 2022-08-28 08:24:31 | Jo Disley |
| 238 | 2022-08-31 20:03:25 | Kelly Snape |
| 239 | 2022-08-31 19:54:56 | Lyndsay Jones |
| 240 | 2022-09-01 08:18:56 | Justin Lashley |
| 241 | 2022-09-01 07:06:03 | Rachel chalk |
| 242 | 2022-08-27 17:45:05 | Suzanne Pike |
| 243 | 2022-08-30 22:26:36 | Holli Sherratt |
| 244 | 2022-08-29 18:12:00 | Trina . |
| 245 | 2022-09-01 14:30:53 | Jen Bush |
| 246 | 2022-09-01 00:58:09 | Kerry Packer |
| 247 | 2022-09-01 12:19:22 | Heidi Griffiths |
| 248 | 2022-08-31 22:20:55 | Amy Hardware |
| 249 | 2022-08-31 14:12:26 | Amy Barr |
| 250 | 2022-08-23 07:46:19 | Natalie D |