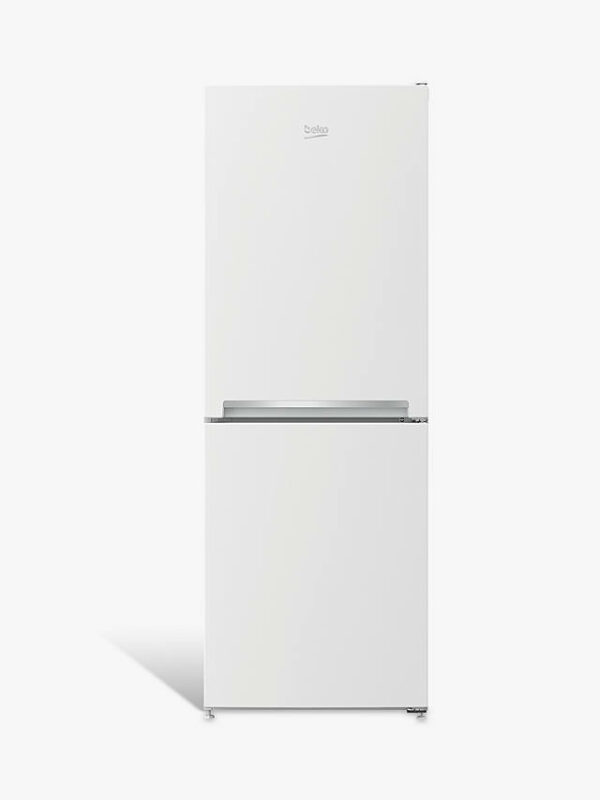 Beko CFG3552W Freestanding 50/50 Fridge Freezer, White
Description
Beko CFG3552W Freestanding 50/50 Fridge Freezer, White
Keeping all your chilled goods and frozen favourites close at hand, this 213L fridge freezer from Beko uses space efficiently to ensure food stays fresher for longer. Designed with frost free technology and various storage options, it's a great size for anyone who wants to get creative in the kitchen.
More room for your groceries
You won't have a problem fitting your groceries into the CFG3552W. The fridge has a capacity of 145L , a salad crisper drawer that'll keep your fruit and veg fresh and tasty and three shelves to store chilled favourites. The 68L freezer also offers three drawers to accommodate your frozen goods, with clear front panels to make checking on your food easy.
Frost free design saves you work & energy
The frost free design helps to save you time, energy and effort as it prevents ice from building up inside the freezer. This not only saves you the hassle of manually defrosting your fridge freezer, but also keeps it working efficiently.
Freestanding design for anywhere in the home
If you want to use this as a backup fridge freezer or simply wish to save space inside, this model can be kept in a garage or similar outbuilding. Beko's clever Freezer Guard technology lets you position it anywhere in your home, keeping your food frozen even if outside temperatures drop as low as -15?C.
Reliable shelving with safety glass
All the shelves are made from extra strong, easy-to-clean safety glass. If something tips over, the spillage is contained and does not spill into the rest of the refrigerator compartment.
Reversible door hinge optimises space
Having a fridge freezer with reversible doors is really handy. Whether you need the appliance to fit into a specific space or want a more ergonomic design, this model can adapt to the space you've created in your home.
| Winner Name | Ticket Number | Draw Date |
| --- | --- | --- |
| Karen Doyle | 827 | 27/04/2022 |
1-50
51-100
101-150
151-200
201-250
251-300
301-350
351-400
401-450
451-500
501-550
551-600
601-650
651-700
701-750
751-800
801-850
| Ticket Number | Date | Name |
| --- | --- | --- |
| 1 | 2022-04-26 21:41:26 | Emma Davies |
| 3 | 2022-04-27 19:41:40 | Aimee Rowbotham |
| 4 | 2022-04-27 18:40:38 | Julia Kuhn |
| 5 | 2022-04-26 21:41:26 | Emma Davies |
| 6 | 2022-04-27 11:06:06 | Sharon Hobday |
| 7 | 2022-04-26 17:31:13 | MICHAEL DOYLE |
| 8 | 2022-04-26 16:28:07 | Kayleigh Williams |
| 9 | 2022-04-24 10:01:32 | Sheryl Brown |
| 10 | 2022-04-27 18:40:38 | Julia Kuhn |
| 12 | 2022-04-27 17:16:52 | Denise Barry |
| 13 | 2022-04-27 15:38:15 | Denise Barry |
| 14 | 2022-04-25 11:12:30 | Debbie Lannon |
| 15 | 2022-04-22 22:04:19 | Lucie Dobeer |
| 16 | 2022-04-27 17:50:36 | Elisha Palmer |
| 17 | 2022-04-27 19:12:06 | Danielle Hooper |
| 18 | 2022-04-27 10:33:34 | Juliet Phillips |
| 19 | 2022-04-27 17:36:56 | Chloe Myers |
| 20 | 2022-04-24 13:48:06 | Emma Wills |
| 21 | 2022-04-27 10:09:47 | Emma Nixon |
| 22 | 2022-04-26 17:39:20 | Lesley Jones |
| 23 | 2022-04-27 11:06:06 | Sharon Hobday |
| 24 | 2022-04-27 18:08:57 | Emma L |
| 25 | 2022-04-26 19:27:31 | Lisa Curnow |
| 28 | 2022-04-27 17:50:36 | Elisha Palmer |
| 29 | 2022-04-27 19:54:31 | Ron Courtenay |
| 30 | 2022-04-27 20:14:55 | Kate Upsher |
| 31 | 2022-04-22 22:04:19 | Lucie Dobeer |
| 33 | 2022-04-27 19:40:37 | Susan Weeks |
| 34 | 2022-04-27 19:55:06 | Chloe Rainbow |
| 38 | 2022-04-27 17:36:56 | Chloe Myers |
| 39 | 2022-04-22 19:00:00 | phyllis steer |
| 40 | 2022-04-27 17:36:56 | Chloe Myers |
| 41 | 2022-04-27 11:37:40 | Sarah Wallis |
| 42 | 2022-04-27 20:27:16 | Sarah Wallis |
| 44 | 2022-04-27 17:50:41 | Darren Thomson |
| 45 | 2022-04-27 15:03:16 | Beverley Chandler |
| 47 | 2022-04-27 17:34:39 | Sophie Skinner |
| 50 | 2022-04-27 20:05:15 | Victoria Lewis |