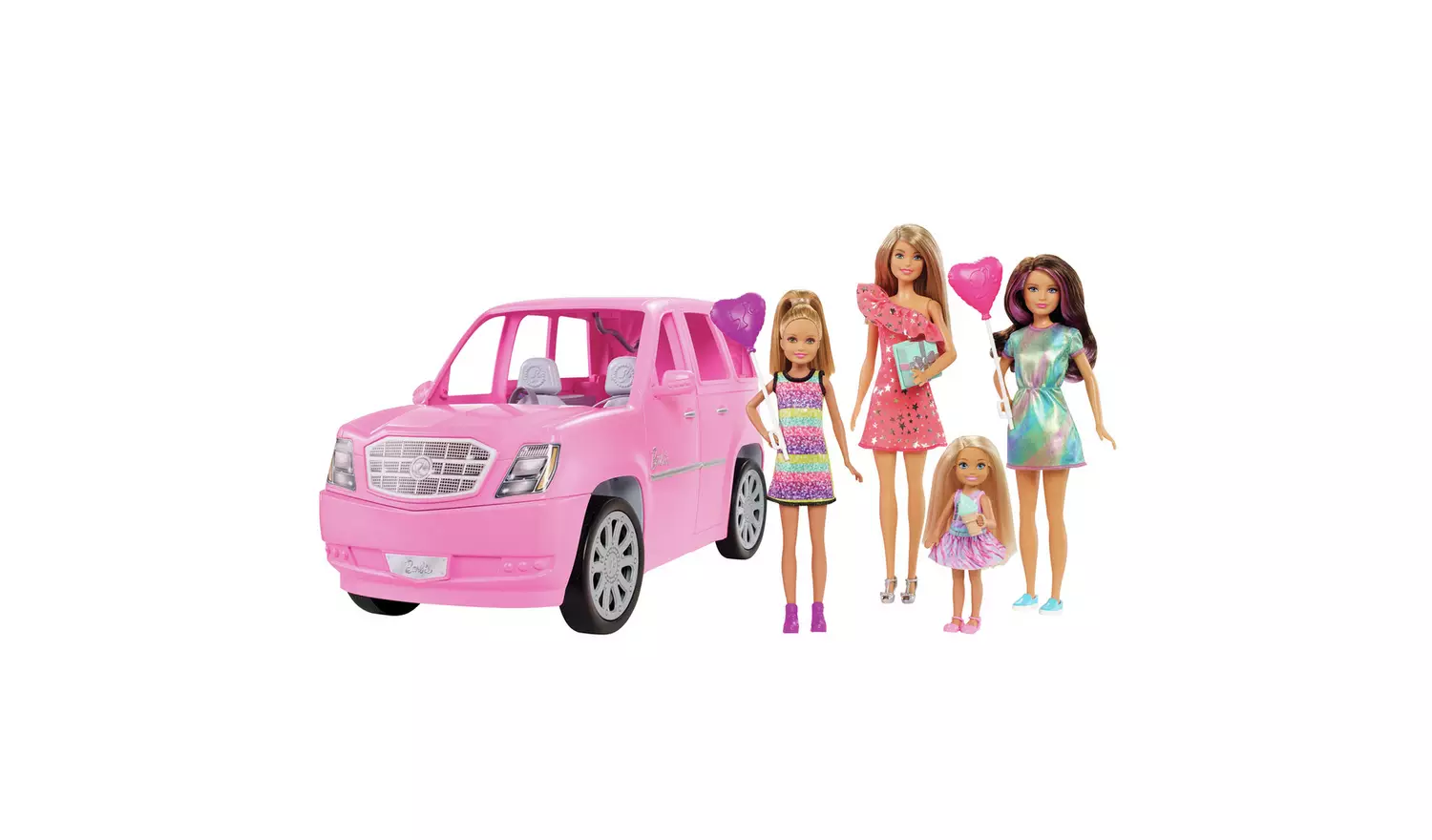 Barbie SUV Style Pink Limo and 4 Dolls
Description
Barbie SUV Style Pink Limo and 4 Dolls
Barbie and all 3 of her sisters are ready to celebrate a special occasion and have gone all out with a limo – but this is no ordinary limo. It's a pink SUV-style limo that expands to 2 feet long and opens to reveal a party-ready interior! Simply open the top and sides and pull to transform. Flip the table for a snack bar and slide the tv out, then seat the 4 sisters facing each other as they enjoy together-time. Party accessories to help them celebrate events, include heart-shaped balloons, cupcakes and ice cream cones, drink cups and a gift.
Barbie doll and her 3 sisters will arrive in style with this limo that makes the journey as much fun as the destination!
More than 10 party accessories inspire imaginations and storytelling, and some have handles a doll can hold for role-play and storytelling fun!
Each doll wears a dress with unique style: Barbie's pink dress has silvery stars and matching shoes; Skipper has shimmery rainbow print and blue shoes; Stacie wears stripes and pink trainers and Chelsea has the message 'just add sprinkles'.
| Winner Name | Ticket Number | Draw Date |
| --- | --- | --- |
| Kayleigh Northcott | 149 | 13/09/2022 |
| Ticket Number | Date | Name |
| --- | --- | --- |
| 2 | 2022-09-13 20:18:26 | Aimee Povey |
| 3 | 2022-09-13 19:15:06 | Rees Sam |
| 4 | 2022-09-13 18:23:32 | Rachel Scott |
| 5 | 2022-09-13 20:13:37 | Ellie Wylie |
| 6 | 2022-09-13 20:18:12 | Sonia Hodge |
| 9 | 2022-09-13 17:14:58 | Ella Clarke |
| 11 | 2022-09-13 20:41:28 | Mrs Sally J Davies |
| 12 | 2022-09-13 19:51:31 | kelly donnelly |
| 13 | 2022-09-12 13:36:55 | Michelle Stanyon |
| 14 | 2022-09-13 20:19:48 | Rachel Scott |
| 15 | 2022-09-13 16:31:33 | Mandy Cove |
| 16 | 2022-09-12 17:42:55 | Michelle Stanyon |
| 17 | 2022-09-12 22:40:12 | Lee Mills |
| 18 | 2022-09-13 14:54:57 | Kelvin Courtenay |
| 19 | 2022-09-13 13:21:15 | S T L |
| 20 | 2022-09-13 20:18:26 | Aimee Povey |
| 21 | 2022-09-13 18:47:04 | Emma Goodman |
| 22 | 2022-09-12 21:53:07 | Bebe Lloyd |
| 23 | 2022-09-12 22:17:10 | Esme Kershaw |
| 24 | 2022-09-13 18:59:57 | Chloe Brooks |
| 25 | 2022-09-13 20:20:05 | michaela avery |
| 26 | 2022-09-13 19:43:53 | Lindsey Cackett |
| 27 | 2022-09-12 17:44:34 | Clare Keating |
| 28 | 2022-09-12 20:51:43 | Talia Tucker |
| 29 | 2022-09-11 21:47:54 | Ben Stocker |
| 33 | 2022-09-13 19:15:06 | Rees Sam |
| 37 | 2022-09-13 20:04:33 | Chloe Wills |
| 40 | 2022-09-13 18:40:04 | Mica Mulgrue |
| 42 | 2022-09-13 20:18:26 | Aimee Povey |
| 43 | 2022-09-12 17:51:34 | Sophie Hodge |
| 44 | 2022-09-12 20:50:46 | Dannielle Patterson |
| 45 | 2022-09-13 20:18:58 | Stacey Roberts |
| 47 | 2022-09-13 20:18:12 | Sonia Hodge |
| 49 | 2022-09-12 12:52:12 | Laura-jayne Mortimer |
| 54 | 2022-09-13 19:42:14 | Kitty Cat |
| 55 | 2022-09-13 15:54:34 | Hayley Smith |
| 57 | 2022-09-12 06:59:43 | Elz . |
| 59 | 2022-09-13 19:27:11 | Stacie Gibbs |
| 61 | 2022-09-13 14:54:57 | Kelvin Courtenay |
| 64 | 2022-09-13 20:19:26 | Riah Alder |
| 65 | 2022-09-13 00:55:14 | Millie Hamer |
| 66 | 2022-09-12 17:51:34 | Sophie Hodge |
| 68 | 2022-09-13 17:39:54 | Amy Leslie |
| 69 | 2022-09-13 08:41:57 | Laura Godfrey |
| 70 | 2022-09-13 19:28:28 | Tanya Roberts |
| 71 | 2022-09-13 19:28:28 | Tanya Roberts |
| 72 | 2022-09-12 13:36:55 | Michelle Stanyon |
| 73 | 2022-09-13 19:51:31 | kelly donnelly |
| 76 | 2022-09-12 21:53:07 | Bebe Lloyd |
| 77 | 2022-09-13 19:15:06 | Rees Sam |
| 78 | 2022-09-13 19:43:19 | Lee Mayo |
| 81 | 2022-09-13 20:13:06 | Helen Henson |
| 82 | 2022-09-13 08:39:16 | Kathleen Starling |
| 84 | 2022-09-13 17:14:58 | Ella Clarke |
| 85 | 2022-09-13 18:59:57 | Chloe Brooks |
| 86 | 2022-09-13 20:04:33 | Chloe Wills |
| 87 | 2022-09-13 20:04:33 | Chloe Wills |
| 88 | 2022-09-13 18:59:57 | Chloe Brooks |
| 90 | 2022-09-13 20:02:50 | sarah mullin |
| 91 | 2022-09-12 17:42:55 | Michelle Stanyon |
| 92 | 2022-09-12 20:49:56 | Lucy Hobbs |
| 94 | 2022-09-13 08:29:40 | Emma Henwood |
| 96 | 2022-09-12 22:40:12 | Lee Mills |
| 97 | 2022-09-13 19:13:13 | Nicola Bird |
| 98 | 2022-09-13 20:04:33 | Chloe Wills |
| 99 | 2022-09-13 20:18:26 | Aimee Povey |
| 101 | 2022-09-12 21:28:00 | Kristy Taylor |
| 104 | 2022-09-12 08:53:31 | Jenna Bott |
| 105 | 2022-09-11 21:55:32 | Stacey Roberts |
| 106 | 2022-09-13 16:33:05 | Natalie Lord |
| 107 | 2022-09-13 20:39:19 | Kim Escott |
| 109 | 2022-09-13 20:19:26 | Riah Alder |
| 110 | 2022-09-13 20:26:43 | Megan Rowlands |
| 112 | 2022-09-13 16:53:58 | jamie grassby |
| 113 | 2022-09-13 19:28:28 | Tanya Roberts |
| 114 | 2022-09-12 16:30:02 | Thalia Heard |
| 115 | 2022-09-12 22:40:12 | Lee Mills |
| 117 | 2022-09-13 08:29:40 | Emma Henwood |
| 120 | 2022-09-13 19:15:06 | Rees Sam |