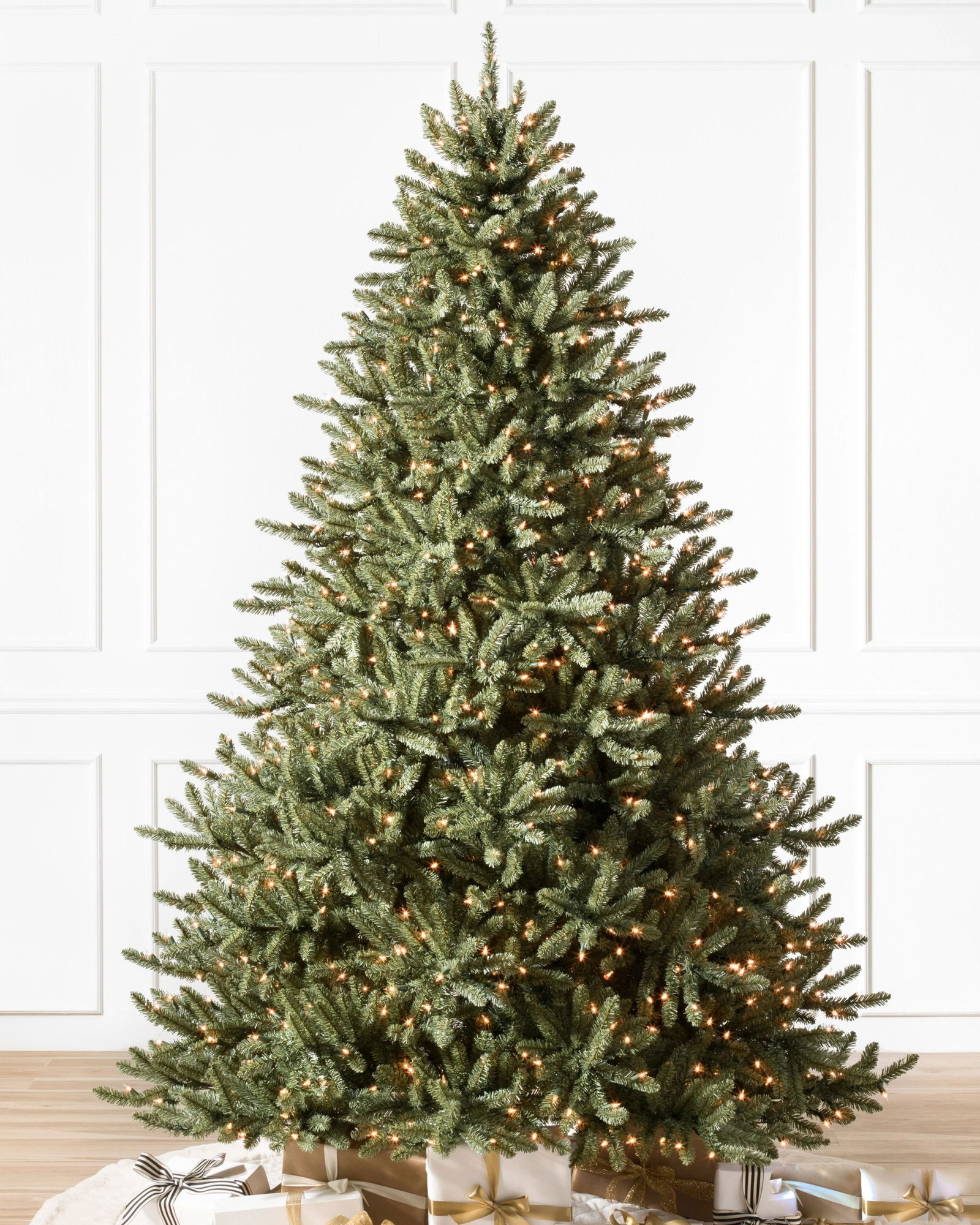 BALSAM HILL-Canadian Blue Green Spruce Tree
Description
BALSAM HILL-Canadian Blue Green Spruce Tree 6′
A TRUE CHRISTMAS FAVOURITE
Add timeless charm to your Christmas celebration. This artificial Christmas tree is made with 100% Classic Needle foliage for a full, abundant look. Choose from a variety of heights and lighting options that suit your space and decorating style.
Natural Characteristics
Our Canadian Blue Green Spruce features dense foliage composed of soft yet sturdy needles in blue-green and silvery hues, complemented by light brown tinted stems for added depth.
Details
Crafted with sturdy yet flexible Classic Needle foliage for a more traditional Christmas tree look.
Easy Plug® system incorporates light connections in the trunk, so lighting your tree is as simple as plugging it into a socket. Currently available on select pre-lit trees. Review the Specs section below for more details.
Trees pre-lit with innovative Twinkly® LED lights allow you to create and control different light colours, light shows, or choose from a pre-programmed selection of patterns and colours, all from your phone using the mobile app.
| Winner Name | Ticket Number | Draw Date |
| --- | --- | --- |
| Hannah Tait | 9 | 15/11/2023 |
| Ticket Number | Date | Name |
| --- | --- | --- |
| 1 | 2023-11-15 21:07:07 | Kim Dudley |
| 2 | 2023-11-15 11:53:35 | Claire Adams |
| 3 | 2023-11-15 20:44:01 | Elise bradford |
| 4 | 2023-11-14 00:17:56 | Lynsey McCarlie |
| 5 | 2023-11-15 19:27:07 | Tom Speed |
| 6 | 2023-11-13 12:50:35 | Lydia Roberts |
| 7 | 2023-11-15 14:18:53 | Katie Easton |
| 8 | 2023-11-15 19:31:50 | Nickey Bukin |
| 9 | 2023-11-15 15:45:14 | Hannah Tait |
| 10 | 2023-11-14 23:56:08 | Jill Higham |
| 11 | 2023-11-15 19:45:08 | C Sharratt |
| 12 | 2023-11-15 19:31:51 | Olivia Patchett |
| 13 | 2023-11-15 19:26:11 | Cristina Evans |
| 14 | 2023-11-15 18:46:27 | K L |
| 15 | 2023-11-15 19:31:51 | Olivia Patchett |
| 16 | 2023-11-14 02:12:45 | Lucy Grant |
| 17 | 2023-11-13 12:50:35 | Lydia Roberts |
| 18 | 2023-11-13 12:46:42 | Richard Higham |
| 19 | 2023-11-15 20:52:02 | Laura Smith |
| 20 | 2023-11-15 18:04:53 | Sharon Smith |
| 21 | 2023-11-13 16:31:41 | Shelly Edwards |
| 22 | 2023-11-15 19:39:57 | Geoff Poulton |
| 23 | 2023-11-15 10:55:27 | Lucy Mulligan |
| 24 | 2023-11-14 17:13:06 | marion clark |
| 25 | 2023-11-15 19:55:42 | Sarah Roberts |
| 26 | 2023-11-15 16:25:27 | Miriam Jordan |
| 27 | 2023-11-15 20:44:01 | Elise bradford |
| 28 | 2023-11-14 17:37:38 | Sharon Lenihan |
| 29 | 2023-11-15 20:13:25 | Sophie Kidson |
| 30 | 2023-11-15 19:34:08 | Kayleigh Scales |
| 31 | 2023-11-15 11:04:14 | Imogen Howes |
| 32 | 2023-11-13 14:23:44 | Sonia Sonia Cartwright |
| 33 | 2023-11-15 20:18:23 | Steve Wright |
| 35 | 2023-11-14 19:21:04 | Lisa Curnow |
| 36 | 2023-11-15 20:22:46 | Nicola Bowyer |
| 39 | 2023-11-15 20:44:48 | Natalie Beeks |
| 44 | 2023-11-15 16:25:27 | Miriam Jordan |
| 46 | 2023-11-15 20:53:03 | Lucy Grant |
| 47 | 2023-11-15 19:45:35 | Sas D |
| 49 | 2023-11-15 20:51:38 | Lynsey McCarlie |
| 50 | 2023-11-13 22:23:09 | Samantha Bennett |
| 51 | 2023-11-15 10:13:15 | Emma & lee |
| 52 | 2023-11-15 02:12:01 | Hannah Del-pizzo |
| 53 | 2023-11-15 20:27:11 | Sarah Taylor |
| 54 | 2023-11-13 14:23:44 | Sonia Sonia Cartwright |
| 55 | 2023-11-15 20:47:59 | Emma King |
| 56 | 2023-11-13 12:16:55 | S S |
| 57 | 2023-11-15 19:31:50 | Nickey Bukin |
| 58 | 2023-11-15 19:27:07 | Tom Speed |
| 60 | 2023-11-15 19:33:13 | Rachel chalk |
| 61 | 2023-11-15 18:44:08 | Rosie Dodd |
| 63 | 2023-11-15 20:00:33 | Lisa Roberts |
| 71 | 2023-11-15 16:25:27 | Miriam Jordan |
| 73 | 2023-11-15 16:25:27 | Miriam Jordan |
| 74 | 2023-11-13 12:50:35 | Lydia Roberts |
| 75 | 2023-11-15 20:08:40 | Heidi Richards |
| 76 | 2023-11-15 08:02:21 | Natalie Smart |
| 77 | 2023-11-13 14:23:44 | Sonia Sonia Cartwright |
| 78 | 2023-11-14 17:48:28 | Claire Adams |
| 79 | 2023-11-14 18:46:57 | Kelly Harnett |
| 80 | 2023-11-13 16:00:34 | Victoria Moroney |
| 81 | 2023-11-15 16:25:27 | Miriam Jordan |
| 82 | 2023-11-15 18:17:30 | Gail. Gilbert. |
| 83 | 2023-11-15 20:53:03 | Lucy Grant |
| 85 | 2023-11-15 20:50:59 | rachel barnes |
| 86 | 2023-11-13 13:50:07 | Lydia Roberts |
| 88 | 2023-11-15 16:02:12 | Rachel Mackenzie |
| 89 | 2023-11-13 12:14:57 | Catherine Reeves |
| 90 | 2023-11-15 20:13:25 | Sophie Kidson |
| 91 | 2023-11-15 16:25:27 | Miriam Jordan |
| 92 | 2023-11-15 21:07:07 | Kim Dudley |
| 94 | 2023-11-15 20:53:12 | Hannah Garvey |
| 95 | 2023-11-13 14:23:44 | Sonia Sonia Cartwright |
| 98 | 2023-11-15 20:56:46 | Anthony Rose |
| 99 | 2023-11-15 18:17:30 | Gail. Gilbert. |
| 100 | 2023-11-15 18:17:30 | Gail. Gilbert. |
| 101 | 2023-11-15 19:53:43 | Natalie Harris |
| 102 | 2023-11-13 13:45:22 | Dominae Heavens |
| 104 | 2023-11-15 20:56:46 | Anthony Rose |
| 107 | 2023-11-15 20:55:21 | Maja Smith |
| 108 | 2023-11-15 17:59:19 | Georgie Lovell-Healy |
| 109 | 2023-11-13 22:23:09 | Samantha Bennett |
| 110 | 2023-11-15 16:25:27 | Miriam Jordan |
| 111 | 2023-11-15 19:58:39 | Allison Parker |
| 114 | 2023-11-13 12:04:58 | Casey Brown |
| 116 | 2023-11-13 13:50:07 | Lydia Roberts |
| 117 | 2023-11-15 16:25:27 | Miriam Jordan |
| 119 | 2023-11-15 11:53:35 | Claire Adams |
| 120 | 2023-11-15 20:13:25 | Sophie Kidson |
| 121 | 2023-11-14 02:12:45 | Lucy Grant |
| 122 | 2023-11-15 19:47:15 | J K |
| 123 | 2023-11-15 21:06:45 | Stephanie Wills |
| 124 | 2023-11-15 19:22:27 | Jayne Patten |
| 125 | 2023-11-13 14:23:44 | Sonia Sonia Cartwright |