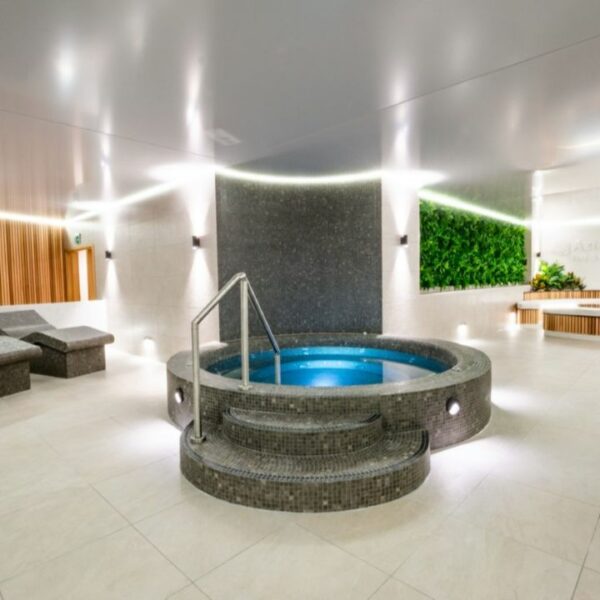 Aztec Luxury Spa Day for 2
Description
Aztec Luxury Spa Day for 2
Totally unwind with our Luxury Day Spa Package. Enjoy two luxury spa treatments, a 90-minute Fire & Ice experience and our leisure facilities. Finish your spa day with lunch or afternoon tea and a glass of bubbly in the Aztec Bistro.
Itinerary
Check-in from 9.30am, change into your robe and footwear provided and get comfortable in our relaxation area prior to your treatment. Enjoy a complimentary tea or coffee before taking a swim in Aztec pools. Spa lunch or afternoon tea is served in our Aztec Bistro. At the time of booking your spa day, your Fire & Ice session will be scheduled, to fit in alongside your treatment/food times.
Option 1:
Swedish Back, Neck and Shoulder Massage
ELEMIS Deeper than Deep Hot Stone Massage plus Back and Back of Legs
This is followed by an ELEMIS Skin Solution Facial and OPI Express Manicure or Pedicure.
Option 2:
Swedish Full Body Massage
ELEMIS Skin Solutions Facial
| Winner Name | Ticket Number | Draw Date |
| --- | --- | --- |
| Kerri Del-Pizzo | 405 | 18/05/2022 |
1-100
101-200
201-300
301-400
401-500
| Ticket Number | Date | Name |
| --- | --- | --- |
| 1 | 2022-05-16 19:10:06 | Lauren Mann |
| 2 | 2022-05-18 10:22:11 | Suzi Gooding |
| 3 | 2022-05-17 00:35:35 | Wendy Bailey |
| 4 | 2022-05-16 20:29:04 | Sam Harper |
| 5 | 2022-05-18 17:01:10 | Mariann Hooker |
| 6 | 2022-05-18 13:18:21 | Shelley Clewes |
| 7 | 2022-05-18 10:22:11 | Suzi Gooding |
| 8 | 2022-05-16 19:10:06 | Lauren Mann |
| 9 | 2022-05-16 20:05:04 | Carmen Middleditch |
| 10 | 2022-05-16 21:21:09 | Emma Louise |
| 11 | 2022-05-17 12:26:13 | Sophie Walsh |
| 12 | 2022-05-18 19:06:44 | Lorna Hill |
| 13 | 2022-05-16 21:21:09 | Emma Louise |
| 14 | 2022-05-17 18:34:53 | Abbi Carne |
| 15 | 2022-05-18 18:02:33 | Keira Bradford-jones |
| 16 | 2022-05-16 18:55:30 | Briony Millar |
| 17 | 2022-05-18 10:22:19 | Izzy Eveson |
| 18 | 2022-05-16 20:39:49 | Nicole Stevenson |
| 19 | 2022-05-17 13:11:03 | Samantha Collett |
| 20 | 2022-05-16 21:41:30 | Vicky Grose |
| 21 | 2022-05-16 19:00:57 | Lisa Roberts |
| 22 | 2022-05-16 21:21:09 | Emma Louise |
| 23 | 2022-05-16 21:21:09 | Emma Louise |
| 24 | 2022-05-16 21:21:09 | Emma Louise |
| 25 | 2022-05-18 16:21:33 | Kirsty Darke |
| 26 | 2022-05-16 18:55:30 | Briony Millar |
| 27 | 2022-05-18 14:46:29 | Daniel Cobain |
| 28 | 2022-05-17 08:55:34 | Kirstin Payne |
| 29 | 2022-05-18 13:44:08 | Samantha Head |
| 30 | 2022-05-17 18:36:39 | Phil Gaudin |
| 31 | 2022-05-18 14:49:53 | Elizabeth Hill |
| 32 | 2022-05-16 18:55:29 | Geneiveve Jones |
| 33 | 2022-05-18 15:45:57 | Rachel Paine |
| 34 | 2022-05-18 17:02:10 | Mirelle Harper |
| 35 | 2022-05-18 19:52:41 | Amy Mitchell |
| 36 | 2022-05-17 00:35:35 | Wendy Bailey |
| 37 | 2022-05-16 22:25:45 | Kelly Parker |
| 38 | 2022-05-18 09:57:59 | Rachel Gilbert |
| 39 | 2022-05-16 19:22:13 | Maria Lake |
| 40 | 2022-05-18 06:37:36 | Sophie Sophie |
| 41 | 2022-05-17 18:18:34 | Kirsty Westwood |
| 42 | 2022-05-17 17:22:05 | Emma Vann-sawicka |
| 43 | 2022-05-16 20:10:58 | Lucie Dobeer |
| 44 | 2022-05-16 19:08:53 | Emma Schofield |
| 45 | 2022-05-18 19:46:28 | Sarah Kallmeier |
| 46 | 2022-05-16 20:59:50 | Julie Bouskill |
| 47 | 2022-05-18 08:28:52 | Hannah Strong |
| 48 | 2022-05-17 18:28:21 | Katie Heath |
| 49 | 2022-05-17 03:42:44 | Chloe Tait |
| 50 | 2022-05-18 19:53:19 | Zeta Hunter |
| 51 | 2022-05-18 16:52:13 | Gary Guard |
| 52 | 2022-05-16 21:36:06 | Philippa Lohmeyer |
| 53 | 2022-05-16 19:07:33 | Emily Neno |
| 54 | 2022-05-18 19:27:57 | Leeann Barber |
| 55 | 2022-05-17 12:25:25 | Braydon Harper |
| 56 | 2022-05-18 15:53:15 | N S |
| 57 | 2022-05-18 17:48:17 | Rebecca Hingston |
| 58 | 2022-05-17 05:33:45 | Sophie Sophie |
| 59 | 2022-05-18 16:47:20 | Tia Potter |
| 60 | 2022-05-16 19:53:07 | Erica Williams |
| 61 | 2022-05-17 08:32:11 | Tegan Reed-Gallimore |
| 62 | 2022-05-18 19:28:01 | JordanAdele Beresford |
| 63 | 2022-05-16 20:17:39 | Chloe Milden |
| 64 | 2022-05-18 16:48:55 | Becca Avery |
| 65 | 2022-05-18 14:33:25 | Tracy Mills |
| 66 | 2022-05-18 08:31:46 | Nikki Stephens |
| 67 | 2022-05-18 19:11:39 | Vicki Coldrick |
| 68 | 2022-05-18 18:49:51 | Victoria Sealey |
| 69 | 2022-05-16 19:06:58 | Karen Shaw |
| 70 | 2022-05-17 19:28:43 | Jade Hulme |
| 71 | 2022-05-17 07:48:03 | Melonie Jeffery |
| 72 | 2022-05-18 10:06:38 | Emma Louise |
| 73 | 2022-05-17 09:53:20 | Keira Bradford-jones |
| 74 | 2022-05-18 16:47:20 | Tia Potter |
| 75 | 2022-05-16 18:55:29 | Geneiveve Jones |
| 76 | 2022-05-16 20:05:40 | Stephanie Dicken |
| 77 | 2022-05-18 15:45:57 | Rachel Paine |
| 78 | 2022-05-16 21:11:14 | Kristina Poffley |
| 79 | 2022-05-17 09:25:50 | Samantha Hassan |
| 80 | 2022-05-18 14:34:16 | Samantha Davies |
| 81 | 2022-05-18 17:31:47 | John Sproston |
| 82 | 2022-05-18 16:52:13 | Gary Guard |
| 83 | 2022-05-17 11:41:52 | Jessica Grimshaw |
| 84 | 2022-05-16 21:41:30 | Vicky Grose |
| 85 | 2022-05-18 19:36:50 | E K |
| 86 | 2022-05-18 19:51:08 | Shelley Clewes |
| 87 | 2022-05-18 19:06:44 | Lorna Hill |
| 88 | 2022-05-18 17:20:31 | Sarah Hubbard |
| 89 | 2022-05-17 20:05:08 | Julie Cleave |
| 90 | 2022-05-16 20:59:50 | Julie Bouskill |
| 91 | 2022-05-17 18:28:21 | Katie Heath |
| 92 | 2022-05-16 19:38:27 | Lorraine Reeves |
| 93 | 2022-05-17 18:28:21 | Katie Heath |
| 94 | 2022-05-17 18:28:21 | Katie Heath |
| 95 | 2022-05-18 09:53:31 | C J |
| 96 | 2022-05-18 14:49:53 | Elizabeth Hill |
| 97 | 2022-05-17 18:28:21 | Katie Heath |
| 98 | 2022-05-18 12:17:31 | Caroline Cattermole |
| 99 | 2022-05-18 10:37:27 | Danielle Cripps |
| 100 | 2022-05-17 07:30:31 | Liz West |