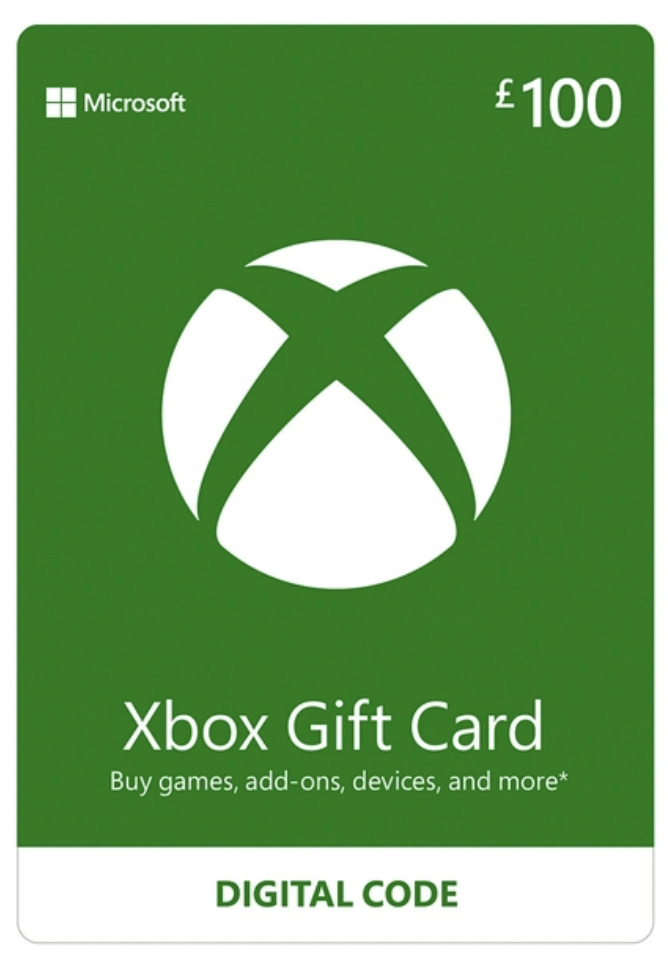 AUTO WIN – Xbox £100 Wallet Top Up Digital Download
Description
AUTO WIN – Xbox £100 Wallet Top Up Digital Download
AUTO WIN – NO LIVE DRAW – WINNER WILL BE CONTACTED ON MONDAY
Please Note: This is not a physical card. Digital Download code will be sent to the winner.
Shop games, music, movies and TV shows for Xbox consoles and Windows PC. Choose from hundreds of digital download games, from blockbuster to indie, and play the day they're released.
With the Xbox Gift Card, you can download add-ons and in-game currency for your favourite games. Browse a massive library of movies and TV shows to rent or buy.
| Winner Name | Ticket Number | Draw Date |
| --- | --- | --- |
| Anna hart | 182 | 19/03/2023 |
1-100
101-200
201-300
301-400
401-500
| Ticket Number | Date | Name |
| --- | --- | --- |
| 1 | 2023-03-16 13:20:05 | Sarah Roadnight |
| 3 | 2023-03-18 23:20:07 | Kirsty Lake |
| 4 | 2023-03-17 07:09:51 | Kerry Straight |
| 6 | 2023-03-19 16:15:05 | Louise Gourley |
| 7 | 2023-03-16 13:20:05 | Sarah Roadnight |
| 8 | 2023-03-18 12:43:24 | Becca Hirst |
| 9 | 2023-03-19 17:28:13 | Paula Mcguinness |
| 10 | 2023-03-19 16:27:37 | Mica Jeremiah |
| 11 | 2023-03-17 07:09:51 | Kerry Straight |
| 12 | 2023-03-18 12:43:24 | Becca Hirst |
| 13 | 2023-03-19 18:37:44 | Victoria Hugill |
| 14 | 2023-03-19 19:18:02 | Claire King |
| 15 | 2023-03-19 07:36:56 | Karen Roberts |
| 16 | 2023-03-19 21:56:25 | Becci Vayle |
| 17 | 2023-03-17 20:54:47 | Sally Constable |
| 18 | 2023-03-18 09:51:12 | Kirsty Kilkenny |
| 19 | 2023-03-19 17:45:49 | Samantha Bailey |
| 20 | 2023-03-19 20:08:27 | Louise Gourley |
| 21 | 2023-03-16 13:20:05 | Sarah Roadnight |
| 22 | 2023-03-19 12:08:54 | Lisa Roberts |
| 23 | 2023-03-19 12:08:54 | Lisa Roberts |
| 24 | 2023-03-16 13:20:05 | Sarah Roadnight |
| 25 | 2023-03-18 06:54:10 | Ben Stocker |
| 26 | 2023-03-17 08:59:36 | Claire saunders |
| 27 | 2023-03-19 11:57:49 | Sami Knott |
| 28 | 2023-03-18 12:04:08 | Kasha Barnes |
| 29 | 2023-03-17 07:19:27 | Luke Potts |
| 30 | 2023-03-18 23:20:07 | Kirsty Lake |
| 32 | 2023-03-18 07:59:00 | Julie Smith |
| 33 | 2023-03-15 16:07:34 | Rebecca Rose |
| 34 | 2023-03-19 16:27:37 | Mica Jeremiah |
| 35 | 2023-03-19 18:55:18 | Lisa Freer |
| 37 | 2023-03-19 21:21:29 | Mandy Cove |
| 38 | 2023-03-19 20:09:00 | Helen Rush |
| 40 | 2023-03-19 18:44:21 | Ellie Martin |
| 43 | 2023-03-15 21:03:24 | anna heard |
| 45 | 2023-03-18 17:59:10 | Leah Back |
| 46 | 2023-03-19 21:55:44 | Charlie Liley |
| 48 | 2023-03-15 20:51:23 | scott pascoe |
| 50 | 2023-03-18 16:35:30 | J R M |
| 52 | 2023-03-19 14:39:27 | Janette Sheasby |
| 54 | 2023-03-15 16:12:34 | Steven Rogers |
| 55 | 2023-03-19 18:40:52 | Anna Hart |
| 57 | 2023-03-19 20:09:00 | Helen Rush |
| 58 | 2023-03-19 17:28:13 | Paula Mcguinness |
| 60 | 2023-03-19 20:08:27 | Louise Gourley |
| 61 | 2023-03-19 09:45:38 | Alison Moore |
| 62 | 2023-03-19 20:45:48 | Callum Breach |
| 63 | 2023-03-19 21:51:36 | Grace Marshall |
| 66 | 2023-03-15 20:51:23 | scott pascoe |
| 67 | 2023-03-18 21:54:57 | Kirsten Radmore |
| 68 | 2023-03-18 22:02:36 | Abby Evans |
| 69 | 2023-03-19 18:44:21 | Ellie Martin |
| 70 | 2023-03-19 08:35:40 | Kourtney Faulkner |
| 71 | 2023-03-17 08:30:44 | Leah Back |
| 72 | 2023-03-19 20:16:18 | Steven Costa |
| 73 | 2023-03-19 12:55:31 | Lindsey Cottrell |
| 75 | 2023-03-19 21:32:18 | Chantel Whitford |
| 76 | 2023-03-19 17:28:13 | Paula Mcguinness |
| 78 | 2023-03-18 16:35:30 | J R M |
| 82 | 2023-03-19 20:08:27 | Louise Gourley |
| 84 | 2023-03-19 20:44:30 | Mathew Jones |
| 85 | 2023-03-19 18:39:46 | Elizabeth Williams |
| 86 | 2023-03-17 07:19:27 | Luke Potts |
| 88 | 2023-03-18 23:21:38 | Rebecca Clough |
| 89 | 2023-03-19 22:31:06 | Zoe Reynolds |
| 91 | 2023-03-19 18:40:52 | Anna Hart |
| 93 | 2023-03-19 18:45:52 | Tammy Caven |
| 94 | 2023-03-17 07:19:27 | Luke Potts |
| 95 | 2023-03-19 12:10:17 | Megan Mcqueeney |
| 96 | 2023-03-17 06:22:15 | Kirsty Passmore |
| 98 | 2023-03-17 20:54:47 | Sally Constable |
| 99 | 2023-03-19 11:24:29 | Ew Mc |