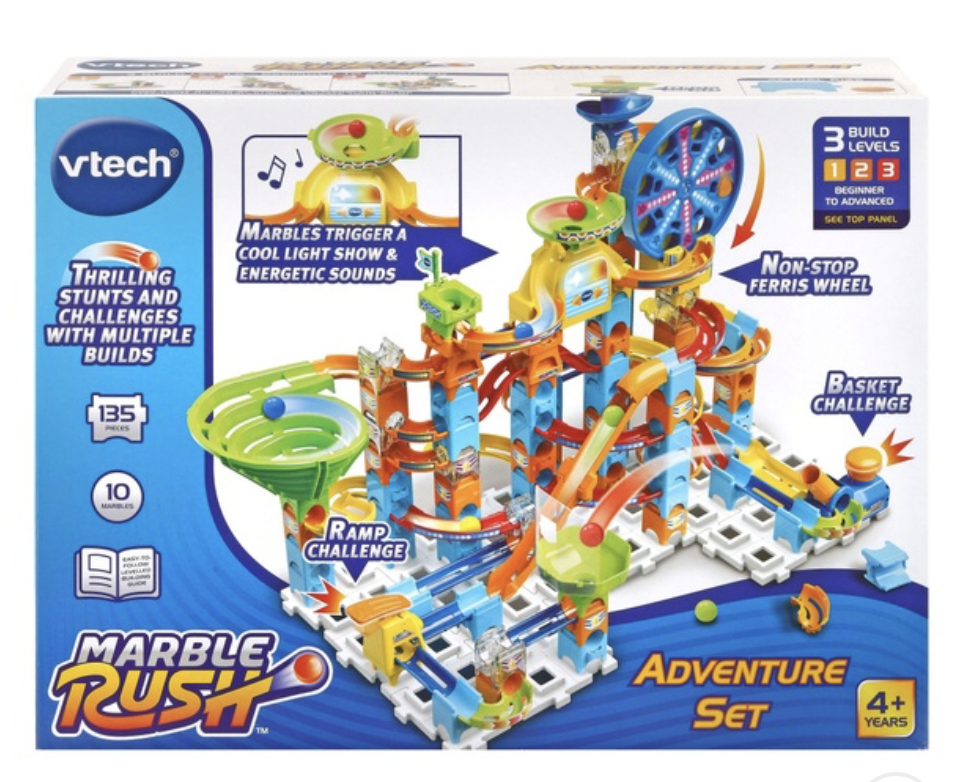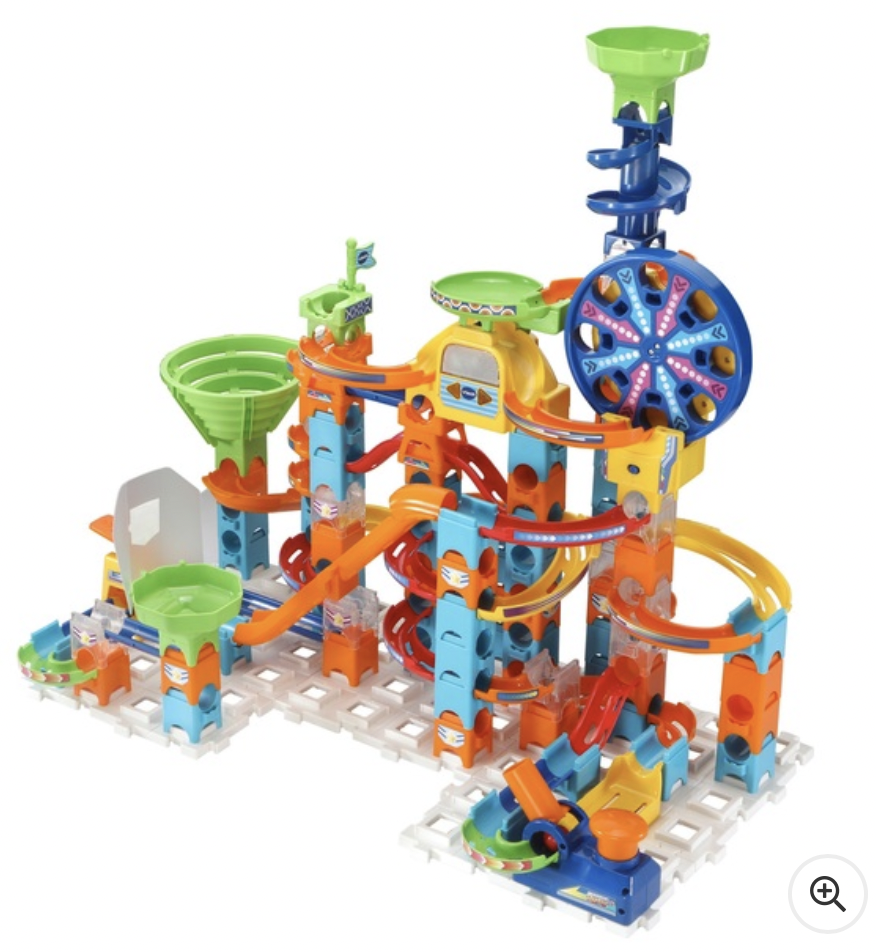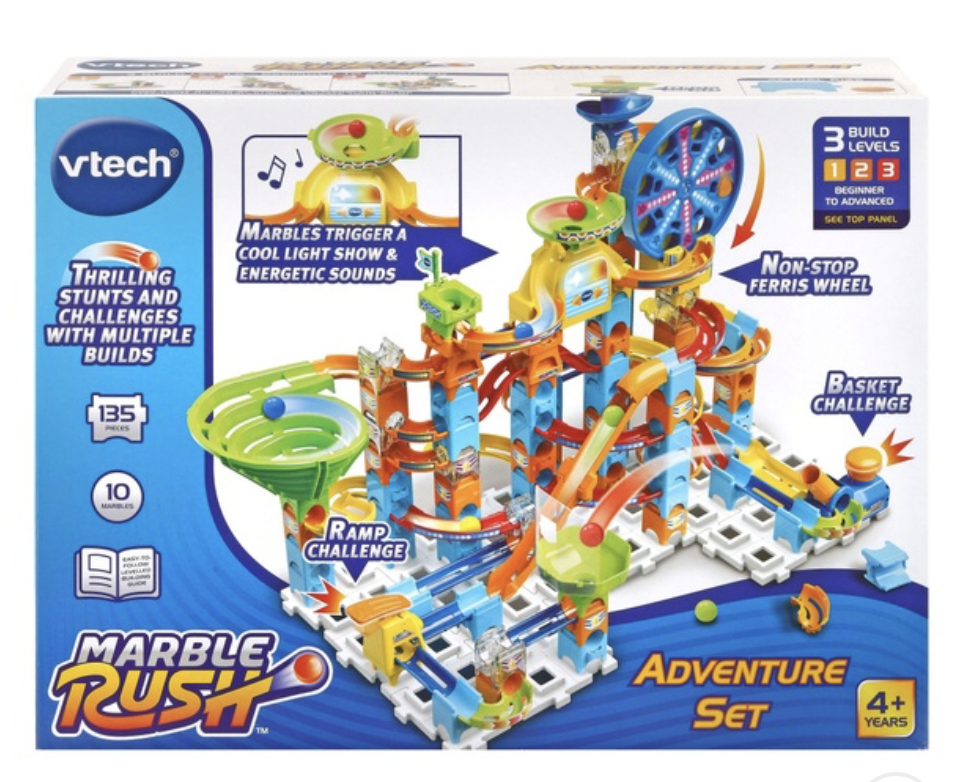 AUTO WIN – VTech Marble Rush Adventure Playset – 11/06
Description
AUTO WIN – VTech Marble Rush Adventure Playset – 11/06
Features
1x VTech Marble Rush Adventure Playset
Includes: 10x Marbles, 128x Building pieces with 2 electronic modules, Instructions
Easy to construct
Modular marble runs make it faster for children to innovate and build
Compatible with all VTech Marble Rush items (each sold separately)
Electronic modules trigger track splits, sounds and reset the run
Imaginative, independent and creative play
Product Description
This exciting colour coded play set features all the pieces you need to create a Marble Rush Adventure! Build your very own marble run, packed with jumps and stunts. There's even an electronic Ferris wheel for imaginative play.
Marble Run Playset
The Marble Rush Adventure from VTech comes with everything you need to make your own super-satisfying marble run! Use the two electronic modules to reset your marble runs, or split your tracks. Plus, this marble playset features cool music and sound effects to enhance creativity during playtime.
Everything You Need to Create
With the Marble Rush Adventure, you can build elaborate tracks and send your marbles down the most incredible course. It comes with ten marbles, so you can send them down, one after the other, or play with friends. This marble run set also includes 128 building pieces to assemble!
| Winner Name | Ticket Number | Draw Date |
| --- | --- | --- |
| Stephanie Clark | 8 | 11/06/2023 |
| Ticket Number | Date | Name |
| --- | --- | --- |
| 1 | 2023-06-11 20:11:29 | Jane Evans |
| 2 | 2023-06-11 16:58:24 | H K |
| 3 | 2023-06-10 09:24:56 | Katherine Meathrel |
| 4 | 2023-06-11 21:43:14 | Shaun Bartlett |
| 5 | 2023-06-10 17:19:25 | Clare Keating |
| 6 | 2023-06-10 00:25:23 | Georgina Eveleigh |
| 7 | 2023-06-11 13:30:20 | The Brendon Family |
| 8 | 2023-06-11 08:33:42 | Stephanie Clark |
| 9 | 2023-06-11 01:43:53 | Cheryl Holland |
| 10 | 2023-06-10 10:41:07 | Jackie Dyer |
| 11 | 2023-06-10 19:48:31 | Shelley Clewes |
| 12 | 2023-06-11 12:21:41 | emma mccauley |
| 13 | 2023-06-09 14:07:05 | The Brendon Family |
| 14 | 2023-06-11 10:20:48 | Katie Strachan |
| 15 | 2023-06-11 17:07:21 | Ashley Galley |
| 16 | 2023-06-11 18:48:59 | Raymond Burgess |
| 17 | 2023-06-10 17:19:25 | Clare Keating |
| 18 | 2023-06-11 15:52:59 | Joanne Payne |
| 19 | 2023-06-09 19:46:19 | Kirsty Haughton |
| 20 | 2023-06-10 19:13:49 | Angelika Harvey |
| 21 | 2023-06-10 22:31:40 | Amanda Wright |
| 22 | 2023-06-09 14:07:05 | The Brendon Family |
| 23 | 2023-06-11 10:17:46 | Raymond Burgess |
| 24 | 2023-06-11 21:43:14 | Shaun Bartlett |
| 25 | 2023-06-10 17:16:30 | Lindsay Hall |
| 26 | 2023-06-10 12:27:52 | Alex Bentley |
| 27 | 2023-06-09 14:07:05 | The Brendon Family |
| 28 | 2023-06-11 08:33:42 | Stephanie Clark |
| 29 | 2023-06-10 10:08:57 | Amy Galley |
| 30 | 2023-06-11 01:43:53 | Cheryl Holland |
| 31 | 2023-06-11 19:07:34 | Jazmin Johns |
| 32 | 2023-06-11 12:21:41 | emma mccauley |
| 33 | 2023-06-11 08:33:22 | Gemma Norgate |
| 34 | 2023-06-11 10:17:46 | Raymond Burgess |
| 35 | 2023-06-10 18:50:52 | Sharon Carr |
| 36 | 2023-06-11 19:15:30 | Hannah Bartlett |
| 37 | 2023-06-11 16:15:58 | Anne-Marie Daniels |
| 38 | 2023-06-11 09:59:28 | Gareth Bovington |
| 39 | 2023-06-11 09:59:28 | Gareth Bovington |
| 40 | 2023-06-11 13:38:40 | Chris Binnie |
| 41 | 2023-06-11 13:38:40 | Chris Binnie |
| 42 | 2023-06-09 14:07:05 | The Brendon Family |
| 43 | 2023-06-10 14:03:47 | Stephen Turner |
| 44 | 2023-06-11 21:39:37 | Kayleigh Bartlett |
| 45 | 2023-06-11 12:35:15 | Shiobhan Westcott |
| 46 | 2023-06-11 19:22:12 | Angela Holden |
| 47 | 2023-06-11 15:52:59 | Joanne Payne |
| 48 | 2023-06-10 17:13:16 | Emily Vine |
| 49 | 2023-06-11 18:21:44 | Zoe Budd |
| 50 | 2023-06-11 20:24:16 | Keeley Vesely |
| 51 | 2023-06-10 17:16:30 | Lindsay Hall |
| 52 | 2023-06-11 16:22:50 | Lindsey Evans |
| 53 | 2023-06-11 17:21:22 | LJ Storer no |
| 54 | 2023-06-11 18:21:44 | Zoe Budd |
| 55 | 2023-06-11 21:43:14 | Shaun Bartlett |
| 56 | 2023-06-11 13:38:40 | Chris Binnie |
| 57 | 2023-06-10 12:27:52 | Alex Bentley |
| 58 | 2023-06-11 13:38:40 | Chris Binnie |
| 59 | 2023-06-11 20:01:38 | Rebecca Slater |
| 60 | 2023-06-10 20:24:51 | Jenna Bott |
| 61 | 2023-06-09 19:54:21 | Jo B |
| 62 | 2023-06-11 21:25:24 | emma mccauley |
| 63 | 2023-06-10 09:43:15 | Sarah SQUIRE |
| 64 | 2023-06-10 10:41:07 | Jackie Dyer |
| 65 | 2023-06-10 17:16:30 | Lindsay Hall |
| 66 | 2023-06-11 18:48:59 | Raymond Burgess |
| 67 | 2023-06-11 13:57:39 | Maralyn Hancox |
| 68 | 2023-06-11 20:42:44 | Beth Hatch |
| 69 | 2023-06-11 20:00:20 | Amy Chambers |
| 70 | 2023-06-10 13:14:09 | Joeanne O'connor |
| 71 | 2023-06-11 19:58:40 | Michelle W |
| 72 | 2023-06-11 01:43:53 | Cheryl Holland |
| 73 | 2023-06-11 20:01:38 | Rebecca Slater |
| 74 | 2023-06-10 17:58:42 | Ann Hall |
| 75 | 2023-06-11 15:06:12 | Caroline Dreesden |
| 76 | 2023-06-10 16:55:27 | Sarah Box |
| 77 | 2023-06-11 12:35:15 | Shiobhan Westcott |
| 78 | 2023-06-11 21:28:59 | Leanne Pearce |
| 79 | 2023-06-11 18:15:42 | Adam Glennon |
| 80 | 2023-06-11 18:15:42 | Adam Glennon |
| 81 | 2023-06-11 15:52:59 | Joanne Payne |
| 82 | 2023-06-11 16:30:36 | Debbie Sneap |
| 83 | 2023-06-11 18:23:01 | Teresa Stone |
| 84 | 2023-06-11 20:15:00 | Ian Whitford |
| 85 | 2023-06-11 20:25:47 | Rebecca Sparkes |
| 86 | 2023-06-10 17:58:42 | Ann Hall |
| 87 | 2023-06-11 13:54:57 | Thomas Clark |
| 88 | 2023-06-09 17:14:44 | Lisa Aspbury |
| 89 | 2023-06-11 18:21:44 | Zoe Budd |
| 90 | 2023-06-11 13:54:57 | Thomas Clark |
| 91 | 2023-06-11 09:32:56 | John Faulkner-Lloyd |
| 92 | 2023-06-11 21:25:24 | emma mccauley |
| 93 | 2023-06-11 18:37:22 | karen Davey |
| 94 | 2023-06-11 10:54:47 | Bethan Bennett |
| 95 | 2023-06-11 10:54:47 | Bethan Bennett |
| 96 | 2023-06-11 21:39:37 | Kayleigh Bartlett |
| 97 | 2023-06-11 20:21:51 | Sophie Deeley |
| 98 | 2023-06-11 12:35:15 | Shiobhan Westcott |
| 99 | 2023-06-10 17:16:30 | Lindsay Hall |
| 100 | 2023-06-10 01:13:01 | Christine Forward |
| 101 | 2023-06-11 08:12:47 | Spencer Troth |
| 102 | 2023-06-10 21:49:26 | Michael Harvey |
| 103 | 2023-06-11 21:28:59 | Leanne Pearce |
| 104 | 2023-06-11 21:26:22 | Mandy Adams |
| 105 | 2023-06-11 21:25:24 | emma mccauley |
| 106 | 2023-06-11 20:01:38 | Rebecca Slater |
| 107 | 2023-06-11 20:01:38 | Rebecca Slater |
| 108 | 2023-06-11 20:23:40 | Laura Hopkins |
| 109 | 2023-06-11 20:01:38 | Rebecca Slater |
| 110 | 2023-06-11 18:21:44 | Zoe Budd |
| 111 | 2023-06-10 10:50:55 | Rod Punter |
| 112 | 2023-06-11 11:21:26 | sue fogarty |
| 113 | 2023-06-11 13:43:48 | Kym Dalziel |
| 114 | 2023-06-11 10:17:33 | Andrew Clarke |
| 115 | 2023-06-10 17:16:30 | Lindsay Hall |
| 116 | 2023-06-10 21:49:26 | Michael Harvey |
| 117 | 2023-06-11 10:17:52 | Rachel Gilbert |
| 118 | 2023-06-10 08:59:41 | Rachel Gilbert |
| 119 | 2023-06-10 11:39:14 | Jonathan Widdowson |
| 120 | 2023-06-11 01:43:53 | Cheryl Holland |