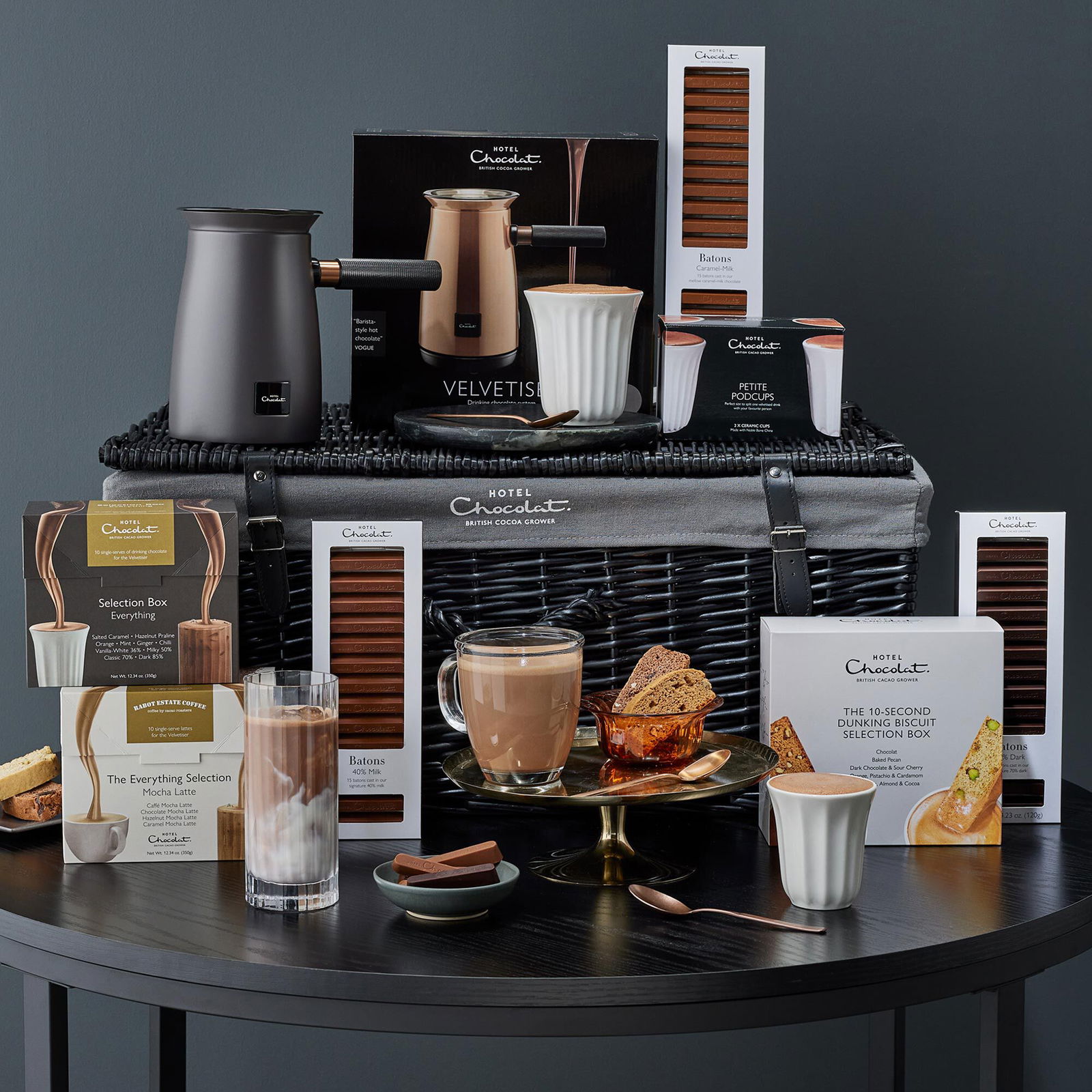 AUTO WIN – The Velvetiser Experience Chocolate Hamper – 25/11
Description
AUTO WIN – The Velvetiser Experience Chocolate Hamper – 25/11
AUTO WIN – NO LIVE DRAW – WINNER WILL BE CONTACTED WITHIN 24 HOURS
The Velvetiser Experience Chocolate Hamper includes:
The VelvetiserTM – Charcoal Edition – Our in-home, barista-grade drinking chocolate machine uses real grated chocolate and your choice of milk or plant-based alternative to create velvet-smooth hot or iced chocolate at the touch of the button. Two ceramic Podcups included in the box.
Petite Podcups – Two cups in a smaller size than our classic Podcups. Great for those who love to split a velvetised drink with their favourite person.
The Everything Hot Chocolate Sachet Selection – 10 single-serve sachets of real grated chocolate, in a variety of flavours: Milky 50%, Classic 70%, Dark 85%, Salted Caramel, Hazelnut Praline, Orange, Mint, Chilli, Ginger, Vanilla-White.
The Everything Latte Sachet Selection – 10 single-serve cacao-infused mocha latte sachets, in four flavours: the classic Caffè Mocha Latte, Caramel Mocha Latte, Chocolate Mocha Latte, Hazelnut Mocha Latte.
Dunking Biscuits – 10 individually wrapped biscuits that have been sliced thick and baked twice to hold their shape after a full 10-second dunk. In five flavours: Chocolate, Chocolate & Sour Cherry, Orange Pistachio & Cardamom, Pecan Pie, and Cinnamon Almond & Cocoa.
Batons – Solid chocolate Batons in three different recipes: 40% Milk, 70% Dark and Caramel-Milk.  They pair perfectly with a cup of hot chocolate. Dunk one in. Let it melt. Enjoy.
| Winner Name | Ticket Number | Draw Date |
| --- | --- | --- |
| Stacey Easter | 167 | 25/11/2023 |
| Ticket Number | Date | Name |
| --- | --- | --- |
| 1 | 2023-11-23 14:30:21 | Stacey Easter |
| 2 | 2023-11-21 15:42:37 | C A |
| 3 | 2023-11-24 20:20:30 | Lana Houghton |
| 4 | 2023-11-23 13:16:25 | Katy Ford |
| 5 | 2023-11-25 08:47:02 | Clive Mitchell |
| 6 | 2023-11-24 17:10:23 | Karen Ainslie |
| 7 | 2023-11-24 23:13:45 | Courtenay Clarke |
| 8 | 2023-11-23 19:56:35 | Sharon Middleton8 |
| 9 | 2023-11-25 07:22:34 | Kirsty Kilkenny |
| 10 | 2023-11-23 19:56:35 | Sharon Middleton8 |
| 11 | 2023-11-21 17:25:43 | JMS S |
| 12 | 2023-11-22 06:17:47 | R W |
| 13 | 2023-11-23 11:19:42 | Sarah jane Glover |
| 14 | 2023-11-24 20:16:35 | Nicole Stevens |
| 15 | 2023-11-24 22:14:27 | Carol Chappell |
| 16 | 2023-11-24 21:52:05 | C A |
| 17 | 2023-11-21 15:42:37 | C A |
| 18 | 2023-11-25 02:02:29 | G W |
| 19 | 2023-11-22 21:02:35 | Victoria Offord |
| 20 | 2023-11-23 19:56:35 | Sharon Middleton8 |
| 21 | 2023-11-25 09:26:23 | Dean Hepburn |
| 22 | 2023-11-21 15:42:37 | C A |
| 23 | 2023-11-24 21:33:18 | Anne-Marie Daniels |
| 24 | 2023-11-22 23:04:57 | Emma Lou |
| 25 | 2023-11-22 18:40:19 | Sophie Moss |
| 26 | 2023-11-25 10:32:57 | Amy Shoyer |
| 27 | 2023-11-23 16:54:13 | Alison Holwell |
| 28 | 2023-11-24 19:59:53 | Annabell Breslan |
| 29 | 2023-11-25 00:13:18 | Jan Robinson |
| 30 | 2023-11-22 18:40:19 | Sophie Moss |
| 31 | 2023-11-25 09:31:21 | Amber Ley |
| 32 | 2023-11-21 15:42:37 | C A |
| 33 | 2023-11-23 11:19:42 | Sarah jane Glover |
| 34 | 2023-11-23 16:54:13 | Alison Holwell |
| 35 | 2023-11-23 14:30:21 | Stacey Easter |
| 36 | 2023-11-25 08:47:02 | Clive Mitchell |
| 37 | 2023-11-25 08:47:02 | Clive Mitchell |
| 38 | 2023-11-24 14:33:04 | Cheryl Delbridge |
| 39 | 2023-11-24 19:50:57 | Maria Hewitt |
| 40 | 2023-11-24 20:25:35 | Jade Hulme |
| 41 | 2023-11-24 21:52:05 | C A |
| 42 | 2023-11-25 10:53:53 | Amy Shoyer |
| 43 | 2023-11-25 10:03:40 | d k J |
| 44 | 2023-11-22 18:40:19 | Sophie Moss |
| 45 | 2023-11-24 20:16:35 | Nicole Stevens |
| 47 | 2023-11-25 09:35:31 | Helen Louth |
| 48 | 2023-11-24 19:27:37 | phyllis steer |
| 49 | 2023-11-24 20:25:46 | Dawn Drew |
| 50 | 2023-11-24 19:50:57 | Maria Hewitt |
| 51 | 2023-11-25 10:31:48 | Shirley Macdonald |
| 52 | 2023-11-25 10:03:21 | Helen Bartholomew |
| 53 | 2023-11-25 09:41:19 | P Champion |
| 54 | 2023-11-25 10:32:44 | Rebecca Watson |
| 55 | 2023-11-25 08:50:48 | Trudi Aitken |
| 56 | 2023-11-22 13:31:16 | Sarah Potter |
| 57 | 2023-11-25 09:26:23 | Dean Hepburn |
| 58 | 2023-11-25 08:47:02 | Clive Mitchell |
| 59 | 2023-11-25 07:25:52 | Clare Wibberley |
| 60 | 2023-11-25 01:06:34 | Alison Moore |
| 62 | 2023-11-25 10:22:12 | Stephen King |
| 63 | 2023-11-25 10:34:39 | Nicola Bartlett |
| 65 | 2023-11-21 17:25:43 | JMS S |
| 66 | 2023-11-22 21:02:35 | Victoria Offord |
| 67 | 2023-11-25 07:34:56 | Lynne Deeley |
| 68 | 2023-11-25 10:50:01 | Danielle Coombes |
| 69 | 2023-11-23 12:24:52 | thomas stirling |
| 70 | 2023-11-25 08:58:55 | Michelle Mudge |
| 72 | 2023-11-24 20:48:30 | Tracey Jolly |
| 73 | 2023-11-23 13:59:36 | A.T W. |
| 74 | 2023-11-22 06:21:29 | Joeanne O'connor |
| 75 | 2023-11-25 08:29:17 | Karen Hutchinson |
| 76 | 2023-11-22 21:02:35 | Victoria Offord |
| 77 | 2023-11-25 10:58:19 | Ayesha Davies |
| 78 | 2023-11-25 08:57:51 | Alexis Worthington |
| 79 | 2023-11-22 21:02:35 | Victoria Offord |
| 80 | 2023-11-25 08:30:50 | Debi Rogers |
| 81 | 2023-11-25 08:47:02 | Clive Mitchell |
| 82 | 2023-11-25 08:58:42 | Cameron Thompson |
| 83 | 2023-11-25 10:33:08 | Heather Macdonald |
| 84 | 2023-11-22 21:02:35 | Victoria Offord |
| 85 | 2023-11-25 09:26:23 | Dean Hepburn |
| 87 | 2023-11-24 08:51:09 | Maria Mahoney |
| 88 | 2023-11-25 10:22:12 | Stephen King |
| 89 | 2023-11-24 12:55:18 | Sharon Cassidy |
| 90 | 2023-11-22 21:02:35 | Victoria Offord |
| 91 | 2023-11-21 15:42:37 | C A |
| 92 | 2023-11-22 21:02:35 | Victoria Offord |
| 93 | 2023-11-24 21:10:18 | Hannah Long |
| 94 | 2023-11-25 08:03:06 | Lisa-marie Mallinson |
| 95 | 2023-11-25 10:22:12 | Stephen King |
| 96 | 2023-11-24 19:50:57 | Maria Hewitt |
| 97 | 2023-11-21 15:42:37 | C A |
| 99 | 2023-11-24 21:52:05 | C A |
| 100 | 2023-11-24 20:35:08 | Ruth Bryant |