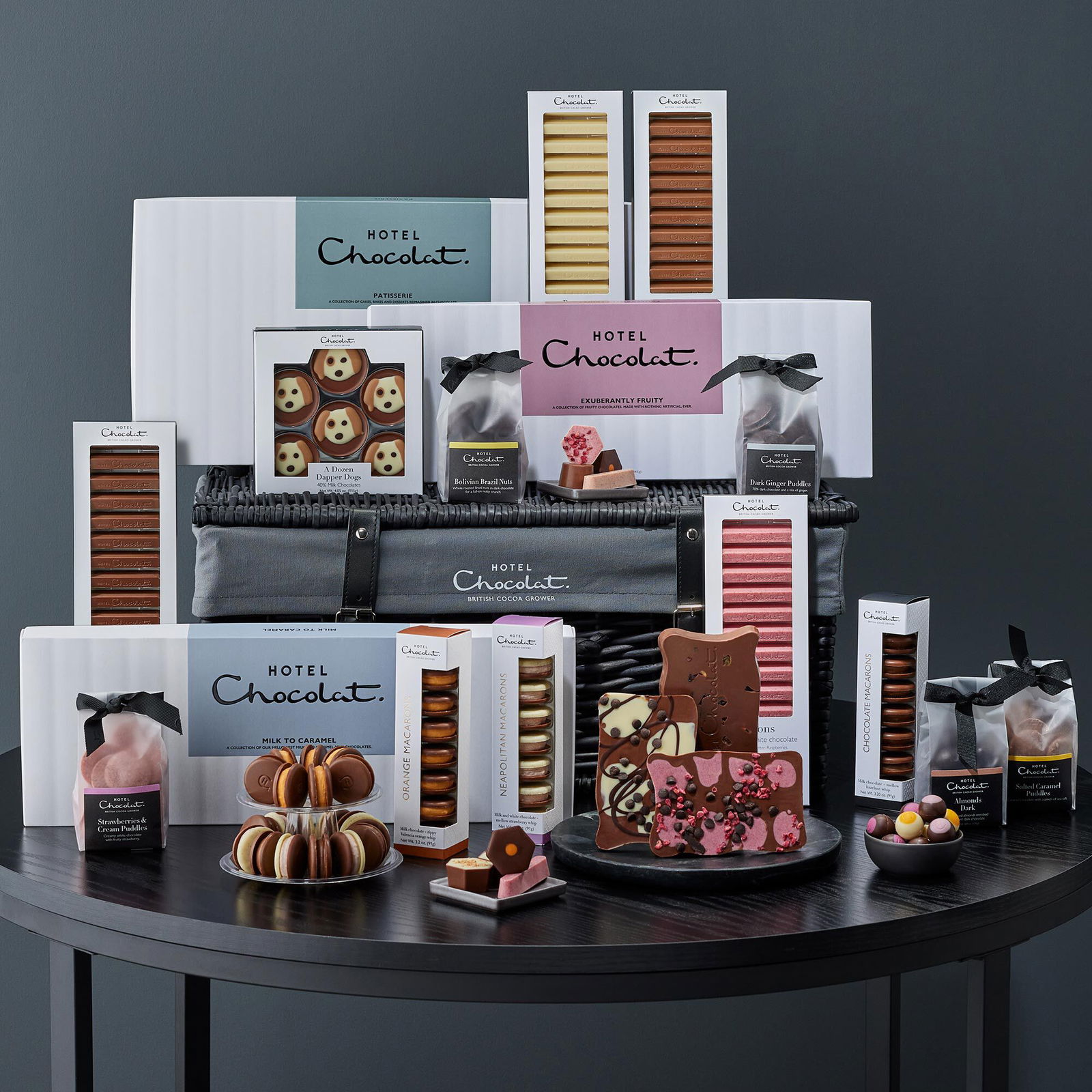 AUTO WIN – The Chocolate Adventurer's Hamper – 25/11
Description
AUTO WIN – The Chocolate Adventurer's Hamper – 25/11
AUTO WIN – NO LIVE DRAW – WINNER WILL BE CONTACTED WITHIN 24 HOURS
The Chocolate Adventurer's Hamper includes:
Boxed selections:
Milk to Caramel Sleekster – Mellow and comforting. 34 of our finest milk and caramel-milk chocolates.
Exuberantly Fruity Sleekster – 38 filled and solid chocolates celebrating fruit in all its glory, from strawberry to sour cherry.
Patisserie Luxe – A generous selection of 44 bakes and desserts reimagined as filled and solid chocolates.
Macarons:
Our take on the French patisserie, in three different recipes: Chocolate, Chocolate Orange and Neapolitan – with authentically fruity strawberry whip between chocolate discs: one milk, one white.
Batons:
Solid chocolate Batons in four different recipes: 40% Milk, Caramel, White and Raspberry-White. The perfect way to experience the tasting notes of our distinct chocolate grades.
Slab Selectors:
Made for sharing or savouring, our slabs are inspired by the shape of molten chocolate when you pour it onto the cool marble of a chocolatier's table. You'll find three different Slabs in this hamper:
Mississippi Mud Pie Slab – Inspired by the American dessert. A melange of milk and white chocolate, with a delightful biscuit crunch and a drizzle of dark chocolate.
Raspberry Riot Slab – 40% milk chocolate, dolloped with zingy yet creamy raspberry-white, alongside pieces of crunchy biscuit and raspberry.
Fruit & Nut Slab – 40% milk chocolate packed with whole hazelnuts, almonds, raisins and cranberries.
Chocolate puddles:
In three different recipes: Strawberries & Cream, Dark Ginger and Salted Caramel. Presented in elegant bow-tied bags, these blissful bite-size creations are sure to brighten your day.
Lovely Little Things:
Dapper Dogs – A selection of 12 cute-as-a-button pups cast in 40% milk chocolate, with creamy white and rich dark chocolate detailing.
Dark Chocolate Almonds – A little bag of almonds enrobed in a crisp, caramelised shell and then a layer of dark chocolate.
Dark Chocolate Brazil Nuts – A little bag of Brazil nuts coated in lashings of 65% dark chocolate.
| Winner Name | Ticket Number | Draw Date |
| --- | --- | --- |
| Ayesha Davies | 453 | 25/11/2023 |
1-100
101-200
201-300
301-400
401-500
| Ticket Number | Date | Name |
| --- | --- | --- |
| 1 | 2023-11-25 15:44:07 | Kirsty Hodges |
| 2 | 2023-11-25 21:51:50 | Odette Eddy |
| 3 | 2023-11-24 22:07:20 | Carly Kelly |
| 4 | 2023-11-22 21:32:18 | Terianne Robson-Burrell |
| 5 | 2023-11-25 19:21:48 | No Christine Scarbrough |
| 6 | 2023-11-25 21:18:49 | Naomi still |
| 7 | 2023-11-25 08:56:21 | Sadie Vicary |
| 8 | 2023-11-25 21:51:50 | Odette Eddy |
| 9 | 2023-11-25 11:49:27 | Kevin Hayes |
| 10 | 2023-11-21 19:21:01 | Jill Higham |
| 11 | 2023-11-25 15:34:33 | Joanne Taylor |
| 12 | 2023-11-22 06:17:47 | R W |
| 13 | 2023-11-23 11:19:42 | Sarah jane Glover |
| 14 | 2023-11-25 16:23:40 | SHAR H |
| 15 | 2023-11-25 21:41:11 | A M |
| 16 | 2023-11-25 20:08:45 | Holly Gawrel |
| 17 | 2023-11-21 17:25:43 | JMS S |
| 18 | 2023-11-25 21:36:55 | d k J |
| 19 | 2023-11-25 17:57:53 | Pamela Johnston |
| 20 | 2023-11-25 11:02:44 | Claire dipple |
| 21 | 2023-11-24 07:43:35 | Joeanne O'connor |
| 22 | 2023-11-25 20:42:58 | Marie Marie |
| 23 | 2023-11-25 18:10:48 | Rach W |
| 24 | 2023-11-23 11:23:52 | Emma Lou |
| 25 | 2023-11-25 22:02:29 | Odette Eddy |
| 26 | 2023-11-25 22:49:13 | Sharon Longbottom |
| 27 | 2023-11-21 17:25:43 | JMS S |
| 28 | 2023-11-23 07:12:45 | G W |
| 29 | 2023-11-25 22:35:56 | Kayleigh Bakalarz |
| 30 | 2023-11-24 22:58:10 | Diane Fox |
| 31 | 2023-11-25 20:03:44 | Lee Gable |
| 32 | 2023-11-25 16:17:06 | Rebecca Watson |
| 33 | 2023-11-23 11:19:42 | Sarah jane Glover |
| 34 | 2023-11-21 20:34:51 | Melanie Marks |
| 35 | 2023-11-25 15:46:10 | Sharon Smith |
| 36 | 2023-11-24 17:44:25 | Rebecca Watson |
| 37 | 2023-11-25 17:39:29 | Nikki Ferrier |
| 38 | 2023-11-25 20:54:29 | Jem V |
| 39 | 2023-11-23 19:36:28 | Jemima Hember |
| 40 | 2023-11-25 17:57:53 | Pamela Johnston |
| 41 | 2023-11-25 20:34:30 | Lacey Laird |
| 42 | 2023-11-25 10:32:21 | Tyler Haynes |
| 43 | 2023-11-25 20:42:58 | Marie Marie |
| 44 | 2023-11-25 08:53:44 | Kelly Parker |
| 45 | 2023-11-25 20:40:09 | Charlotte Sutton |
| 46 | 2023-11-25 20:45:58 | Jennie Barnard |
| 47 | 2023-11-23 11:19:42 | Sarah jane Glover |
| 48 | 2023-11-25 21:25:46 | E L |
| 49 | 2023-11-25 18:10:48 | Rach W |
| 50 | 2023-11-25 08:47:50 | Sami Knott |
| 51 | 2023-11-25 18:33:16 | Sally Newland |
| 52 | 2023-11-22 18:54:38 | rosie bradley |
| 53 | 2023-11-25 18:13:58 | Kerry McLean |
| 54 | 2023-11-25 20:23:48 | Justine Cooper |
| 55 | 2023-11-25 13:51:48 | Stacey Easter |
| 56 | 2023-11-21 16:12:41 | S S |
| 58 | 2023-11-25 22:39:37 | Lorraine Williams |
| 59 | 2023-11-25 20:02:14 | Donald Hughes |
| 60 | 2023-11-25 19:40:49 | Mrs B |
| 61 | 2023-11-25 20:49:55 | marion clark |
| 62 | 2023-11-23 21:42:04 | Kaylie T |
| 63 | 2023-11-24 17:34:50 | Ann Chase |
| 64 | 2023-11-24 17:44:25 | Rebecca Watson |
| 65 | 2023-11-25 21:09:40 | Patricia Leworthy |
| 66 | 2023-11-25 21:51:50 | Odette Eddy |
| 67 | 2023-11-25 16:17:06 | Rebecca Watson |
| 68 | 2023-11-25 22:02:29 | Odette Eddy |
| 69 | 2023-11-21 16:12:41 | S S |
| 70 | 2023-11-24 22:58:10 | Diane Fox |
| 71 | 2023-11-25 22:02:29 | Odette Eddy |
| 72 | 2023-11-25 13:52:26 | Ben Coggins |
| 74 | 2023-11-25 21:51:50 | Odette Eddy |
| 75 | 2023-11-25 21:37:18 | Ian Handa |
| 76 | 2023-11-25 18:13:58 | Kerry McLean |
| 77 | 2023-11-25 06:42:54 | Nichola Brown |
| 78 | 2023-11-25 21:20:39 | K W |
| 79 | 2023-11-25 21:51:50 | Odette Eddy |
| 80 | 2023-11-25 21:25:46 | E L |
| 81 | 2023-11-25 22:39:37 | Lorraine Williams |
| 82 | 2023-11-25 22:49:13 | Sharon Longbottom |
| 83 | 2023-11-25 21:47:08 | Lyn Peters |
| 84 | 2023-11-25 22:39:37 | Lorraine Williams |
| 85 | 2023-11-25 17:41:46 | Lorna Smith |
| 86 | 2023-11-25 22:49:13 | Sharon Longbottom |
| 87 | 2023-11-25 16:14:17 | Kayleigh Garrett |
| 88 | 2023-11-25 22:49:13 | Sharon Longbottom |
| 89 | 2023-11-25 22:02:29 | Odette Eddy |
| 90 | 2023-11-25 22:02:29 | Odette Eddy |
| 91 | 2023-11-25 21:51:50 | Odette Eddy |
| 92 | 2023-11-25 16:17:06 | Rebecca Watson |
| 93 | 2023-11-25 20:52:35 | Ann-Marie Hopkins |
| 94 | 2023-11-25 17:56:55 | Loren Cox |
| 95 | 2023-11-22 02:37:39 | Teresa norman |
| 96 | 2023-11-25 19:40:50 | Kim Hakewill |
| 97 | 2023-11-25 11:02:44 | Claire dipple |
| 98 | 2023-11-25 21:51:50 | Odette Eddy |
| 99 | 2023-11-25 20:09:58 | Ryan Finch |
| 100 | 2023-11-25 18:13:58 | Kerry McLean |