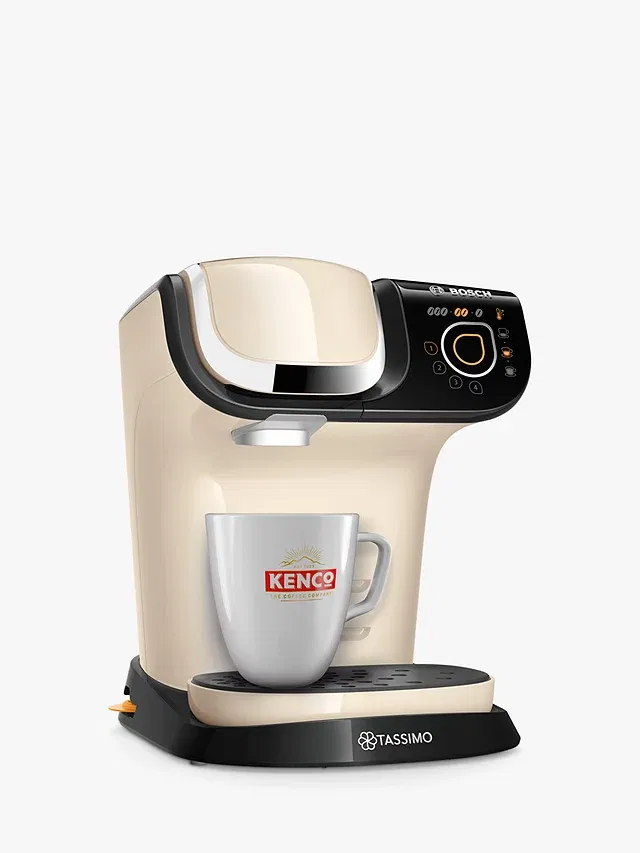 AUTO WIN – TASSIMO by Bosch Tassimo MyWay 2 Coffee Machine, Cream – 27/11
Description
AUTO WIN – TASSIMO by Bosch Tassimo MyWay 2 Coffee Machine, Cream – 27/11
AUTO WIN – NO LIVE DRAW – WINNER WILL BE CONTACTED WITHIN 24 HOURS
Give every drink your personal touch! The TASSIMO MY WAY 2 single serve coffee machine provides individual settings to enjoy your favourite coffee drinks. Do you like your espresso a little more intense or your Americano a little bigger? With the TASSIMO MY WAY 2 coffee machine you can personalise your coffee specialties according to desired temperature, volume and intensity at home, like a barista. For even more convenience you can store up to four individual profiles with the memory function.
Choose from a wide range of coffees with the TASSIMO MY WAY 2, including Costa favourites, tasty teas, and hot chocolates. Enjoy great variety for every taste with up to 50 famous-brand drinks. Your beverage is also prepared beautifully. Using the barcode (INTELLIBREW), the TASSIMO knows exactly what settings your beverage needs. Simply insert your desired T DISC (barcoded coffee pod), press the button and your favourite drink is ready in no time.
BRITA MAXTRA+ water filtration technology reduces limescale and chlorine to a minimum and guarantees a longer appliance life. Includes one filter in each pack. Prepare espresso, cappuccino, hot chocolate, or tea at the touch of a button and use your favourite cup, no matter which size.
With a large 1.3 litre water tank prepare drinks one after another, without needing to refill.
PERSONALISATION: Set your temperature, volume and intensity just the way you like it.
EASY TO USE: Simply pop your chosen drink pod in to the coffee machine, press start and the Tassimo MyWay 2 reads the drink's unique barcode thanks to its Intellibrew technology for the ideal drink every time; No heat up required.
COFFEE SHOP FAVOURITES: Indulge in your favourite Costa Latte, Cappuccino or tasty Cadbury's hot chocolate; Choose from over 50 drinks, from well-known brands, to enjoy at home with family and friends.
BRITA WATER FILTER and large 1.3 Litre Water Tank; The My Way 2 automatically cleans between each drink to ensure no flavour mixing between cups and auto shuts off when not in use.
| Winner Name | Ticket Number | Draw Date |
| --- | --- | --- |
| John Colling | 71 | 27/11/2023 |
| Ticket Number | Date | Name |
| --- | --- | --- |
| 1 | 2023-11-26 21:54:47 | John Colling |
| 5 | 2023-11-26 21:54:47 | John Colling |
| 8 | 2023-11-26 06:44:39 | A M |
| 11 | 2023-11-27 10:36:46 | Lee Gable |
| 12 | 2023-11-27 07:18:33 | ~ Abby & Kelly ~ |
| 13 | 2023-11-26 06:44:39 | A M |
| 16 | 2023-11-27 10:10:59 | Julie Cornford |
| 17 | 2023-11-27 10:04:19 | Rachi B |
| 18 | 2023-11-26 22:44:44 | Angela Jones |
| 19 | 2023-11-27 00:09:43 | Cristian Mocanu |
| 20 | 2023-11-27 10:04:19 | Rachi B |
| 21 | 2023-11-27 10:28:30 | Pamela Johnston |
| 22 | 2023-11-26 21:10:43 | Emma & lee |
| 23 | 2023-11-27 10:04:19 | Rachi B |
| 25 | 2023-11-27 02:22:57 | Heather Bower |
| 26 | 2023-11-27 00:09:43 | Cristian Mocanu |
| 27 | 2023-11-26 06:44:39 | A M |
| 33 | 2023-11-27 00:09:43 | Cristian Mocanu |
| 35 | 2023-11-27 08:50:37 | Donna Spicer |
| 37 | 2023-11-27 08:35:27 | Grace Cape |
| 38 | 2023-11-26 21:54:47 | John Colling |
| 39 | 2023-11-26 06:44:39 | A M |
| 42 | 2023-11-27 10:04:19 | Rachi B |
| 45 | 2023-11-27 10:04:19 | Rachi B |
| 48 | 2023-11-27 10:30:34 | Lorraine Williams |
| 49 | 2023-11-27 09:50:15 | Livi Newton |
| 50 | 2023-11-26 06:44:39 | A M |
| 51 | 2023-11-26 16:41:59 | Sarah Woodes |
| 53 | 2023-11-26 21:54:47 | John Colling |
| 54 | 2023-11-26 20:58:08 | Bradley Dumont |
| 55 | 2023-11-27 10:04:19 | Rachi B |
| 57 | 2023-11-26 21:54:47 | John Colling |
| 62 | 2023-11-26 06:44:39 | A M |
| 69 | 2023-11-27 10:10:59 | Julie Cornford |
| 71 | 2023-11-26 21:54:47 | John Colling |
| 73 | 2023-11-27 10:30:34 | Lorraine Williams |
| 74 | 2023-11-26 06:44:39 | A M |
| 75 | 2023-11-27 10:04:19 | Rachi B |
| 76 | 2023-11-27 00:09:43 | Cristian Mocanu |
| 79 | 2023-11-27 07:59:54 | Kerry McLean |
| 80 | 2023-11-27 10:57:40 | Paula Thomas |
| 82 | 2023-11-27 10:10:59 | Julie Cornford |
| 84 | 2023-11-25 21:00:26 | Paul Lewis |
| 85 | 2023-11-26 21:54:47 | John Colling |
| 86 | 2023-11-27 07:18:33 | ~ Abby & Kelly ~ |
| 87 | 2023-11-26 06:44:39 | A M |
| 89 | 2023-11-26 14:23:14 | Donald Hughes |
| 91 | 2023-11-26 21:54:47 | John Colling |
| 95 | 2023-11-27 10:04:19 | Rachi B |
| 97 | 2023-11-24 11:29:48 | JMS S |
| 99 | 2023-11-27 10:50:16 | Gail. Gilbert. |