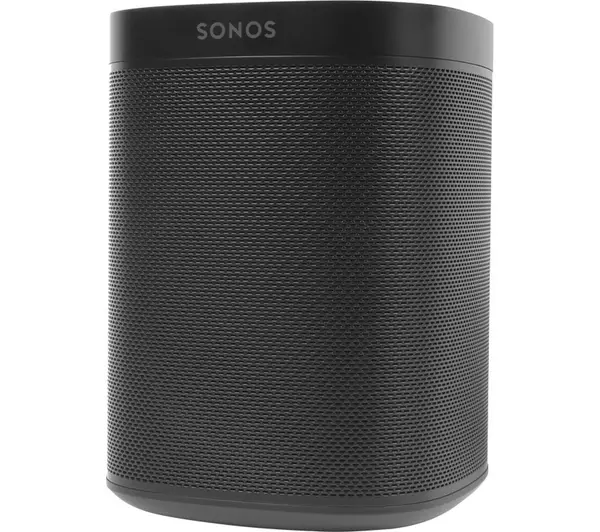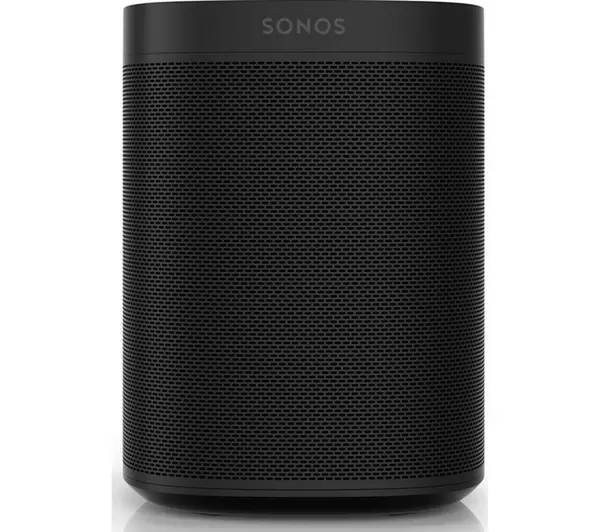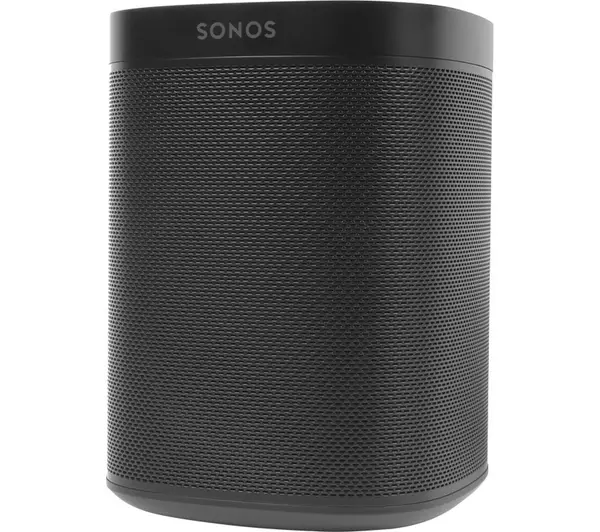 AUTO WIN- Sonos One (Gen 2) Smart Speaker with Voice Control, Black
Description
Sonos One gives you rich, room-filling sound and has the Google Assistant and Amazon Alexa built in for simple voice control of your music, and more. Ask for songs while you cook, easily turn the volume up while you're in the shower, or even request a lullaby when you're putting the kids to bed. Sonos One connects to the Google Assistant or Amazon Alexa over Wi-Fi. Just plug in the speaker and follow step-by-step instructions in the app (available on iOS and Android). In minutes you're ready to play music, get news and answers, manage your smart devices, and enjoy all the convenience of your voice assistant with nothing but your Sonos One. Anyone in your home can take charge of the music. Kids can call out their favorite sing-alongs, friends can skip or replay tracks and adjust audio settings, and guests can request their favorite songs in real time.
Voice control with the Google Assistant and Amazon Alexa
The Google Assistant and Amazon Alexa are built in so you can play music, check news, set alarms, get your questions answered, and more, completely hands free.
Brilliant sound for every room
The compact design fits just about any space. Put it on your kitchen top or tuck it away on the office bookshelf. It's also humidity-resistant so you can put it in the bathroom.
AUTO WIN- NO LIVE DRAW
WINNERS AUTOMATICALLY SELECTED AS SOON AS THE COMPETITION HAS SOLD OUT OR THE TIMER IS UP
| Winner Name | Ticket Number | Draw Date |
| --- | --- | --- |
| Rachi B | 236 | 18/08/2022 |
1-100
101-200
201-300
301-400
| Ticket Number | Date | Name |
| --- | --- | --- |
| 1 | 2022-08-18 01:18:55 | Nigel Sutton |
| 2 | 2022-08-18 16:19:15 | Tanya Sumner |
| 3 | 2022-08-18 19:32:24 | Matthew Townend |
| 4 | 2022-08-18 14:08:23 | Claire Jopson |
| 5 | 2022-08-18 19:12:57 | Mike Smart |
| 6 | 2022-08-18 18:51:00 | Leah Knight |
| 7 | 2022-08-18 16:19:15 | Tanya Sumner |
| 8 | 2022-08-18 20:40:22 | Helen Gudgin |
| 9 | 2022-08-18 20:55:55 | Lee Mayo |
| 10 | 2022-08-18 11:40:04 | Trudi Henderson |
| 11 | 2022-08-18 16:11:26 | Holly Kemp |
| 12 | 2022-08-18 11:40:04 | Trudi Henderson |
| 14 | 2022-08-17 14:05:24 | Juliet Phillips |
| 15 | 2022-08-18 01:18:55 | Nigel Sutton |
| 16 | 2022-08-18 18:34:09 | Natalie D |
| 17 | 2022-08-18 19:18:38 | Tyrone Small |
| 18 | 2022-08-18 16:26:35 | Amy Barr |
| 19 | 2022-08-18 18:12:30 | Andrew Del-pizzo |
| 20 | 2022-08-18 19:58:05 | Robert Cox |
| 21 | 2022-08-14 16:54:48 | Lisa Roberts |
| 22 | 2022-08-18 09:17:43 | Lisa Roberts |
| 23 | 2022-08-18 09:17:43 | Lisa Roberts |
| 25 | 2022-08-17 20:17:32 | Kellie Imms |
| 26 | 2022-08-18 20:59:42 | Grace mudge |
| 27 | 2022-08-18 16:19:15 | Tanya Sumner |
| 30 | 2022-08-18 18:55:17 | Jo Disley |
| 31 | 2022-08-18 18:24:33 | Danielle Tallamy |
| 32 | 2022-08-18 18:12:30 | Andrew Del-pizzo |
| 33 | 2022-08-18 19:32:24 | Matthew Townend |
| 35 | 2022-08-18 16:44:57 | Nick Stevens |
| 36 | 2022-08-14 12:52:00 | Suzanne Pike |
| 37 | 2022-08-18 17:25:20 | Jo Disley |
| 39 | 2022-08-18 20:37:32 | Emma Nott |
| 40 | 2022-08-18 18:02:28 | Rachel Salloway |
| 41 | 2022-08-18 18:02:28 | Rachel Salloway |
| 42 | 2022-08-18 18:12:30 | Andrew Del-pizzo |
| 43 | 2022-08-18 20:55:55 | Lee Mayo |
| 44 | 2022-08-18 18:12:30 | Andrew Del-pizzo |
| 46 | 2022-08-18 19:18:38 | Tyrone Small |
| 48 | 2022-08-18 15:50:56 | Leanne Simpson |
| 49 | 2022-08-18 10:22:44 | Danielle Hooper |
| 50 | 2022-08-18 19:44:14 | John Tallamy |
| 51 | 2022-08-18 20:38:06 | David rogerson |
| 53 | 2022-08-18 16:46:49 | Nicola Naylor |
| 55 | 2022-08-18 01:18:55 | Nigel Sutton |
| 57 | 2022-08-18 15:11:11 | Lynne Deeley |
| 58 | 2022-08-18 16:44:57 | Nick Stevens |
| 59 | 2022-08-18 12:12:04 | Aimee Cottam |
| 60 | 2022-08-18 17:47:39 | Sam Fitzgerald |
| 61 | 2022-08-18 18:56:07 | Katrina Bennett |
| 62 | 2022-08-18 20:03:02 | Mazen Makki |
| 63 | 2022-08-18 20:05:32 | Julie Wrigley |
| 65 | 2022-08-18 20:40:22 | Helen Gudgin |
| 66 | 2022-08-18 16:29:14 | Jade Pook |
| 67 | 2022-08-18 17:35:45 | Keith Moore |
| 69 | 2022-08-17 23:26:00 | Debs Talbot |
| 71 | 2022-08-18 19:12:57 | Mike Smart |
| 72 | 2022-08-18 18:43:02 | Vikki Gyde |
| 74 | 2022-08-18 18:10:47 | Portia Fowler |
| 75 | 2022-08-18 19:55:07 | Rachel Salloway |
| 77 | 2022-08-18 19:12:57 | Mike Smart |
| 81 | 2022-08-18 19:32:24 | Matthew Townend |
| 82 | 2022-08-18 12:38:29 | Ellie Donald |
| 84 | 2022-08-18 16:50:54 | Diana Donald |
| 86 | 2022-08-18 18:12:30 | Andrew Del-pizzo |
| 88 | 2022-08-18 20:38:06 | David rogerson |
| 90 | 2022-08-18 19:58:05 | Robert Cox |
| 92 | 2022-08-18 13:17:12 | Nicola Naylor |
| 94 | 2022-08-18 20:53:51 | Laura Smart |
| 96 | 2022-08-17 23:26:00 | Debs Talbot |
| 97 | 2022-08-18 09:31:15 | Debs Talbot |
| 98 | 2022-08-18 10:42:08 | Marc Baker |
| 99 | 2022-08-18 17:55:42 | Debs Talbot |
| 100 | 2022-08-18 09:31:15 | Debs Talbot |