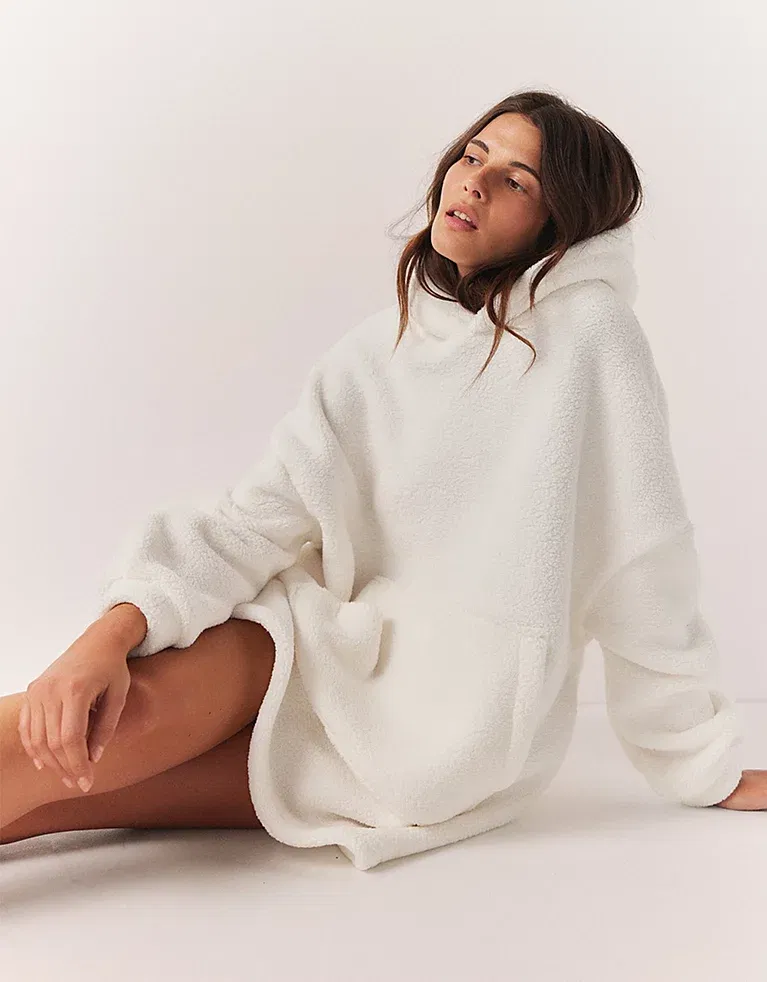 AUTO WIN – Snuggle Blanket Hoodie – 14/10
Description
AUTO WIN – Snuggle Blanket Hoodie – 14/10
AUTO WIN – NO LIVE DRAW – WINNER WILL BE CONTACTED WITHIN 24 HOURS
What We Love
• Comfortable oversized style
• Made from recycled fibres
• Generous hooded collar
• Large kangaroo pocket at frontCocoon yourself in warmth on chilly evenings with our snuggle blanket hoodie. A great layering piece for when the temperature drops, it has an all-over fuzzy texture that's great for enjoying cosy nights in. Plus, it has a large kangaroo pocket for you to carry essentials in as you potter around the house, or to simply sink your hands into.
| Winner Name | Ticket Number | Draw Date |
| --- | --- | --- |
| S E H | 23 | 14/10/2023 |
| Ticket Number | Date | Name |
| --- | --- | --- |
| 2 | 2023-10-14 21:16:53 | Ayesha Davies |
| 3 | 2023-10-14 19:35:04 | Sharon Saunders |
| 6 | 2023-10-14 22:47:55 | Kate W |
| 9 | 2023-10-14 22:13:32 | Jordan Gresswell |
| 10 | 2023-10-14 22:18:55 | Sally-ann Rollason |
| 15 | 2023-10-14 22:51:27 | Andrew Dilkes |
| 17 | 2023-10-14 20:34:54 | Melanie Bailey |
| 18 | 2023-10-14 21:08:38 | Liz Jones |
| 19 | 2023-10-14 21:23:55 | Zoë Donnelly |
| 21 | 2023-10-14 22:18:55 | Sally-ann Rollason |
| 22 | 2023-10-13 19:20:12 | Sarah Frost |
| 23 | 2023-10-14 20:54:16 | S E H |
| 24 | 2023-10-14 22:13:32 | Jordan Gresswell |
| 25 | 2023-10-12 20:54:53 | Ma Roberts |
| 26 | 2023-10-14 21:53:39 | Michele Savva |
| 27 | 2023-10-14 15:49:37 | Rebecca Davies |
| 28 | 2023-10-14 22:13:32 | Jordan Gresswell |
| 30 | 2023-10-14 16:58:04 | Alisha Rooke |
| 31 | 2023-10-14 19:29:24 | Emma & lee |
| 35 | 2023-10-14 08:40:53 | Lynda Milne-Smith |
| 36 | 2023-10-14 21:04:16 | Tom Speed |
| 38 | 2023-10-11 21:34:01 | Nicola Bowyer |
| 39 | 2023-10-14 22:51:27 | Andrew Dilkes |
| 42 | 2023-10-12 23:08:50 | Clare Keating |
| 47 | 2023-10-14 21:16:53 | Ayesha Davies |
| 48 | 2023-10-14 21:16:53 | Ayesha Davies |
| 49 | 2023-10-14 22:45:04 | Nicola Bowyer |
| 50 | 2023-10-14 21:16:53 | Ayesha Davies |
| 52 | 2023-10-14 16:46:57 | marion clark |
| 53 | 2023-10-14 12:31:30 | Rowan Sweatland |
| 54 | 2023-10-14 18:50:33 | Amanda Royal |
| 55 | 2023-10-10 19:39:19 | Sarah Woodes |
| 59 | 2023-10-12 23:08:50 | Clare Keating |
| 61 | 2023-10-14 21:12:26 | Nicola Taylor |
| 62 | 2023-10-14 22:43:21 | Kate W |
| 64 | 2023-10-14 21:53:41 | Rachel Gilbert |
| 65 | 2023-10-14 21:19:39 | Jade Smith |
| 66 | 2023-10-14 21:16:53 | Ayesha Davies |
| 68 | 2023-10-14 18:50:33 | Amanda Royal |
| 69 | 2023-10-12 19:25:14 | Janice Hughes |
| 71 | 2023-10-14 20:13:23 | Rosie Blood |
| 75 | 2023-10-14 16:27:14 | Heather Jerrard |
| 76 | 2023-10-14 06:41:57 | marion clark |
| 78 | 2023-10-14 20:55:47 | Yvonne Sparkes |