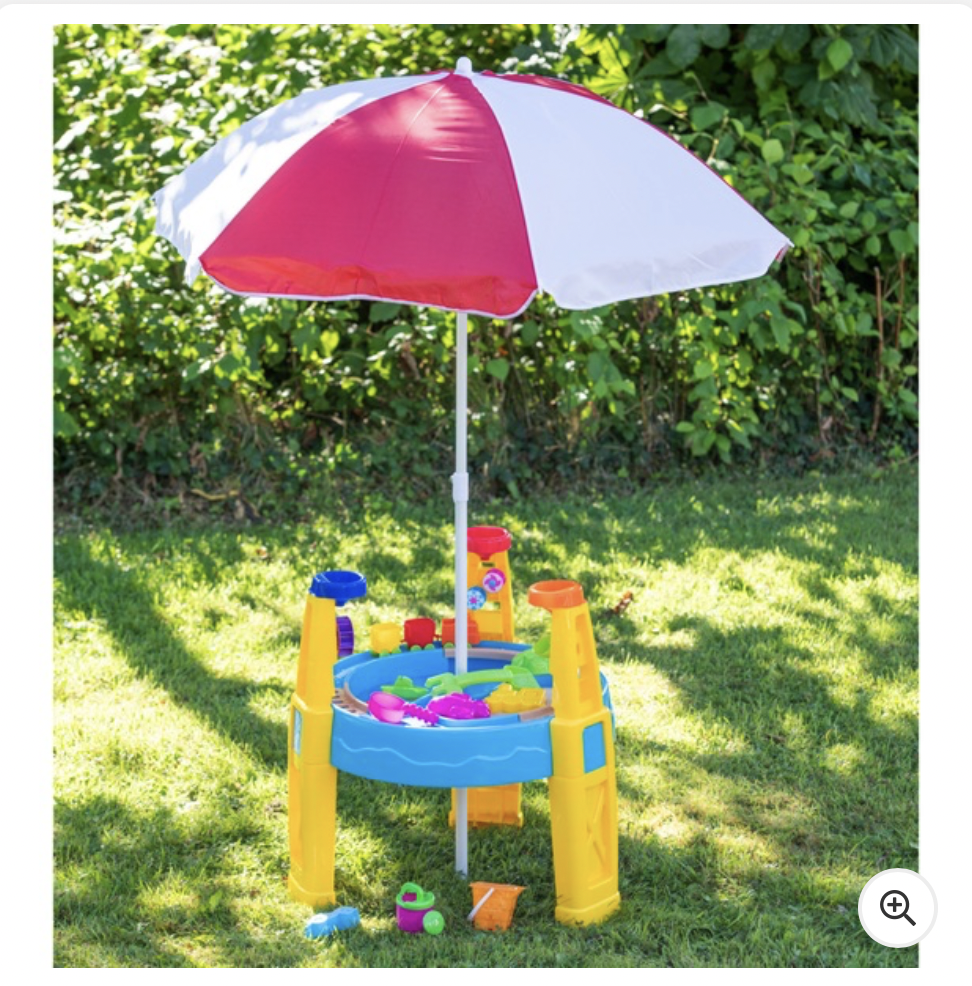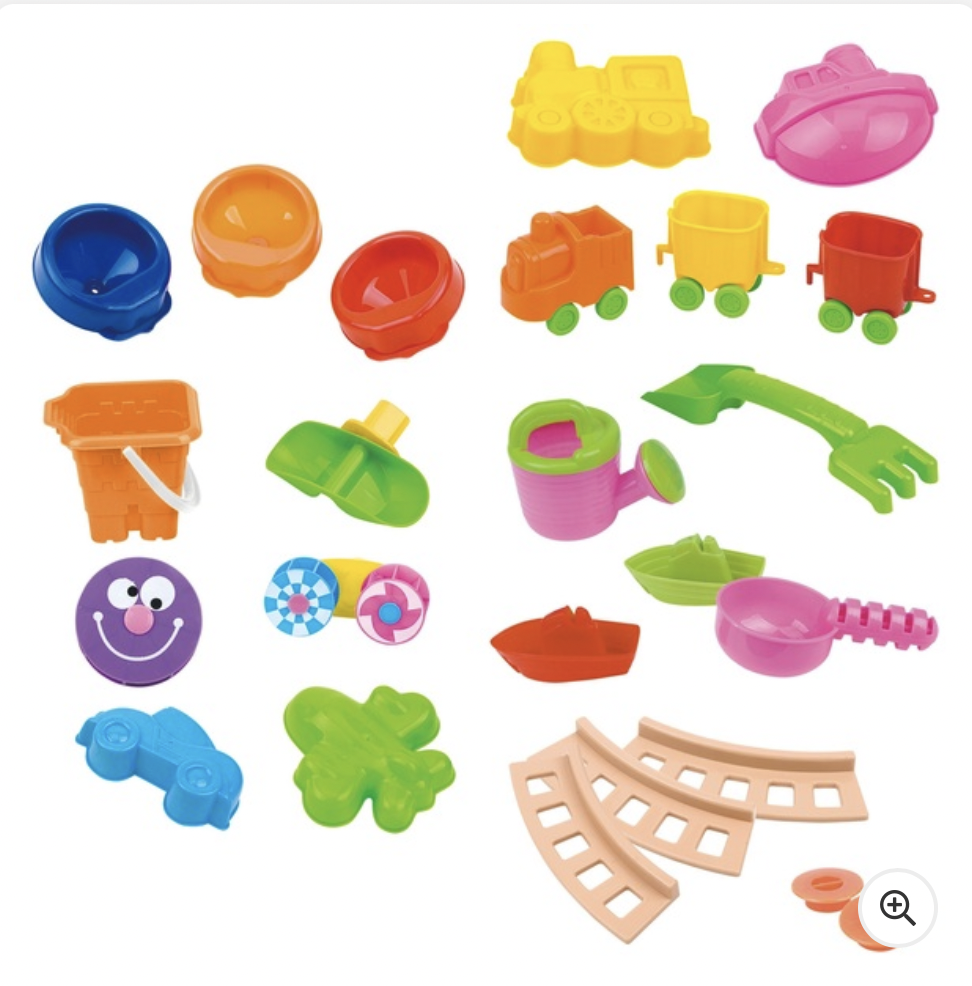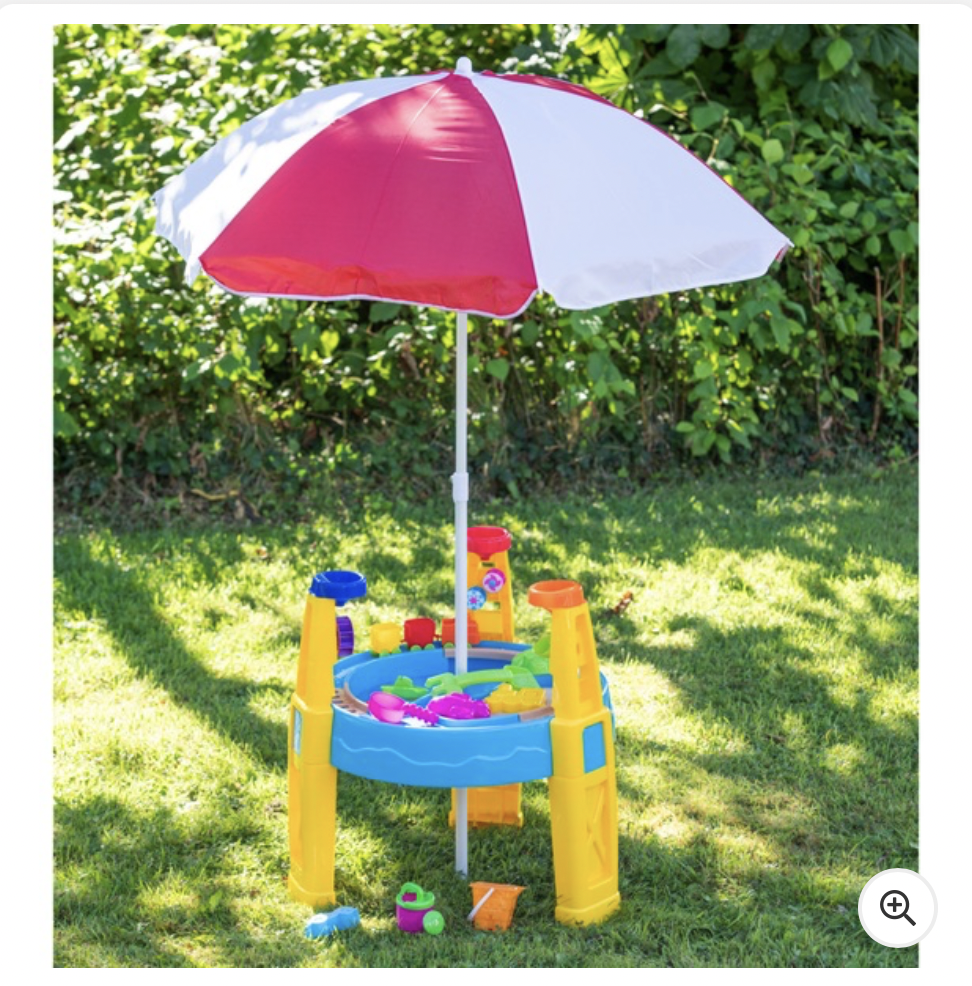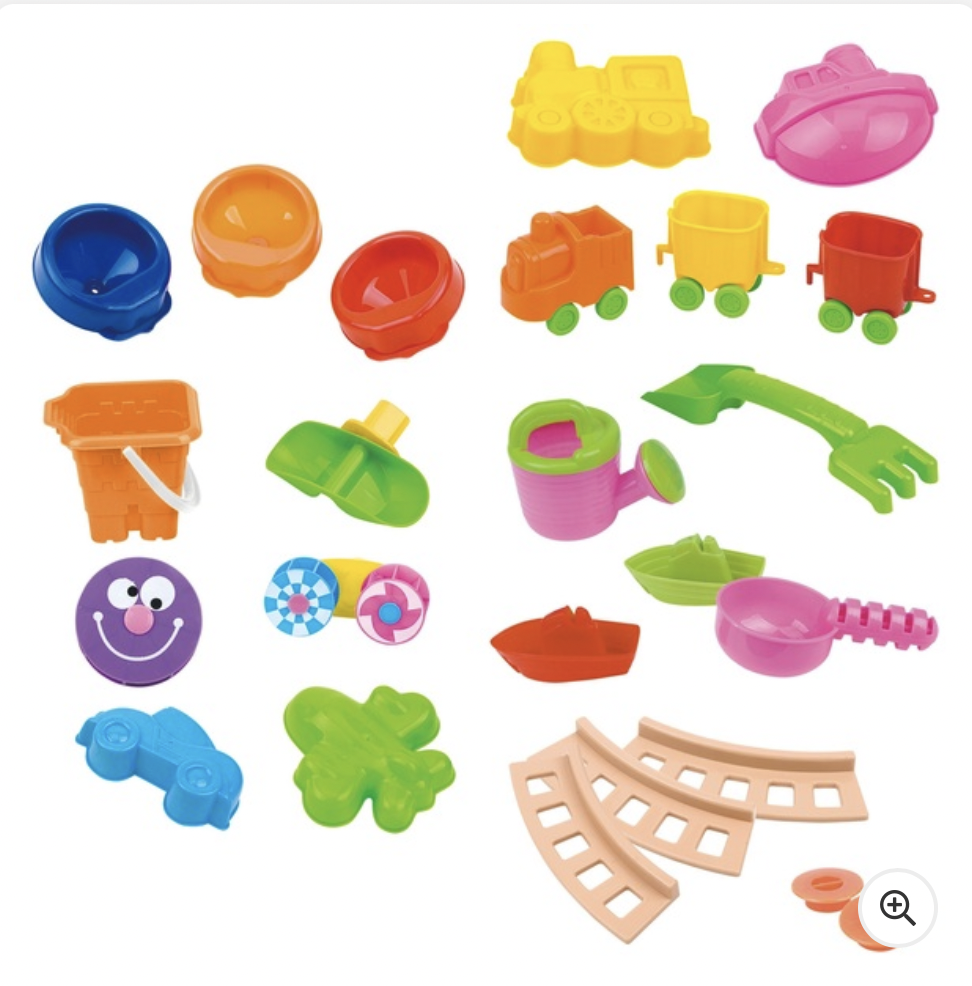 AUTO WIN – Sand & Water Table with Umbrella
Description
AUTO WIN – Sand & Water Table with Umbrella
AUTO WIN – NO LIVE DRAW – WINNER WILL BE CONTACTED ON MONDAY
Features
1x Sand & Water Table, 1x Umbrella, 2x Plugs, 22x Toy accessories
Dimensions: 54L x 54W x 125H cm (with umbrella)
Ideal size for multiple kids to play together
Wide range of toy accessories for water or sand play
Use the umbrella to keep kids cool on sunny days
Drain plug for easy cleanup
Holds up to 1kg of sand and 10 litres of water
Play sand sold separately
Product Description
Kids can splash the day away with this outdoor activity table! The spacious water and sand table allows multiple kids to play for lots of splish-splash & sandy fun together.
Sensory Fun with Sand Tables
With over 20 toy accessories, there's plenty to share and have fun with. These bright, colourful, and easy-to-handle toys will make water and sand playtime a great time. It's also possible to attach the included umbrella to keep little ones cool and comfortable during hot, sunny days!
| Winner Name | Ticket Number | Draw Date |
| --- | --- | --- |
| Lisa Bailey | 89 | 19/03/2023 |
| Ticket Number | Date | Name |
| --- | --- | --- |
| 1 | 2023-03-19 11:03:49 | Ashley Galley |
| 2 | 2023-03-18 09:47:12 | Lisa Greenstock |
| 3 | 2023-03-16 11:11:46 | Gail. Gilbert. |
| 4 | 2023-03-19 19:53:17 | Ashton Coles |
| 5 | 2023-03-19 11:03:49 | Ashley Galley |
| 6 | 2023-03-18 10:12:37 | Lewis Holmes |
| 7 | 2023-03-19 18:44:30 | hayley moore |
| 8 | 2023-03-19 18:23:12 | Kimberley Ann |
| 9 | 2023-03-18 09:48:16 | Katie Shiels |
| 10 | 2023-03-19 16:14:22 | Franky Boy |
| 11 | 2023-03-19 11:15:28 | Lisa Bailey |
| 12 | 2023-03-18 10:19:44 | Jo Butcher |
| 13 | 2023-03-17 09:01:12 | Lauren Wills |
| 14 | 2023-03-17 19:32:01 | Jane Tipper |
| 15 | 2023-03-19 09:02:29 | James Crafer |
| 16 | 2023-03-18 18:21:35 | Kirsty Hawkins |
| 17 | 2023-03-19 09:25:39 | Gemma Gorringe |
| 18 | 2023-03-17 10:59:00 | Amy Galley |
| 19 | 2023-03-18 23:09:47 | emma mccauley |
| 20 | 2023-03-19 20:05:21 | Hayley Morris |
| 21 | 2023-03-19 15:12:06 | Karen Widdowson |
| 22 | 2023-03-18 19:37:49 | Donna Heardson |
| 23 | 2023-03-19 18:11:39 | Michelle Stanton |
| 24 | 2023-03-19 08:46:32 | Ellie Curnock |
| 25 | 2023-03-17 16:36:04 | Amy Galley |
| 26 | 2023-03-19 20:35:31 | Samantha Hewlett |
| 27 | 2023-03-19 14:08:50 | Gemma Lambeth |
| 28 | 2023-03-19 21:47:12 | Gemma Ball |
| 29 | 2023-03-19 21:11:25 | emma mccauley |
| 30 | 2023-03-17 21:51:04 | Amy Galley |
| 31 | 2023-03-17 16:36:04 | Amy Galley |
| 32 | 2023-03-19 14:32:58 | Jasmine Atkinson |
| 33 | 2023-03-19 11:36:25 | Gail. Gilbert. |
| 34 | 2023-03-19 21:02:45 | jackie dawkins |
| 35 | 2023-03-19 08:10:17 | Anne-Marie Daniels |
| 36 | 2023-03-18 23:38:03 | KATIE WHITCOMBE |
| 37 | 2023-03-17 20:28:57 | Lisa Neale |
| 38 | 2023-03-19 16:05:28 | Jasmine Monnery |
| 39 | 2023-03-19 20:36:55 | Philip Eddy |
| 40 | 2023-03-19 21:47:12 | Gemma Ball |
| 41 | 2023-03-19 09:25:39 | Gemma Gorringe |
| 42 | 2023-03-19 18:46:29 | Sammie Stone |
| 43 | 2023-03-19 19:01:17 | Vicky Heeley |
| 44 | 2023-03-18 18:21:35 | Kirsty Hawkins |
| 45 | 2023-03-19 19:05:30 | Tina-marie Wellings |
| 46 | 2023-03-18 14:53:13 | charlotte clarke |
| 47 | 2023-03-19 20:31:09 | Steve Bryant |
| 48 | 2023-03-19 18:41:53 | Kelly Dinsdale |
| 49 | 2023-03-19 11:03:49 | Ashley Galley |
| 50 | 2023-03-19 20:36:55 | Philip Eddy |
| 51 | 2023-03-19 21:11:25 | emma mccauley |
| 52 | 2023-03-19 18:41:53 | Kelly Dinsdale |
| 53 | 2023-03-19 21:18:12 | Hannah Allpress |
| 54 | 2023-03-19 20:42:13 | Amanda Wright |
| 55 | 2023-03-19 11:03:49 | Ashley Galley |
| 56 | 2023-03-19 11:36:25 | Gail. Gilbert. |
| 57 | 2023-03-18 14:53:13 | charlotte clarke |
| 58 | 2023-03-19 17:58:36 | linda Brown hi |
| 59 | 2023-03-19 21:51:08 | Hannah Allpress |
| 60 | 2023-03-19 09:02:29 | James Crafer |
| 61 | 2023-03-19 08:13:18 | Kayleigh Williams |
| 62 | 2023-03-19 18:26:52 | Nick Stevens |
| 63 | 2023-03-18 23:09:47 | emma mccauley |
| 64 | 2023-03-19 20:10:31 | Candice Carrington |
| 65 | 2023-03-18 07:12:27 | Joeanne O'connor |
| 66 | 2023-03-19 18:41:53 | Kelly Dinsdale |
| 67 | 2023-03-19 21:11:48 | charlotte clarke |
| 68 | 2023-03-19 18:26:52 | Nick Stevens |
| 69 | 2023-03-19 18:44:30 | hayley moore |
| 70 | 2023-03-15 21:12:31 | Antonia Wilson |
| 71 | 2023-03-19 14:08:50 | Gemma Lambeth |
| 72 | 2023-03-19 16:40:48 | Sadie Mulgrue |
| 73 | 2023-03-19 20:26:52 | Jackie Harvey |
| 74 | 2023-03-19 11:03:49 | Ashley Galley |
| 75 | 2023-03-17 22:44:23 | Rebecca Clough |
| 76 | 2023-03-17 15:57:28 | Abby-rose Davison |
| 77 | 2023-03-19 21:18:12 | Hannah Allpress |
| 78 | 2023-03-19 12:20:16 | Paula Vinnicombe |
| 79 | 2023-03-17 20:39:56 | Daniel Andrews |
| 80 | 2023-03-18 09:47:12 | Lisa Greenstock |
| 81 | 2023-03-19 21:18:12 | Hannah Allpress |
| 82 | 2023-03-19 20:55:33 | Emma Woodgate |
| 83 | 2023-03-18 07:23:55 | Chelsea Hart |
| 84 | 2023-03-19 21:47:12 | Gemma Ball |
| 85 | 2023-03-19 18:26:52 | Nick Stevens |
| 86 | 2023-03-19 21:51:08 | Hannah Allpress |
| 87 | 2023-03-19 21:18:12 | Hannah Allpress |
| 88 | 2023-03-19 21:18:12 | Hannah Allpress |
| 89 | 2023-03-19 11:15:28 | Lisa Bailey |
| 90 | 2023-03-18 23:23:39 | R Osben |
| 91 | 2023-03-19 20:55:33 | Emma Woodgate |
| 92 | 2023-03-18 23:23:39 | R Osben |
| 93 | 2023-03-19 21:12:33 | Gillian Ronchetti |
| 94 | 2023-03-16 15:24:38 | Hannah Riley |
| 95 | 2023-03-17 22:44:23 | Rebecca Clough |
| 96 | 2023-03-19 21:18:12 | Hannah Allpress |
| 97 | 2023-03-18 10:19:44 | Jo Butcher |
| 98 | 2023-03-17 10:59:00 | Amy Galley |
| 99 | 2023-03-18 17:07:23 | Karen Rookes |
| 100 | 2023-03-19 21:11:48 | charlotte clarke |