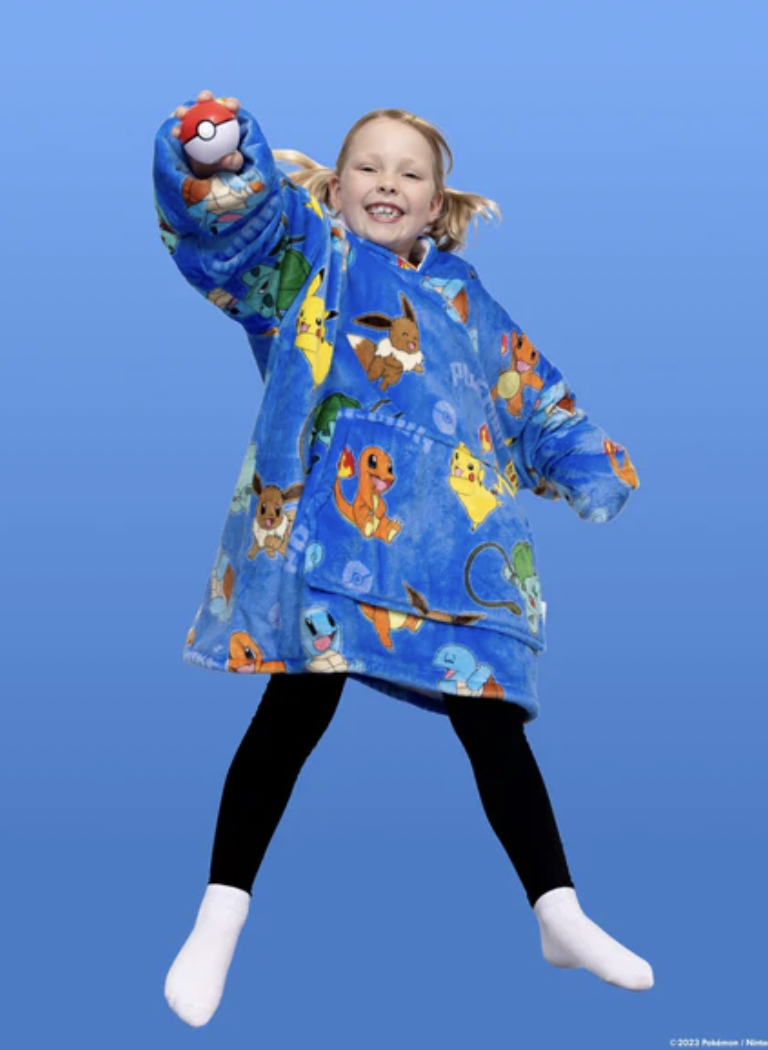 AUTO WIN – Pokémon Kids Oodie – 18/03
Description
AUTO WIN – Pokémon Kids Oodie – 18/03
AUTO WIN – NO LIVE DRAW – WINNER WILL BE CONTACTED ON MONDAY
– Calling all Pokémon Fans! Wrap yourself in toasty warmth with your new officially-licensed Pokémon Kids Oodie. Featuring some of your favourite characters from the hit Pokémon games and TV series, there's something to love for everyone.
– Made (with love) from the most cuddly-soft materials on earth: Every Oodie is made from toasty-warm sherpa fleece on the inside and buttery-soft, Toastytek™ flannel fleece on the outside. You'll feel like you're being hugged by a giant, fluffy cloud.
– The Oodie is your new bestie: You'll never want to take it off! It's perfect for chilling on the couch, spending a night in with friends or watching a movie.
– One size fits most: The kids Oodie is designed for children aged from 3 to 13 years old and measures 75cm long
| Winner Name | Ticket Number | Draw Date |
| --- | --- | --- |
| J R M | 87 | 18/03/2023 |
| Ticket Number | Date | Name |
| --- | --- | --- |
| 3 | 2023-03-18 11:42:28 | Emma & lee |
| 4 | 2023-03-18 19:56:10 | Lianne Butler |
| 5 | 2023-03-18 14:39:20 | Claire Drury |
| 7 | 2023-03-17 19:19:06 | Mandy Witham |
| 8 | 2023-03-17 20:42:44 | Sian Beer |
| 9 | 2023-03-18 20:56:34 | Amy Leslie |
| 10 | 2023-03-18 18:24:30 | Mark Hamm |
| 11 | 2023-03-18 18:24:30 | Mark Hamm |
| 12 | 2023-03-18 18:28:13 | Gary Teague |
| 13 | 2023-03-18 21:44:08 | Rebecca Wood |
| 14 | 2023-03-18 20:25:41 | Franky Boy |
| 15 | 2023-03-18 21:20:34 | Lilly Wick |
| 16 | 2023-03-18 20:36:16 | J R M |
| 17 | 2023-03-14 20:47:42 | Maria Hyne |
| 18 | 2023-03-18 17:18:44 | Matt Dale |
| 19 | 2023-03-17 17:24:31 | emma mccauley |
| 20 | 2023-03-18 17:18:44 | Matt Dale |
| 21 | 2023-03-17 09:07:16 | Samantha Thorne |
| 22 | 2023-03-18 20:36:16 | J R M |
| 24 | 2023-03-17 20:42:44 | Sian Beer |
| 25 | 2023-03-18 22:20:40 | Emily D |
| 27 | 2023-03-17 19:19:06 | Mandy Witham |
| 29 | 2023-03-18 11:59:13 | Holly Kemp |
| 30 | 2023-03-18 18:28:13 | Gary Teague |
| 32 | 2023-03-15 08:44:31 | Vicky Heeley |
| 33 | 2023-03-17 19:19:06 | Mandy Witham |
| 34 | 2023-03-18 12:57:52 | Claire Jones |
| 35 | 2023-03-18 22:07:18 | Debi Rogers |
| 36 | 2023-03-18 17:54:03 | Holly Kemp |
| 38 | 2023-03-18 19:03:13 | Gillian Ronchetti |
| 39 | 2023-03-17 19:19:06 | Mandy Witham |
| 45 | 2023-03-17 20:25:45 | Emily Dyke |
| 47 | 2023-03-18 17:18:44 | Matt Dale |
| 48 | 2023-03-18 13:03:41 | Rebecca vaughan |
| 50 | 2023-03-17 21:04:37 | Selena askew |
| 51 | 2023-03-17 20:42:44 | Sian Beer |
| 52 | 2023-03-18 19:00:13 | Loren Cox |
| 54 | 2023-03-18 22:20:40 | Emily D |
| 55 | 2023-03-18 17:18:44 | Matt Dale |
| 56 | 2023-03-18 20:36:16 | J R M |
| 59 | 2023-03-16 12:29:24 | J R M |
| 60 | 2023-03-18 20:36:16 | J R M |
| 61 | 2023-03-17 17:24:31 | emma mccauley |
| 62 | 2023-03-18 09:04:53 | Jordan Harlock |
| 63 | 2023-03-18 17:00:50 | Kerry Hollywood |
| 64 | 2023-03-16 12:29:24 | J R M |
| 67 | 2023-03-18 20:37:12 | Vicky Heeley |
| 68 | 2023-03-18 18:24:30 | Mark Hamm |
| 71 | 2023-03-18 18:24:30 | Mark Hamm |
| 73 | 2023-03-15 11:26:31 | Jessica Grimshaw |
| 76 | 2023-03-15 21:24:21 | Scott Wooll |
| 78 | 2023-03-17 09:07:16 | Samantha Thorne |
| 79 | 2023-03-18 18:24:30 | Mark Hamm |
| 81 | 2023-03-18 20:23:31 | Carly Mason |
| 82 | 2023-03-18 17:18:44 | Matt Dale |
| 85 | 2023-03-18 19:00:13 | Loren Cox |
| 87 | 2023-03-18 19:02:22 | J R M |