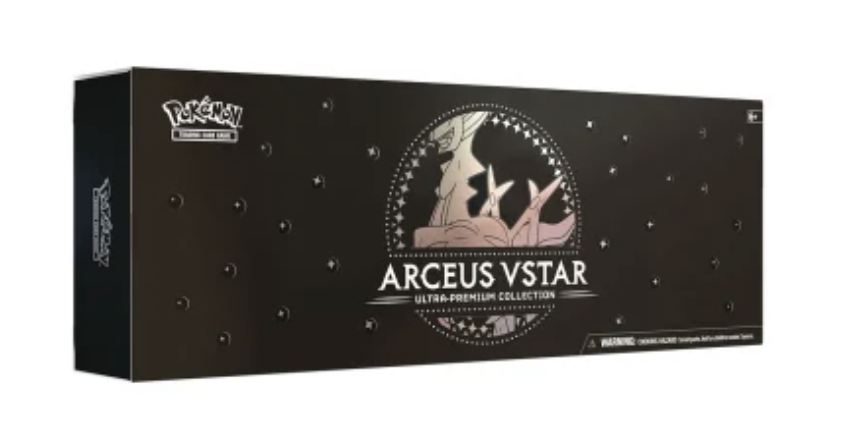 AUTO WIN – POKÉMON ARCEUS V STAR ULTRA PREMIUM COLLECTION
Description
AUTO WIN – POKÉMON ARCEUS V STAR ULTRA PREMIUM COLLECTION
WINNER WILL AUTOMATICALLY BE SELECTED ONCE THE COMPETITION HAS CLOSED – WINNER WILL BE CONTACTED WITHIN 24 HOURS
Show Your Mettle with the Arceus VSTAR Ultra-Premium Collection!
From the nothingness of the void came the cry of the Alpha Pokémon… Arceus is ready to shine in this special Ultra-Premium Collection starring Arceus V and Arceus VSTAR as pure metal cards!
With a whopping stack of 15 booster packs, metal damage counter dice, an Arceus playmat, and many more treasures – this curated set has what it takes to bring gameplay to mythical new levels.
| Winner Name | Ticket Number | Draw Date |
| --- | --- | --- |
| Lisa Roberts | 23 | 08/11/2023 |
| Ticket Number | Date | Name |
| --- | --- | --- |
| 1 | 2023-11-07 21:19:12 | Nikki H |
| 2 | 2023-11-07 20:53:36 | Karen Rhodes |
| 3 | 2023-11-07 19:59:23 | Louise Hartin |
| 4 | 2023-11-08 09:31:15 | Chloe Cousins |
| 5 | 2023-11-06 17:45:10 | Lou Lister |
| 6 | 2023-11-07 20:31:42 | Jade Blight |
| 7 | 2023-11-08 07:07:47 | Lee Gable |
| 8 | 2023-11-08 08:44:04 | Richard Higham |
| 9 | 2023-11-07 12:35:18 | Kaylie T |
| 10 | 2023-11-07 21:17:03 | DHLB W |
| 11 | 2023-11-05 16:35:50 | D T |
| 12 | 2023-11-08 09:44:42 | dan J |
| 13 | 2023-11-05 16:35:50 | D T |
| 14 | 2023-11-07 20:58:05 | Jade Hulme |
| 15 | 2023-11-07 10:28:15 | Jess Letheren |
| 16 | 2023-11-08 08:18:59 | Sarah Wilson |
| 17 | 2023-11-05 16:35:50 | D T |
| 18 | 2023-11-08 00:04:00 | Warren Kenny |
| 19 | 2023-11-07 09:34:25 | adam biggs |
| 20 | 2023-11-07 16:58:41 | Kelly Morrey |
| 21 | 2023-11-05 16:35:50 | D T |
| 22 | 2023-11-05 16:35:50 | D T |
| 23 | 2023-11-07 22:31:09 | Lisa Roberts |
| 26 | 2023-11-06 17:45:10 | Lou Lister |
| 27 | 2023-11-06 12:06:02 | Kirsty Kilkenny |
| 28 | 2023-11-07 21:28:03 | J B |
| 29 | 2023-11-07 21:57:01 | Anthony Rose |
| 30 | 2023-11-07 19:48:34 | Kellie White |
| 31 | 2023-11-06 18:47:55 | Denise Turner |
| 32 | 2023-11-08 00:21:21 | Leanne Pearce |
| 33 | 2023-11-07 19:59:23 | Louise Hartin |
| 34 | 2023-11-07 18:37:35 | Nicole Whitters |
| 36 | 2023-11-06 16:49:20 | Rachel cassidy |
| 37 | 2023-11-07 21:57:01 | Anthony Rose |
| 39 | 2023-11-07 14:50:39 | Kelly Brabon |
| 40 | 2023-11-08 09:20:13 | Doreen Williams |
| 41 | 2023-11-08 09:31:15 | Chloe Cousins |
| 42 | 2023-11-07 20:53:36 | Karen Rhodes |
| 43 | 2023-11-08 00:21:21 | Leanne Pearce |
| 44 | 2023-11-07 09:34:25 | adam biggs |
| 47 | 2023-11-07 21:17:03 | DHLB W |
| 48 | 2023-11-07 13:20:59 | J B |
| 49 | 2023-11-06 21:32:22 | Kaylie T |
| 51 | 2023-11-07 22:04:21 | Robert Mucklow |
| 52 | 2023-11-08 09:49:45 | Lorraine Williams |
| 54 | 2023-11-07 21:57:01 | Anthony Rose |
| 55 | 2023-11-07 21:19:12 | Nikki H |
| 56 | 2023-11-07 21:17:03 | DHLB W |
| 57 | 2023-11-06 20:47:47 | Demi Eve |
| 58 | 2023-11-07 21:17:03 | DHLB W |
| 59 | 2023-11-06 21:32:22 | Kaylie T |
| 60 | 2023-11-05 19:26:44 | Hannah Tait |
| 61 | 2023-11-07 20:31:42 | Jade Blight |
| 62 | 2023-11-07 20:53:36 | Karen Rhodes |
| 63 | 2023-11-08 09:27:47 | Rebecca Bailey |
| 64 | 2023-11-06 13:28:21 | Natalie cuddy |
| 65 | 2023-11-07 19:38:17 | Teresa Stone |
| 66 | 2023-11-06 17:45:10 | Lou Lister |
| 67 | 2023-11-06 17:45:10 | Lou Lister |
| 68 | 2023-11-07 23:28:22 | Corrine Lockerbie |
| 69 | 2023-11-07 03:09:39 | D T |
| 70 | 2023-11-07 19:47:02 | Lauren Turner |
| 72 | 2023-11-07 20:53:36 | Karen Rhodes |
| 73 | 2023-11-07 14:50:39 | Kelly Brabon |
| 74 | 2023-11-08 09:22:27 | Jake Pitman |
| 76 | 2023-11-07 21:17:03 | DHLB W |
| 77 | 2023-11-07 20:45:20 | Claire Jones |
| 78 | 2023-11-07 22:04:21 | Robert Mucklow |
| 79 | 2023-11-07 16:03:36 | Lynne Swift |
| 80 | 2023-11-08 09:34:22 | Paige Williams |
| 81 | 2023-11-06 17:45:10 | Lou Lister |
| 82 | 2023-11-07 10:28:15 | Jess Letheren |
| 83 | 2023-11-07 22:04:21 | Robert Mucklow |
| 84 | 2023-11-07 21:17:03 | DHLB W |
| 86 | 2023-11-07 18:37:35 | Nicole Whitters |
| 87 | 2023-11-08 06:53:47 | Jason Brown |
| 88 | 2023-11-06 16:49:20 | Rachel cassidy |
| 89 | 2023-11-08 09:49:45 | Lorraine Williams |
| 91 | 2023-11-07 22:04:21 | Robert Mucklow |
| 92 | 2023-11-08 06:53:47 | Jason Brown |
| 95 | 2023-11-07 21:57:01 | Anthony Rose |
| 96 | 2023-11-08 09:22:27 | Jake Pitman |
| 98 | 2023-11-07 12:35:18 | Kaylie T |
| 99 | 2023-11-07 21:57:01 | Anthony Rose |
| 101 | 2023-11-05 16:35:50 | D T |
| 104 | 2023-11-06 21:32:22 | Kaylie T |
| 105 | 2023-11-06 17:45:10 | Lou Lister |
| 106 | 2023-11-08 08:26:38 | Liam Chard-maple |
| 107 | 2023-11-06 16:49:20 | Rachel cassidy |
| 108 | 2023-11-06 17:45:10 | Lou Lister |
| 109 | 2023-11-07 21:57:01 | Anthony Rose |
| 111 | 2023-11-08 09:44:42 | dan J |
| 112 | 2023-11-07 13:20:59 | J B |
| 113 | 2023-11-06 18:47:55 | Denise Turner |
| 115 | 2023-11-08 08:55:39 | Kayleigh Gibbons |
| 116 | 2023-11-07 10:28:15 | Jess Letheren |
| 118 | 2023-11-07 21:57:01 | Anthony Rose |
| 120 | 2023-11-07 20:53:36 | Karen Rhodes |
| 121 | 2023-11-05 16:35:50 | D T |
| 122 | 2023-11-08 07:23:10 | Lorraine Williams |
| 123 | 2023-11-08 08:26:38 | Liam Chard-maple |
| 124 | 2023-11-07 19:48:34 | Kellie White |
| 125 | 2023-11-08 07:07:47 | Lee Gable |
| 127 | 2023-11-07 17:54:58 | Rachel cassidy |
| 129 | 2023-11-07 23:46:12 | Naomi still |
| 131 | 2023-11-08 00:04:00 | Warren Kenny |
| 132 | 2023-11-08 09:33:05 | Michelle Henderson |
| 133 | 2023-11-07 17:54:58 | Rachel cassidy |
| 134 | 2023-11-07 22:04:21 | Robert Mucklow |
| 135 | 2023-11-08 07:23:10 | Lorraine Williams |
| 138 | 2023-11-07 21:28:03 | J B |
| 139 | 2023-11-07 20:53:36 | Karen Rhodes |
| 140 | 2023-11-07 10:02:06 | Kimberley Hallett |
| 141 | 2023-11-07 20:53:36 | Karen Rhodes |
| 142 | 2023-11-07 20:45:20 | Claire Jones |
| 143 | 2023-11-07 23:18:03 | Emma & lee |
| 144 | 2023-11-07 21:57:01 | Anthony Rose |
| 145 | 2023-11-06 17:45:10 | Lou Lister |
| 148 | 2023-11-08 09:19:02 | Doreen Williams |
| 149 | 2023-11-07 23:30:43 | Corrine Lockerbie |
| 150 | 2023-11-07 19:47:02 | Lauren Turner |
| 151 | 2023-11-08 08:55:39 | Kayleigh Gibbons |
| 152 | 2023-11-08 08:26:38 | Liam Chard-maple |
| 153 | 2023-11-07 13:20:59 | J B |
| 155 | 2023-11-07 22:37:23 | DHLB W |
| 157 | 2023-11-07 17:54:58 | Rachel cassidy |
| 158 | 2023-11-08 08:26:38 | Liam Chard-maple |
| 159 | 2023-11-07 13:20:59 | J B |
| 160 | 2023-11-07 23:46:12 | Naomi still |
| 161 | 2023-11-08 08:26:38 | Liam Chard-maple |
| 162 | 2023-11-07 12:35:18 | Kaylie T |
| 163 | 2023-11-08 07:57:37 | Lucy Roke |
| 164 | 2023-11-08 05:52:57 | Hannah Huxtable |
| 165 | 2023-11-07 12:35:18 | Kaylie T |
| 166 | 2023-11-08 09:33:05 | Michelle Henderson |
| 167 | 2023-11-07 21:28:03 | J B |
| 169 | 2023-11-07 12:35:18 | Kaylie T |
| 172 | 2023-11-08 07:07:47 | Lee Gable |
| 173 | 2023-11-07 17:54:58 | Rachel cassidy |
| 175 | 2023-11-07 13:20:59 | J B |
| 179 | 2023-11-08 08:55:39 | Kayleigh Gibbons |
| 180 | 2023-11-07 20:53:36 | Karen Rhodes |