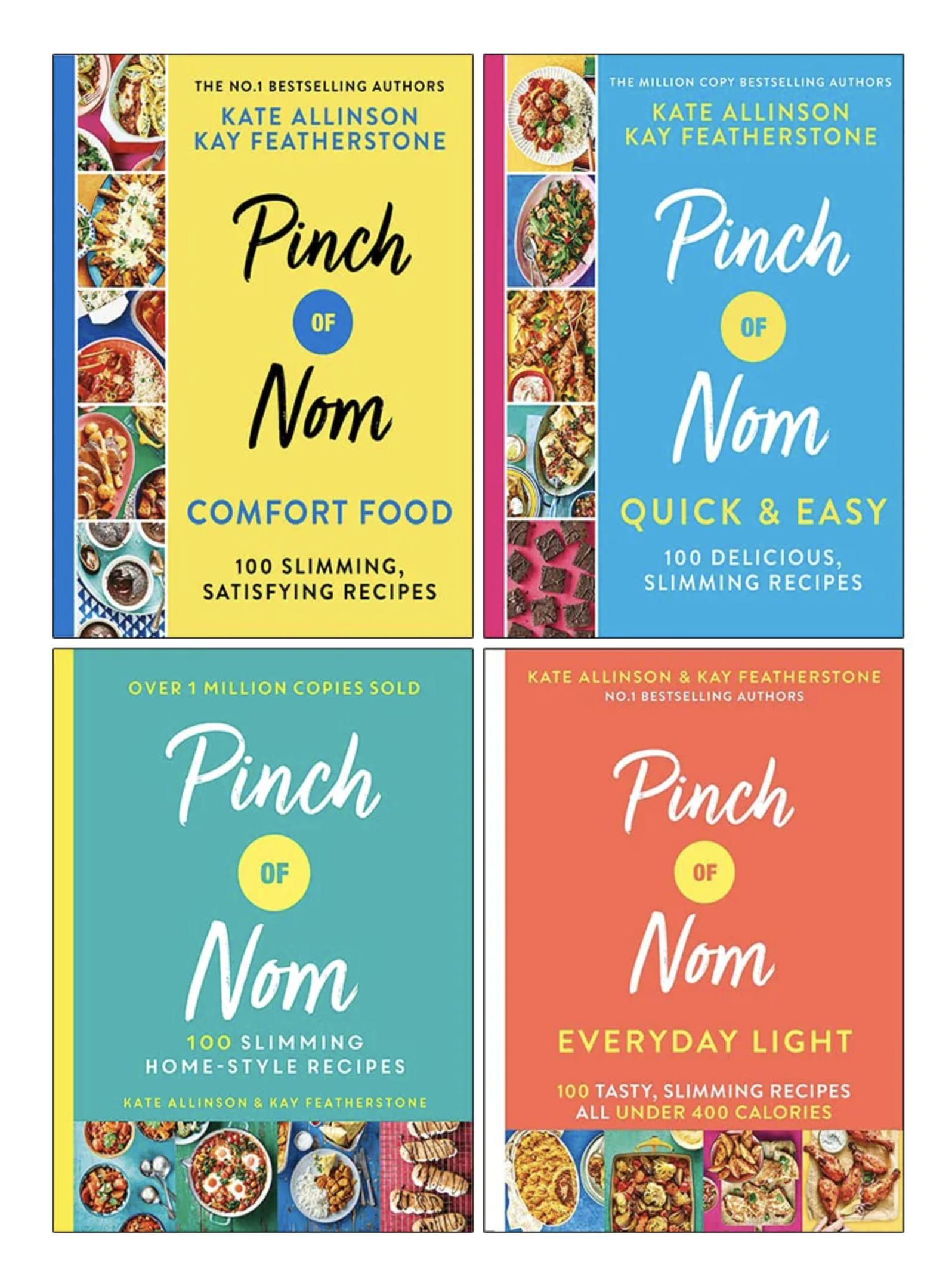 AUTO WIN – PINCH OF NOM 4 BOOK COLLECTION
Description
AUTO WIN – PINCH OF NOM 4 BOOK COLLECTION
AUTO WIN – NO LIVE DRAW – WINNER WILL BE CONTACTED THE NEXT DAY
Pinch of Nom Comfort Food:
Pinch of Nom Comfort Food is packed with slimming-friendly, delicious dishes that will keep you and your loved ones happy and healthy.From lazy weekend breakfasts to filling mains and warming puddings, this book is brimming with tasty meals that are easy to make.
Pinch of Nom Quick & Easy:
From all-in-one family favourites to batch-cook basics and speedy sweet treats, Pinch of Nom Quick & Easy is packed with dishes so delicious you won't even notice they're slimming. With tasty, satisfying meals such as Veggie Satay Noodles, Creamy Cajun Chicken Pasta and Apple and Apricot Oaty Crumble, you definitely won't feel like you're missing out.
Pinch of Nom:
Sharing delicious home-style recipes with a hugely engaged online community, Pinch of Nom has helped millions of people to cook well and lose weight. The Pinch of Nom cookbook can help novice and experienced home cooks enjoy exciting, flavourful and satisfying meals. Accessible to everyone by not including diet points, all of these recipes are compatible with the principles of the UK's most popular diet programmes.
Pinch of Nom Everyday Light:
Featuring proper breakfasts, light takes on family favourites, cheeky fakeaways and speedy midweek meals, Pinch of Nom Everyday Light is full of hearty, everyday recipes – nearly half of which are vegetarian. From Fish and Chips to Pizza Loaded Fries, Sloppy Dogs to Firecracker Prawns, and Hash Brown Breakfast Bake to Crying Tiger Beef, every recipe is under 400 calories including accompaniments, and has been tried and tested by twenty Pinch of Nom community members.
| Winner Name | Ticket Number | Draw Date |
| --- | --- | --- |
| Emily Lewis | 61 | 25/01/2023 |
| Ticket Number | Date | Name |
| --- | --- | --- |
| 2 | 2023-01-24 20:50:28 | Michelle Searles |
| 3 | 2023-01-24 19:41:57 | Charlotte Bruckshaw |
| 4 | 2023-01-24 20:59:16 | S T L |
| 5 | 2023-01-24 19:01:15 | Tara Evans |
| 6 | 2023-01-24 19:41:57 | Charlotte Bruckshaw |
| 7 | 2023-01-21 12:23:34 | Karlie Usher |
| 8 | 2023-01-24 20:22:53 | Karla Perry |
| 13 | 2023-01-24 21:46:55 | Victoria Greenshields |
| 14 | 2023-01-24 19:09:09 | Natalie Anderson |
| 15 | 2023-01-24 21:38:40 | Emma & lee |
| 16 | 2023-01-24 19:41:57 | Charlotte Bruckshaw |
| 17 | 2023-01-24 20:15:50 | Victoria Brown |
| 21 | 2023-01-24 19:01:15 | Tara Evans |
| 22 | 2023-01-24 20:16:09 | Lisa Cogavin |
| 23 | 2023-01-24 19:41:57 | Charlotte Bruckshaw |
| 29 | 2023-01-24 21:21:41 | Ruth Peard |
| 31 | 2023-01-24 19:01:15 | Tara Evans |
| 32 | 2023-01-24 20:15:21 | Roxanne Cane |
| 34 | 2023-01-24 19:43:28 | Emma Edwards |
| 35 | 2023-01-24 13:09:27 | Corinne Faulkner |
| 39 | 2023-01-24 18:39:11 | Elle Treveil |
| 42 | 2023-01-24 18:37:46 | Nadine Smallridge |
| 43 | 2023-01-24 14:56:44 | T W |
| 44 | 2023-01-24 18:54:16 | Peggy Phillips |
| 45 | 2023-01-24 06:51:03 | Tracey Rea |
| 46 | 2023-01-18 12:51:23 | Elaine Lipscombe |
| 50 | 2023-01-24 21:55:04 | Joanna Titley |
| 52 | 2023-01-24 20:15:21 | Roxanne Cane |
| 55 | 2023-01-23 20:02:39 | Kathryn Broom |
| 57 | 2023-01-24 19:39:58 | Ellie Woodland |
| 59 | 2023-01-24 01:20:53 | Caroline Stemp |
| 60 | 2023-01-24 19:45:07 | Carl Hoare |
| 61 | 2023-01-24 21:37:29 | Emily Lewis |
| 62 | 2023-01-24 20:56:57 | Marion Baker |
| 63 | 2023-01-24 19:41:57 | Charlotte Bruckshaw |
| 64 | 2023-01-24 20:49:50 | Alex Clarke |
| 67 | 2023-01-24 21:34:44 | Zoe Chubb |
| 68 | 2023-01-24 04:45:46 | Marie Sandford |
| 75 | 2023-01-22 11:27:26 | Laura cloke |
| 76 | 2023-01-24 19:45:07 | Carl Hoare |
| 79 | 2023-01-24 17:48:21 | Gemma Cottrell |
| 80 | 2023-01-24 19:09:09 | Natalie Anderson |
| 82 | 2023-01-18 12:03:09 | Sabrina Canepa |
| 96 | 2023-01-24 01:20:53 | Caroline Stemp |
| 99 | 2023-01-24 16:39:49 | Gemma Alford |
| 102 | 2023-01-24 20:49:50 | Alex Clarke |
| 108 | 2023-01-24 20:56:57 | Marion Baker |
| 110 | 2023-01-24 19:09:09 | Natalie Anderson |