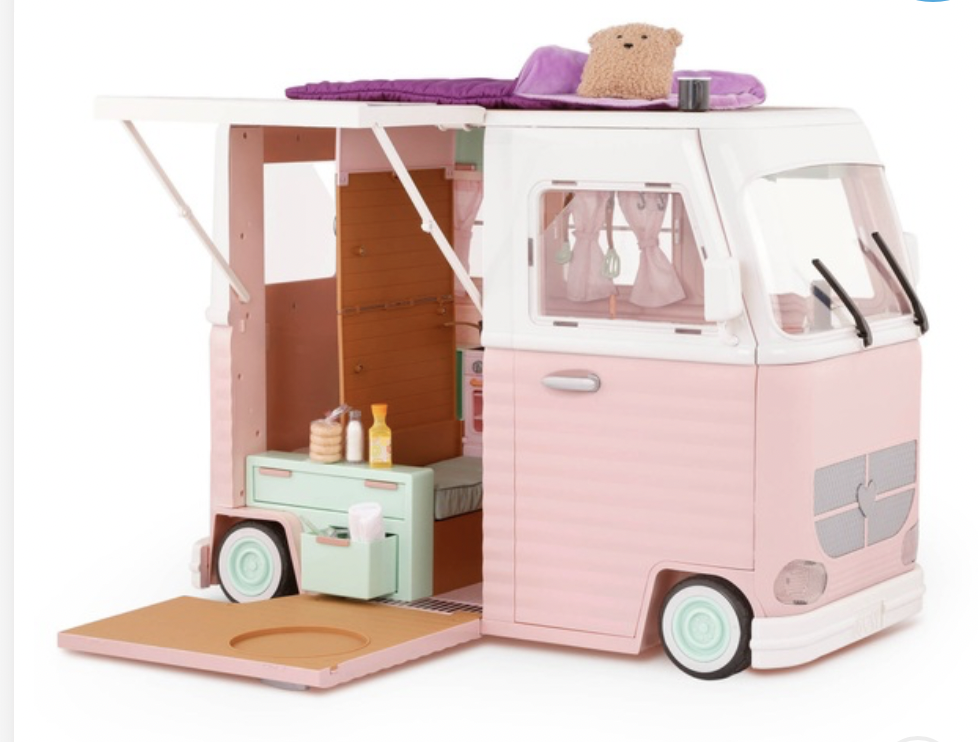 AUTO WIN- Our Generation RV Camper Playset – 01/11
Description
AUTO WIN- Our Generation RV Camper Playset – 01/11
AUTO WIN – NO LIVE DRAW – WINNER WILL BE CONTACTED WITHIN 24 HOURS
Little campers can create the ultimate road trips with the Our Generation RV Country Cruising playset for 46cm dolls (sold seperately).
Tons of Interactive Features: Rolling wheels, lights, GPS navigation that plays 8 sounds, movable steering wheel, electronic wipers, and more provide engaging travel stories.
Built-in Play Areas: Kids can open up the camper to set up a campsite, expand the kitchen and dining area, and reveal a bathroom with a flushing toilet sound!
| Winner Name | Ticket Number | Draw Date |
| --- | --- | --- |
| Ellen Coggins | 129 | 01/11/2023 |
| Ticket Number | Date | Name |
| --- | --- | --- |
| 1 | 2023-11-01 15:08:32 | Natalie Smith |
| 2 | 2023-10-31 19:02:48 | Hannah Jones |
| 3 | 2023-11-01 20:30:39 | Jordan Coleman |
| 4 | 2023-11-01 14:39:29 | sue fogarty |
| 6 | 2023-11-01 19:17:55 | Charlotte Horton |
| 10 | 2023-11-01 12:59:32 | Jill Higham |
| 11 | 2023-11-01 18:28:22 | Natasha White |
| 12 | 2023-11-01 14:39:29 | sue fogarty |
| 13 | 2023-10-27 20:31:34 | Ben Stocker |
| 14 | 2023-11-01 11:08:16 | Holly Ring |
| 16 | 2023-11-01 18:36:18 | Mandy Hayman |
| 17 | 2023-11-01 20:40:54 | Jo Pennington |
| 18 | 2023-10-27 20:31:34 | Ben Stocker |
| 19 | 2023-11-01 20:04:39 | Kayleigh Kelly |
| 20 | 2023-10-27 20:31:34 | Ben Stocker |
| 21 | 2023-11-01 18:12:46 | Debbi Shotton |
| 22 | 2023-11-01 19:25:37 | Lisa Roberts |
| 23 | 2023-10-31 23:29:27 | Kim Dudley |
| 25 | 2023-10-24 21:44:44 | Debbie Hanratty |
| 26 | 2023-11-01 20:40:54 | Jo Pennington |
| 27 | 2023-10-31 19:02:48 | Hannah Jones |
| 29 | 2023-11-01 14:39:29 | sue fogarty |
| 30 | 2023-11-01 20:12:02 | Robert Dobbin |
| 33 | 2023-11-01 20:58:47 | Lynda Carew |
| 35 | 2023-10-31 19:52:06 | Laura C |
| 41 | 2023-11-01 14:29:39 | claire-louise flanagan |
| 42 | 2023-11-01 12:59:32 | Jill Higham |
| 44 | 2023-11-01 19:17:55 | Charlotte Horton |
| 45 | 2023-11-01 11:37:21 | Emma & lee |
| 48 | 2023-10-26 21:51:48 | Claire Freeman |
| 49 | 2023-11-01 19:19:16 | mollie simmons |
| 50 | 2023-11-01 20:42:37 | Kas S |
| 54 | 2023-11-01 19:29:09 | Wendy Bull |
| 58 | 2023-11-01 09:33:46 | Ew Mc |
| 59 | 2023-11-01 20:56:39 | Paisley Atkins |
| 63 | 2023-10-31 16:53:19 | Steph Bendall |
| 72 | 2023-11-01 18:28:22 | Natasha White |
| 75 | 2023-10-31 19:02:48 | Hannah Jones |
| 79 | 2023-11-01 19:17:16 | Gemma Hallett |
| 84 | 2023-11-01 19:02:55 | Marny Stocker |
| 87 | 2023-11-01 15:29:59 | Kirsty Messenger |
| 89 | 2023-11-01 11:08:16 | Holly Ring |
| 91 | 2023-11-01 18:23:51 | Jasmin Bourne |
| 93 | 2023-11-01 11:08:16 | Holly Ring |
| 94 | 2023-11-01 20:03:13 | Alexander Adams |
| 95 | 2023-11-01 20:12:02 | Robert Dobbin |
| 96 | 2023-11-01 20:13:18 | Lindsay Agnew |
| 103 | 2023-10-24 21:44:44 | Debbie Hanratty |
| 104 | 2023-11-01 00:30:34 | sarah pates |
| 110 | 2023-11-01 20:03:13 | Alexander Adams |
| 112 | 2023-11-01 17:10:50 | emma edbrooke |
| 113 | 2023-11-01 11:08:16 | Holly Ring |
| 115 | 2023-11-01 18:02:16 | DHLB DHLB |
| 116 | 2023-10-31 21:08:13 | Wendy Bowman |
| 117 | 2023-11-01 09:33:46 | Ew Mc |
| 119 | 2023-11-01 00:38:59 | Amy Cann |
| 120 | 2023-11-01 19:07:22 | Ellen Coggins |
| 121 | 2023-11-01 20:32:15 | Samuel Northcott |
| 125 | 2023-11-01 17:26:55 | Ann Atkinson |
| 127 | 2023-11-01 20:20:54 | Stephanie Attewell |
| 128 | 2023-11-01 19:25:37 | Lisa Roberts |
| 129 | 2023-11-01 19:07:22 | Ellen Coggins |
| 130 | 2023-11-01 20:59:15 | S S |
| 132 | 2023-10-29 07:16:17 | Sarah Woodes |
| 134 | 2023-11-01 19:17:19 | Katie Bennington |
| 141 | 2023-11-01 09:33:46 | Ew Mc |
| 143 | 2023-11-01 20:02:40 | Leah Smith |
| 144 | 2023-11-01 20:13:28 | Lynsey Anglin |
| 145 | 2023-10-23 18:16:38 | Sidrah Ahmed |
| 146 | 2023-11-01 20:45:15 | Lynne Jeary |
| 153 | 2023-11-01 20:12:02 | Robert Dobbin |
| 156 | 2023-10-31 16:53:19 | Steph Bendall |
| 163 | 2023-11-01 11:39:29 | Moira Jayne Angel |
| 171 | 2023-11-01 20:02:33 | Emily Connie |
| 172 | 2023-11-01 20:32:15 | Samuel Northcott |
| 175 | 2023-10-31 20:44:03 | Katie Bennington |
| 180 | 2023-11-01 20:58:47 | Lynda Carew |
| 182 | 2023-10-29 07:16:17 | Sarah Woodes |
| 186 | 2023-11-01 15:29:59 | Kirsty Messenger |
| 187 | 2023-11-01 17:23:40 | Jane Netherway |
| 192 | 2023-11-01 20:58:47 | Lynda Carew |
| 193 | 2023-11-01 18:28:22 | Natasha White |
| 195 | 2023-10-26 21:51:48 | Claire Freeman |
| 197 | 2023-11-01 18:23:51 | Jasmin Bourne |
| 199 | 2023-11-01 20:58:47 | Lynda Carew |
| 206 | 2023-11-01 11:08:16 | Holly Ring |
| 207 | 2023-11-01 09:33:46 | Ew Mc |
| 208 | 2023-11-01 19:54:43 | Vicki Boulter |
| 210 | 2023-11-01 20:53:40 | Kerry Palmer |
| 215 | 2023-11-01 11:08:16 | Holly Ring |
| 217 | 2023-11-01 18:23:44 | Rosie Apps |
| 218 | 2023-11-01 20:58:47 | Lynda Carew |
| 222 | 2023-11-01 20:45:30 | Les Peek |
| 223 | 2023-10-31 21:08:13 | Wendy Bowman |
| 225 | 2023-11-01 18:56:02 | Ben Stocker |
| 230 | 2023-10-31 16:53:19 | Steph Bendall |
| 235 | 2023-11-01 20:13:28 | Lynsey Anglin |
| 236 | 2023-11-01 19:33:51 | croft Jade |
| 238 | 2023-11-01 11:08:16 | Holly Ring |
| 240 | 2023-10-31 01:26:05 | Emma Allen |
| 241 | 2023-10-27 16:48:39 | Stu Mason |
| 243 | 2023-11-01 10:35:56 | Kirsty Hancock |
| 253 | 2023-11-01 11:08:16 | Holly Ring |
| 255 | 2023-11-01 18:59:59 | Catherine Moslehi |
| 261 | 2023-10-29 19:19:02 | Kyah Steele |
| 264 | 2023-11-01 14:29:39 | claire-louise flanagan |
| 266 | 2023-11-01 14:29:39 | claire-louise flanagan |
| 273 | 2023-11-01 20:18:36 | Donna Shilling |
| 277 | 2023-11-01 18:12:46 | Debbi Shotton |
| 278 | 2023-11-01 20:32:15 | Samuel Northcott |
| 282 | 2023-11-01 18:52:41 | Stacey Karpinski |
| 285 | 2023-11-01 20:58:47 | Lynda Carew |
| 287 | 2023-11-01 16:34:45 | Catherine Bowhay |
| 299 | 2023-10-25 08:51:11 | Leah Hardman |
| 301 | 2023-11-01 15:43:19 | Caroline FairClough |
| 304 | 2023-11-01 16:34:45 | Catherine Bowhay |
| 306 | 2023-11-01 18:02:16 | DHLB DHLB |
| 310 | 2023-11-01 20:32:15 | Samuel Northcott |
| 311 | 2023-11-01 20:13:28 | Lynsey Anglin |
| 312 | 2023-11-01 20:45:30 | Les Peek |
| 313 | 2023-10-26 21:51:48 | Claire Freeman |
| 314 | 2023-10-31 16:53:19 | Steph Bendall |
| 320 | 2023-11-01 19:31:22 | aithne boldick |
| 323 | 2023-11-01 20:13:18 | Lindsay Agnew |
| 325 | 2023-11-01 20:40:54 | Jo Pennington |
| 329 | 2023-10-31 19:02:48 | Hannah Jones |
| 330 | 2023-10-24 21:44:44 | Debbie Hanratty |
| 332 | 2023-11-01 17:26:55 | Ann Atkinson |
| 333 | 2023-11-01 20:45:13 | Esme Kershaw |
| 335 | 2023-11-01 16:38:13 | George Senior |
| 337 | 2023-11-01 18:23:51 | Jasmin Bourne |
| 338 | 2023-11-01 18:23:51 | Jasmin Bourne |
| 340 | 2023-11-01 17:23:40 | Jane Netherway |
| 342 | 2023-11-01 18:23:51 | Jasmin Bourne |
| 348 | 2023-11-01 18:58:36 | Laura Y |
| 350 | 2023-11-01 16:34:45 | Catherine Bowhay |
| 351 | 2023-11-01 20:58:47 | Lynda Carew |
| 356 | 2023-11-01 18:02:16 | DHLB DHLB |
| 358 | 2023-11-01 19:33:51 | croft Jade |
| 360 | 2023-10-26 21:51:48 | Claire Freeman |
| 361 | 2023-11-01 20:13:28 | Lynsey Anglin |
| 362 | 2023-10-24 21:44:44 | Debbie Hanratty |
| 363 | 2023-11-01 20:58:47 | Lynda Carew |
| 364 | 2023-11-01 19:19:54 | Ashton Coles |
| 372 | 2023-10-23 18:16:38 | Sidrah Ahmed |
| 380 | 2023-11-01 20:12:02 | Robert Dobbin |
| 383 | 2023-10-31 19:52:06 | Laura C |
| 385 | 2023-10-29 19:19:02 | Kyah Steele |
| 387 | 2023-11-01 20:11:51 | Rachel Brewer |
| 391 | 2023-11-01 14:29:39 | claire-louise flanagan |
| 393 | 2023-11-01 20:20:54 | Stephanie Attewell |
| 395 | 2023-11-01 18:11:52 | Hannah Riley |
| 398 | 2023-11-01 20:58:47 | Lynda Carew |
| 401 | 2023-11-01 18:55:36 | Philip Colbourne |
| 408 | 2023-11-01 19:13:03 | pamela goodyear |
| 421 | 2023-10-29 03:13:18 | Sharon Saunders |
| 422 | 2023-10-26 21:51:48 | Claire Freeman |
| 426 | 2023-11-01 20:20:54 | Stephanie Attewell |
| 433 | 2023-11-01 19:03:43 | Chantelle Norman |
| 435 | 2023-11-01 15:41:19 | Hollie Peel |
| 440 | 2023-11-01 20:02:33 | Emily Connie |
| 441 | 2023-11-01 18:28:22 | Natasha White |
| 446 | 2023-11-01 20:38:33 | Kathleen Brolan |
| 459 | 2023-11-01 11:37:21 | Emma & lee |
| 460 | 2023-11-01 11:08:16 | Holly Ring |
| 463 | 2023-11-01 20:02:40 | Leah Smith |
| 464 | 2023-11-01 20:01:32 | Sam Foster |
| 467 | 2023-11-01 11:08:16 | Holly Ring |
| 470 | 2023-10-23 18:16:38 | Sidrah Ahmed |
| 471 | 2023-11-01 16:34:45 | Catherine Bowhay |
| 473 | 2023-11-01 18:23:51 | Jasmin Bourne |
| 474 | 2023-11-01 19:37:56 | Joanne Thomas |
| 475 | 2023-11-01 18:02:16 | DHLB DHLB |
| 481 | 2023-11-01 15:29:59 | Kirsty Messenger |
| 484 | 2023-11-01 18:56:02 | Ben Stocker |
| 491 | 2023-11-01 19:07:22 | Ellen Coggins |
| 498 | 2023-11-01 20:20:54 | Stephanie Attewell |
| 500 | 2023-11-01 20:58:47 | Lynda Carew |
| 506 | 2023-11-01 19:31:22 | aithne boldick |
| 508 | 2023-11-01 17:47:11 | Jordan Coleman |
| 510 | 2023-11-01 18:11:52 | Hannah Riley |
| 513 | 2023-11-01 19:17:16 | Gemma Hallett |
| 516 | 2023-11-01 20:53:40 | Kerry Palmer |
| 517 | 2023-11-01 19:07:22 | Ellen Coggins |
| 518 | 2023-10-27 20:31:34 | Ben Stocker |
| 520 | 2023-11-01 20:45:15 | Lynne Jeary |