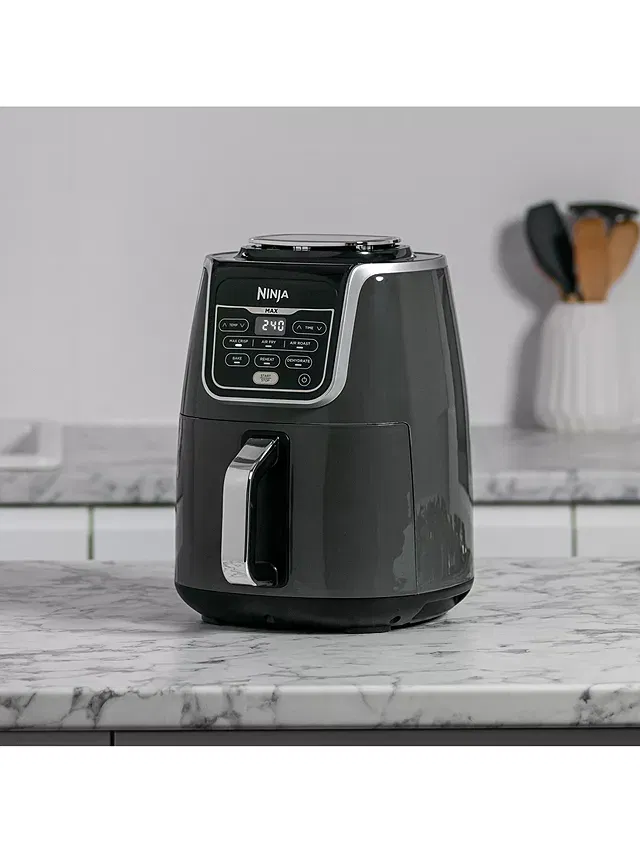 AUTO WIN – Ninja AF160UK Max Air Fryer, Grey – 11/11
Description
AUTO WIN – Ninja AF160UK Max Air Fryer, Grey – 11/11
AUTO WIN – NO LIVE DRAW – WINNER WILL BE CONTACTED WITHIN 24 HOURS
With a large 5.2L capacity, the Ninja Air Fryer MAX allows you to quickly and easily prepare family meals using little to no oil. Offering Air Fry, Roast, Bake, Reheat, Dehydrate and Max Crisp settings to create healthier snacks, sides and full meals.
Air Fry
Using little to no oil, air frying circulates super-hot air around food to remove excess moisture and create a deliciously crispy, golden-brown finish. Enjoy juicy steaks, burgers and chicken breasts, crisp quesadillas, homemade sweet potato fries, perfectly-cooked prawns, flaky fish and even give your favourite toasted sandwich a crispy finish.
Max Crisp
Cook from frozen to perfectly crispy using the Max Crisp setting. It works by creating a super fast air-flow that circulates temperatures of up to 240°C to evenly cook and crisp food from frozen.
Roast
Fluffy golden potatoes, tasty Mediterranean vegetable medleys and even a whole chicken using this setting.
Bake
Prepare fresh bread, cakes, pies, tarts and sweet treats.
Dehydrate
Add fresh ingredients to create healthy dried fruit snacks and vegetable crisps, make your own beef jerky and homemade dried herbs.
Reheat
Heat up leftovers to restore that fresh-out-of-the-oven texture – perfect for pizza.
Easy cleaning
Washing up is easy thanks to ceramic-coated, non-stick dishwasher-safe parts.
| Winner Name | Ticket Number | Draw Date |
| --- | --- | --- |
| Debbie jessup | 175 | 11/11/2023 |
| Ticket Number | Date | Name |
| --- | --- | --- |
| 1 | 2023-11-11 01:31:41 | Jodie Palfrey |
| 2 | 2023-11-11 09:06:25 | E B |
| 3 | 2023-11-11 10:04:10 | Leah Steele |
| 4 | 2023-11-11 00:55:14 | Lee Gable |
| 5 | 2023-11-11 11:01:45 | No Christine Scarbrough |
| 6 | 2023-11-11 11:43:39 | Donna Skinner |
| 7 | 2023-11-11 09:05:43 | Helen Holloway |
| 8 | 2023-11-10 20:18:46 | Clare payne |
| 9 | 2023-11-11 14:16:06 | Douglas Wright |
| 11 | 2023-11-11 08:11:07 | Keith Moore |
| 12 | 2023-11-11 14:59:40 | Sapphire Barker |
| 13 | 2023-11-10 21:34:44 | Michelle Fewings |
| 14 | 2023-11-11 12:01:48 | Rebecca Watson |
| 15 | 2023-11-10 17:07:38 | Leah Cowell |
| 16 | 2023-11-10 23:37:25 | Kelly Powell |
| 20 | 2023-11-11 12:43:56 | sue fogarty |
| 21 | 2023-11-11 14:56:17 | Teri Davison |
| 22 | 2023-11-11 13:26:26 | Steven Myers |
| 23 | 2023-11-11 12:16:26 | C B |
| 25 | 2023-11-11 12:01:48 | Rebecca Watson |
| 27 | 2023-11-11 13:10:47 | Lew Parsons |
| 31 | 2023-11-11 11:41:38 | Kylie Aveyard |
| 32 | 2023-11-11 13:36:40 | Leanne Pearce |
| 33 | 2023-11-11 11:28:42 | Juliette King |
| 34 | 2023-11-11 08:30:28 | Bradley hall |
| 35 | 2023-11-11 13:08:47 | Nicholas Thorne |
| 36 | 2023-11-11 11:03:00 | Zoe Chapman |
| 37 | 2023-11-11 12:01:48 | Rebecca Watson |
| 38 | 2023-11-11 14:30:56 | Clare Skrzypczak |
| 39 | 2023-11-11 10:53:44 | Carolyne Harper |
| 40 | 2023-11-11 14:34:27 | Kerry McLean |
| 41 | 2023-11-11 10:04:10 | Leah Steele |
| 42 | 2023-11-11 10:53:44 | Carolyne Harper |
| 43 | 2023-11-11 13:36:40 | Leanne Pearce |
| 48 | 2023-11-11 12:52:48 | Alison Collins |
| 50 | 2023-11-11 13:26:26 | Steven Myers |
| 51 | 2023-11-11 08:11:07 | Keith Moore |
| 52 | 2023-11-10 23:09:41 | Lorraine Williams |
| 53 | 2023-11-11 10:15:30 | Darren Sandford |
| 56 | 2023-11-11 11:06:45 | Daphne Clark |
| 59 | 2023-11-10 21:06:13 | Anna Perry |
| 61 | 2023-11-11 11:41:38 | Kylie Aveyard |
| 63 | 2023-11-10 20:17:21 | trevor Dance |
| 64 | 2023-11-11 09:24:52 | Clare Keating |
| 67 | 2023-11-11 11:06:45 | Daphne Clark |
| 68 | 2023-11-11 14:58:40 | Chris Carr |
| 69 | 2023-11-11 14:27:50 | Belinda Challoner |
| 70 | 2023-11-10 21:04:26 | Stacey Karpinski |
| 73 | 2023-11-11 14:59:03 | Debbie jessup |
| 75 | 2023-11-11 14:58:40 | Chris Carr |
| 77 | 2023-11-11 14:56:08 | Zoe Chapman |
| 78 | 2023-11-11 09:29:57 | Emily Barnes |
| 79 | 2023-11-11 09:34:47 | Emma & lee |
| 80 | 2023-11-11 11:44:59 | Amanda King |
| 81 | 2023-11-10 21:06:13 | Anna Perry |
| 82 | 2023-11-11 08:05:27 | Lisa Darragh |
| 83 | 2023-11-11 01:31:41 | Jodie Palfrey |
| 84 | 2023-11-11 14:27:50 | Belinda Challoner |
| 85 | 2023-11-11 14:22:45 | Lekel North |
| 86 | 2023-11-11 11:41:38 | Kylie Aveyard |
| 87 | 2023-11-10 23:54:04 | Kathryn Budd |
| 88 | 2023-11-11 14:11:27 | Anthony Boult |
| 89 | 2023-11-11 14:59:03 | Debbie jessup |
| 90 | 2023-11-10 21:34:44 | Michelle Fewings |
| 91 | 2023-11-11 11:12:01 | Charlotte Brookbank |
| 92 | 2023-11-11 14:59:03 | Debbie jessup |
| 95 | 2023-11-11 14:59:03 | Debbie jessup |
| 98 | 2023-11-11 14:56:08 | Zoe Chapman |
| 100 | 2023-11-11 14:34:27 | Kerry McLean |
| 102 | 2023-11-11 14:59:03 | Debbie jessup |
| 103 | 2023-11-11 11:28:42 | Juliette King |
| 106 | 2023-11-10 13:30:14 | Samantha Lockhart |
| 110 | 2023-11-10 20:18:46 | Clare payne |
| 111 | 2023-11-06 22:15:45 | David McCullough |
| 113 | 2023-11-11 14:27:50 | Belinda Challoner |
| 114 | 2023-11-11 10:04:10 | Leah Steele |
| 117 | 2023-11-10 23:06:57 | Sara Hammond |
| 120 | 2023-11-11 10:31:57 | Miranda Stone |
| 122 | 2023-11-10 20:18:46 | Clare payne |
| 123 | 2023-11-11 10:40:49 | SJ Wilson |
| 125 | 2023-11-11 14:11:27 | Anthony Boult |
| 127 | 2023-11-10 21:56:55 | J M S S |
| 128 | 2023-11-11 10:48:44 | Lorraine Rawles |
| 129 | 2023-11-11 11:03:00 | Zoe Chapman |