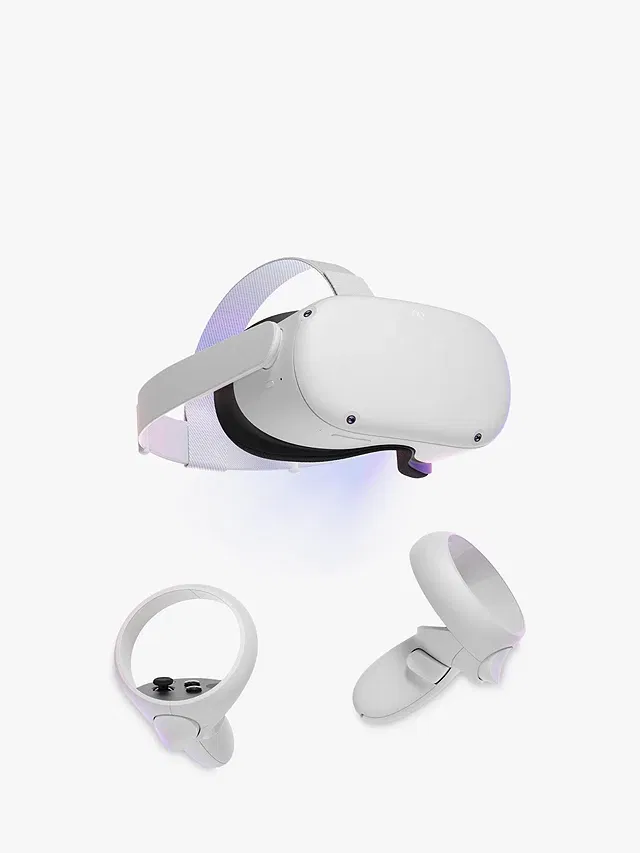 AUTO WIN-Meta Quest 2, All-In-One Virtual Reality Headset and Controllers, 256GB
Description
AUTO WIN-Meta Quest 2, All-In-One Virtual Reality Headset and Controllers, 256GB
Quest 2 is the all-in-one system that sets you free to roam in VR. Simply put on the headset and enter fully immersive, imagination-defying worlds. A built-in battery, super-fast processor and high-resolution display keep your experience smooth and seamless, while 3D positional audio, hand tracking and haptic feedback make virtual worlds feel real. Meet, play and build communities with people from all over the world. Join quests, revolutionise your fitness regime, or collaborate with colleagues in innovative workspaces. And if you want to let friends and family into your VR experience, you can cast it to a compatible TV or screen as it unfolds*.
An incredible multi-sensory experience immerses you in cinematic, 3D positional audio through built-in speakers, while mind-blowing high-resolution graphics mean you see every detail of every virtual world, even when you're moving at speed.
An integrated 10,000mAh battery giving up to three hours of gameplay or 10 hours of entertainment, combined with a comfort-driven design, lets you explore deeper and further for longer, every time you step into VR.
Intuitive Touch controllers transport your movements directly into VR. Explore over 1,000 titles by connecting your VR headset to a gaming-compatible computer with a Meta Quest Link cable (PC and cable sold separately). Share the experience with virtual social spaces, multiplayer gaming and virtual stadiums. Let others watch your performance by casting your VR experience to compatible TVs and other screens. There's no end to what you can play, create and discover with Meta Quest 2.
Quest 2 requires your Facebook account to log in, so it's easy to meet up with your friends in VR or discover communities around the world. Helpfully, you can choose to explore as yourself or by a new name, just by creating a unique VR profile.
*Please note: Meta Quest 2 requires a mobile device, wireless internet access and the Meta app (free download) to set up the device. Account registration is also required.
AUTO WIN- NO LIVE DRAW – WINNER IS AUTOMATICALLY SELECTED WHEN THE TIMER IS UP OR COMPETITION SELLS OUT
| Winner Name | Ticket Number | Draw Date |
| --- | --- | --- |
| Joanne Stewart | 3 | 27/11/2023 |
| Ticket Number | Date | Name |
| --- | --- | --- |
| 1 | 2023-11-26 06:59:29 | Karen Fletcher |
| 3 | 2023-11-27 18:44:12 | Joanne Stewart |
| 4 | 2023-11-27 19:49:23 | Lauren Burton |
| 5 | 2023-11-22 21:49:27 | Victoria Offord |
| 6 | 2023-11-27 20:54:57 | E L |
| 7 | 2023-11-27 20:49:02 | Jonathan Mills |
| 9 | 2023-11-27 00:27:02 | Kelly Wagstaff |
| 10 | 2023-11-26 06:59:29 | Karen Fletcher |
| 11 | 2023-11-27 11:56:25 | Emma Hancock |
| 12 | 2023-11-27 20:13:44 | NEIL wagstaffe |
| 13 | 2023-11-27 20:04:19 | Lorna Marsden |
| 14 | 2023-11-27 20:53:06 | Simon Towers |
| 15 | 2023-11-27 19:51:47 | Adam Welsman |
| 16 | 2023-11-27 19:07:04 | Kim Adams |
| 17 | 2023-11-27 10:36:46 | Lee Gable |
| 18 | 2023-11-27 19:33:10 | Amanda Moore |
| 20 | 2023-11-27 13:08:49 | Laura Nickels |
| 21 | 2023-11-27 15:46:00 | Jennifer White |
| 22 | 2023-11-27 13:45:48 | Emma & lee |
| 23 | 2023-11-27 20:58:32 | James Cozens |
| 24 | 2023-11-27 19:35:37 | karen green |
| 25 | 2023-11-27 19:35:37 | karen green |
| 26 | 2023-11-27 19:30:08 | Melissa Pryce |
| 27 | 2023-11-27 19:51:01 | Chanel Wardman |
| 28 | 2023-11-27 20:29:31 | Ria Dance |
| 29 | 2023-11-27 19:03:22 | Michael White |
| 30 | 2023-11-27 00:09:43 | Cristian Mocanu |
| 31 | 2023-11-27 19:58:17 | Louise Martin |
| 33 | 2023-11-27 20:52:43 | Kate Hunt |
| 34 | 2023-11-26 15:58:15 | Jackie Staines |
| 35 | 2023-11-27 20:17:27 | Jess Feakins |
| 36 | 2023-11-27 19:06:28 | Vicky Heeley |
| 37 | 2023-11-27 20:05:33 | Sophie Hodge |
| 38 | 2023-11-26 21:36:27 | Shiobhan Westcott |
| 39 | 2023-11-27 09:34:29 | Amber Ley |
| 40 | 2023-11-27 19:25:04 | Ben Sene |
| 41 | 2023-11-27 20:49:33 | Darryl Gumbrill |
| 42 | 2023-11-27 20:09:06 | Jackie Staines |
| 43 | 2023-11-27 08:27:11 | Lau X |
| 44 | 2023-11-26 21:41:23 | Rachi B |
| 45 | 2023-11-22 21:49:27 | Victoria Offord |
| 46 | 2023-11-27 00:27:02 | Kelly Wagstaff |
| 47 | 2023-11-27 00:27:02 | Kelly Wagstaff |
| 48 | 2023-11-27 07:56:17 | Antony Kelly |
| 49 | 2023-11-27 17:39:36 | Dee Williams |
| 51 | 2023-11-27 20:58:52 | Daniel Tribble |
| 52 | 2023-11-26 21:41:23 | Rachi B |
| 53 | 2023-11-27 19:01:25 | Amber Ley |
| 54 | 2023-11-26 21:41:23 | Rachi B |
| 55 | 2023-11-26 21:36:27 | Shiobhan Westcott |
| 56 | 2023-11-26 16:50:44 | Sami Knott |
| 57 | 2023-11-27 01:22:39 | DHLB W |
| 58 | 2023-11-27 09:31:02 | Amanda Royal |
| 59 | 2023-11-22 21:49:27 | Victoria Offord |
| 60 | 2023-11-27 20:31:26 | Naomi Rose |
| 61 | 2023-11-27 20:28:33 | julie tucker |
| 62 | 2023-11-27 20:36:12 | Jake Williams |
| 63 | 2023-11-27 17:14:20 | Amanda Logue |
| 64 | 2023-11-27 19:12:56 | Shane Seldon |
| 65 | 2023-11-27 19:06:34 | Amy Petherick |
| 66 | 2023-11-27 19:08:48 | Chris Carr |
| 67 | 2023-11-27 18:44:12 | Joanne Stewart |
| 68 | 2023-11-22 21:49:27 | Victoria Offord |
| 69 | 2023-11-27 20:53:06 | Simon Towers |
| 71 | 2023-11-26 21:41:23 | Rachi B |
| 72 | 2023-11-26 06:59:29 | Karen Fletcher |
| 73 | 2023-11-27 19:31:41 | Julie Smith |
| 74 | 2023-11-27 00:29:26 | Stacey B |
| 75 | 2023-11-22 21:49:27 | Victoria Offord |
| 76 | 2023-11-23 23:42:46 | Nicholas Bond |
| 77 | 2023-11-27 19:13:53 | Tracey Pahel |
| 78 | 2023-11-26 19:56:32 | Bryan Gunstone |
| 79 | 2023-11-26 21:36:27 | Shiobhan Westcott |
| 81 | 2023-11-26 06:59:29 | Karen Fletcher |
| 82 | 2023-11-27 20:59:42 | L Rochester |
| 83 | 2023-11-27 19:09:49 | Liam Conway |
| 85 | 2023-11-27 20:16:21 | Alan Underhill |
| 86 | 2023-11-27 20:08:45 | Amber Ley |
| 87 | 2023-11-23 23:42:46 | Nicholas Bond |
| 88 | 2023-11-25 23:11:21 | David Southern |
| 89 | 2023-11-27 19:28:58 | Charlotte Sawyer |
| 90 | 2023-11-27 00:27:02 | Kelly Wagstaff |
| 91 | 2023-11-27 18:44:26 | lydia Thorbergsen |
| 93 | 2023-11-26 21:41:23 | Rachi B |
| 94 | 2023-11-27 20:29:31 | Ria Dance |
| 95 | 2023-11-27 00:27:02 | Kelly Wagstaff |
| 96 | 2023-11-27 19:44:43 | Stephanie Hartnoll |
| 97 | 2023-11-27 07:56:17 | Antony Kelly |
| 98 | 2023-11-27 19:39:18 | Wayne West |
| 99 | 2023-11-26 19:56:32 | Bryan Gunstone |
| 100 | 2023-11-27 19:45:20 | Tia Rice |