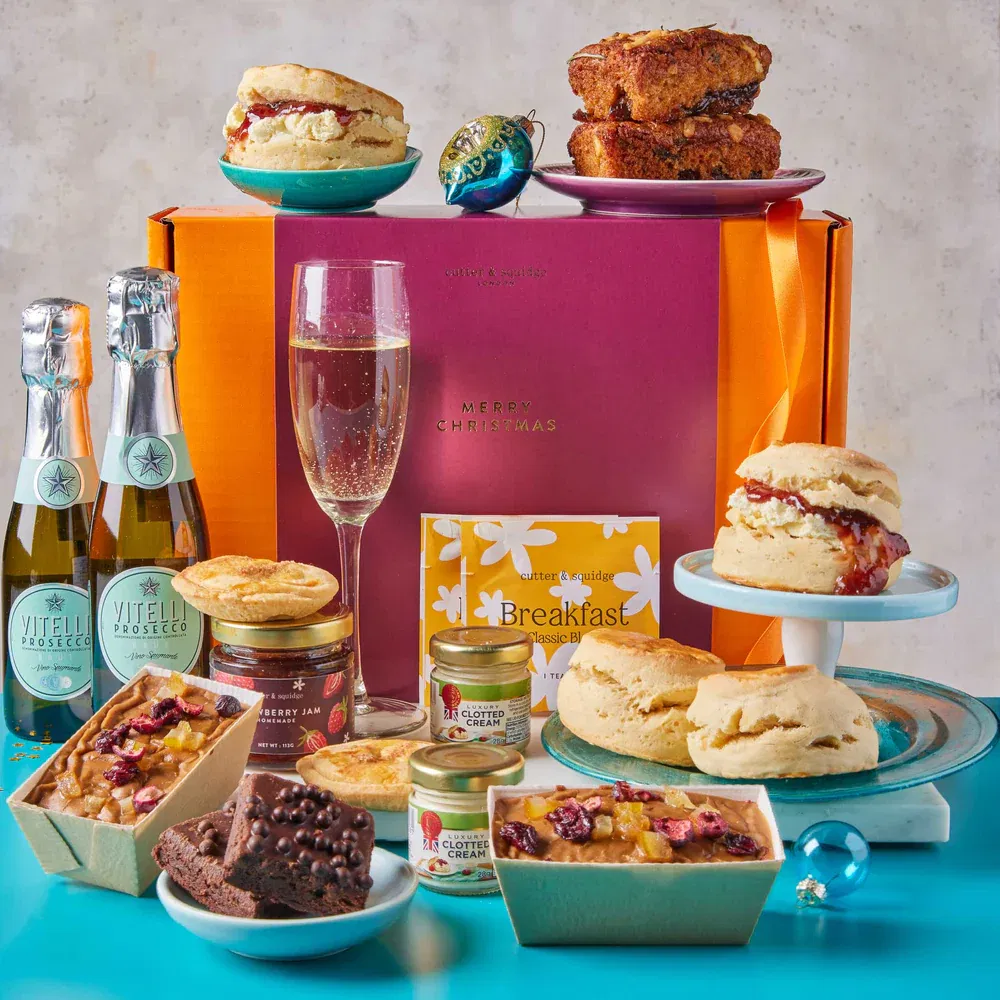 AUTO WIN – Luxe Christmas Afternoon Tea At Home with Prosecco – 15/11
Description
AUTO WIN – Luxe Christmas Afternoon Tea At Home with Prosecco – 15/11
AUTO WIN – NO LIVE DRAW – WINNER WILL BE CONTACTED WITHIN 24 HOURS

Winner chooses delivery date
Celebrate the festive season in style. This luxury spread includes homemade scones paired with strawberry jam and rich clotted cream; crumbly, buttery mince pies, deliciously spiced gingerbread loaf cakes with a sweet toffee glaze and 2 squares of our decadent brownie bites. Balance our sweet treats with a Christmas-exclusive rosemary, onion and Italian cheese loaf and add a little sparkle to your festive Afternoon Tea with a glass of fizz!
One Christmas Luxe Afternoon Tea for Two kit contains:
2 x Rosemary, Onion and Italian Cheese Loaves
2 x Gingerbread Loaves with a Toffee Glaze
2 x Mince Pies
2 x Classic Brownie Bites
4 x Buttery Scones
2 x Pots of Clotted Cream
1 x Pot of Fruity Jam
2 x Cutter & Squidge Teabags
2 x Mini Prosecco
Please see our cake care page to find out how to look after your Cutter & Squidge goodies and their shelf life.
Afternoon Tea is delivered with ice packs to keep it fresh, but please do make sure to warm up the scones in the oven and let the other goodies be at room temp before tucking in!
| Winner Name | Ticket Number | Draw Date |
| --- | --- | --- |
| Rebecca Watson | 59 | 15/11/2023 |
| Ticket Number | Date | Name |
| --- | --- | --- |
| 1 | 2023-11-15 16:59:53 | Moira stokes |
| 2 | 2023-11-15 17:46:38 | Alexander Ross |
| 3 | 2023-11-15 13:10:47 | Stacey Karpinski |
| 4 | 2023-11-15 17:41:07 | Mrs S T |
| 5 | 2023-11-15 12:04:01 | Jo Allen |
| 7 | 2023-11-15 13:34:48 | Linda Mcgillivray |
| 8 | 2023-11-15 00:17:54 | Emma & lee |
| 9 | 2023-11-15 17:55:15 | Donna Brown |
| 10 | 2023-11-14 23:56:08 | Jill Higham |
| 11 | 2023-11-15 00:26:41 | D T |
| 12 | 2023-11-14 21:11:35 | Rebecca Watson |
| 13 | 2023-11-15 00:26:41 | D T |
| 14 | 2023-11-15 18:11:22 | Sian Rice |
| 15 | 2023-11-15 17:41:07 | Mrs S T |
| 16 | 2023-11-14 23:57:06 | Sharon Archer |
| 17 | 2023-11-15 17:15:40 | T S |
| 18 | 2023-11-15 11:20:57 | Pam Wood |
| 19 | 2023-11-15 17:15:40 | T S |
| 21 | 2023-11-15 16:19:01 | Lisa Roberts |
| 22 | 2023-11-15 11:42:17 | Moira Jayne Angel |
| 23 | 2023-11-15 17:15:40 | T S |
| 24 | 2023-11-14 18:30:19 | phyllis steer |
| 25 | 2023-11-14 21:11:35 | Rebecca Watson |
| 26 | 2023-11-15 18:59:02 | Levi-Marie Lloyd |
| 27 | 2023-11-15 18:27:18 | Mandy Adams |
| 28 | 2023-11-15 09:19:36 | Sarah Taylor |
| 29 | 2023-11-15 18:12:46 | Samantha Sweeney |
| 30 | 2023-11-15 18:12:39 | Lynsey Oke |
| 31 | 2023-11-15 17:15:40 | T S |
| 32 | 2023-11-15 17:40:39 | Leanne Pearce |
| 33 | 2023-11-15 17:40:39 | Leanne Pearce |
| 36 | 2023-11-15 17:51:20 | Will Wellings |
| 38 | 2023-11-15 18:51:47 | Jayne Greenall |
| 40 | 2023-11-15 09:38:50 | E L |
| 41 | 2023-11-15 14:16:59 | Kim Ayres |
| 42 | 2023-11-15 14:16:59 | Kim Ayres |
| 44 | 2023-11-15 12:23:15 | Rachi B |
| 45 | 2023-11-14 18:30:19 | phyllis steer |
| 46 | 2023-11-15 12:23:15 | Rachi B |
| 47 | 2023-11-15 17:15:40 | T S |
| 48 | 2023-11-15 18:54:04 | Kerry McLean |
| 49 | 2023-11-15 18:53:22 | Jessica Pellens |
| 52 | 2023-11-15 18:17:30 | Gail. Gilbert. |
| 54 | 2023-11-15 18:27:18 | Mandy Adams |
| 55 | 2023-11-15 16:44:33 | Julie Major |
| 57 | 2023-11-15 16:25:46 | Liam PArker |
| 59 | 2023-11-14 21:11:35 | Rebecca Watson |
| 60 | 2023-11-14 21:11:35 | Rebecca Watson |
| 61 | 2023-11-15 14:16:59 | Kim Ayres |
| 62 | 2023-11-15 16:11:18 | Scott Cartmill |
| 63 | 2023-11-14 18:30:19 | phyllis steer |
| 64 | 2023-11-15 16:03:16 | Gary King |
| 65 | 2023-11-15 12:23:15 | Rachi B |
| 66 | 2023-11-15 08:04:23 | Michelle Soanes |
| 69 | 2023-11-15 18:45:14 | Steve Ford |
| 70 | 2023-11-15 17:41:07 | Mrs S T |
| 71 | 2023-11-15 18:05:41 | Kym Dalziel |
| 72 | 2023-11-15 13:17:36 | Claire Allen |
| 73 | 2023-11-15 17:46:38 | Alexander Ross |
| 76 | 2023-11-15 18:27:18 | Mandy Adams |
| 77 | 2023-11-15 14:16:59 | Kim Ayres |
| 78 | 2023-11-15 18:59:02 | Levi-Marie Lloyd |
| 81 | 2023-11-15 18:43:53 | Lucy Fenner |
| 82 | 2023-11-15 18:17:55 | Sarah Heal |
| 84 | 2023-11-15 18:17:30 | Gail. Gilbert. |
| 86 | 2023-11-14 20:31:23 | Joanna Brailsford-Dunn |
| 87 | 2023-11-15 18:17:30 | Gail. Gilbert. |
| 88 | 2023-11-15 18:45:14 | Steve Ford |
| 89 | 2023-11-15 11:51:17 | Angela Milford |
| 90 | 2023-11-15 11:42:10 | Amber Probyn |
| 91 | 2023-11-15 16:51:48 | Kerry McLean |
| 92 | 2023-11-15 18:43:53 | Lucy Fenner |
| 93 | 2023-11-15 12:23:15 | Rachi B |
| 95 | 2023-11-15 08:04:23 | Michelle Soanes |
| 96 | 2023-11-15 16:11:18 | Scott Cartmill |
| 97 | 2023-11-15 18:27:58 | Laura Dunk |
| 99 | 2023-11-15 12:01:33 | Philip Colbourne |
| 100 | 2023-11-15 18:12:46 | Samantha Sweeney |
| 101 | 2023-11-15 18:51:46 | D T |
| 103 | 2023-11-15 18:15:17 | Alison Thomson |
| 104 | 2023-11-15 16:03:16 | Gary King |
| 111 | 2023-11-15 15:16:30 | Amanda Royal |
| 112 | 2023-11-14 21:11:35 | Rebecca Watson |
| 113 | 2023-11-15 11:42:10 | Amber Probyn |
| 116 | 2023-11-15 18:43:53 | Lucy Fenner |
| 117 | 2023-11-15 14:50:36 | Lorraine Rawles |
| 118 | 2023-11-15 18:25:44 | Julie Cleave |
| 120 | 2023-11-15 18:57:08 | Julie Bouskill |
| 121 | 2023-11-15 13:46:31 | Kayleigh Garrett |
| 122 | 2023-11-15 14:16:59 | Kim Ayres |
| 123 | 2023-11-15 18:43:53 | Lucy Fenner |
| 125 | 2023-11-14 21:11:35 | Rebecca Watson |
| 126 | 2023-11-15 18:45:14 | Steve Ford |
| 127 | 2023-11-14 15:35:57 | Rebecca Pink |
| 130 | 2023-11-15 12:04:14 | Stacey Bell |