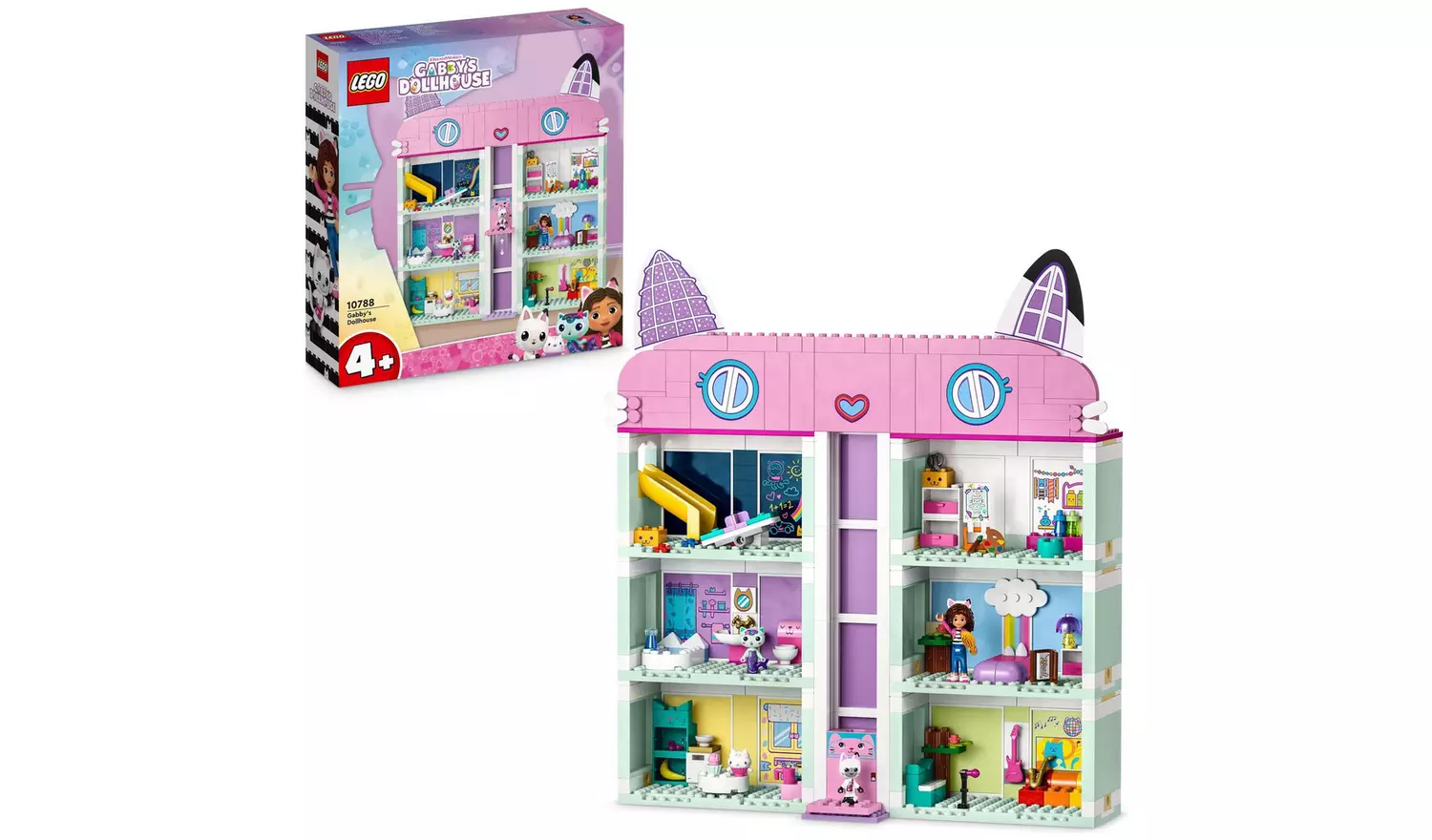 AUTO WIN-LEGO Gabby's Dollhouse Toy Playset with 4 Figures 10788
Description
AUTO WIN-LEGO Gabby's Dollhouse Toy Playset with 4 Figures 10788
Give fans of DreamWorks Animation's Gabby's Dollhouse a magical house of their own, with this 8-room, activity-packed playset for kids aged 4+.
LEGO® model number: 10788 – for ages 4 years and over.
Theme: LEGO Gabby's Dollhouse.
Treat DreamWorks Animation TV show's fans to a 4-floor, 8-room Gabby's Dollhouse toy with this LEGO playset with 4 characters and accessories.
Kids can bake in the kitchen, use a slide in the playroom or get creative in one of 8 activity-filled rooms connected by a 'cat-a-vator' lift.
Gabby's Dollhouse toys for girls and boys let kids aged 4+ join in the fun with Gabby minifigure, plus Pandy Paws, MerCat and Cakey figures.
Kids can 'play' piano in the Gabby's Dollhouse music room, take a nap in the bedroom or party on the rooftop's rotatable dance floor.
Includes Gabby's Dollhouse accessories: a cupcake, scissors, paint brush, hairbrush, shampoo bottle, flower, microphone, guitar and much more.
LEGO Gabby's Dollhouse (10788) toy playset for girls, boys and kids aged 4+ years old is packed to the rooftop with activities and Gabby's Dollhouse characters. Treat a fan of the DreamWorks Animation TV show to an 8-room house of their own. The dollhouse measures over 34 cm (13.5 in. ) high, 31 cm (12.5 in. ) wide and 9 cm (3.5 in. ) deep.
Includes 498 pieces.
Dimensions:
Box size H9.4, W35.4, D37.8cm.
General Information:
For ages 4 years and over.AUTO WIN- NO LIVE DRAW – WINNER IS AUTOMATICALLY SELECTED WHEN THE TIMER IS UP OR COMPETITION SELLS OUT
| Winner Name | Ticket Number | Draw Date |
| --- | --- | --- |
| Gareth Bovington | 113 | 18/11/2023 |
| Ticket Number | Date | Name |
| --- | --- | --- |
| 1 | 2023-11-17 20:20:41 | Jill Higham |
| 2 | 2023-11-18 18:04:16 | Mandy Adams |
| 3 | 2023-11-18 17:23:26 | Kathy Donald |
| 4 | 2023-11-17 22:08:30 | Kerri-Ann Clarkson |
| 7 | 2023-11-18 17:51:34 | Sarah Dare |
| 9 | 2023-11-18 18:29:06 | Olivia Alford |
| 10 | 2023-11-17 20:20:41 | Jill Higham |
| 13 | 2023-11-18 17:48:23 | Michelle Jones |
| 14 | 2023-11-18 18:21:57 | Chris Carr |
| 16 | 2023-11-18 00:50:08 | Kym Dalziel |
| 17 | 2023-11-18 18:29:06 | Olivia Alford |
| 21 | 2023-11-18 09:56:38 | Patricia Pacheco |
| 22 | 2023-11-18 17:51:34 | Sarah Dare |
| 27 | 2023-11-17 22:56:06 | Kayleigh Smith |
| 28 | 2023-11-18 16:38:26 | Gem A |
| 30 | 2023-11-18 18:14:18 | Daniel Mountstevens |
| 36 | 2023-11-18 18:29:06 | Olivia Alford |
| 39 | 2023-11-18 15:25:19 | Dominic French |
| 40 | 2023-11-18 16:17:26 | Hayley Jackson |
| 46 | 2023-11-18 18:27:33 | LINDA GABLE |
| 48 | 2023-11-18 15:54:09 | Claire Leworthy |
| 50 | 2023-11-18 18:21:57 | Chris Carr |
| 52 | 2023-11-18 09:04:51 | Rebecca Spencer |
| 53 | 2023-11-18 18:29:06 | Olivia Alford |
| 54 | 2023-11-18 18:21:57 | Chris Carr |
| 55 | 2023-11-18 09:58:24 | Janay Natta |
| 61 | 2023-11-18 09:56:12 | Sarah Heal |
| 63 | 2023-11-18 17:23:26 | Kathy Donald |
| 64 | 2023-11-18 00:50:08 | Kym Dalziel |
| 65 | 2023-11-18 17:58:28 | Shazzy Mazzy |
| 69 | 2023-11-18 18:14:16 | Lisa Sanders |
| 70 | 2023-11-18 11:31:51 | Tara Hawthorn |
| 72 | 2023-11-18 18:21:57 | Chris Carr |
| 73 | 2023-11-18 14:02:14 | Sarah Heal |
| 78 | 2023-11-18 18:15:16 | Kylie Aveyard |
| 83 | 2023-11-18 18:29:06 | Olivia Alford |
| 87 | 2023-11-17 21:43:43 | Kathy Donald |
| 90 | 2023-11-18 18:19:08 | sarah cartwright |
| 91 | 2023-11-18 09:18:39 | Gareth Bovington |
| 95 | 2023-11-18 15:07:42 | Emma Randall |
| 102 | 2023-11-18 17:52:57 | Amy Shoyer |
| 109 | 2023-11-18 09:18:39 | Gareth Bovington |
| 111 | 2023-11-18 18:21:57 | Chris Carr |
| 113 | 2023-11-18 09:18:39 | Gareth Bovington |
| 115 | 2023-11-18 09:19:42 | Hannah Evans |
| 116 | 2023-11-18 18:15:32 | Becky Woodland |
| 117 | 2023-11-18 15:21:56 | Fiona Bassett |
| 119 | 2023-11-18 17:48:23 | Michelle Jones |
| 122 | 2023-11-18 18:21:57 | Chris Carr |
| 125 | 2023-11-18 09:54:43 | Sarah SQUIRE |
| 129 | 2023-11-18 17:07:51 | Shelley Clewes |
| 130 | 2023-11-18 18:04:16 | Mandy Adams |
| 137 | 2023-11-17 20:10:03 | Lee Jarrett |