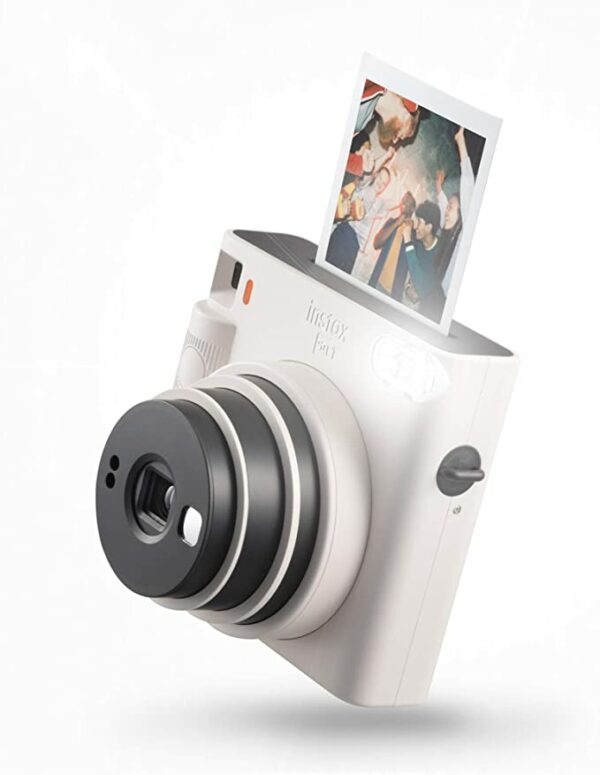 AUTO WIN -Instax SQUARE SQ1 Instant Camera, Chalk White
Description
AUTO WIN -Instax SQUARE SQ1 Instant Camera, Chalk White
AUTO WIN-NO LIVE DRAW
The stylish SQ1 instant camera from Fuji is designed to shoot sharp, and turn heads. Embracing a simplicity of function and design, this beautifully creative little snapper produces fun, rich, vibrant and atmospheric square photos …in an instant.
Automatic exposure
Clever sensors in the SQ1 automatically calculate the brightness of the environment and adjusts shutter speed accordingly. So you always get optimised quality and your subjects always look their best, including yourself!
Selfie mode
Activated with just a twist of the lens, the easy-to-snap Selfie mode, together with a dedicated Selfie mirror, opens up more self-shot possibilities. Perfectly positioned by the retractable lens, the mirror makes framing your selfie easy, to really let your personality shine through in sharp focus.
Square film
Retro-style square photos are all the rage, and this camera uses specially designed 'Instax Square Film' format (86 x 72mm prints with 62 x 62mm image size). It's a format loved by fans of instant photography the world over, a picture ratio that adds sophistication to your images, and echoes the popularity of photo-sharing social media site Instagram.
Stylish & creative
Finished in rich colour, its considered angular body shape and textured grip is as eye-catching as it is practical, easy, and satisfying to use.
| Winner Name | Ticket Number | Draw Date |
| --- | --- | --- |
| Kelly Parker | 262 | 18/06/2022 |
| Ticket Number | Date | Name |
| --- | --- | --- |
| 1 | 2022-06-17 18:33:37 | Jasmin Etches |
| 2 | 2022-06-18 01:51:32 | Hannah Del-pizzo |
| 3 | 2022-06-18 01:51:32 | Hannah Del-pizzo |
| 4 | 2022-06-17 10:24:38 | Amanda Crask |
| 5 | 2022-06-18 16:54:44 | C J |
| 6 | 2022-06-18 15:33:47 | Joseph Clifford |
| 7 | 2022-06-17 13:33:22 | Charlie Plyer |
| 8 | 2022-06-17 18:33:37 | Jasmin Etches |
| 9 | 2022-06-17 19:34:27 | Claire Thomas |
| 10 | 2022-06-18 16:43:39 | Emily Harrison |
| 11 | 2022-06-17 20:08:11 | Joel Wingrave Manns |
| 12 | 2022-06-17 11:43:24 | Tina Frazer |
| 13 | 2022-06-18 17:31:45 | Vik S |
| 14 | 2022-06-18 20:45:20 | Amanda Gardner |
| 15 | 2022-06-17 19:34:27 | Claire Thomas |
| 16 | 2022-06-18 15:33:47 | Joseph Clifford |
| 17 | 2022-06-17 23:22:38 | K K |
| 18 | 2022-06-17 18:33:37 | Jasmin Etches |
| 19 | 2022-06-18 16:50:13 | Kevin Hayes |
| 20 | 2022-06-18 12:20:36 | Dean O'Connor |
| 21 | 2022-06-17 20:23:42 | Lisa Roberts |
| 22 | 2022-06-18 08:57:19 | Tomika Burgess |
| 23 | 2022-06-18 11:07:18 | Warren Kenny |
| 24 | 2022-06-18 16:13:54 | Emma Louise |
| 25 | 2022-06-18 08:01:18 | Kerry Mace |
| 26 | 2022-06-17 11:43:24 | Tina Frazer |
| 27 | 2022-06-17 19:18:14 | Sarah Thompson-Lowe |
| 28 | 2022-06-18 17:03:58 | Michelle Teague |
| 29 | 2022-06-18 18:29:08 | Hannah Harrison-scott |
| 30 | 2022-06-18 19:31:45 | Lisa Sayers |
| 31 | 2022-06-18 11:07:18 | Warren Kenny |
| 32 | 2022-06-17 23:22:38 | K K |
| 33 | 2022-06-17 20:01:12 | Emily Burrows |
| 34 | 2022-06-18 16:26:33 | Lauren Charlesworth |
| 35 | 2022-06-18 17:08:55 | Mervyn Teague |
| 36 | 2022-06-18 16:54:44 | C J |
| 37 | 2022-06-17 19:34:27 | Claire Thomas |
| 38 | 2022-06-17 21:36:32 | Rebecca vaughan |
| 39 | 2022-06-17 15:20:43 | Kelly Parker |
| 40 | 2022-06-17 19:40:57 | Charlotte Trevelyan |
| 41 | 2022-06-17 18:31:22 | Russell Bowman |
| 42 | 2022-06-18 16:31:22 | Jordan Crook |
| 43 | 2022-06-18 16:44:45 | Nikki Graham |
| 44 | 2022-06-17 13:28:22 | Leah C |
| 45 | 2022-06-18 17:03:58 | Michelle Teague |
| 46 | 2022-06-18 19:59:07 | Grace Marshall |
| 47 | 2022-06-17 12:16:47 | Denise Barry |
| 48 | 2022-06-18 11:23:09 | Sophie Hodge |
| 49 | 2022-06-17 20:08:11 | Joel Wingrave Manns |
| 50 | 2022-06-18 20:22:06 | Katie Pile |
| 51 | 2022-06-17 14:30:15 | Gail. Gilbert. |
| 52 | 2022-06-17 23:22:38 | K K |
| 53 | 2022-06-18 13:16:33 | Tina Bellamy |
| 54 | 2022-06-18 19:11:18 | Lucy Cromwell |
| 55 | 2022-06-18 12:57:05 | Sian Bush |
| 56 | 2022-06-17 22:10:38 | Rebecca Vinson |
| 57 | 2022-06-18 19:15:14 | Diane Rainbird |
| 58 | 2022-06-17 13:04:13 | Tina Frazer |
| 59 | 2022-06-17 18:33:37 | Jasmin Etches |
| 60 | 2022-06-17 19:40:57 | Charlotte Trevelyan |
| 61 | 2022-06-18 16:13:54 | Emma Louise |
| 62 | 2022-06-17 23:21:22 | Trina Gilderthorp |
| 63 | 2022-06-18 16:09:29 | E K |
| 64 | 2022-06-17 23:22:38 | K K |
| 65 | 2022-06-17 14:30:15 | Gail. Gilbert. |
| 66 | 2022-06-17 13:04:13 | Tina Frazer |
| 67 | 2022-06-17 17:00:24 | Chelsea Quaintance |
| 68 | 2022-06-17 16:17:58 | Rees Sam |
| 69 | 2022-06-18 18:05:00 | Ew Mc |
| 71 | 2022-06-18 16:26:33 | Lauren Charlesworth |
| 72 | 2022-06-17 19:04:43 | Kirsty Westwood |
| 73 | 2022-06-18 20:30:33 | Megan Dale |
| 74 | 2022-06-18 17:25:41 | Samantha Toal |
| 75 | 2022-06-17 12:16:47 | Denise Barry |
| 76 | 2022-06-18 16:52:46 | Shelley Clewes |
| 77 | 2022-06-17 16:58:50 | Jazmine Hutchings |
| 78 | 2022-06-17 19:55:16 | Casey Harper |
| 80 | 2022-06-18 19:32:36 | Victoria Johnston |
| 82 | 2022-06-17 23:22:38 | K K |
| 83 | 2022-06-17 20:32:35 | Ian Anslow |
| 84 | 2022-06-18 10:38:00 | Sami Knott |
| 85 | 2022-06-17 21:36:14 | Sam Harper |
| 86 | 2022-06-18 11:20:58 | Megan Shearon |
| 87 | 2022-06-17 22:40:43 | Hailey Green |
| 88 | 2022-06-17 13:16:20 | Sarah Moran9 |
| 89 | 2022-06-18 10:46:28 | Joanne Warner |
| 90 | 2022-06-18 15:04:08 | D T |
| 91 | 2022-06-17 12:43:04 | Lisa Dove |
| 93 | 2022-06-18 20:44:10 | Beckie Anderson |
| 95 | 2022-06-18 10:46:28 | Joanne Warner |
| 96 | 2022-06-18 16:26:33 | Lauren Charlesworth |
| 97 | 2022-06-18 20:30:33 | Megan Dale |
| 98 | 2022-06-18 17:08:55 | Mervyn Teague |
| 99 | 2022-06-18 14:16:28 | Rosalyn Coles |
| 100 | 2022-06-17 18:33:37 | Jasmin Etches |
| 101 | 2022-06-18 16:26:33 | Lauren Charlesworth |
| 102 | 2022-06-18 10:37:58 | Laura Nickels |
| 103 | 2022-06-17 21:38:31 | Shellie Pouladdej |
| 104 | 2022-06-18 20:45:20 | Amanda Gardner |
| 105 | 2022-06-18 14:37:14 | Nikki Stephens |
| 106 | 2022-06-17 19:49:07 | Zoey-Anne Marr-Hayes |
| 107 | 2022-06-18 14:37:14 | Nikki Stephens |
| 108 | 2022-06-18 20:30:33 | Megan Dale |
| 109 | 2022-06-18 17:34:58 | Lou Lister |
| 110 | 2022-06-18 16:26:33 | Lauren Charlesworth |
| 111 | 2022-06-18 08:57:19 | Tomika Burgess |
| 114 | 2022-06-18 20:27:33 | Helen Veitch |
| 115 | 2022-06-18 18:01:56 | Ew Mc |
| 116 | 2022-06-17 20:32:35 | Ian Anslow |
| 117 | 2022-06-17 23:22:38 | K K |
| 118 | 2022-06-18 17:08:55 | Mervyn Teague |
| 119 | 2022-06-18 16:54:44 | C J |
| 120 | 2022-06-17 09:12:56 | Sharon Harvey |
| 121 | 2022-06-18 19:27:20 | emma mccauley |
| 122 | 2022-06-17 17:00:24 | Chelsea Quaintance |
| 123 | 2022-06-18 18:09:42 | Lucy Bailey |
| 124 | 2022-06-18 17:31:57 | T W |
| 125 | 2022-06-18 20:45:20 | Amanda Gardner |
| 128 | 2022-06-18 19:59:07 | Grace Marshall |
| 129 | 2022-06-18 12:57:05 | Sian Bush |
| 130 | 2022-06-18 17:09:47 | Ashleigh Duff |
| 131 | 2022-06-18 16:31:22 | Jordan Crook |
| 132 | 2022-06-18 20:45:20 | Amanda Gardner |
| 133 | 2022-06-18 20:44:10 | Beckie Anderson |
| 134 | 2022-06-17 18:41:35 | Anna Mansfield |
| 135 | 2022-06-17 22:02:19 | Samantha Grice |
| 136 | 2022-06-18 16:36:50 | Lucy Clements |
| 137 | 2022-06-18 19:27:20 | emma mccauley |
| 138 | 2022-06-17 23:22:38 | K K |
| 139 | 2022-06-17 12:16:47 | Denise Barry |
| 140 | 2022-06-17 15:48:12 | Yasmine Driscoll |
| 141 | 2022-06-17 17:52:15 | Julie Wellington |
| 142 | 2022-06-17 10:24:38 | Amanda Crask |
| 143 | 2022-06-18 14:54:57 | Tania Johns |
| 145 | 2022-06-18 16:31:22 | Jordan Crook |
| 146 | 2022-06-18 20:32:27 | Natalie Hewitt |
| 147 | 2022-06-18 16:26:33 | Lauren Charlesworth |
| 148 | 2022-06-18 07:07:48 | Emma Louise |
| 149 | 2022-06-18 10:38:00 | Sami Knott |
| 150 | 2022-06-18 17:09:47 | Ashleigh Duff |
| 151 | 2022-06-18 17:03:58 | Michelle Teague |
| 152 | 2022-06-18 16:31:22 | Jordan Crook |
| 153 | 2022-06-17 19:04:43 | Kirsty Westwood |
| 154 | 2022-06-17 15:33:13 | Wendy Bailey |
| 155 | 2022-06-18 20:11:21 | Chantelle Amphlett |
| 156 | 2022-06-18 13:03:14 | Nancy stevens |
| 157 | 2022-06-17 13:04:13 | Tina Frazer |
| 158 | 2022-06-18 16:54:04 | |
| 159 | 2022-06-18 18:05:00 | Ew Mc |
| 160 | 2022-06-18 18:55:11 | Leah Gove |
| 161 | 2022-06-18 20:44:10 | Beckie Anderson |
| 162 | 2022-06-17 14:30:15 | Gail. Gilbert. |
| 163 | 2022-06-18 11:23:09 | Sophie Hodge |
| 164 | 2022-06-18 16:54:44 | C J |
| 165 | 2022-06-18 16:40:12 | Heidi Richards |
| 166 | 2022-06-18 12:44:11 | Melissa Webb |
| 167 | 2022-06-17 21:36:14 | Sam Harper |
| 169 | 2022-06-18 15:04:08 | D T |
| 170 | 2022-06-18 19:27:20 | emma mccauley |
| 171 | 2022-06-18 17:34:58 | Lou Lister |
| 172 | 2022-06-18 08:11:36 | charlotte higman |
| 174 | 2022-06-18 16:31:22 | Jordan Crook |
| 175 | 2022-06-18 18:05:00 | Ew Mc |
| 176 | 2022-06-18 17:09:47 | Ashleigh Duff |
| 177 | 2022-06-18 19:15:43 | Kirsty Westwood |
| 178 | 2022-06-18 07:07:48 | Emma Louise |
| 179 | 2022-06-18 16:31:22 | Jordan Crook |
| 180 | 2022-06-18 16:50:48 | James Bennellick |
| 181 | 2022-06-18 11:23:09 | Sophie Hodge |
| 182 | 2022-06-17 23:22:38 | K K |
| 183 | 2022-06-18 16:31:22 | Jordan Crook |
| 184 | 2022-06-17 22:45:45 | Tina Frazer |
| 185 | 2022-06-18 11:23:09 | Sophie Hodge |
| 186 | 2022-06-17 23:21:22 | Trina Gilderthorp |
| 187 | 2022-06-18 18:25:08 | Emma Lievesley |
| 188 | 2022-06-17 09:38:32 | Elaine Lipscombe |
| 189 | 2022-06-17 22:45:45 | Tina Frazer |
| 191 | 2022-06-17 11:01:06 | Charlie Brett |
| 192 | 2022-06-18 18:05:00 | Ew Mc |
| 193 | 2022-06-18 16:54:04 | |
| 195 | 2022-06-18 17:35:26 | Damian Cole |
| 197 | 2022-06-18 16:52:46 | Shelley Clewes |
| 198 | 2022-06-18 11:23:09 | Sophie Hodge |
| 199 | 2022-06-17 10:24:38 | Amanda Crask |
| 200 | 2022-06-18 18:05:00 | Ew Mc |
| 201 | 2022-06-17 21:36:14 | Sam Harper |
| 202 | 2022-06-18 11:27:17 | Zoe Budd |
| 203 | 2022-06-17 15:20:43 | Kelly Parker |
| 206 | 2022-06-18 20:53:14 | Emma Louise |
| 207 | 2022-06-18 18:05:00 | Ew Mc |
| 208 | 2022-06-17 20:32:35 | Ian Anslow |
| 209 | 2022-06-17 13:04:13 | Tina Frazer |
| 210 | 2022-06-17 12:16:47 | Denise Barry |
| 211 | 2022-06-17 10:18:56 | Kimberley Tidmarsh |
| 214 | 2022-06-18 20:11:21 | Chantelle Amphlett |
| 215 | 2022-06-18 13:16:33 | Tina Bellamy |
| 217 | 2022-06-18 20:38:42 | Jennifer Pintus |
| 219 | 2022-06-18 20:11:21 | Chantelle Amphlett |
| 220 | 2022-06-18 10:37:58 | Laura Nickels |
| 221 | 2022-06-17 20:14:50 | Suzanne Couch |
| 222 | 2022-06-18 14:54:47 | E B |
| 223 | 2022-06-18 18:01:56 | Ew Mc |
| 225 | 2022-06-17 16:17:58 | Rees Sam |
| 226 | 2022-06-17 19:36:11 | Paige Blair |
| 227 | 2022-06-18 11:00:51 | E K |
| 228 | 2022-06-18 16:11:00 | S s |
| 229 | 2022-06-18 13:03:14 | Nancy stevens |
| 230 | 2022-06-17 18:44:53 | N C |
| 231 | 2022-06-18 19:11:18 | Lucy Cromwell |
| 232 | 2022-06-17 11:43:24 | Tina Frazer |
| 233 | 2022-06-18 12:20:36 | Dean O'Connor |
| 234 | 2022-06-17 20:08:11 | Joel Wingrave Manns |
| 235 | 2022-06-18 16:26:33 | Lauren Charlesworth |
| 236 | 2022-06-17 10:07:42 | Nik Wills |
| 237 | 2022-06-18 08:57:19 | Tomika Burgess |
| 238 | 2022-06-17 15:20:43 | Kelly Parker |
| 239 | 2022-06-18 16:31:22 | Jordan Crook |
| 240 | 2022-06-18 16:52:46 | Shelley Clewes |
| 241 | 2022-06-17 12:16:47 | Denise Barry |
| 242 | 2022-06-17 22:11:39 | Natasha Allen |
| 243 | 2022-06-18 16:26:33 | Lauren Charlesworth |
| 244 | 2022-06-17 21:36:14 | Sam Harper |
| 245 | 2022-06-18 16:40:12 | Heidi Richards |
| 246 | 2022-06-18 16:31:22 | Jordan Crook |
| 247 | 2022-06-17 22:40:43 | Hailey Green |
| 248 | 2022-06-18 16:31:22 | Jordan Crook |
| 249 | 2022-06-18 14:23:51 | Hayley Spears |
| 250 | 2022-06-17 16:06:42 | Katie Rooke |