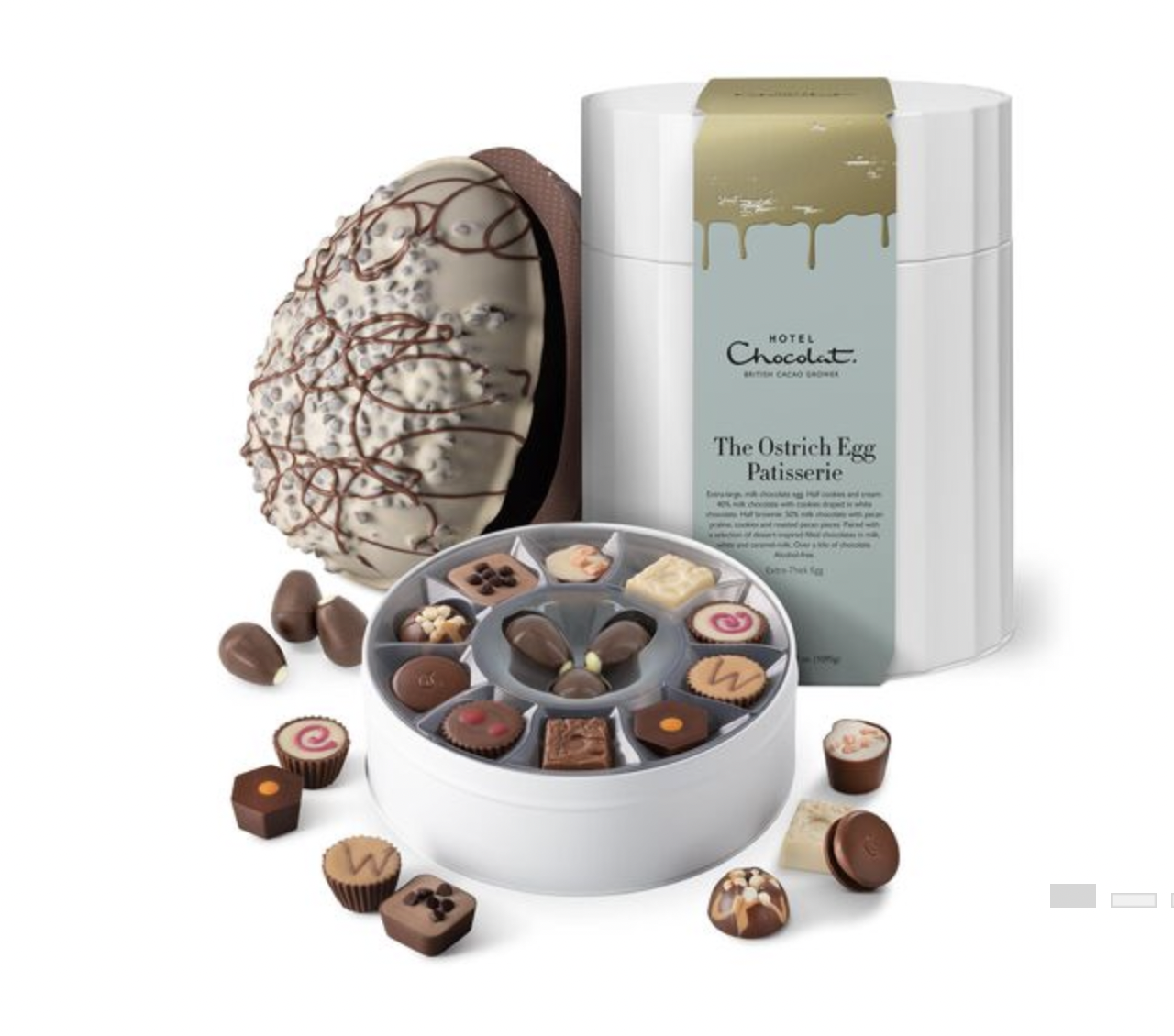 AUTO WIN – HOTEL CHOCOLATE Patisserie Chocolate Ostrich Easter Egg – 19/03
Description
AUTO WIN – HOTEL CHOCOLATE Patisserie Chocolate Ostrich Easter Egg – 19/03
AUTO WIN – NO LIVE DRAW –  WINNER WILL BE CONTACTED ON MONDAY
The Patisserie egg — inspired by our delectable Patisserie collection. The perfect gift for any chocolate lover who can't get enough of our bitesize versions of classic cakes, bakes, and desserts. Or perhaps you're looking for a decadent treat for yourself. This generous collection will keep you topped up with irresistible treats all throughout Spring. So squirrel them away and nibble at your leisure.
This gargantuan shell, modelled on the ostrich egg — the largest of all living birds — is lavishly thick. We even measured a real ostrich egg to get the authentic dimensions. Of course, we know that size isn't everything, which is why we've made sure that every inch of our Ostrich Eggs are crafted from high-cacao chocolate and made with top-quality ingredients. Every mouthful is an experience for the senses. And did we mention that there's over a kilo of chocolate to enjoy here?
Alongside the thick shell, you'll find an array of classic desserts, reimagined in chocolate. Our patisserie collection puts a chocolatier twist on traditional bakes, cakes, and puddings. And here, you'll find 20 of our best-loved recipes. Whether you like your desserts rich and chocolatey, brimming with nuanced cacao notes or prefer light and fruity options, there's something here to suit every taste and mood. Milk, white, and dark chocolate varieties come together so you can embrace all that cacao has to offer.
The Patisserie Ostrich Egg comes presented in an elegant, reusable tin. Inspired by the growing cacao pod, this tin adds an extra note of sophistication, making this Easter egg a show-stopping gift that any dessert lover is sure to appreciate.
| Winner Name | Ticket Number | Draw Date |
| --- | --- | --- |
| Sarah Smith | 105 | 19/03/2023 |
| Ticket Number | Date | Name |
| --- | --- | --- |
| 2 | 2023-03-19 13:00:22 | jeanette rich |
| 3 | 2023-03-19 22:21:30 | Hannah Allpress |
| 4 | 2023-03-19 20:09:02 | Bren Last |
| 5 | 2023-03-19 13:08:49 | R PM |
| 7 | 2023-03-18 16:09:57 | Dennis Harding |
| 9 | 2023-03-19 11:50:27 | Tia Potter |
| 10 | 2023-03-19 21:29:09 | Chris Carr |
| 11 | 2023-03-19 22:21:30 | Hannah Allpress |
| 12 | 2023-03-18 12:32:41 | phyllis steer |
| 13 | 2023-03-19 17:13:44 | Kristy Pearce |
| 15 | 2023-03-19 11:50:27 | Tia Potter |
| 16 | 2023-03-19 20:09:44 | TRACEY Board |
| 17 | 2023-03-18 16:09:57 | Dennis Harding |
| 18 | 2023-03-19 07:30:37 | Ellen Dixon |
| 19 | 2023-03-18 16:09:57 | Dennis Harding |
| 21 | 2023-03-19 12:08:54 | Lisa Roberts |
| 22 | 2023-03-19 21:29:09 | Chris Carr |
| 23 | 2023-03-19 19:15:27 | Anthony Rose |
| 24 | 2023-03-19 18:40:23 | Emma Louise |
| 26 | 2023-03-19 21:36:08 | Lucy M |
| 27 | 2023-03-19 11:50:27 | Tia Potter |
| 29 | 2023-03-18 06:49:45 | Karen Widdowson |
| 33 | 2023-03-19 07:30:37 | Ellen Dixon |
| 34 | 2023-03-18 16:09:57 | Dennis Harding |
| 35 | 2023-03-19 21:11:41 | Hannah Allpress |
| 36 | 2023-03-19 21:11:41 | Hannah Allpress |
| 37 | 2023-03-19 07:30:37 | Ellen Dixon |
| 40 | 2023-03-18 14:17:27 | Mark Higham |
| 42 | 2023-03-18 13:56:11 | Jill Higham |
| 43 | 2023-03-18 16:09:57 | Dennis Harding |
| 44 | 2023-03-19 16:18:17 | Kelly Parker |
| 45 | 2023-03-19 09:53:45 | Jane Eifiona Jones |
| 47 | 2023-03-19 21:29:09 | Chris Carr |
| 49 | 2023-03-19 20:25:51 | Kevin Hayes |
| 51 | 2023-03-19 21:11:41 | Hannah Allpress |
| 52 | 2023-03-19 13:08:49 | R PM |
| 53 | 2023-03-19 21:29:09 | Chris Carr |
| 59 | 2023-03-18 18:17:37 | Ellen Dixon |
| 60 | 2023-03-19 07:30:37 | Ellen Dixon |
| 61 | 2023-03-19 21:29:09 | Chris Carr |
| 62 | 2023-03-18 14:17:27 | Mark Higham |
| 63 | 2023-03-18 12:32:41 | phyllis steer |
| 64 | 2023-03-18 11:22:31 | Sarah jane Glover |
| 65 | 2023-03-19 12:13:27 | Emma Jones |
| 67 | 2023-03-19 13:55:12 | Sami Knott |
| 68 | 2023-03-18 09:25:17 | Suzanne Oliver |
| 74 | 2023-03-19 19:16:41 | Caroline Dreesden |
| 77 | 2023-03-19 22:55:31 | Julie Cleave |
| 80 | 2023-03-17 22:28:57 | Heidi Kingdon |
| 81 | 2023-03-19 09:53:45 | Jane Eifiona Jones |
| 82 | 2023-03-19 09:45:18 | Kirsten Baker |
| 83 | 2023-03-19 07:30:37 | Ellen Dixon |
| 85 | 2023-03-19 20:53:05 | Chris Carr |
| 86 | 2023-03-19 21:25:37 | Amy Field |
| 87 | 2023-03-19 13:08:49 | R PM |
| 88 | 2023-03-18 11:22:31 | Sarah jane Glover |
| 89 | 2023-03-16 21:39:56 | Gail Whitman |
| 93 | 2023-03-19 16:09:24 | Chris Carr |
| 94 | 2023-03-19 19:43:09 | Craig Phillips |
| 95 | 2023-03-18 18:17:37 | Ellen Dixon |
| 96 | 2023-03-18 22:45:33 | Lauren Howells |
| 98 | 2023-03-19 21:08:44 | Karen Alder |
| 99 | 2023-03-19 19:43:09 | Craig Phillips |
| 100 | 2023-03-19 13:00:22 | jeanette rich |
| 102 | 2023-03-19 21:21:58 | Lorraine Williams |
| 104 | 2023-03-19 19:01:17 | Vicky Heeley |
| 105 | 2023-03-19 14:44:22 | Sarah Smith |
| 108 | 2023-03-19 15:54:47 | Carol Ferris |
| 114 | 2023-03-19 07:30:37 | Ellen Dixon |
| 117 | 2023-03-19 13:08:49 | R PM |
| 118 | 2023-03-19 16:09:24 | Chris Carr |
| 119 | 2023-03-19 16:18:17 | Kelly Parker |
| 124 | 2023-03-19 16:50:44 | Vicky Sharma |
| 126 | 2023-03-19 21:23:34 | Lucy Nicholas |
| 127 | 2023-03-19 19:54:46 | Stacey Miles |
| 128 | 2023-03-19 19:42:06 | Roxanne Hancox |
| 129 | 2023-03-19 20:53:05 | Chris Carr |
| 130 | 2023-03-19 16:25:28 | Destiny Nolan |
| 132 | 2023-03-19 11:50:27 | Tia Potter |
| 134 | 2023-03-19 19:15:27 | Anthony Rose |
| 135 | 2023-03-18 16:07:18 | Lisa Bale |
| 137 | 2023-03-19 07:30:37 | Ellen Dixon |
| 138 | 2023-03-18 15:20:54 | Kym Dalziel |
| 139 | 2023-03-19 21:11:41 | Hannah Allpress |
| 142 | 2023-03-18 18:13:32 | Jill Higham |
| 144 | 2023-03-19 21:21:58 | Lorraine Williams |
| 146 | 2023-03-18 12:32:41 | phyllis steer |
| 149 | 2023-03-18 21:05:19 | Megan Hill |
| 150 | 2023-03-17 23:08:57 | Emily Hatfield |
| 151 | 2023-03-19 21:11:41 | Hannah Allpress |
| 152 | 2023-03-17 23:08:57 | Emily Hatfield |
| 154 | 2023-03-18 18:17:37 | Ellen Dixon |
| 155 | 2023-03-19 18:10:04 | Maia Bhatia |
| 157 | 2023-03-18 19:11:37 | Sue FORTE |
| 160 | 2023-03-19 21:23:34 | Lucy Nicholas |
| 162 | 2023-03-19 18:40:23 | Emma Louise |
| 163 | 2023-03-19 21:11:41 | Hannah Allpress |
| 165 | 2023-03-18 11:22:31 | Sarah jane Glover |
| 167 | 2023-03-19 17:41:46 | Liz Symmons |
| 169 | 2023-03-19 21:11:41 | Hannah Allpress |
| 170 | 2023-03-19 21:29:09 | Chris Carr |
| 171 | 2023-03-19 17:41:46 | Liz Symmons |
| 174 | 2023-03-18 22:45:33 | Lauren Howells |
| 175 | 2023-03-19 17:41:46 | Liz Symmons |
| 177 | 2023-03-19 21:11:41 | Hannah Allpress |
| 179 | 2023-03-19 19:01:17 | Vicky Heeley |
| 180 | 2023-03-17 23:08:57 | Emily Hatfield |