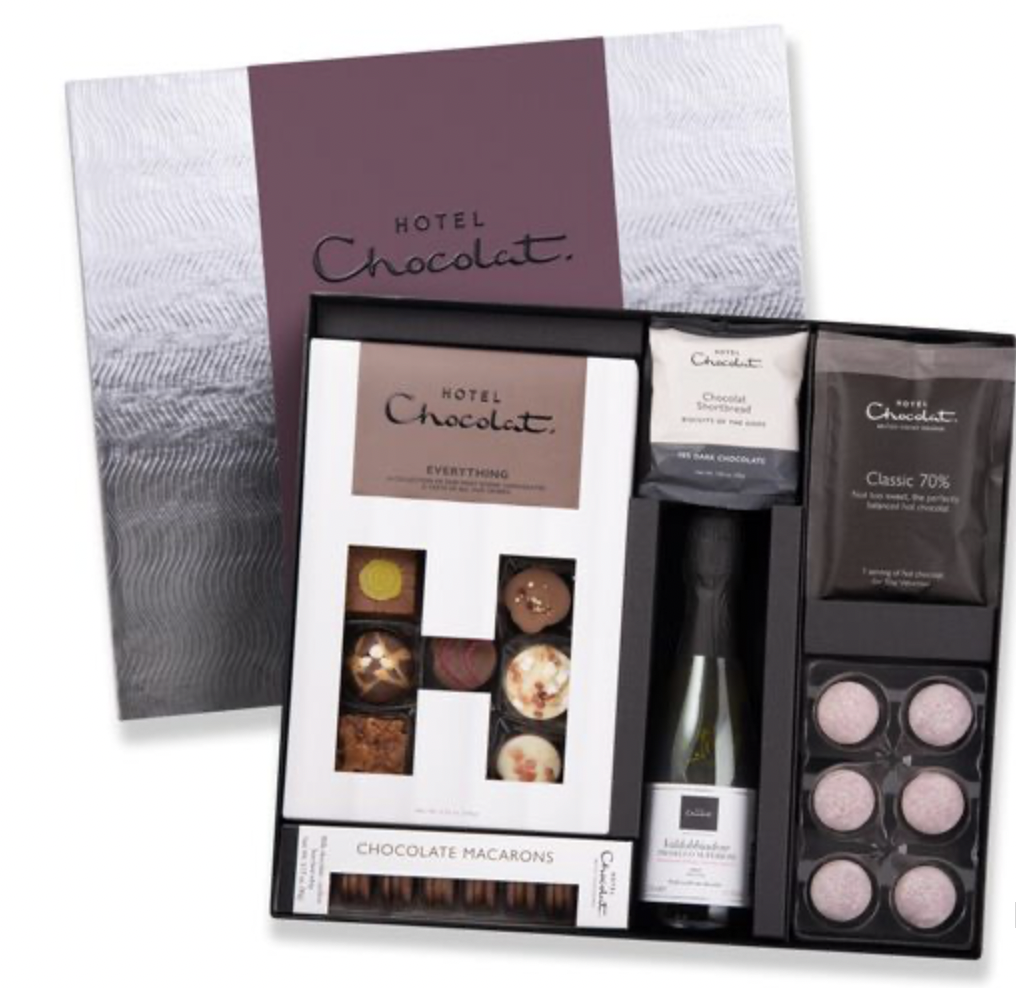 AUTO WIN – Hotel Chocolat Tipples & Treats: Chocolate & Fizz Collection
Description
AUTO WIN – Hotel Chocolat Tipples & Treats: Chocolate & Fizz Collection
AUTO WIN – NO LIVE DRAW – WINNER WILL BE CONTACTED THE NEXT DAY
Nothing says it's time to celebrate like Prosecco. Whether you're marking a special day, or toasting an achievement, our Chocolate & Fizz Luxe Collection features a bottle of our signature Prosecco. You'll also find elegant Pink Champagne Truffles — made with a generous measure of real champagne, cream and notes of strawberry — and some of our most sought-after treats. This hamper is perfect for anyone who enjoys a tipple with their chocolate.
Refreshing and light, our Prosecco Superiore DOCG has a crisp with a fruity hint. It's perfect for sipping in style alongside milk, dark or white chocolate. Fortunately, the Chocolate & Fizz Luxe Collection includes a variety of chocolates, macarons, and biscuits so they can really make the most of every mouthful.
Meanwhile, the Everything H-box showcases chocolates from across all our genres so they can find a new favourite to enjoy with a glass of fizz. And if they prefer something elegantly understated, try one of our Chocolate Macarons — a chocolatier's take on the classic French patisserie. Enjoy a light-as-air hazelnut whip, sandwiched between two solid milk chocolate discs — a true moment of indulgence.
Once the Prosecco has gone, why not cosy up with a comforting cup of drinking chocolate? With Milky 50% and Classic 70% Drinking Chocolate single-serves to choose from – both made with real chocolate flakes – you can relax and sink into the deep cacao notes and smooth texture. Make with our revolutionary Velvetiser™ for a drinking experience like no other.
What better way to enjoy hot chocolate than with crumbly, buttery shortbread? Our Chocolat Shortbread is enrobed in a layer of perfectly-balanced 70% dark chocolate for just the right blend of melt and crunch.
Presented in a sophisticated, plastic-free box, the Chocolate & Fizz Luxe Collection makes a gorgeous gift that any recipient is sure to adore.
| Winner Name | Ticket Number | Draw Date |
| --- | --- | --- |
| Holly Griffith | 86 | 25/01/2023 |
| Ticket Number | Date | Name |
| --- | --- | --- |
| 1 | 2023-01-25 16:19:45 | Hannah Allpress |
| 2 | 2023-01-25 16:19:45 | Hannah Allpress |
| 3 | 2023-01-25 21:12:31 | Jenny King |
| 6 | 2023-01-19 14:49:12 | Sarah jane Glover |
| 7 | 2023-01-25 11:36:36 | Gail. Gilbert. |
| 8 | 2023-01-25 21:36:40 | Michelle Harvey |
| 9 | 2023-01-25 19:53:42 | Victoria Brown |
| 10 | 2023-01-25 21:57:46 | Carrie Hirst |
| 12 | 2023-01-25 09:45:05 | Sarah Kallmeier |
| 13 | 2023-01-25 19:37:45 | Danielle Bagley |
| 14 | 2023-01-25 10:23:40 | Charlotte Horton |
| 15 | 2023-01-19 14:49:12 | Sarah jane Glover |
| 16 | 2023-01-25 16:19:45 | Hannah Allpress |
| 17 | 2023-01-25 16:19:45 | Hannah Allpress |
| 18 | 2023-01-25 21:12:31 | Jenny King |
| 19 | 2023-01-25 18:28:59 | Sharon Foster |
| 20 | 2023-01-25 10:23:40 | Charlotte Horton |
| 21 | 2023-01-19 20:41:14 | Gail. Gilbert. |
| 22 | 2023-01-25 18:28:59 | Sharon Foster |
| 24 | 2023-01-25 15:17:55 | kerry b |
| 25 | 2023-01-25 20:47:48 | Roxanne Demellweek |
| 26 | 2023-01-25 00:40:57 | Miss D T |
| 27 | 2023-01-18 22:09:01 | Kelly Dinsdale |
| 28 | 2023-01-25 20:03:22 | Moira stokes |
| 29 | 2023-01-25 21:57:55 | Gemma Herrington |
| 30 | 2023-01-25 20:09:02 | Janet Mann |
| 31 | 2023-01-25 21:49:52 | Katrina S |
| 32 | 2023-01-25 20:05:38 | Jayne Back |
| 33 | 2023-01-20 17:33:20 | Charlotte Horton |
| 35 | 2023-01-23 12:16:10 | phyllis steer |
| 36 | 2023-01-25 15:10:20 | Deborah Carling |
| 37 | 2023-01-22 12:13:25 | Emma White |
| 38 | 2023-01-25 17:05:34 | Gemma Norgate |
| 39 | 2023-01-25 21:38:20 | Hayley Morris |
| 40 | 2023-01-25 14:37:35 | Emma & lee |
| 41 | 2023-01-19 20:41:14 | Gail. Gilbert. |
| 42 | 2023-01-25 07:48:28 | Emma Ormrod |
| 43 | 2023-01-19 14:49:12 | Sarah jane Glover |
| 44 | 2023-01-22 18:32:07 | Jackie Staines |
| 45 | 2023-01-25 16:19:45 | Hannah Allpress |
| 46 | 2023-01-25 16:19:45 | Hannah Allpress |
| 47 | 2023-01-25 19:09:53 | Sarah Dennis |
| 48 | 2023-01-22 15:30:01 | Amie Wyles |
| 51 | 2023-01-25 21:23:30 | Chloe Wright |
| 52 | 2023-01-25 16:19:45 | Hannah Allpress |
| 53 | 2023-01-25 21:57:46 | Carrie Hirst |
| 54 | 2023-01-25 21:20:39 | Sian Bolton |
| 55 | 2023-01-25 18:04:10 | Abs M |
| 59 | 2023-01-23 12:16:10 | phyllis steer |
| 60 | 2023-01-19 14:49:12 | Sarah jane Glover |
| 62 | 2023-01-25 21:00:48 | Kerri Lunt |
| 63 | 2023-01-25 17:38:06 | Daniel Dennis |
| 64 | 2023-01-20 17:47:47 | Jamail Akhtar |
| 65 | 2023-01-25 16:19:45 | Hannah Allpress |
| 67 | 2023-01-25 16:19:45 | Hannah Allpress |
| 68 | 2023-01-25 21:23:30 | Chloe Wright |
| 69 | 2023-01-25 16:19:45 | Hannah Allpress |
| 70 | 2023-01-25 21:00:48 | Kerri Lunt |
| 71 | 2023-01-25 21:11:58 | Karen Alder |
| 72 | 2023-01-20 17:33:20 | Charlotte Horton |
| 73 | 2023-01-25 09:45:05 | Sarah Kallmeier |
| 74 | 2023-01-25 19:37:45 | Danielle Bagley |
| 77 | 2023-01-22 12:13:25 | Emma White |
| 79 | 2023-01-23 12:16:10 | phyllis steer |
| 82 | 2023-01-23 19:41:47 | Beth White |
| 83 | 2023-01-25 21:28:19 | Kirsty Johnson |
| 84 | 2023-01-25 12:36:23 | Rachel Gilbert |
| 86 | 2023-01-25 21:17:01 | Holly Griffith |
| 87 | 2023-01-25 21:28:19 | Kirsty Johnson |
| 90 | 2023-01-25 21:00:48 | Kerri Lunt |