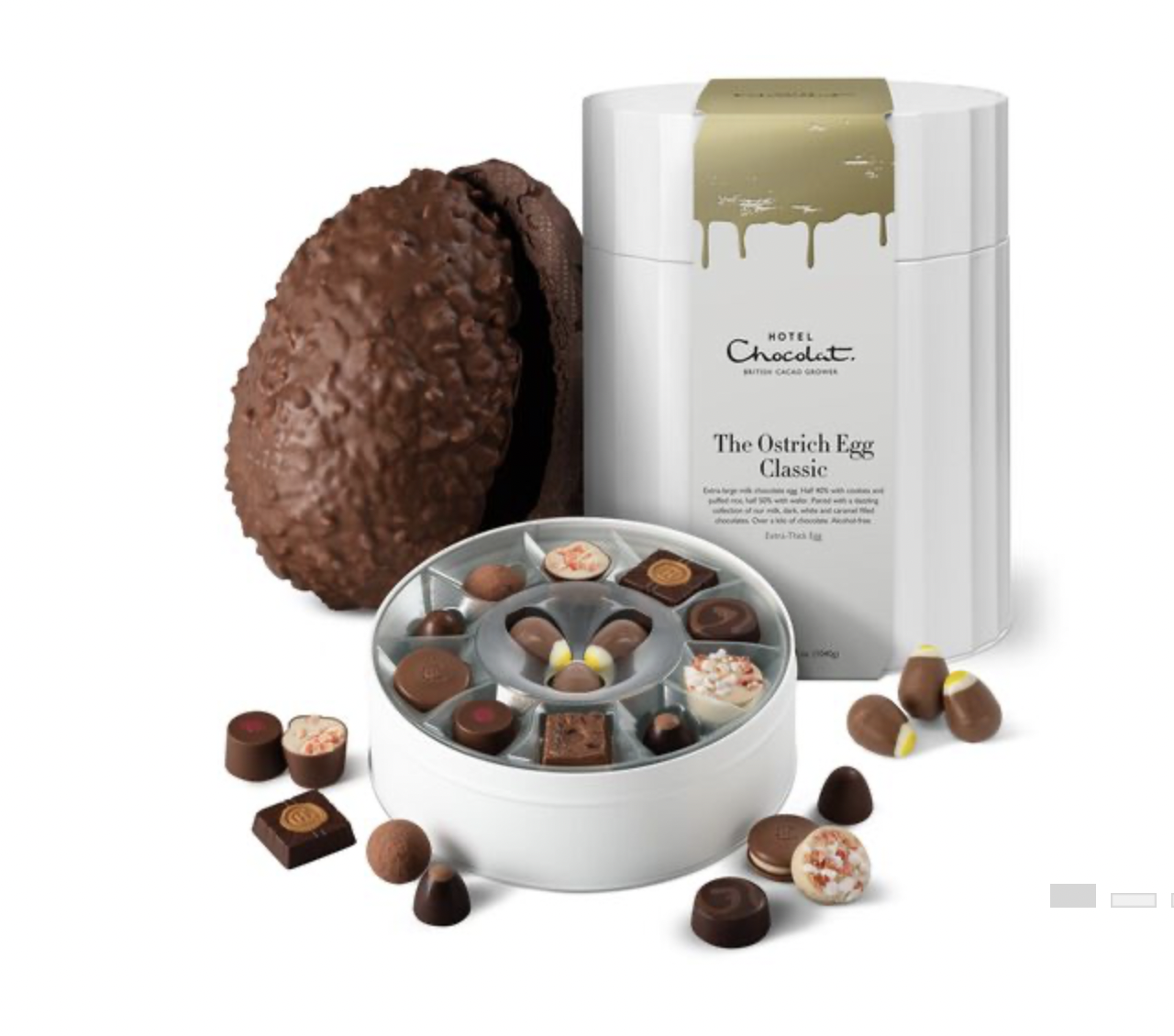 AUTO WIN – HOTEL CHOCOLAT Classic Ostrich Easter Egg
Description
AUTO WIN – HOTEL CHOCOLAT Classic Ostrich Easter Egg
AUTO WIN – NO LIVE DRAW – WINNER WILL BE CONTACTED THE NEXT DAY
We know that size isn't everything, but the Classic Ostrich Egg is more than just a big Easter egg. With over a kilo of top-quality, high-cacao chocolate to enjoy, you can make this Easter the most delicious and indulgent yet. Presented in a gorgeous keepsake tin, it makes an excellent Easter gift for a loved one — or a treat for yourself.
Inspired by the ostrich, which lays the largest eggs of any living bird, we thought we'd take Easter eggs to the next level. This immense treat is made with half 40% and half 50% milk chocolate for rich nuanced flavours and a melt-in-the-mouth texture. We like our Easter eggs chunky, not flimsy, so you can expect a thick shell to get your teeth into.
Packed with crunchy cookies, puffed rice, and crispy feuilletine, it's a delight for the taste buds. Any chocolate lover is sure to appreciate the selection of 20 premium truffles, pralines, caramels, and patisserie chocolates. From a simple, elegant Mousse au Chocolate and decadent Salted Caramel Brownie to our chocolatier's spin on a light and fruity Eton Mess, there's something to suit every mood. Milk, dark, and white chocolate options abound. Which will you go for first?
You'll also find a scattering of tiddly chocolate eggs, nestled like treasure. Will you share them out or squirrel them away to nibble and savour alone? Either way, there are plenty of goodies here to keep you going throughout Spring.
Sophisticated and decadent, our Classic Ostrich Egg is the all-out Easter statement gift.
| Winner Name | Ticket Number | Draw Date |
| --- | --- | --- |
| Vicky Stewart-Roberts | 51 | 28/02/2023 |
| Ticket Number | Date | Name |
| --- | --- | --- |
| 2 | 2023-02-28 21:18:08 | Zoe Paterson |
| 3 | 2023-02-28 15:41:41 | Gail. Gilbert. |
| 4 | 2023-02-27 10:27:59 | Bren Last |
| 5 | 2023-02-23 18:39:01 | phyllis steer |
| 7 | 2023-02-28 20:39:22 | Karen Roberts |
| 9 | 2023-02-26 20:44:52 | Ewan Robertson |
| 10 | 2023-02-28 12:11:29 | Jill Higham |
| 12 | 2023-02-28 14:17:22 | Julie Johnson |
| 13 | 2023-02-28 19:56:58 | J R M |
| 14 | 2023-02-28 09:13:50 | Sarah jane Glover |
| 17 | 2023-02-28 20:39:22 | Karen Roberts |
| 18 | 2023-02-28 21:18:02 | Kayleigh Harvey |
| 19 | 2023-02-26 20:44:52 | Ewan Robertson |
| 20 | 2023-02-28 16:59:35 | Neil Potter |
| 21 | 2023-02-28 21:20:27 | LJ Storer no |
| 23 | 2023-02-25 01:25:31 | Shannon Franklin |
| 24 | 2023-02-28 18:35:54 | Emma Louise |
| 27 | 2023-02-28 20:39:22 | Karen Roberts |
| 28 | 2023-02-28 20:54:45 | Gail. Gilbert. |
| 30 | 2023-02-28 20:39:22 | Karen Roberts |
| 33 | 2023-02-28 20:55:35 | Kelly Mcintosh |
| 35 | 2023-02-28 16:59:35 | Neil Potter |
| 36 | 2023-02-28 22:42:24 | Katrina S |
| 37 | 2023-02-26 20:44:52 | Ewan Robertson |
| 40 | 2023-02-28 00:24:18 | Emma & lee |
| 42 | 2023-02-28 11:38:17 | Natalie Russell |
| 45 | 2023-02-28 16:59:35 | Neil Potter |
| 46 | 2023-02-28 20:32:27 | Lorraine Williams |
| 47 | 2023-02-28 21:17:48 | Lucy Nicholas |
| 48 | 2023-02-28 16:59:35 | Neil Potter |
| 49 | 2023-02-28 16:59:35 | Neil Potter |
| 51 | 2023-02-28 19:45:17 | Vicky Stewart-Roberts |
| 52 | 2023-02-27 19:32:19 | Sophie Wright |
| 53 | 2023-02-28 19:56:58 | J R M |
| 54 | 2023-02-27 20:32:21 | Lauren Kerr |
| 55 | 2023-02-26 18:25:50 | Jo Clarke |
| 58 | 2023-02-28 20:48:53 | Ian Smith |
| 60 | 2023-02-28 20:19:57 | Verity Mann |
| 61 | 2023-02-27 20:32:21 | Lauren Kerr |
| 64 | 2023-02-28 21:59:33 | Cheryl White |
| 65 | 2023-02-26 20:44:52 | Ewan Robertson |
| 66 | 2023-02-27 20:32:21 | Lauren Kerr |
| 70 | 2023-02-28 10:46:28 | Lorraine Williams |
| 71 | 2023-02-23 18:39:01 | phyllis steer |
| 74 | 2023-02-27 19:32:19 | Sophie Wright |
| 78 | 2023-02-26 20:44:52 | Ewan Robertson |
| 81 | 2023-02-28 21:32:51 | Gemma Hallett |
| 82 | 2023-02-28 19:04:27 | James Stevens |
| 83 | 2023-02-28 09:13:50 | Sarah jane Glover |
| 86 | 2023-02-28 21:19:42 | Lucy M |
| 89 | 2023-02-28 21:17:48 | Lucy Nicholas |