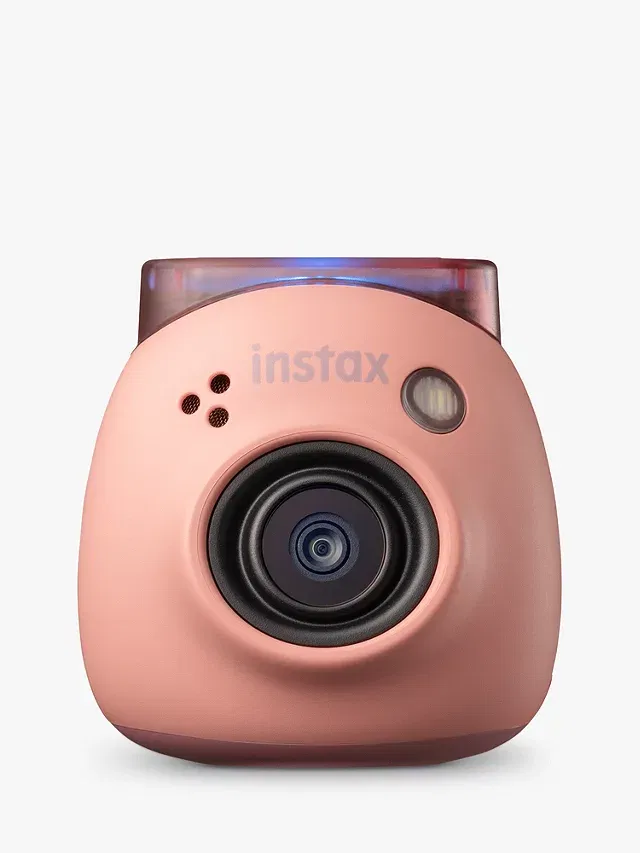 AUTO WIN – Fujifilm Instax Pal Digital Camera with Built-In Flash & Multi-Use Detachable Ring, Powder Pink – 12/11
Description
AUTO WIN – Fujifilm Instax Pal Digital Camera with Built-In Flash & Multi-Use Detachable Ring, Powder Pink – 12/11
WINNER WILL AUTOMATICALLY BE SELECTED ONCE THE COMPETITION HAS CLOSED – WINNER WILL BE CONTACTED WITHIN 24 HOURS
The INSTAX Pal is a super-small, super-fun digital camera, ready to capture your spontaneous snaps. It creates beautiful digital INSTAX images, ready to be shared with your compatible smartphone by Bluetooth, or sent to a compatible INSTAX printer* for instant physical copies. And with the accompanying app you can customise the images, shoot remotely, record your own pre-shutter sounds …and more! It's your all-round photography Pal.
Small but mighty
It's so small it fits in the palm of the hand, so is easily slipped into a pocket or bag too. And with its multi-use detachable ring, you can hold it securely by sliding it onto a finger, and the ring doubles (triples!) up as a mini-stand (perfect for timer shots), or even a viewfinder when you attach it to the top. Now that's impressive multi-use design!
Wide angle lens
It may be small, but it has a built-in wide-angle lens, so you can capture more, and lets you capture INSTAX mini, SQUARE, or WIDE sized images.
Snap appy
With the accompanying app on your smart device you can…
snap fast-paced digital INSTAX images in sequences of 3, 6, 11 or 21 with Interval Shooting
record pre-shutter sounds in groups of five
transfer up to 50 images to your smartphone and add filters, texts and stickers
get a live view of the upcoming shot, customise your image with filters, set a self-timer, and even turn the flash on or off with the Remote Shooting feature
…and more!
*compatible with the following smartphone printers: INSTAX mini Link 2, INSTAX SQUARE Link, INSTAX Link WIDE
| Winner Name | Ticket Number | Draw Date |
| --- | --- | --- |
| Ma Roberts | 179 | 12/11/2023 |
| Ticket Number | Date | Name |
| --- | --- | --- |
| 1 | 2023-11-11 12:18:56 | Jasmin Etches |
| 3 | 2023-11-10 16:58:10 | Phillippa Price |
| 4 | 2023-11-12 17:17:49 | Chris Carr |
| 6 | 2023-11-11 18:27:52 | Susan Chalk |
| 7 | 2023-11-12 11:24:38 | Kitty Mulligan |
| 8 | 2023-11-11 12:18:56 | Jasmin Etches |
| 9 | 2023-11-12 17:51:53 | Nichola Brown |
| 10 | 2023-11-12 14:21:52 | Kerry Westcott |
| 11 | 2023-11-12 12:13:01 | Melissa Pryce |
| 13 | 2023-11-12 16:14:15 | Louise Gourley |
| 14 | 2023-11-12 04:40:03 | Izzy Eveson |
| 15 | 2023-11-09 23:50:59 | Sharon Glover |
| 16 | 2023-11-12 17:40:58 | Debbie B |
| 17 | 2023-11-12 16:01:26 | Hayley O'Connor |
| 18 | 2023-11-12 17:39:16 | Amy Shoyer |
| 19 | 2023-11-12 16:48:10 | Kathryn Chapman |
| 20 | 2023-11-12 17:57:45 | Lee Powell |
| 21 | 2023-11-11 14:56:17 | Teri Davison |
| 22 | 2023-11-12 14:08:37 | Mandy Cove |
| 24 | 2023-11-11 15:45:47 | Jo Allen |
| 26 | 2023-11-12 17:17:49 | Chris Carr |
| 27 | 2023-11-12 16:39:46 | Anne-Marie Daniels |
| 28 | 2023-11-12 16:48:10 | Kathryn Chapman |
| 31 | 2023-11-12 17:40:58 | Debbie B |
| 32 | 2023-11-11 12:18:56 | Jasmin Etches |
| 33 | 2023-11-12 16:54:33 | Melanie Julian |
| 36 | 2023-11-12 17:54:51 | Leanne Pearce |
| 41 | 2023-11-12 12:13:01 | Melissa Pryce |
| 43 | 2023-11-12 10:41:41 | Leanne Pearce |
| 44 | 2023-11-12 16:33:43 | Katie Heath |
| 50 | 2023-11-12 17:17:49 | Chris Carr |
| 54 | 2023-11-12 17:44:47 | Anne-Marie Daniels |
| 55 | 2023-11-12 14:08:37 | Mandy Cove |
| 56 | 2023-11-12 17:46:33 | Sharon Longbottom |
| 58 | 2023-11-12 16:48:10 | Kathryn Chapman |
| 60 | 2023-11-12 16:33:43 | Katie Heath |
| 63 | 2023-11-12 17:29:21 | Gemma Wilson |
| 64 | 2023-11-12 10:11:40 | A Somerset |
| 66 | 2023-11-11 12:17:16 | Rowan Sweatland |
| 69 | 2023-11-12 17:23:44 | Bianca Billett |
| 70 | 2023-11-12 16:33:43 | Katie Heath |
| 72 | 2023-11-12 16:51:30 | Chris Carr |
| 73 | 2023-11-12 16:14:15 | Louise Gourley |
| 75 | 2023-11-12 11:24:38 | Kitty Mulligan |
| 77 | 2023-11-12 11:45:16 | Liz Jones |
| 78 | 2023-11-10 16:58:10 | Phillippa Price |
| 85 | 2023-11-12 16:31:32 | Nadine Smallridge |
| 89 | 2023-11-12 17:54:37 | Julie Cleave |
| 96 | 2023-11-11 12:17:16 | Rowan Sweatland |
| 99 | 2023-11-12 16:33:43 | Katie Heath |
| 101 | 2023-11-12 17:57:45 | Lee Powell |
| 102 | 2023-11-11 12:18:56 | Jasmin Etches |
| 103 | 2023-11-12 13:37:56 | Karen Collins |
| 104 | 2023-11-12 17:23:44 | Bianca Billett |
| 105 | 2023-11-12 12:25:00 | Rebecca Spencer |
| 107 | 2023-11-12 16:33:43 | Katie Heath |
| 112 | 2023-11-12 15:11:44 | Amber Louise Russell |
| 113 | 2023-11-12 17:50:36 | Jasmin Etches |
| 115 | 2023-11-11 12:17:16 | Rowan Sweatland |
| 116 | 2023-11-10 11:16:59 | Ma Roberts |
| 118 | 2023-11-11 18:27:52 | Susan Chalk |
| 121 | 2023-11-12 17:09:02 | Amy Beesley |
| 125 | 2023-11-12 17:44:47 | Anne-Marie Daniels |
| 126 | 2023-11-12 17:50:36 | Jasmin Etches |
| 133 | 2023-11-12 16:54:33 | Melanie Julian |
| 134 | 2023-11-12 16:51:30 | Chris Carr |
| 135 | 2023-11-12 16:01:26 | Hayley O'Connor |
| 137 | 2023-11-12 11:33:23 | Sami Knott |
| 139 | 2023-11-12 17:17:49 | Chris Carr |
| 142 | 2023-11-11 20:46:38 | Ma Roberts |
| 144 | 2023-11-12 17:39:16 | Amy Shoyer |
| 146 | 2023-11-12 09:11:31 | Charlotte Thorpe |
| 147 | 2023-11-12 17:44:47 | Anne-Marie Daniels |
| 148 | 2023-11-12 16:05:09 | Abigail Clark |
| 151 | 2023-11-12 16:51:30 | Chris Carr |
| 154 | 2023-11-12 14:43:49 | Bethany Wolfenden |
| 155 | 2023-11-12 12:13:01 | Melissa Pryce |
| 156 | 2023-11-12 16:39:46 | Anne-Marie Daniels |
| 163 | 2023-11-12 16:51:30 | Chris Carr |
| 164 | 2023-11-12 00:39:51 | Sharon Archer |
| 165 | 2023-11-12 11:32:47 | Emma & lee |
| 167 | 2023-11-12 15:00:12 | Hayley Jackson |
| 168 | 2023-11-12 15:55:21 | Deanne Franke |
| 169 | 2023-11-11 19:36:02 | Ross Newham |
| 170 | 2023-11-11 21:30:20 | JMS S S |
| 178 | 2023-11-12 17:31:45 | Fiona Bassett |
| 179 | 2023-11-12 14:54:12 | Ma Roberts |