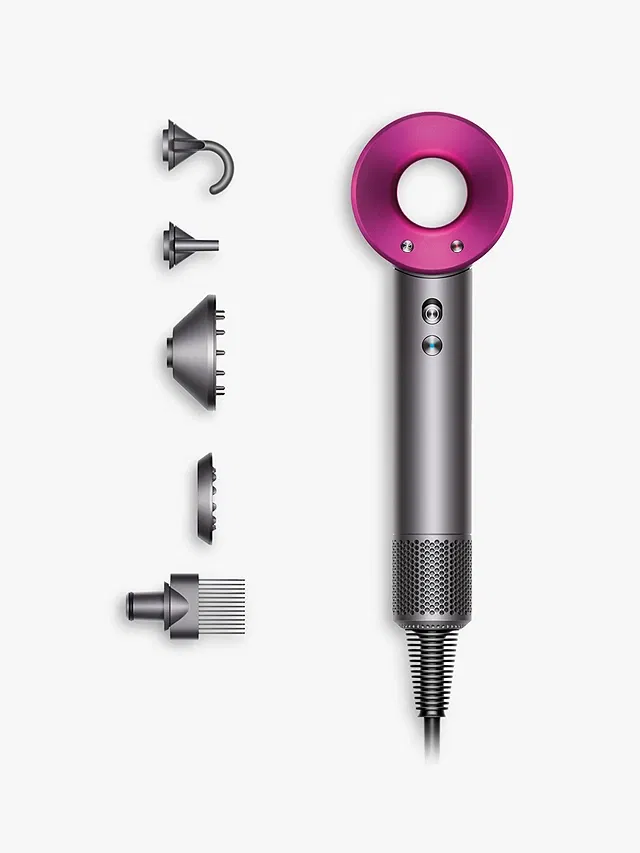 AUTO WIN- Dyson Supersonic Hair Dryer, Iron/Fuchsia
Description
AUTO WIN- Dyson Supersonic Hair Dryer, Iron/Fuchsia
The most awarded hair dryer.* Fast drying. No extreme heat.
Key Features:
Engineered for all hair types
We've engineered a range of attachments designed to style different types of hair. And because we're constantly evolving our machines, we've developed a Flyaway attachment.
Powerful digital motor. Designed for fast drying
The small, powerful Dyson digital motor V9 spins at up to 110,000rpm. Combined with Air Multiplier™ technology, it produces a high-pressure, high-velocity jet of controlled air, for fast drying and precision styling.
Intelligent heat control protects hair from heat damage
The Dyson Supersonic™ hair dryer measures air temperature over 40 times a second and regulates the heat. This helps prevent extreme heat damage, to protect your hair's shine.
Engineered for balance
We've turned convention on its head and put the motor in the handle. Completely rebalancing the dryer's weight and shape.
Acoustically Tuned
The powerful motor is tuned to produce one inaudible frequency. And it's enveloped by a vibration reduction system.
Styling Attachments – Included in the box:
The Dyson Supersonic™ hair dryer comes with five magnetic styling attachments. For easy fitting and rotation during styling.
Dyson Flyaway attachment
Flyaway attachment for a smooth finish. The ideal finishing tool for sleek, straight styles. Hides flyaways under longer hair to give you a smooth, shiny finish.** With just air.
Dyson Styling concentrator
Styling concentrator for focused styling. The wider, thinner design of the re-engineered Styling concentrator creates a high-velocity blade of air that's perfect for styling. And because the air is focused, you can style one section at a time – without disturbing the rest.
Dyson Diffuser
Diffuser for defined curls and waves. Engineered to disperse air evenly around your curls, the Diffuser simulates natural drying, helping to reduce frizz and define curls and waves. Longer prongs allow you to style more hair with greater control – and reach deeper into the hair.
Dyson Gentle air attachment
Engineered to be kinder to fine hair and sensitive scalps, the Gentle air attachment diffuses the air, creating a gently, cooler airflow – while still drying hair fast.
Dyson Wide tooth comb
Wide-tooth comb creates volume and shape. Engineered for curly and coily hair, the Wide-tooth comb attachment has robust teeth to help lengthen hair as it dries, or create volume and shape. With air not extreme heat.
Key Controls:
3 precise speed settings
High – for fast drying and styling
Medium – for regular drying
Low – for diffusing
4 precise heat settings
100°C – fast drying and styling
80°C – regular drying
60°C – cooler drying and diffusing
28°C – constant cold
Cold shot
28°C cold shot, to set your hair after styling
Included in the box:
Dyson Supersonic™ hair dryer
Flyaway attachment
Styling concentrator
Diffuser
Gentle air attachment
Wide-tooth comb
AUTO WIN- NO LIVE DRAW – WINNER IS AUTOMATICALLY SELECTED WHEN THE TIMER IS UP OR COMPETITION SELLS OUT
| Winner Name | Ticket Number | Draw Date |
| --- | --- | --- |
| Helen Hamilton | 1545 | 19/11/2023 |
1-500
501-1000
1001-1500
1501-2000
2001-2500
2501-3000
| Ticket Number | Date | Name |
| --- | --- | --- |
| 1 | 2023-11-17 13:47:08 | Steve Peake |
| 2 | 2023-11-17 20:49:43 | Lisa Phipps |
| 3 | 2023-11-17 20:31:14 | Jill Higham |
| 4 | 2023-11-17 19:11:52 | Jackie Young |
| 5 | 2023-11-17 20:17:52 | Emma Brown |
| 6 | 2023-11-17 21:45:09 | Sarah Heal |
| 7 | 2023-11-17 19:11:52 | Jackie Young |
| 8 | 2023-11-17 19:59:55 | Lucy Grant |
| 9 | 2023-11-17 14:29:56 | G W |
| 10 | 2023-11-17 16:57:51 | lisa pegler |
| 11 | 2023-11-17 18:43:54 | M S |
| 12 | 2023-11-17 21:32:04 | Jade Barlow |
| 13 | 2023-11-17 19:36:01 | Jo Steed |
| 14 | 2023-11-17 16:05:47 | Jo Pennington |
| 15 | 2023-11-17 21:45:09 | Sarah Heal |
| 16 | 2023-11-17 19:11:52 | Jackie Young |
| 17 | 2023-11-17 16:05:47 | Jo Pennington |
| 18 | 2023-11-17 17:18:26 | Grace Bervoets |
| 19 | 2023-11-17 16:05:47 | Jo Pennington |
| 20 | 2023-11-17 23:00:27 | Michaela Sanders |
| 21 | 2023-11-17 16:28:45 | Marie Mckenna |
| 22 | 2023-11-17 16:05:47 | Jo Pennington |
| 23 | 2023-11-17 16:05:47 | Jo Pennington |
| 24 | 2023-11-17 19:11:52 | Jackie Young |
| 25 | 2023-11-18 09:46:42 | Sue Ball |
| 26 | 2023-11-17 16:05:47 | Jo Pennington |
| 27 | 2023-11-17 21:45:09 | Sarah Heal |
| 28 | 2023-11-17 19:11:52 | Jackie Young |
| 29 | 2023-11-17 16:05:47 | Jo Pennington |
| 30 | 2023-11-18 10:51:12 | Kellie White |
| 31 | 2023-11-17 16:57:51 | lisa pegler |
| 32 | 2023-11-18 08:01:11 | S E H |
| 33 | 2023-11-18 00:33:14 | Sarah jane Glover |
| 34 | 2023-11-17 21:08:58 | Hayley Ward |
| 35 | 2023-11-17 20:19:32 | Rebecca Binmore |
| 36 | 2023-11-18 10:23:57 | Gail Conway |
| 37 | 2023-11-18 08:01:11 | S E H |
| 38 | 2023-11-18 18:39:08 | Danielle Nicholls |
| 39 | 2023-11-18 14:54:27 | Sarah Cortis |
| 40 | 2023-11-18 07:32:02 | Nicky Richardson |
| 41 | 2023-11-18 08:01:11 | S E H |
| 42 | 2023-11-17 20:31:14 | Jill Higham |
| 43 | 2023-11-18 11:34:39 | Donna Bowden |
| 44 | 2023-11-17 16:28:45 | Marie Mckenna |
| 45 | 2023-11-18 17:00:03 | Katie Howarth |
| 46 | 2023-11-18 20:38:08 | LL BB |
| 47 | 2023-11-17 21:45:09 | Sarah Heal |
| 48 | 2023-11-18 03:17:52 | Kerry Saunders |
| 49 | 2023-11-19 05:39:57 | Kelly Bayliss |
| 50 | 2023-11-17 23:57:23 | Laura Symes |
| 51 | 2023-11-18 08:22:48 | Rebecca Brewer |
| 52 | 2023-11-18 13:45:37 | Dawn Griffin |
| 53 | 2023-11-18 17:00:03 | Katie Howarth |
| 54 | 2023-11-17 19:11:52 | Jackie Young |
| 55 | 2023-11-17 19:11:52 | Jackie Young |
| 56 | 2023-11-17 18:26:49 | Stevie Williams |
| 57 | 2023-11-18 22:36:02 | Sarah Heal |
| 58 | 2023-11-17 23:00:27 | Michaela Sanders |
| 59 | 2023-11-18 00:33:14 | Sarah jane Glover |
| 60 | 2023-11-18 21:35:16 | Maggie Hutchings |
| 61 | 2023-11-19 08:12:31 | Hannah Tait |
| 62 | 2023-11-18 17:00:03 | Katie Howarth |
| 63 | 2023-11-18 12:32:26 | Ann Chase |
| 64 | 2023-11-18 08:22:48 | Rebecca Brewer |
| 65 | 2023-11-19 09:00:15 | Josh Bullock |
| 66 | 2023-11-17 19:11:52 | Jackie Young |
| 67 | 2023-11-18 13:41:10 | Nicky Richardson |
| 68 | 2023-11-17 23:00:27 | Michaela Sanders |
| 69 | 2023-11-17 16:28:45 | Marie Mckenna |
| 70 | 2023-11-18 20:19:59 | Caroline carpenter |
| 71 | 2023-11-18 04:44:31 | Andy Cosway |
| 72 | 2023-11-18 04:44:31 | Andy Cosway |
| 73 | 2023-11-17 20:31:14 | Jill Higham |
| 74 | 2023-11-18 17:00:03 | Katie Howarth |
| 75 | 2023-11-18 18:39:08 | Danielle Nicholls |
| 76 | 2023-11-17 21:32:04 | Jade Barlow |
| 77 | 2023-11-17 19:11:52 | Jackie Young |
| 78 | 2023-11-17 19:11:52 | Jackie Young |
| 79 | 2023-11-17 14:36:13 | Charlotte Barrington |
| 80 | 2023-11-19 08:56:47 | Nicky Richardson |
| 81 | 2023-11-18 08:01:11 | S E H |
| 82 | 2023-11-17 20:31:14 | Jill Higham |
| 83 | 2023-11-19 12:54:08 | Sarah Caunter |
| 84 | 2023-11-17 13:47:08 | Steve Peake |
| 85 | 2023-11-18 21:16:34 | Syd Hamilton |
| 86 | 2023-11-18 10:09:21 | Nicky Winter |
| 87 | 2023-11-18 14:21:12 | Janice Parker-Done |
| 88 | 2023-11-18 13:45:37 | Dawn Griffin |
| 89 | 2023-11-17 21:54:39 | Oliver Lucas |
| 90 | 2023-11-19 09:52:51 | Talitha White |
| 91 | 2023-11-19 02:33:40 | Andy Cosway |
| 92 | 2023-11-18 13:45:37 | Dawn Griffin |
| 93 | 2023-11-18 17:17:53 | Jo Andrews |
| 94 | 2023-11-19 09:07:06 | Kelly Thorne |
| 95 | 2023-11-18 18:39:08 | Danielle Nicholls |
| 96 | 2023-11-18 23:38:04 | Claire Hockings |
| 97 | 2023-11-19 12:54:08 | Sarah Caunter |
| 98 | 2023-11-18 17:00:03 | Katie Howarth |
| 99 | 2023-11-17 20:31:14 | Jill Higham |
| 100 | 2023-11-18 15:36:12 | Catriona Smyth |
| 101 | 2023-11-17 16:21:47 | Rachel Paine |
| 102 | 2023-11-19 09:07:06 | Kelly Thorne |
| 103 | 2023-11-17 20:17:52 | Emma Brown |
| 104 | 2023-11-17 13:47:08 | Steve Peake |
| 105 | 2023-11-18 18:39:08 | Danielle Nicholls |
| 106 | 2023-11-19 13:14:50 | Darren Mclean |
| 107 | 2023-11-17 19:36:42 | Lindsey Simpson |
| 108 | 2023-11-19 09:00:15 | Josh Bullock |
| 109 | 2023-11-19 08:56:09 | Claire King |
| 110 | 2023-11-19 09:44:18 | Sarah Frost |
| 111 | 2023-11-17 23:00:27 | Michaela Sanders |
| 112 | 2023-11-17 13:15:45 | Matthew Brennan |
| 113 | 2023-11-18 10:51:12 | Kellie White |
| 114 | 2023-11-18 08:22:48 | Rebecca Brewer |
| 115 | 2023-11-18 13:45:37 | Dawn Griffin |
| 116 | 2023-11-19 10:07:47 | Kym Dalziel |
| 117 | 2023-11-17 21:32:04 | Jade Barlow |
| 118 | 2023-11-18 18:46:25 | Lisa Spiller |
| 119 | 2023-11-19 10:07:47 | Kym Dalziel |
| 120 | 2023-11-19 09:44:18 | Sarah Frost |
| 121 | 2023-11-18 08:46:27 | Claire Pain |
| 122 | 2023-11-19 09:44:18 | Sarah Frost |
| 123 | 2023-11-18 03:17:52 | Kerry Saunders |
| 124 | 2023-11-19 14:49:49 | Stentiford Sharon |
| 125 | 2023-11-19 15:30:30 | A.T W. |
| 126 | 2023-11-19 09:52:51 | Talitha White |
| 127 | 2023-11-17 21:54:39 | Oliver Lucas |
| 128 | 2023-11-19 09:44:18 | Sarah Frost |
| 129 | 2023-11-19 12:54:08 | Sarah Caunter |
| 130 | 2023-11-19 10:07:47 | Kym Dalziel |
| 131 | 2023-11-18 20:09:26 | Darren Mclean |
| 132 | 2023-11-19 10:07:47 | Kym Dalziel |
| 133 | 2023-11-18 00:33:14 | Sarah jane Glover |
| 134 | 2023-11-18 22:54:45 | Katherine Ferris |
| 135 | 2023-11-19 08:21:17 | Richard Thomas |
| 136 | 2023-11-19 12:15:30 | Dean Benson |
| 137 | 2023-11-18 18:39:08 | Danielle Nicholls |
| 138 | 2023-11-19 11:34:44 | Mark Walters |
| 139 | 2023-11-18 21:10:35 | Sarah Parnell |
| 140 | 2023-11-19 10:07:47 | Kym Dalziel |
| 141 | 2023-11-17 22:53:30 | Dee Bouys |
| 142 | 2023-11-19 09:19:37 | Christopher Priest |
| 143 | 2023-11-18 17:05:52 | Becky Yates |
| 144 | 2023-11-19 01:05:19 | Sharon Archer |
| 145 | 2023-11-18 18:53:35 | Julie Juliannah |
| 146 | 2023-11-17 19:32:17 | Jen Bush |
| 147 | 2023-11-18 00:33:14 | Sarah jane Glover |
| 148 | 2023-11-19 15:30:30 | A.T W. |
| 149 | 2023-11-19 15:30:30 | A.T W. |
| 150 | 2023-11-19 09:52:51 | Talitha White |
| 151 | 2023-11-18 18:28:34 | Summer Night |
| 152 | 2023-11-19 15:30:30 | A.T W. |
| 153 | 2023-11-19 15:30:30 | A.T W. |
| 154 | 2023-11-19 15:30:30 | A.T W. |
| 155 | 2023-11-17 21:50:35 | Linda Mcgillivray |
| 156 | 2023-11-19 15:30:30 | A.T W. |
| 157 | 2023-11-19 13:33:05 | Connor Elliott |
| 158 | 2023-11-19 14:08:19 | Catherine Kingsley |
| 159 | 2023-11-18 12:32:26 | Ann Chase |
| 160 | 2023-11-18 18:39:08 | Danielle Nicholls |
| 161 | 2023-11-17 20:17:52 | Emma Brown |
| 162 | 2023-11-19 10:40:08 | Dan Weir |
| 163 | 2023-11-18 12:32:26 | Ann Chase |
| 164 | 2023-11-19 08:21:17 | Richard Thomas |
| 165 | 2023-11-18 01:03:44 | Tina Blount |
| 166 | 2023-11-19 17:59:27 | Patrick Clayton |
| 167 | 2023-11-19 17:42:43 | Sue Manders |
| 168 | 2023-11-19 10:41:29 | W A |
| 169 | 2023-11-18 22:36:02 | Sarah Heal |
| 170 | 2023-11-19 08:21:17 | Richard Thomas |
| 171 | 2023-11-19 07:15:26 | Gemma Pastewski |
| 172 | 2023-11-19 14:16:22 | Wendy Morgan |
| 173 | 2023-11-19 17:14:25 | Lisa Sanders |
| 174 | 2023-11-19 17:14:25 | Lisa Sanders |
| 175 | 2023-11-18 08:22:48 | Rebecca Brewer |
| 176 | 2023-11-18 10:50:47 | Sara White |
| 177 | 2023-11-17 18:45:24 | Jen Wadling |
| 178 | 2023-11-19 17:59:51 | emma mccauley |
| 179 | 2023-11-19 08:21:17 | Richard Thomas |
| 180 | 2023-11-18 16:04:09 | Ross Couch |
| 181 | 2023-11-19 14:49:49 | Stentiford Sharon |
| 182 | 2023-11-17 19:36:35 | Candice Cepeda |
| 183 | 2023-11-19 18:19:22 | Samantha Burt |
| 184 | 2023-11-17 16:57:51 | lisa pegler |
| 185 | 2023-11-17 22:53:30 | Dee Bouys |
| 186 | 2023-11-19 19:44:39 | Leah Knight |
| 187 | 2023-11-19 19:44:39 | Leah Knight |
| 188 | 2023-11-19 19:44:39 | Leah Knight |
| 189 | 2023-11-19 12:50:42 | jamie-leigh mills |
| 190 | 2023-11-19 19:04:23 | Helen Montgomery |
| 191 | 2023-11-17 23:45:19 | Aaron Presley |
| 192 | 2023-11-17 20:17:52 | Emma Brown |
| 193 | 2023-11-19 10:04:37 | Ellie Squires |
| 194 | 2023-11-19 18:53:48 | Nicola Beckett |
| 195 | 2023-11-18 07:25:32 | Simon Edge |
| 196 | 2023-11-18 23:38:04 | Claire Hockings |
| 197 | 2023-11-18 18:46:25 | Lisa Spiller |
| 198 | 2023-11-19 17:59:51 | emma mccauley |
| 199 | 2023-11-19 18:19:22 | Samantha Burt |
| 200 | 2023-11-18 08:22:48 | Rebecca Brewer |
| 201 | 2023-11-19 17:07:04 | Becky H |
| 202 | 2023-11-17 23:00:27 | Michaela Sanders |
| 203 | 2023-11-19 19:44:39 | Leah Knight |
| 204 | 2023-11-17 20:17:52 | Emma Brown |
| 205 | 2023-11-18 18:39:08 | Danielle Nicholls |
| 206 | 2023-11-17 20:17:52 | Emma Brown |
| 207 | 2023-11-19 19:57:15 | Kas S |
| 208 | 2023-11-19 14:49:49 | Stentiford Sharon |
| 209 | 2023-11-17 20:17:52 | Emma Brown |
| 210 | 2023-11-19 13:44:31 | Cameron Thompson |
| 211 | 2023-11-18 20:09:26 | Darren Mclean |
| 212 | 2023-11-19 09:18:04 | Keith Moore |
| 213 | 2023-11-18 00:33:14 | Sarah jane Glover |
| 214 | 2023-11-19 18:19:22 | Samantha Burt |
| 215 | 2023-11-19 19:44:39 | Leah Knight |
| 216 | 2023-11-19 19:28:00 | Bea Eveleigh |
| 217 | 2023-11-19 18:19:22 | Samantha Burt |
| 218 | 2023-11-17 20:17:52 | Emma Brown |
| 219 | 2023-11-18 19:54:42 | Daniel Moore |
| 220 | 2023-11-19 10:14:46 | Stacy Thomas |
| 221 | 2023-11-18 22:54:45 | Katherine Ferris |
| 222 | 2023-11-19 10:14:46 | Stacy Thomas |
| 223 | 2023-11-19 17:59:21 | Sharon Smith |
| 224 | 2023-11-19 18:19:22 | Samantha Burt |
| 225 | 2023-11-17 19:59:55 | Lucy Grant |
| 226 | 2023-11-17 20:07:05 | Suzanne Faiers |
| 227 | 2023-11-17 21:54:39 | Oliver Lucas |
| 228 | 2023-11-19 16:49:01 | C L P J |
| 229 | 2023-11-19 20:25:53 | Rebecca Brewer |
| 230 | 2023-11-19 18:19:22 | Samantha Burt |
| 231 | 2023-11-18 21:10:35 | Sarah Parnell |
| 232 | 2023-11-18 21:30:44 | Jayne Slade |
| 233 | 2023-11-19 16:32:18 | Beth Robotham |
| 234 | 2023-11-19 20:28:05 | Tanya Sumner |
| 235 | 2023-11-19 20:25:53 | Rebecca Brewer |
| 236 | 2023-11-19 16:30:58 | Hannah Uppington |
| 237 | 2023-11-19 17:06:18 | Jack Kidson |
| 238 | 2023-11-19 12:25:28 | Caroline Vanstone |
| 239 | 2023-11-19 20:25:53 | Rebecca Brewer |
| 240 | 2023-11-18 18:39:08 | Danielle Nicholls |
| 241 | 2023-11-19 08:21:17 | Richard Thomas |
| 242 | 2023-11-17 20:17:52 | Emma Brown |
| 243 | 2023-11-19 20:28:05 | Tanya Sumner |
| 244 | 2023-11-18 19:54:42 | Daniel Moore |
| 245 | 2023-11-19 18:25:06 | Samantha Wilding |
| 246 | 2023-11-17 18:26:49 | Stevie Williams |
| 247 | 2023-11-18 00:33:14 | Sarah jane Glover |
| 248 | 2023-11-19 20:22:30 | Jake Lewis |
| 249 | 2023-11-19 19:23:25 | Scott Milton |
| 250 | 2023-11-19 20:16:39 | Kathryn Bush |
| 251 | 2023-11-19 19:45:27 | Julie Croskerry |
| 252 | 2023-11-17 20:19:32 | Rebecca Binmore |
| 253 | 2023-11-19 09:19:37 | Christopher Priest |
| 254 | 2023-11-19 17:22:14 | Nikki Sambells |
| 255 | 2023-11-18 08:01:11 | S E H |
| 256 | 2023-11-17 19:51:58 | Lisa Dowrick |
| 257 | 2023-11-19 20:28:05 | Tanya Sumner |
| 258 | 2023-11-18 20:09:26 | Darren Mclean |
| 259 | 2023-11-19 20:28:05 | Tanya Sumner |
| 260 | 2023-11-18 07:25:32 | Simon Edge |
| 261 | 2023-11-19 17:59:27 | Patrick Clayton |
| 262 | 2023-11-19 09:07:06 | Kelly Thorne |
| 263 | 2023-11-19 13:33:05 | Connor Elliott |
| 264 | 2023-11-19 20:28:05 | Tanya Sumner |
| 265 | 2023-11-19 17:39:13 | Chloe Ball |
| 266 | 2023-11-19 13:33:05 | Connor Elliott |
| 267 | 2023-11-18 20:09:26 | Darren Mclean |
| 268 | 2023-11-19 20:41:50 | Sarah Bird |
| 269 | 2023-11-19 16:07:45 | Destiny Nolan |
| 270 | 2023-11-18 01:57:59 | Nicola Kenny |
| 271 | 2023-11-18 19:54:42 | Daniel Moore |
| 272 | 2023-11-19 17:40:58 | D T |
| 273 | 2023-11-19 05:51:01 | Fiona Lines |
| 274 | 2023-11-17 14:29:56 | G W |
| 275 | 2023-11-19 20:25:53 | Rebecca Brewer |
| 276 | 2023-11-18 20:02:43 | 9louise steer |
| 277 | 2023-11-19 20:50:51 | Chloe Cousins |
| 278 | 2023-11-19 17:33:37 | Julia Barrett |
| 279 | 2023-11-18 08:22:48 | Rebecca Brewer |
| 280 | 2023-11-19 20:53:35 | Alan Piper |
| 281 | 2023-11-18 01:56:36 | Ben Petherick |
| 282 | 2023-11-17 20:17:52 | Emma Brown |
| 283 | 2023-11-19 20:16:39 | Kathryn Bush |
| 284 | 2023-11-18 18:39:08 | Danielle Nicholls |
| 285 | 2023-11-19 20:25:53 | Rebecca Brewer |
| 286 | 2023-11-19 11:19:28 | Anthony Boult |
| 287 | 2023-11-17 17:18:26 | Grace Bervoets |
| 288 | 2023-11-17 19:59:55 | Lucy Grant |
| 289 | 2023-11-19 10:14:46 | Stacy Thomas |
| 290 | 2023-11-19 13:30:30 | Debbi Shotton |
| 291 | 2023-11-19 10:50:25 | Jake Lewis |
| 292 | 2023-11-18 07:32:02 | Nicky Richardson |
| 293 | 2023-11-19 05:34:11 | E L |
| 294 | 2023-11-19 21:21:02 | Ian Hopkins |
| 295 | 2023-11-19 17:22:14 | Nikki Sambells |
| 296 | 2023-11-19 17:15:29 | Lisa Burgess |
| 297 | 2023-11-17 14:36:13 | Charlotte Barrington |
| 298 | 2023-11-19 17:39:13 | Chloe Ball |
| 299 | 2023-11-17 19:38:49 | Gemma Nimroozi |
| 300 | 2023-11-19 18:36:30 | Kelly Williams |
| 301 | 2023-11-19 21:37:35 | Isabel Eva |
| 302 | 2023-11-19 13:33:12 | Collette Bates |
| 303 | 2023-11-19 15:29:10 | Amy Lou |
| 304 | 2023-11-18 21:38:19 | Alex Howarth |
| 305 | 2023-11-18 18:39:08 | Danielle Nicholls |
| 306 | 2023-11-18 20:30:19 | Nick Bartlett |
| 307 | 2023-11-17 16:21:47 | Rachel Paine |
| 308 | 2023-11-18 20:09:26 | Darren Mclean |
| 309 | 2023-11-19 17:40:58 | D T |
| 310 | 2023-11-18 16:04:09 | Ross Couch |
| 311 | 2023-11-19 20:28:41 | Sharon Pennicott |
| 312 | 2023-11-17 13:47:08 | Steve Peake |
| 313 | 2023-11-19 18:42:50 | Kathryn Fone |
| 314 | 2023-11-19 10:13:53 | Emma & lee |
| 315 | 2023-11-19 08:21:17 | Richard Thomas |
| 316 | 2023-11-18 13:40:40 | Amy Jennings |
| 317 | 2023-11-18 09:46:42 | Sue Ball |
| 318 | 2023-11-19 18:45:35 | Mirelle Harper |
| 319 | 2023-11-19 13:14:50 | Darren Mclean |
| 320 | 2023-11-17 23:00:27 | Michaela Sanders |
| 321 | 2023-11-19 21:21:02 | Ian Hopkins |
| 322 | 2023-11-18 22:54:45 | Katherine Ferris |
| 323 | 2023-11-17 19:59:55 | Lucy Grant |
| 324 | 2023-11-19 10:34:07 | Heather Hingston |
| 325 | 2023-11-18 10:59:17 | Linda Grimshaw |
| 326 | 2023-11-18 18:39:19 | Patrick Farmer |
| 327 | 2023-11-19 13:27:57 | Katherine Ferris |
| 328 | 2023-11-19 10:06:03 | Julie Cox |
| 329 | 2023-11-17 13:47:08 | Steve Peake |
| 330 | 2023-11-18 14:20:21 | Lucy Gunnell |
| 331 | 2023-11-18 17:06:36 | Ryan kirby |
| 332 | 2023-11-19 19:04:23 | Helen Montgomery |
| 333 | 2023-11-18 21:16:34 | Syd Hamilton |
| 334 | 2023-11-19 09:07:06 | Kelly Thorne |
| 335 | 2023-11-19 12:30:59 | Jasmine Hall |
| 336 | 2023-11-18 08:42:56 | Jonathan Haddon |
| 337 | 2023-11-19 13:50:07 | Cathryn Evans |
| 338 | 2023-11-19 20:50:51 | Chloe Cousins |
| 339 | 2023-11-17 19:36:35 | Candice Cepeda |
| 340 | 2023-11-18 15:00:36 | Lucy Ware |
| 341 | 2023-11-19 21:38:06 | Agnieszka Lewandowska |
| 342 | 2023-11-17 20:17:52 | Emma Brown |
| 343 | 2023-11-18 08:22:48 | Rebecca Brewer |
| 344 | 2023-11-19 06:43:05 | Hudson Yvonne |
| 345 | 2023-11-19 20:54:50 | Bev Hansford |
| 346 | 2023-11-19 14:00:19 | Donna Jennings |
| 347 | 2023-11-19 13:27:57 | Katherine Ferris |
| 348 | 2023-11-17 20:07:05 | Suzanne Faiers |
| 349 | 2023-11-19 16:49:01 | C L P J |
| 350 | 2023-11-19 07:57:08 | Gemma Porter |
| 351 | 2023-11-19 09:19:37 | Christopher Priest |
| 352 | 2023-11-18 14:18:15 | Kate B |
| 353 | 2023-11-19 18:41:02 | jamie-leigh mills |
| 354 | 2023-11-19 22:02:50 | Kathryn Fone |
| 355 | 2023-11-18 08:01:11 | S E H |
| 356 | 2023-11-18 08:01:11 | S E H |
| 357 | 2023-11-17 23:45:19 | Aaron Presley |
| 358 | 2023-11-19 20:15:32 | Lewis Palmer |
| 359 | 2023-11-18 22:36:02 | Sarah Heal |
| 360 | 2023-11-19 21:21:02 | Ian Hopkins |
| 361 | 2023-11-19 13:33:05 | Connor Elliott |
| 362 | 2023-11-18 08:25:22 | Nancy stevens |
| 363 | 2023-11-19 18:58:37 | Tracey Smith |
| 364 | 2023-11-18 10:51:12 | Kellie White |
| 365 | 2023-11-17 20:17:52 | Emma Brown |
| 366 | 2023-11-18 18:39:19 | Patrick Farmer |
| 367 | 2023-11-18 07:32:02 | Nicky Richardson |
| 368 | 2023-11-19 12:02:37 | Emma Stott |
| 369 | 2023-11-18 17:05:52 | Becky Yates |
| 370 | 2023-11-19 16:52:25 | Amber Probyn |
| 371 | 2023-11-19 11:46:14 | Lisa Grant |
| 372 | 2023-11-19 12:25:28 | Caroline Vanstone |
| 373 | 2023-11-19 12:24:06 | Tracey Osborn |
| 374 | 2023-11-19 11:49:11 | Yvonne Sparkes |
| 375 | 2023-11-19 13:39:03 | Hannah Howells |
| 376 | 2023-11-17 20:51:29 | Leah Mcgowan |
| 377 | 2023-11-19 17:08:58 | Joe Morris |
| 378 | 2023-11-19 13:45:37 | Marie Sandford |
| 379 | 2023-11-19 10:54:56 | Kirsten Radmore |
| 380 | 2023-11-19 15:29:10 | Amy Lou |
| 381 | 2023-11-19 17:59:21 | Sharon Smith |
| 382 | 2023-11-18 20:38:08 | LL BB |
| 383 | 2023-11-19 09:19:37 | Christopher Priest |
| 384 | 2023-11-19 19:18:20 | Andrea Hemmings |
| 385 | 2023-11-19 10:34:07 | Heather Hingston |
| 386 | 2023-11-19 16:18:00 | Michelle Eames |
| 387 | 2023-11-19 09:07:06 | Kelly Thorne |
| 388 | 2023-11-19 18:00:43 | Kirsty Kirsty |
| 389 | 2023-11-17 21:15:29 | Chantel Adams |
| 390 | 2023-11-18 23:55:26 | Sarah Lake |
| 391 | 2023-11-19 20:25:29 | Mia Reeves |
| 392 | 2023-11-18 08:42:56 | Jonathan Haddon |
| 393 | 2023-11-19 22:02:50 | Kathryn Fone |
| 394 | 2023-11-18 04:50:12 | Lynda Milne-Smith |
| 395 | 2023-11-17 21:32:04 | Jade Barlow |
| 396 | 2023-11-17 15:21:17 | Helen Hulme |
| 397 | 2023-11-19 16:57:14 | Lynsey McCarlie |
| 398 | 2023-11-19 21:37:35 | Isabel Eva |
| 399 | 2023-11-19 20:53:32 | Hayley Leaman |
| 400 | 2023-11-17 20:17:52 | Emma Brown |
| 401 | 2023-11-19 16:18:00 | Michelle Eames |
| 402 | 2023-11-19 17:19:38 | Michaela Nodwell |
| 403 | 2023-11-18 17:06:36 | Ryan kirby |
| 404 | 2023-11-18 01:03:44 | Tina Blount |
| 405 | 2023-11-19 13:33:05 | Connor Elliott |
| 406 | 2023-11-17 16:57:51 | lisa pegler |
| 407 | 2023-11-19 18:48:15 | Mark Saunders |
| 408 | 2023-11-19 17:40:58 | D T |
| 409 | 2023-11-19 10:04:37 | Ellie Squires |
| 410 | 2023-11-18 17:23:47 | Marie Metcalfe |
| 411 | 2023-11-19 17:57:17 | Shelley Clewes |
| 412 | 2023-11-19 21:05:47 | Marilyn Booth |
| 413 | 2023-11-18 08:22:48 | Rebecca Brewer |
| 414 | 2023-11-19 17:15:29 | Lisa Burgess |
| 415 | 2023-11-19 20:32:42 | Rebecca Binmore |
| 416 | 2023-11-19 21:52:04 | Scott Palfrey |
| 417 | 2023-11-19 20:55:54 | Raymondij Burgess |
| 418 | 2023-11-19 17:15:29 | Lisa Burgess |
| 419 | 2023-11-18 18:12:02 | Marcia Baker |
| 420 | 2023-11-19 14:03:24 | Amy Winters |
| 421 | 2023-11-19 19:10:20 | Kim Dudley |
| 422 | 2023-11-19 18:39:25 | Kevin Hayes |
| 423 | 2023-11-19 20:51:40 | Courtney Webb |
| 424 | 2023-11-17 20:44:30 | Raechel De laat |
| 425 | 2023-11-19 19:59:22 | Martin Nicholson |
| 426 | 2023-11-19 21:56:44 | Crystal Macartney |
| 427 | 2023-11-17 18:45:24 | Jen Wadling |
| 428 | 2023-11-19 21:04:41 | Debbie Sneap |
| 429 | 2023-11-19 17:08:03 | Gary King |
| 430 | 2023-11-19 17:43:29 | Laura Smart |
| 431 | 2023-11-18 20:39:14 | Jamie Taylor |
| 432 | 2023-11-19 17:56:46 | Peggy Phillips |
| 433 | 2023-11-18 01:35:41 | Kayleigh Duckett |
| 434 | 2023-11-19 20:14:06 | Rachael Watson |
| 435 | 2023-11-18 20:19:30 | Jasmine Avis |
| 436 | 2023-11-19 10:34:07 | Heather Hingston |
| 437 | 2023-11-19 17:56:46 | Peggy Phillips |
| 438 | 2023-11-18 01:03:44 | Tina Blount |
| 439 | 2023-11-19 14:35:46 | Debbie Sneap |
| 440 | 2023-11-19 09:19:37 | Christopher Priest |
| 441 | 2023-11-19 12:24:06 | Tracey Osborn |
| 442 | 2023-11-19 22:02:50 | Kathryn Fone |
| 443 | 2023-11-19 01:05:19 | Sharon Archer |
| 444 | 2023-11-19 18:11:48 | Laura Dymond |
| 445 | 2023-11-18 15:50:58 | Alison Johnson |
| 446 | 2023-11-18 08:42:56 | Jonathan Haddon |
| 447 | 2023-11-17 20:17:52 | Emma Brown |
| 448 | 2023-11-19 16:49:01 | C L P J |
| 449 | 2023-11-19 21:24:05 | Jessica Roxanne |
| 450 | 2023-11-18 20:09:26 | Darren Mclean |
| 451 | 2023-11-19 21:04:41 | Debbie Sneap |
| 452 | 2023-11-19 17:43:29 | Laura Smart |
| 453 | 2023-11-19 17:15:29 | Lisa Burgess |
| 454 | 2023-11-19 15:11:19 | Trina Branch |
| 455 | 2023-11-18 18:39:08 | Danielle Nicholls |
| 456 | 2023-11-17 14:34:59 | Maxine Osman |
| 457 | 2023-11-19 11:19:28 | Anthony Boult |
| 458 | 2023-11-19 16:57:14 | Lynsey McCarlie |
| 459 | 2023-11-18 01:35:41 | Kayleigh Duckett |
| 460 | 2023-11-17 13:47:08 | Steve Peake |
| 461 | 2023-11-19 09:39:31 | Alexander Ross |
| 462 | 2023-11-18 23:14:40 | Nancy stevens |
| 463 | 2023-11-19 20:16:39 | Kathryn Bush |
| 464 | 2023-11-19 13:30:41 | Sophia Russell |
| 465 | 2023-11-19 15:11:19 | Trina Branch |
| 466 | 2023-11-17 19:36:35 | Candice Cepeda |
| 467 | 2023-11-19 13:30:41 | Sophia Russell |
| 468 | 2023-11-19 18:23:53 | Kylie Aveyard |
| 469 | 2023-11-19 17:40:58 | D T |
| 470 | 2023-11-19 20:55:54 | Raymondij Burgess |
| 471 | 2023-11-19 13:29:18 | Teresa Stone |
| 472 | 2023-11-19 18:41:02 | jamie-leigh mills |
| 473 | 2023-11-17 22:41:28 | Naomi Wilkes |
| 474 | 2023-11-19 18:53:48 | Nicola Beckett |
| 475 | 2023-11-19 18:07:21 | Wendy Bowman |
| 476 | 2023-11-19 07:57:08 | Gemma Porter |
| 477 | 2023-11-18 20:09:26 | Darren Mclean |
| 478 | 2023-11-18 07:32:02 | Nicky Richardson |
| 479 | 2023-11-19 09:07:06 | Kelly Thorne |
| 480 | 2023-11-19 20:28:05 | Tanya Sumner |
| 481 | 2023-11-18 10:09:21 | Nicky Winter |
| 482 | 2023-11-19 18:30:46 | B H |
| 483 | 2023-11-18 08:22:48 | Rebecca Brewer |
| 484 | 2023-11-19 18:11:50 | LL BB |
| 485 | 2023-11-19 18:48:15 | Mark Saunders |
| 486 | 2023-11-19 20:16:39 | Kathryn Bush |
| 487 | 2023-11-19 08:21:17 | Richard Thomas |
| 488 | 2023-11-18 13:45:37 | Dawn Griffin |
| 489 | 2023-11-18 17:17:53 | Jo Andrews |
| 490 | 2023-11-19 18:33:16 | Claire Thomas |
| 491 | 2023-11-18 15:00:36 | Lucy Ware |
| 492 | 2023-11-18 18:51:05 | Kelly Wilmott |
| 493 | 2023-11-19 08:21:17 | Richard Thomas |
| 494 | 2023-11-18 06:27:38 | Jemma Blackburn |
| 495 | 2023-11-19 09:04:24 | Sarah Heal |
| 496 | 2023-11-19 19:59:22 | Martin Nicholson |
| 497 | 2023-11-19 19:04:23 | Helen Montgomery |
| 498 | 2023-11-19 16:57:14 | Lynsey McCarlie |
| 499 | 2023-11-18 18:39:08 | Danielle Nicholls |
| 500 | 2023-11-17 16:57:51 | lisa pegler |