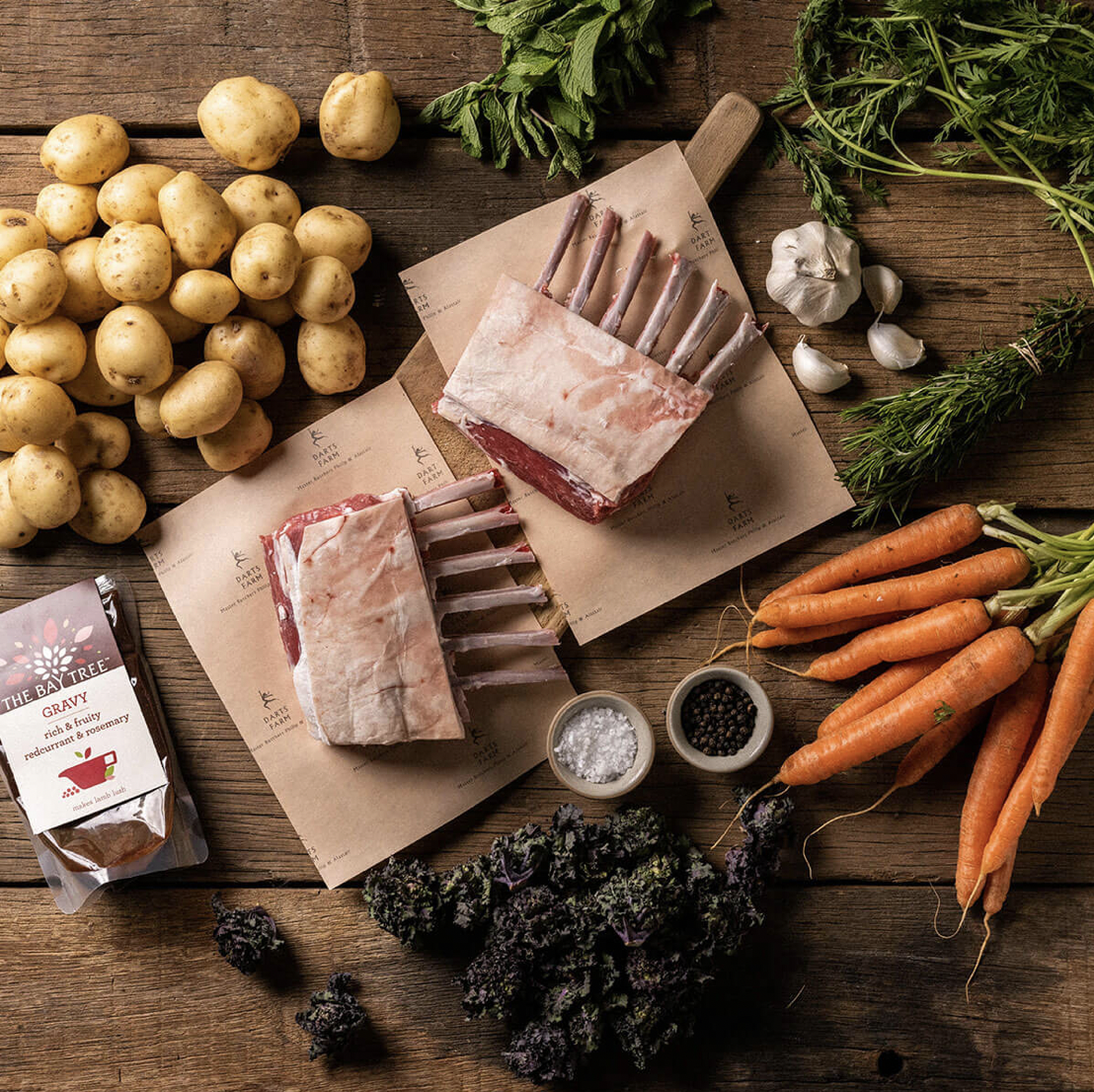 AUTO WIN – DARTS FARM SUCCULENT RACK OF LAMB FOR FOUR
Description
AUTO WIN – DARTS FARM SUCCULENT RACK OF LAMB FOR FOUR
AUTO WIN – NO LIVE DRAW – WINNER WILL BE CONTACTED THE NEXT DAY
HOME DELIVERY | WEDNESDAY-FRIDAY
HAND CUT WEIGHED ITEMS | PLEASE ALLOW 5% VARIATION
Dine at home with ingredients used by world-class chefs!
This box contains everything that you need for an succulent lamb meal, for four people, in the comfort of your own home.
Whether you're celebrating a special occasion or simply fancy a treat at the weekend, this meal box is the perfect solution.
Your 'Succulent Rack of Lamb' box will include;
2 x 6 Bone Rack of Locally Reared Lamb, from our Master Butchers
The eye of the meat with the rib bones left on. This cut can be cooked whole or cut through to create wonderful lamb lollipops. A great centrepiece for dinner parties and celebratory feasting; this cut of meat will not only impress visually, but with its rich flavour and tender, buttery soft texture.
Our lambs are hand selected by our Master Butchers, Philip and Alastair David, from Exeter Market and direct from local farms. We pride ourselves on providing our customers with the highest quality lamb.
2kg Devon New Potatoes –  Beautiful, fresh and full of flavour! Optimal climatic conditions mean that Cornwall and Devon yield the earliest of the UKs potato crop each year. Devon New Potatoes are incredibly versatile; they are delicious simply boiled with a knob of butter or fried with little bit of garlic and rosemary.
Punnet of Flower Sprouts, fresh from our fields – A cross between kale and brussels sprouts, these mini superfoods have a delicate, sweet nutty flavour and are best steamed.
The Bay Tree Rich and Fruity Redcurrant & Rosemary Sauce –  Emma Macdonald marries traditional cooking methods with innovative flavours to create The Bay Tree's delicious sauces
1 x Bulb of Garlic, grown on The Garlic Farm on the Isle of Wight – Colin, Jenny and their family have been growing and hand picking their garlic on the Isle of Wight for over 40 years. The unique conditions mean the garlic is bursting with flavour.
Bunch of Carrots
Bunch of Fresh Mint
Bunch of Fresh Rosemary
| Winner Name | Ticket Number | Draw Date |
| --- | --- | --- |
| Suzanne Riddock | 14 | 21/03/2023 |
| Ticket Number | Date | Name |
| --- | --- | --- |
| 1 | 2023-03-21 12:30:42 | sue fogarty |
| 2 | 2023-03-21 16:12:18 | Clare Jamieson |
| 3 | 2023-03-16 14:27:30 | Debs H |
| 4 | 2023-03-20 13:40:33 | Bren Last |
| 5 | 2023-03-21 19:07:01 | Kelly Dinsdale |
| 6 | 2023-03-21 21:08:24 | Suzanne Riddock |
| 7 | 2023-03-17 18:06:20 | Ian Gobel |
| 8 | 2023-03-18 14:45:40 | Helen Holloway |
| 9 | 2023-03-21 16:17:11 | Kevin Hayes |
| 10 | 2023-03-18 20:29:30 | Sarah Handoll |
| 11 | 2023-03-21 13:17:17 | Kim Ayres |
| 12 | 2023-03-21 21:20:04 | Esmé Kershaw. |
| 13 | 2023-03-21 17:10:59 | jeanette rich |
| 14 | 2023-03-21 21:08:24 | Suzanne Riddock |
| 15 | 2023-03-18 13:16:37 | Claire Ballard |
| 16 | 2023-03-16 14:27:30 | Debs H |
| 17 | 2023-03-21 19:27:19 | emma mccauley |
| 18 | 2023-03-21 17:22:28 | Graeme Anderson |
| 19 | 2023-03-21 21:10:17 | Holly Ring |
| 20 | 2023-03-21 21:49:09 | Susan Goodyear |
| 21 | 2023-03-21 09:28:50 | Harrison Oakley |
| 22 | 2023-03-21 14:46:21 | phyllis steer |
| 23 | 2023-03-21 17:22:17 | Kelly Dowrick |
| 24 | 2023-03-21 13:27:42 | Emma Louise |
| 25 | 2023-03-20 19:28:26 | Jackie bowman |
| 26 | 2023-03-20 21:30:35 | Cheryl Brown |
| 27 | 2023-03-17 15:21:16 | Natalie Anderson |
| 28 | 2023-03-21 12:37:25 | Sharon Williams |
| 29 | 2023-03-21 07:24:14 | Kate W |
| 30 | 2023-03-21 08:00:54 | Samantha Grice |
| 31 | 2023-03-19 17:42:41 | Nicjy Howarth |
| 32 | 2023-03-21 13:17:17 | Kim Ayres |
| 33 | 2023-03-20 22:50:41 | Vicky Heeley |
| 34 | 2023-03-21 19:27:17 | Joanne Keeler |
| 35 | 2023-03-21 21:24:56 | Linda Beer |
| 36 | 2023-03-21 13:17:17 | Kim Ayres |
| 37 | 2023-03-21 18:34:46 | Emma & lee |
| 38 | 2023-03-18 20:29:30 | Sarah Handoll |
| 39 | 2023-03-21 19:43:29 | Christine Swift |
| 40 | 2023-03-21 14:46:21 | phyllis steer |
| 41 | 2023-03-19 10:16:00 | Sharon Williams |
| 42 | 2023-03-21 21:20:04 | Esmé Kershaw. |
| 43 | 2023-03-16 18:17:29 | Kirsty Passmore |
| 44 | 2023-03-21 21:27:39 | Emma White |
| 45 | 2023-03-21 17:22:17 | Kelly Dowrick |
| 46 | 2023-03-21 14:02:02 | Sammy Morphey |
| 47 | 2023-03-21 12:11:14 | Gemma WR |
| 48 | 2023-03-21 19:26:43 | Sami Knott |
| 49 | 2023-03-21 18:46:32 | Baron Dorgan |
| 50 | 2023-03-19 19:08:47 | Marny Stocker |
| 51 | 2023-03-18 20:29:30 | Sarah Handoll |
| 52 | 2023-03-21 13:17:17 | Kim Ayres |
| 53 | 2023-03-21 17:22:17 | Kelly Dowrick |
| 54 | 2023-03-21 13:42:10 | Gemma Osborn |
| 55 | 2023-03-21 15:47:52 | Steven Wheway |
| 56 | 2023-03-21 20:30:17 | S S |
| 57 | 2023-03-21 12:30:42 | sue fogarty |
| 58 | 2023-03-21 13:17:17 | Kim Ayres |
| 59 | 2023-03-17 14:20:34 | Rebecca Spencer |
| 60 | 2023-03-21 19:44:46 | Rachel Gilbert |
| 61 | 2023-03-21 17:23:13 | Moira stokes |
| 62 | 2023-03-21 21:27:39 | Emma White |
| 63 | 2023-03-21 19:27:19 | emma mccauley |
| 64 | 2023-03-21 18:56:45 | Nicky Smith |
| 65 | 2023-03-21 20:29:00 | D T |
| 66 | 2023-03-17 18:06:20 | Ian Gobel |
| 67 | 2023-03-21 00:46:50 | Marc Baker |
| 68 | 2023-03-21 21:32:09 | Karen Sprules |
| 69 | 2023-03-21 16:33:27 | Keri Bayles |
| 70 | 2023-03-21 16:56:25 | Ann Emmess |
| 71 | 2023-03-21 18:56:45 | Nicky Smith |
| 72 | 2023-03-21 19:30:14 | Julia Kuhn |
| 73 | 2023-03-21 13:02:09 | Zoe Rowsell |
| 74 | 2023-03-21 03:26:42 | Emma Jones |
| 75 | 2023-03-21 18:56:45 | Nicky Smith |
| 76 | 2023-03-21 08:07:22 | Sarah jane Glover |
| 77 | 2023-03-21 22:21:44 | Janette Pengelly |
| 78 | 2023-03-21 17:41:28 | Rachael Derbe |
| 79 | 2023-03-21 10:12:49 | Peggy Phillips |
| 80 | 2023-03-21 21:32:23 | Cleo Morgan-Yates |
| 81 | 2023-03-21 20:50:21 | Marcia Baker |
| 82 | 2023-03-17 23:12:37 | Claire French |
| 83 | 2023-03-21 19:27:17 | Joanne Keeler |
| 84 | 2023-03-21 10:01:27 | Kirsty Kilkenny |
| 85 | 2023-03-21 14:37:23 | Maralyn Hancox |
| 86 | 2023-03-21 21:32:23 | Cleo Morgan-Yates |
| 87 | 2023-03-17 15:21:16 | Natalie Anderson |
| 88 | 2023-03-21 21:56:57 | Angela Cowlard |
| 89 | 2023-03-21 18:31:53 | Julie Cleave |
| 90 | 2023-03-21 07:47:24 | Lynne Deeley |
| 91 | 2023-03-21 13:42:10 | Gemma Osborn |
| 92 | 2023-03-21 13:17:17 | Kim Ayres |
| 93 | 2023-03-21 20:16:29 | Vivienne Dickinson |
| 94 | 2023-03-21 20:15:55 | Ivana Plankova |
| 95 | 2023-03-21 21:27:39 | Emma White |
| 96 | 2023-03-17 23:12:37 | Claire French |
| 97 | 2023-03-21 17:37:39 | Gee Bee |
| 98 | 2023-03-21 13:17:17 | Kim Ayres |
| 99 | 2023-03-21 20:29:00 | D T |
| 100 | 2023-03-21 17:10:59 | jeanette rich |
| 101 | 2023-03-21 20:36:32 | Jade Coles |
| 102 | 2023-03-21 17:22:17 | Kelly Dowrick |
| 103 | 2023-03-21 13:17:17 | Kim Ayres |
| 104 | 2023-03-16 15:07:46 | Philip Colbourne |
| 105 | 2023-03-16 22:57:00 | debbie sawyer |
| 106 | 2023-03-21 20:21:22 | Sam Fitzsimmons |
| 107 | 2023-03-21 21:56:54 | Lisa Burgess |
| 108 | 2023-03-21 14:46:21 | phyllis steer |
| 109 | 2023-03-21 09:50:43 | Rachel chalk |
| 110 | 2023-03-21 13:17:17 | Kim Ayres |
| 111 | 2023-03-20 19:10:13 | Usher Prowse |
| 112 | 2023-03-21 21:56:54 | Lisa Burgess |
| 113 | 2023-03-21 13:17:17 | Kim Ayres |
| 114 | 2023-03-21 08:07:22 | Sarah jane Glover |
| 115 | 2023-03-21 20:16:29 | Vivienne Dickinson |
| 116 | 2023-03-17 23:12:37 | Claire French |
| 117 | 2023-03-21 12:30:42 | sue fogarty |
| 118 | 2023-03-17 15:57:28 | Abby-rose Davison |
| 119 | 2023-03-21 09:20:28 | Natalie D |
| 120 | 2023-03-21 17:29:35 | Emma Jones |