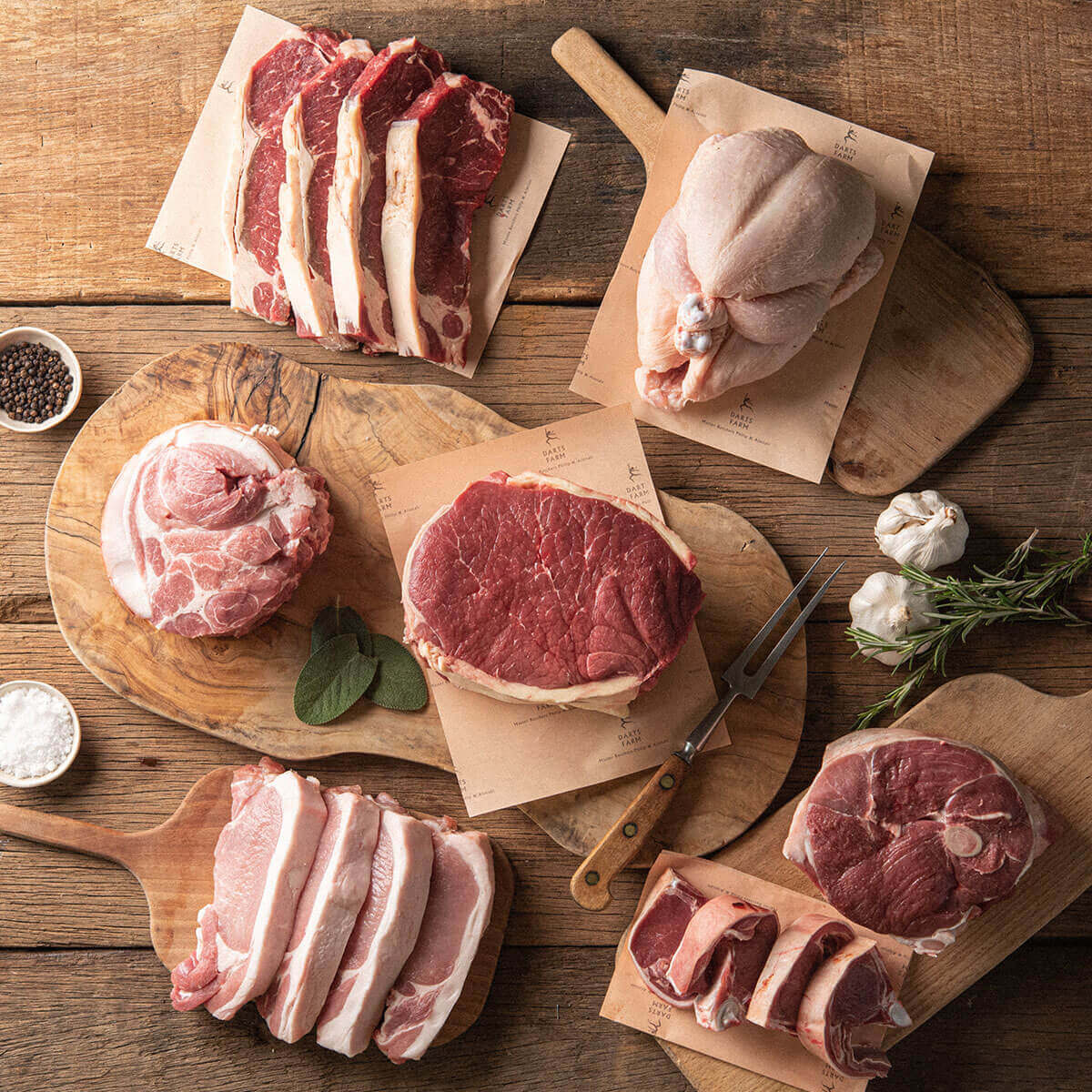 AUTO WIN – DARTS FARM-MEAT LOVERS SELECTION BOX – 30/11
Description
AUTO WIN – DARTS FARM-MEAT LOVERS SELECTION BOX – 30/11
AUTO WIN – NO LIVE DRAW – WINNER WILL BE CONTACTED WITHIN 24 HOURS
Our Meat Lovers Box, contains all the classics; mixture of quick and easy to cook cuts and incredible Sunday roasting joints.
Our Master Butchers, Phillip and Alastair, are experts in sourcing and hand selecting the finest quality, locally reared meat.
They oversee the whole process from field to fork, using traditional butchering techniques, skill and great care.
Topside of Beef Joint (min weight 1.36kg)
Spare Rib of Pork Joint (min weight 1.36kg)
Half a Leg of Lamb (min weight 1.1kg)
Free Range Chicken (min weight 1.5kg)
Pork Loin Steaks (min weight 800g) x4
Lamb Chops (min weight 720g) x4
Sirloin Steak (min weight 800g) x4
*At times hamper contents may vary due to stock availability, but items will be replaced with products of the same or higher value and quality
| Winner Name | Ticket Number | Draw Date |
| --- | --- | --- |
| R B | 117 | 30/11/2023 |
| Ticket Number | Date | Name |
| --- | --- | --- |
| 1 | 2023-11-30 07:54:09 | Mike M |
| 2 | 2023-11-29 06:59:41 | Tina Jarvis |
| 3 | 2023-11-29 11:19:56 | D H |
| 4 | 2023-11-29 19:28:08 | Deanne Lovell |
| 5 | 2023-11-29 20:58:38 | Jo Clarke |
| 6 | 2023-11-30 08:06:00 | Katrina Mead |
| 7 | 2023-11-30 09:28:18 | SJ Wilson |
| 8 | 2023-11-29 16:21:42 | Zoe Hodges |
| 9 | 2023-11-29 16:21:42 | Zoe Hodges |
| 10 | 2023-11-29 18:38:26 | phyllis steer |
| 11 | 2023-11-29 21:10:11 | R B |
| 12 | 2023-11-29 16:21:42 | Zoe Hodges |
| 13 | 2023-11-29 18:40:01 | Bryan Gunstone |
| 14 | 2023-11-30 10:16:52 | Suzanne Riddock |
| 15 | 2023-11-30 09:28:18 | SJ Wilson |
| 16 | 2023-11-29 11:19:56 | D H |
| 17 | 2023-11-27 12:53:02 | D T |
| 18 | 2023-11-30 09:39:03 | Don Hughes |
| 19 | 2023-11-30 10:16:52 | Suzanne Riddock |
| 20 | 2023-11-29 13:04:31 | Lauren Ludlow |
| 21 | 2023-11-29 18:20:15 | P C |
| 22 | 2023-11-28 22:47:03 | Sabrina Canepa |
| 23 | 2023-11-29 16:21:42 | Zoe Hodges |
| 24 | 2023-11-30 10:14:08 | R H |
| 25 | 2023-11-29 15:45:47 | Leanne Metcalfe |
| 26 | 2023-11-30 10:16:52 | Suzanne Riddock |
| 27 | 2023-11-30 10:05:29 | Kirsty Kilkenny |
| 28 | 2023-11-30 09:58:45 | Margaret Hall |
| 29 | 2023-11-29 21:17:45 | Steve Bridges |
| 30 | 2023-11-30 08:54:51 | Kerry McLean |
| 31 | 2023-11-29 21:19:44 | sarah cartwright |
| 32 | 2023-11-30 08:06:00 | Katrina Mead |
| 33 | 2023-11-29 22:02:35 | Jan Robinson |
| 34 | 2023-11-30 08:06:00 | Katrina Mead |
| 35 | 2023-11-28 19:31:48 | Paul George |
| 36 | 2023-11-29 21:10:11 | R B |
| 37 | 2023-11-29 14:33:31 | Jack Benning |
| 38 | 2023-11-27 19:45:11 | Vivienne Dickinson |
| 39 | 2023-11-30 09:58:57 | Jack Benning |
| 40 | 2023-11-29 21:37:15 | Emma & lee |
| 41 | 2023-11-29 20:41:01 | Charlotte Tucker |
| 42 | 2023-11-30 10:25:38 | Dean Hepburn |
| 43 | 2023-11-29 22:58:49 | Luke Moore |
| 44 | 2023-11-30 10:31:08 | Darren Mclean |
| 45 | 2023-11-29 14:33:31 | Jack Benning |
| 46 | 2023-11-28 19:31:48 | Paul George |
| 47 | 2023-11-30 08:14:46 | Danielle Parker |
| 48 | 2023-11-29 11:19:56 | D H |
| 49 | 2023-11-27 11:35:52 | Virginia Broom |
| 50 | 2023-11-29 17:29:53 | Becky H |
| 51 | 2023-11-28 19:31:48 | Paul George |
| 52 | 2023-11-27 12:53:02 | D T |
| 53 | 2023-11-29 18:40:01 | Bryan Gunstone |
| 54 | 2023-11-29 21:10:11 | R B |
| 55 | 2023-11-29 06:59:41 | Tina Jarvis |
| 56 | 2023-11-30 10:31:08 | Darren Mclean |
| 57 | 2023-11-29 19:26:13 | Sarah Wafforn |
| 58 | 2023-11-30 09:58:57 | Jack Benning |
| 59 | 2023-11-29 18:38:26 | phyllis steer |
| 60 | 2023-11-27 20:02:52 | Donald Hughes |
| 61 | 2023-11-29 22:10:42 | Deborah Penman |
| 62 | 2023-11-30 10:31:08 | Darren Mclean |
| 63 | 2023-11-29 10:57:20 | Kim Ayres |
| 64 | 2023-11-29 23:03:51 | Brett Murch |
| 65 | 2023-11-30 09:39:03 | Don Hughes |
| 66 | 2023-11-28 23:21:57 | JMS S |
| 67 | 2023-11-29 15:54:58 | Avril Wotton |
| 68 | 2023-11-30 10:25:38 | Dean Hepburn |
| 69 | 2023-11-29 11:19:56 | D H |
| 70 | 2023-11-29 22:32:26 | Claire Grimes |
| 71 | 2023-11-29 17:53:42 | Pam Harvey |
| 72 | 2023-11-30 07:07:05 | Shaun Gillard |
| 73 | 2023-11-30 10:31:08 | Darren Mclean |
| 74 | 2023-11-29 18:40:01 | Bryan Gunstone |
| 75 | 2023-11-30 08:06:00 | Katrina Mead |
| 76 | 2023-11-29 19:25:10 | Laura Strong |
| 77 | 2023-11-30 10:31:08 | Darren Mclean |
| 78 | 2023-11-29 18:40:01 | Bryan Gunstone |
| 79 | 2023-11-30 03:58:52 | Dee Williams |
| 80 | 2023-11-29 19:25:10 | Laura Strong |
| 81 | 2023-11-30 09:58:57 | Jack Benning |
| 82 | 2023-11-30 10:31:08 | Darren Mclean |
| 83 | 2023-11-30 10:31:08 | Darren Mclean |
| 84 | 2023-11-30 05:33:44 | Kelly Thorne |
| 85 | 2023-11-29 17:53:42 | Pam Harvey |
| 86 | 2023-11-29 14:33:31 | Jack Benning |
| 87 | 2023-11-29 16:21:42 | Zoe Hodges |
| 88 | 2023-11-29 12:53:29 | Tia Clarke |
| 89 | 2023-11-29 21:21:13 | Karen Sprules |
| 90 | 2023-11-30 10:31:08 | Darren Mclean |
| 91 | 2023-11-29 21:10:11 | R B |
| 92 | 2023-11-30 07:54:09 | Mike M |
| 93 | 2023-11-30 01:38:59 | Leanne Metcalfe |
| 94 | 2023-11-29 21:17:45 | Steve Bridges |
| 95 | 2023-11-30 10:31:08 | Darren Mclean |
| 96 | 2023-11-30 10:29:14 | Drew Worthington |
| 97 | 2023-11-30 10:31:08 | Darren Mclean |
| 98 | 2023-11-29 21:10:11 | R B |
| 99 | 2023-11-29 21:10:11 | R B |
| 100 | 2023-11-28 19:31:48 | Paul George |
| 101 | 2023-11-29 22:10:42 | Deborah Penman |
| 102 | 2023-11-29 06:59:41 | Tina Jarvis |
| 103 | 2023-11-30 10:55:22 | Emily Gribble |
| 104 | 2023-11-30 10:25:38 | Dean Hepburn |
| 105 | 2023-11-29 10:57:20 | Kim Ayres |
| 106 | 2023-11-30 07:20:09 | Ivana Plankova |
| 107 | 2023-11-29 18:40:01 | Bryan Gunstone |
| 108 | 2023-11-29 20:58:38 | Jo Clarke |
| 109 | 2023-11-30 07:54:09 | Mike M |
| 110 | 2023-11-30 09:28:18 | SJ Wilson |
| 111 | 2023-11-30 00:19:08 | D T |
| 112 | 2023-11-29 21:17:45 | Steve Bridges |
| 113 | 2023-11-30 07:40:42 | Layla Hall |
| 114 | 2023-11-30 09:28:18 | SJ Wilson |
| 115 | 2023-11-30 10:29:14 | Drew Worthington |
| 116 | 2023-11-30 08:06:00 | Katrina Mead |
| 117 | 2023-11-29 21:10:11 | R B |
| 118 | 2023-11-29 10:57:20 | Kim Ayres |
| 119 | 2023-11-29 21:57:55 | Shiv Siobhan Kirk |
| 120 | 2023-11-29 18:20:15 | P C |
| 121 | 2023-11-29 21:10:11 | R B |
| 122 | 2023-11-30 09:28:18 | SJ Wilson |
| 123 | 2023-11-30 07:40:38 | D T |
| 124 | 2023-11-29 10:57:20 | Kim Ayres |
| 125 | 2023-11-30 07:40:38 | D T |
| 126 | 2023-11-30 09:26:05 | Claire Smith |
| 127 | 2023-11-29 06:59:41 | Tina Jarvis |
| 128 | 2023-11-30 10:55:59 | Trudi Aitken |
| 129 | 2023-11-29 06:59:41 | Tina Jarvis |
| 130 | 2023-11-29 21:10:11 | R B |
| 131 | 2023-11-29 14:33:31 | Jack Benning |
| 132 | 2023-11-29 15:54:58 | Avril Wotton |
| 133 | 2023-11-30 07:54:09 | Mike M |
| 134 | 2023-11-30 06:02:33 | Julie Ball |
| 135 | 2023-11-29 14:33:31 | Jack Benning |
| 136 | 2023-11-30 09:26:05 | Claire Smith |
| 137 | 2023-11-30 10:25:38 | Dean Hepburn |
| 138 | 2023-11-27 15:18:53 | Antony Williamson |
| 139 | 2023-11-30 09:26:05 | Claire Smith |
| 140 | 2023-11-27 20:02:52 | Donald Hughes |
| 141 | 2023-11-29 18:39:28 | Charlotte Hill-Jones |
| 142 | 2023-11-30 08:54:51 | Kerry McLean |
| 143 | 2023-11-30 07:54:09 | Mike M |
| 144 | 2023-11-29 10:57:20 | Kim Ayres |
| 145 | 2023-11-29 21:10:11 | R B |
| 146 | 2023-11-30 01:49:06 | SJ Wilson |
| 147 | 2023-11-30 10:55:22 | Emily Gribble |
| 148 | 2023-11-28 19:31:48 | Paul George |
| 149 | 2023-11-30 10:55:34 | S E H |
| 150 | 2023-11-30 10:25:38 | Dean Hepburn |