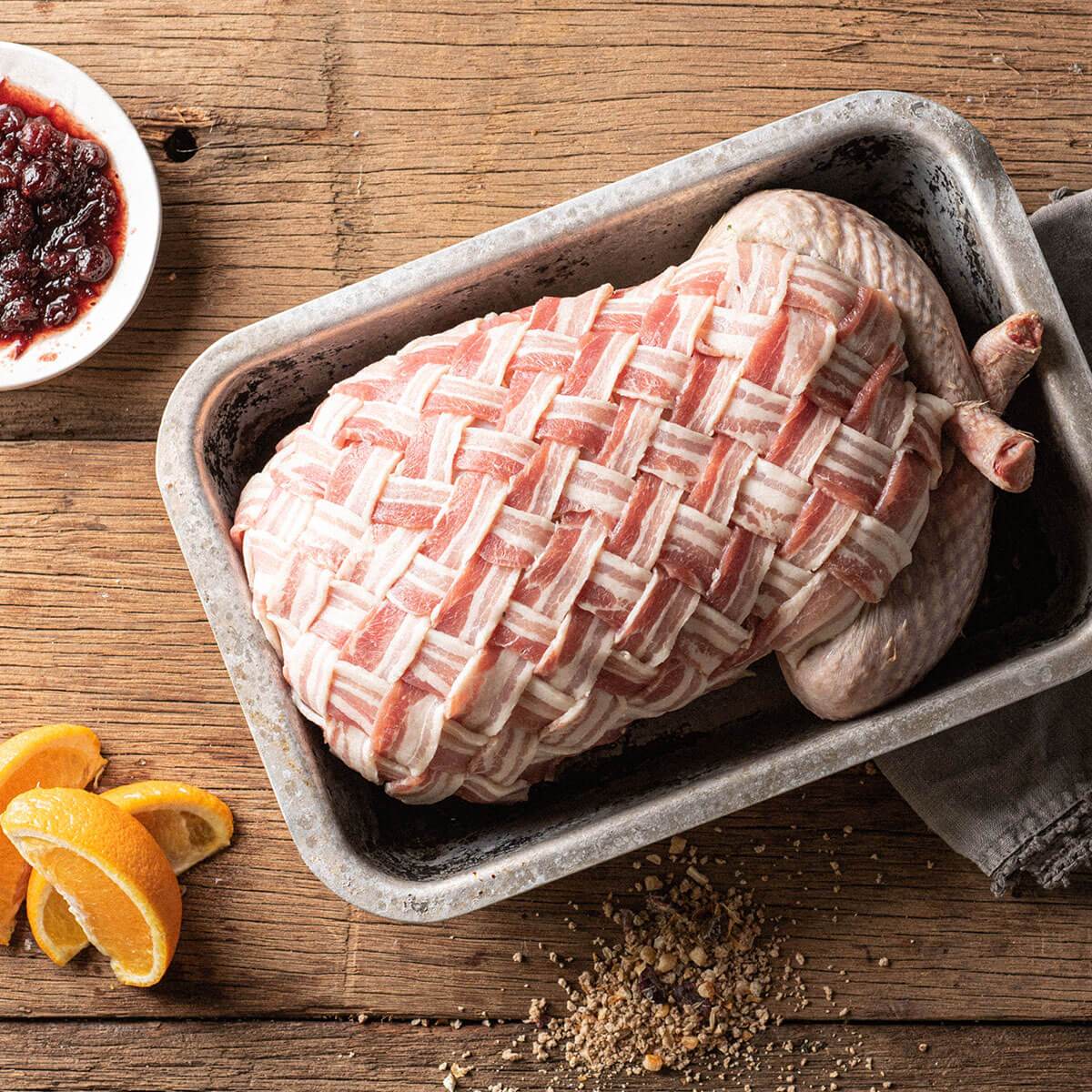 AUTO WIN – DARTS FARM FREE RANGE, EASY CARVE TURKEY WITH CRANBERRY, ORANGE & CHESTNUT STUFFING- 22/10
Description
AUTO WIN – DARTS FARM FREE RANGE, EASY CARVE TURKEY WITH CRANBERRY, ORANGE & CHESTNUT STUFFING- 22/10
AUTO WIN – NO LIVE DRAW – WINNER WILL BE CONTACTED WITHIN 24 HOURS
Easy Carve Turkey, Cranberry, Orange & Chestnut Stuffing (feeds up to 6) 4kg
Please note, our Christmas Turkeys will be available for delivery from Tuesday 7th November.
This Bronze Free Range Easy Carve Turkey is the ultimate centrepiece. The perfect joint for those who want the best of both worlds; our Master Butchers will bone, roll and stuff your turkey with cranberry, orange and chestnut while leaving the legs for delicious meat on the bone. Complete with lattice bacon, hand plaited by our butchers, this turkey is full of flavour.
We're proud to work with one of Devon's very best turkey farmers; Steven Slade of Rosamondford Farm in Aylesbeare. Steven and his team are dedicated to rearing the most succulent, flavoursome and traditional turkeys on the family farm and share our values for high standards and traditional husbandry. We specially select our turkeys for a proper layer of fat under the skin to lock in the flavour and moisture when cooked.
| Winner Name | Ticket Number | Draw Date |
| --- | --- | --- |
| Emily Neno | 98 | 22/10/2023 |
| Ticket Number | Date | Name |
| --- | --- | --- |
| 1 | 2023-10-20 09:01:17 | Pamela Johnston |
| 2 | 2023-10-21 10:33:11 | Karen Procter |
| 3 | 2023-10-21 18:35:10 | Andrew Dilkes |
| 5 | 2023-10-21 08:46:03 | Philippa Blair |
| 6 | 2023-10-21 18:21:22 | Sharon Williams |
| 7 | 2023-10-22 03:09:14 | Emma White |
| 8 | 2023-10-21 20:50:06 | Helen Holloway |
| 9 | 2023-10-21 14:59:43 | Gail. Gilbert. |
| 10 | 2023-10-20 21:28:03 | Jill Higham |
| 11 | 2023-10-20 11:12:26 | Christopher Wannell |
| 12 | 2023-10-22 01:31:12 | R KY |
| 13 | 2023-10-21 14:51:24 | Marny Stocker |
| 14 | 2023-10-21 22:26:03 | Jemma Russell |
| 15 | 2023-10-21 16:24:33 | Darren Mclean |
| 16 | 2023-10-21 16:24:33 | Darren Mclean |
| 17 | 2023-10-21 16:24:33 | Darren Mclean |
| 18 | 2023-10-21 16:24:33 | Darren Mclean |
| 21 | 2023-10-21 15:21:52 | Lisa Roberts |
| 23 | 2023-10-21 11:31:30 | Laura Underhill |
| 24 | 2023-10-20 19:50:40 | Emily Neno |
| 25 | 2023-10-20 22:37:11 | Chloe Ellis |
| 26 | 2023-10-21 19:15:58 | Paul Halfyard |
| 28 | 2023-10-21 16:24:33 | Darren Mclean |
| 29 | 2023-10-22 06:07:07 | Sharon Saunders |
| 32 | 2023-10-21 19:27:24 | Anne-Marie Daniels |
| 33 | 2023-10-22 04:03:00 | Gail. Gilbert. |
| 34 | 2023-10-21 14:59:43 | Gail. Gilbert. |
| 36 | 2023-10-22 03:45:16 | P C |
| 37 | 2023-10-21 22:10:32 | Cindy Purkis |
| 38 | 2023-10-22 01:31:12 | R KY |
| 40 | 2023-10-21 22:44:05 | Sarah Kallmeier |
| 41 | 2023-10-21 18:35:10 | Andrew Dilkes |
| 47 | 2023-10-22 06:17:56 | Sharon Saunders |
| 49 | 2023-10-21 20:49:41 | Kelly Mckeever |
| 51 | 2023-10-21 19:36:23 | trina C |
| 54 | 2023-10-21 19:21:16 | Lorraine Williams |
| 55 | 2023-10-21 14:59:43 | Gail. Gilbert. |
| 57 | 2023-10-20 11:27:23 | Rachel Gilbert |
| 58 | 2023-10-20 10:57:44 | Kim Ayres |
| 61 | 2023-10-22 06:34:11 | Sophie Holt |
| 62 | 2023-10-21 21:50:54 | Jade Pook |
| 64 | 2023-10-20 10:57:44 | Kim Ayres |
| 65 | 2023-10-20 16:41:30 | Alison Jeffries |
| 66 | 2023-10-22 06:34:11 | Sophie Holt |
| 67 | 2023-10-16 20:49:22 | Fliss Wright |
| 69 | 2023-10-21 15:01:36 | Kim Bickham |
| 71 | 2023-10-21 21:38:54 | Lauren Ludlow |
| 72 | 2023-10-19 14:03:39 | Sarah & Michael Walshe |
| 73 | 2023-10-21 04:43:35 | Tina Jones |
| 74 | 2023-10-21 22:35:24 | Kirsty Westwood |
| 76 | 2023-10-21 17:38:32 | phyllis steer |
| 77 | 2023-10-21 21:28:31 | Mandy Adams |
| 78 | 2023-10-21 18:51:08 | Amy Cheung |
| 79 | 2023-10-21 17:37:15 | Kim Dudley |
| 80 | 2023-10-20 10:57:44 | Kim Ayres |
| 82 | 2023-10-21 18:21:22 | Sharon Williams |
| 83 | 2023-10-22 06:34:11 | Sophie Holt |
| 89 | 2023-10-20 22:01:43 | Lauren Ross |
| 89 | 2023-10-20 22:01:02 | Lauren Ross |
| 90 | 2023-10-21 17:38:32 | phyllis steer |
| 92 | 2023-10-21 18:01:46 | Jane Wallace |
| 94 | 2023-10-21 14:43:03 | Moira Jayne Angel |
| 96 | 2023-10-21 15:04:52 | R H |
| 97 | 2023-10-21 19:48:55 | Alan Steer |
| 98 | 2023-10-20 19:50:40 | Emily Neno |
| 99 | 2023-10-21 19:22:11 | Suzanne Hart |
| 101 | 2023-10-21 19:01:23 | Wendy Bailey |
| 103 | 2023-10-21 15:50:52 | Gary King |
| 104 | 2023-10-21 19:08:07 | Lorraine Mchugh |
| 105 | 2023-10-20 10:57:44 | Kim Ayres |
| 107 | 2023-10-22 06:34:11 | Sophie Holt |
| 108 | 2023-10-21 22:47:39 | Lucy Brown |
| 109 | 2023-10-21 17:38:32 | phyllis steer |
| 117 | 2023-10-22 06:34:11 | Sophie Holt |
| 120 | 2023-10-21 20:58:35 | Alexander Ross |
| 121 | 2023-10-20 17:44:13 | Sharna Densham |
| 123 | 2023-10-21 17:02:19 | LL BB |
| 124 | 2023-10-22 06:34:11 | Sophie Holt |
| 127 | 2023-10-21 16:36:54 | Sharon Archer |
| 128 | 2023-10-21 21:27:35 | E S |
| 130 | 2023-10-21 20:34:46 | Mandy Adams |
| 131 | 2023-10-20 17:39:29 | Nik Wills |
| 133 | 2023-10-20 10:57:44 | Kim Ayres |
| 136 | 2023-10-22 06:34:11 | Sophie Holt |
| 137 | 2023-10-21 15:24:47 | Rachel Gilbert |
| 138 | 2023-10-19 10:14:39 | Lisa Bailey |
| 140 | 2023-10-20 16:41:28 | Briony Millar |
| 141 | 2023-10-21 22:44:05 | Sarah Kallmeier |
| 142 | 2023-10-21 10:33:11 | Karen Procter |
| 143 | 2023-10-21 19:27:24 | Anne-Marie Daniels |
| 144 | 2023-10-21 18:57:28 | Sarah Roberts |
| 148 | 2023-10-21 19:37:54 | Sam Gough |
| 149 | 2023-10-22 04:03:00 | Gail. Gilbert. |
| 157 | 2023-10-22 04:03:00 | Gail. Gilbert. |
| 160 | 2023-10-22 06:34:11 | Sophie Holt |