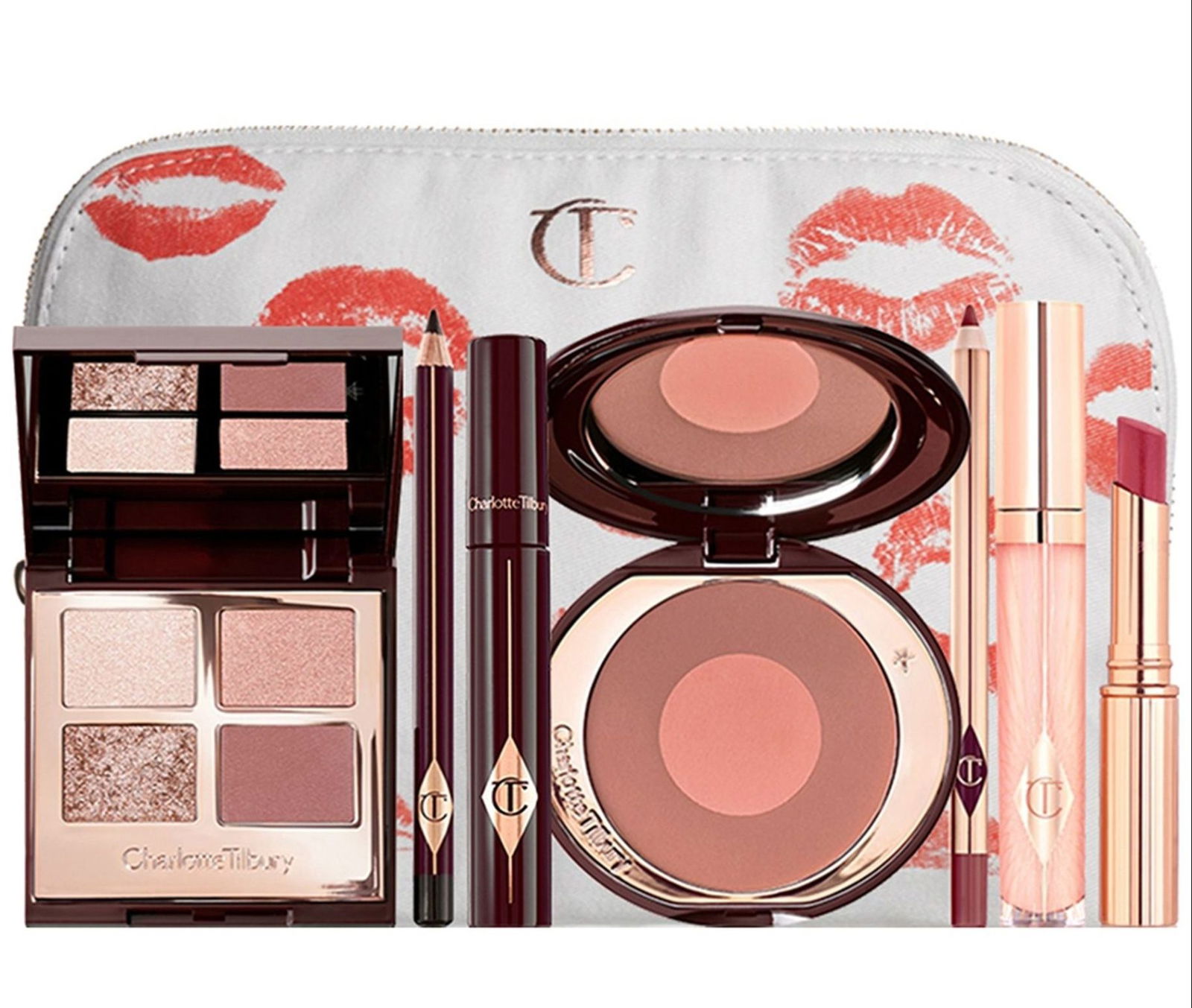 AUTO WIN- CHARLOTTE TILBURY The Supermodel Look – Deep
Description
AUTO WIN- CHARLOTTE TILBURY The Supermodel Look – Deep
Discover the dreamy glamourous Supermodel Look to enhance what nature gave you featuring some of Charlotte Tilbury's most iconic best-selling products.
Supermodels have always known how to maximise their beauty with neutral colours and flashes of makeup brilliance going from tone-on-tone shades with sumptuous pillow-y lips in the 90s to fresh-faced glamour and flawlessly filtered skin in 2020. Now Charlotte Tilbury has bottled that iconic Supermodel DNA to give everyone everywhere the ultimate Supermodel look.
Described by Charlotte as an 'angelic filter for the face' The Supermodel Look is the epitome of natural beauty amplified. With a glowing freshness on the complexion; youthful-looking dreamy eyes and a runway-ready pout her beauty is completely individual.
"I am beyond thrilled to share with you this natural-looking fresh glamourous Supermodel look. This look is all about enhancing the most beautiful dreamy version of you. I designed the look to enhance what nature gave you…so you can light up your world and cast a spell on everyone. My Supermodel Look unlocks a world of confidence glamour sexiness power and magic" – Charlotte Tilbury
Set contains:
Luxury Palette in Exaggereyes
Classic Eyeliner Pencil in Classic Brown
Full Fat Lashes Mascara in Glossy Black
Superstar Lips in Sexy Lips
Collagen Lip Bath in Refresh Rose
Lip Cheat in Love Trap
Cheek to Chic in Climax
AUTO WIN- NO LIVE DRAW – WINNER IS AUTOMATICALLY SELECTED WHEN THE TIMER IS UP OR COMPETITION SELLS OUT
| Winner Name | Ticket Number | Draw Date |
| --- | --- | --- |
| Lauren Henley | 98 | 21/11/2023 |
| Ticket Number | Date | Name |
| --- | --- | --- |
| 2 | 2023-11-21 19:41:59 | James Price |
| 3 | 2023-11-21 19:02:16 | Debbie Claypole |
| 4 | 2023-11-21 19:38:31 | Chris Carr |
| 5 | 2023-11-21 19:23:03 | Iain Thomas |
| 6 | 2023-11-21 14:31:14 | Brogan Sandercock |
| 7 | 2023-11-21 18:23:47 | Danielle Kinsella |
| 8 | 2023-11-21 19:49:21 | Jonny Boy |
| 9 | 2023-11-21 11:00:12 | Hazel Whitcombe |
| 11 | 2023-11-21 11:29:46 | Sami Knott |
| 12 | 2023-11-21 19:38:31 | Chris Carr |
| 13 | 2023-11-21 19:15:29 | D T |
| 14 | 2023-11-20 21:38:50 | Claire King |
| 15 | 2023-11-21 19:41:59 | James Price |
| 16 | 2023-11-21 17:18:53 | Gary King |
| 17 | 2023-11-21 14:31:14 | Brogan Sandercock |
| 18 | 2023-11-21 19:48:35 | A M |
| 20 | 2023-11-21 17:57:09 | Moira stokes |
| 21 | 2023-11-21 19:27:55 | Jeanette Anderson |
| 22 | 2023-11-21 14:31:14 | Brogan Sandercock |
| 23 | 2023-11-21 19:21:14 | SHAR H |
| 24 | 2023-11-21 14:31:14 | Brogan Sandercock |
| 25 | 2023-11-21 19:59:34 | Gail. Gilbert. |
| 26 | 2023-11-21 18:23:47 | Danielle Kinsella |
| 31 | 2023-11-21 19:17:21 | Helen Cottrell |
| 32 | 2023-11-21 19:49:41 | Chris Carr |
| 33 | 2023-11-21 18:29:56 | k. b |
| 35 | 2023-11-21 17:50:28 | Cameron Thompson |
| 36 | 2023-11-21 19:49:41 | Chris Carr |
| 37 | 2023-11-21 15:32:14 | Vicky Heeley |
| 38 | 2023-11-21 19:44:24 | Nicola Bowyer |
| 39 | 2023-11-21 15:52:30 | Emma King |
| 43 | 2023-11-21 19:49:41 | Chris Carr |
| 45 | 2023-11-21 19:23:03 | Iain Thomas |
| 46 | 2023-11-21 19:39:02 | .K. B. |
| 47 | 2023-11-21 19:58:48 | T S |
| 48 | 2023-11-21 19:38:31 | Chris Carr |
| 50 | 2023-11-21 19:38:31 | Chris Carr |
| 52 | 2023-11-21 19:15:29 | D T |
| 53 | 2023-11-20 22:50:43 | Jules Wilkins |
| 54 | 2023-11-21 14:19:29 | Lucy Clements |
| 58 | 2023-11-21 09:36:36 | Emma & lee |
| 60 | 2023-11-21 19:53:49 | jackie dawkins |
| 62 | 2023-11-21 18:29:56 | k. b |
| 63 | 2023-11-21 19:38:31 | Chris Carr |
| 64 | 2023-11-21 17:30:56 | Kelly Campbell |
| 69 | 2023-11-21 19:15:29 | D T |
| 74 | 2023-11-21 19:21:59 | Bethan Bennett |
| 75 | 2023-11-21 18:29:56 | k. b |
| 77 | 2023-11-21 14:31:14 | Brogan Sandercock |
| 80 | 2023-11-21 19:53:37 | Keedie Green |
| 83 | 2023-11-21 19:44:19 | Renata Hepburn |
| 87 | 2023-11-21 19:45:09 | Debi Rogers |
| 90 | 2023-11-21 18:55:17 | Candice Carrington |
| 91 | 2023-11-21 19:48:35 | A M |
| 92 | 2023-11-21 16:53:28 | Joanne Ison |
| 94 | 2023-11-21 19:49:41 | Chris Carr |
| 95 | 2023-11-21 14:31:14 | Brogan Sandercock |
| 97 | 2023-11-21 14:31:14 | Brogan Sandercock |
| 98 | 2023-11-21 13:08:32 | Lauren Henley |
| 99 | 2023-11-21 18:29:56 | k. b |
| 100 | 2023-11-21 17:32:05 | Claire King |
| 101 | 2023-11-21 19:49:41 | Chris Carr |
| 104 | 2023-11-21 14:31:14 | Brogan Sandercock |
| 109 | 2023-11-21 14:31:14 | Brogan Sandercock |
| 111 | 2023-11-21 14:31:14 | Brogan Sandercock |
| 113 | 2023-11-21 19:41:59 | James Price |
| 116 | 2023-11-21 19:21:14 | SHAR H |