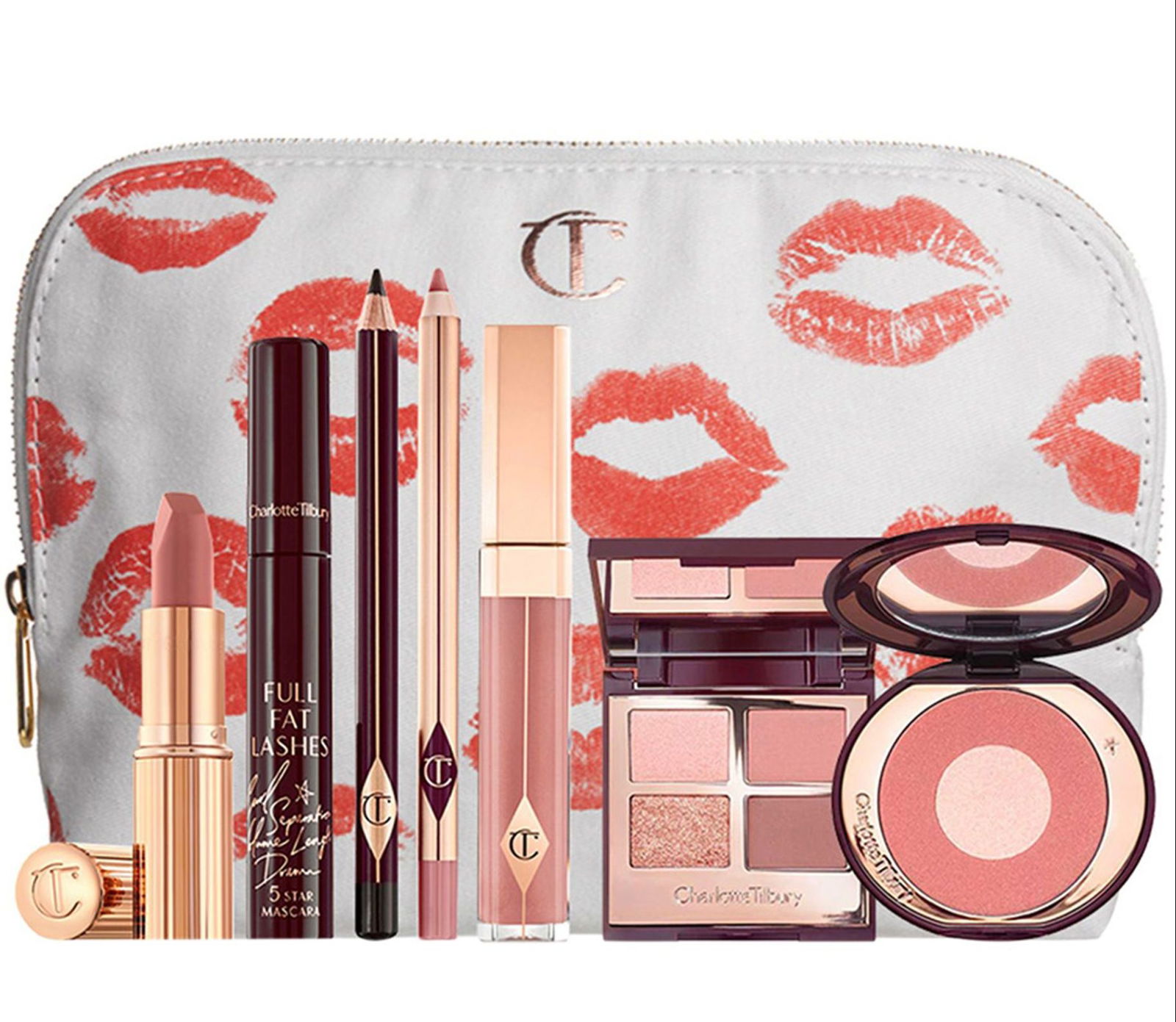 AUTO WIN-CHARLOTTE TILBURY The Pillow Talk Look
Description
AUTO WIN-CHARLOTTE TILBURY The Pillow Talk Look
Charlotte Tilbury's award-winning best-selling sumptuous Pillow Talk shade is taking over the world! Adored by supermodels starlets entrepreneurs icons and millions of women across the globe of all ages it's the secret to eyes that sparkle cheeks that glow and lips that lead astray…
The Luxury Palette in Pillow Talk is a pretty feminine everyday eyeshadow palette for seductive supermodel eyes with four shimmer and matte shades in champagne pink matte dusky rose soft matte brown and rose gold sparkle.
Cheek to Chic in Pillow Talk is a two-tone powder blusher in a dusky pink and champagne shimmer shade that will add a kiss of colour to your cheeks.
Lip Cheat in Pillow Talk is a rich velvety formula that will help reshape and resize your lips for a perfect pout in the dreamy pink nude shade.
Matte Revolution in Pillow Talk is the iconic celebrity and supermodel lip colour in the award-winning matte lipstick formula for fuller-looking lips.
Full Fat Lashes mascara is a 5-in-1 mascara for curl separation volume length and drama.
The Classic in Classic Brown is a soft dark brown eyeliner pencil for defining your eyes.
Pillow Talk Lip Lustre in the iconic globally loved Pillow Talk shade with a sumptuous silk finish for a sexy seductive pumped up supermodel pout.
Set contains:
Luxury Palette in Pillow Talk
Cheek to Chic in Pillow Talk
Lip Cheat in Pillow Talk
Matte Revolution in Pillow Talk
Full Fat Lashes mascara
The Classic in Classic Brown
Pillow Talk Lip Lustre
AUTO WIN- NO LIVE DRAW – WINNER IS AUTOMATICALLY SELECTED WHEN THE TIMER IS UP OR COMPETITION SELLS OUT
| Winner Name | Ticket Number | Draw Date |
| --- | --- | --- |
| Loren Cox | 44 | 22/11/2023 |
| Ticket Number | Date | Name |
| --- | --- | --- |
| 1 | 2023-11-22 08:43:37 | Erin Giles |
| 3 | 2023-11-21 21:16:34 | Nicky Huskisson |
| 4 | 2023-11-22 09:54:40 | Jo Graves |
| 5 | 2023-11-22 08:40:30 | V K |
| 7 | 2023-11-22 09:15:10 | Han L |
| 8 | 2023-11-21 21:51:33 | Bethany Wolfenden |
| 11 | 2023-11-22 06:07:42 | D T |
| 13 | 2023-11-21 21:23:03 | Claire King |
| 14 | 2023-11-21 14:13:21 | Nicola Bowyer |
| 15 | 2023-11-22 09:18:06 | A M |
| 16 | 2023-11-22 09:22:15 | Chris Carr |
| 17 | 2023-11-22 09:38:48 | D T |
| 21 | 2023-11-22 09:21:57 | Emma & lee |
| 22 | 2023-11-22 08:48:27 | Emma & lee |
| 23 | 2023-11-22 09:44:28 | Tom Jackson |
| 26 | 2023-11-21 21:16:34 | Nicky Huskisson |
| 28 | 2023-11-22 07:04:45 | Aim P |
| 30 | 2023-11-22 09:21:57 | Emma & lee |
| 31 | 2023-11-21 21:16:34 | Louise Gregory |
| 32 | 2023-11-21 18:37:32 | Rachel Gilbert |
| 33 | 2023-11-22 09:15:10 | Han L |
| 34 | 2023-11-22 09:16:46 | A M |
| 35 | 2023-11-21 22:17:56 | Antoinette Graver |
| 36 | 2023-11-21 21:43:46 | Mollie Evans |
| 39 | 2023-11-22 09:21:57 | Emma & lee |
| 44 | 2023-11-22 09:37:24 | Loren Cox |
| 46 | 2023-11-22 09:37:24 | Loren Cox |
| 47 | 2023-11-22 07:04:45 | Aim P |
| 50 | 2023-11-22 09:18:35 | Antonia Crawford |
| 51 | 2023-11-22 08:43:37 | Erin Giles |
| 55 | 2023-11-22 07:04:45 | Aim P |
| 61 | 2023-11-21 21:16:34 | Louise Gregory |
| 62 | 2023-11-21 21:16:34 | Louise Gregory |
| 68 | 2023-11-21 22:32:22 | Jules Wilkins |
| 69 | 2023-11-22 09:38:48 | D T |
| 71 | 2023-11-22 09:54:40 | Jo Graves |
| 79 | 2023-11-22 09:16:46 | A M |
| 80 | 2023-11-22 09:54:40 | Jo Graves |
| 84 | 2023-11-22 07:04:45 | Aim P |
| 89 | 2023-11-22 09:22:15 | Chris Carr |
| 94 | 2023-11-22 09:22:15 | Chris Carr |
| 95 | 2023-11-20 18:42:49 | Nicola Bowyer |
| 99 | 2023-11-21 22:28:43 | Lindsey Lake |
| 107 | 2023-11-22 04:29:36 | Paul Latham |
| 112 | 2023-11-22 09:22:15 | Chris Carr |
| 113 | 2023-11-22 07:04:45 | Aim P |
| 117 | 2023-11-22 09:15:10 | Han L |
| 121 | 2023-11-22 09:38:48 | D T |
| 123 | 2023-11-22 09:40:55 | Kerry McLean |
| 125 | 2023-11-22 09:37:24 | Loren Cox |
| 129 | 2023-11-22 09:54:40 | Jo Graves |
| 136 | 2023-11-22 08:43:37 | Erin Giles |
| 137 | 2023-11-22 06:35:30 | Han L |
| 139 | 2023-11-22 09:16:46 | A M |
| 146 | 2023-11-22 09:46:00 | Lorraine Williams |
| 151 | 2023-11-22 09:56:37 | Alison Stubbs |
| 154 | 2023-11-22 09:52:52 | Emma Bennett |
| 155 | 2023-11-21 21:23:03 | Claire King |
| 156 | 2023-11-22 09:16:46 | A M |
| 157 | 2023-11-21 21:03:48 | Kim White |
| 159 | 2023-11-22 09:11:12 | Tia Potter |
| 160 | 2023-11-22 09:56:24 | Hayley Davenport |
| 166 | 2023-11-22 08:04:25 | Erin Giles |
| 168 | 2023-11-22 09:18:35 | Antonia Crawford |
| 171 | 2023-11-22 08:04:25 | Erin Giles |
| 173 | 2023-11-20 22:50:43 | Jules Wilkins |
| 175 | 2023-11-22 09:21:57 | Emma & lee |