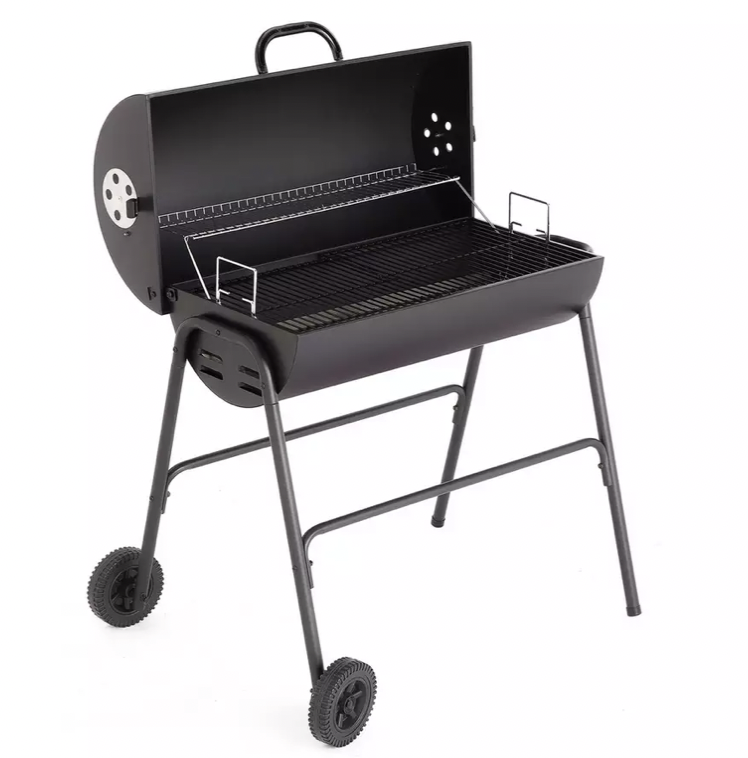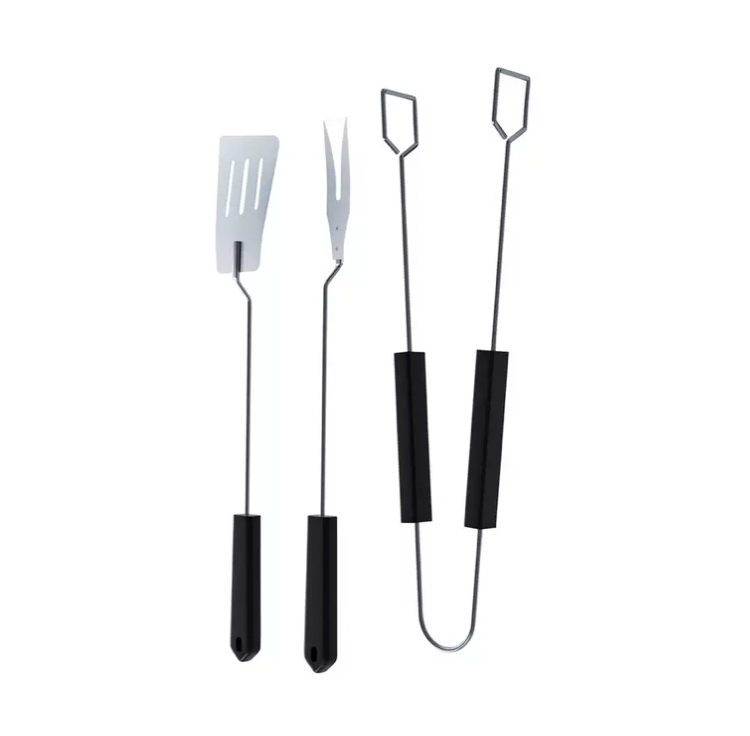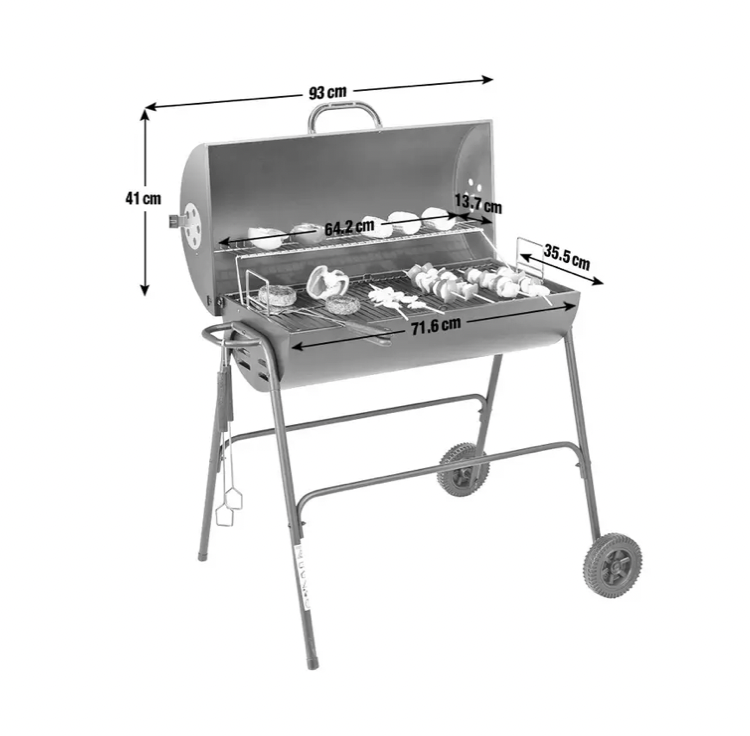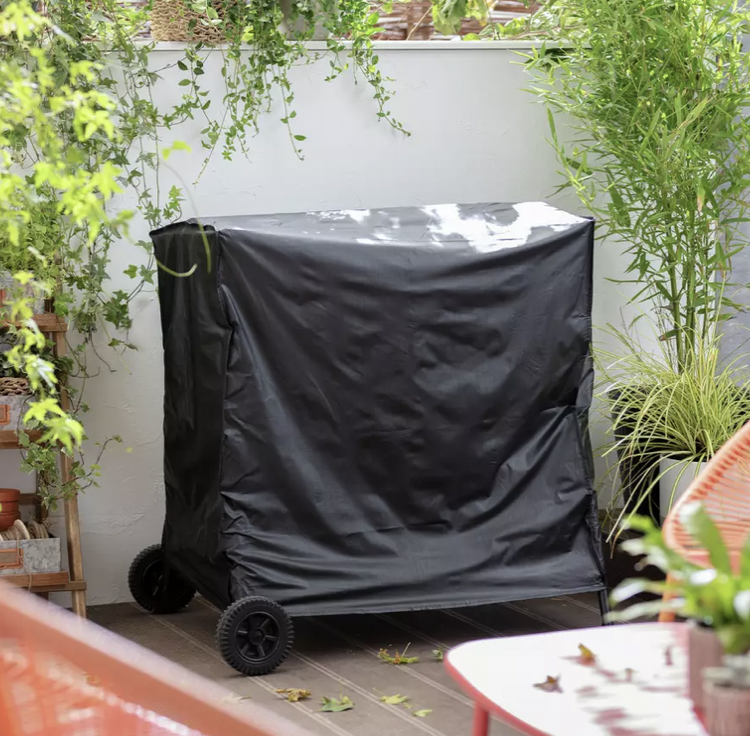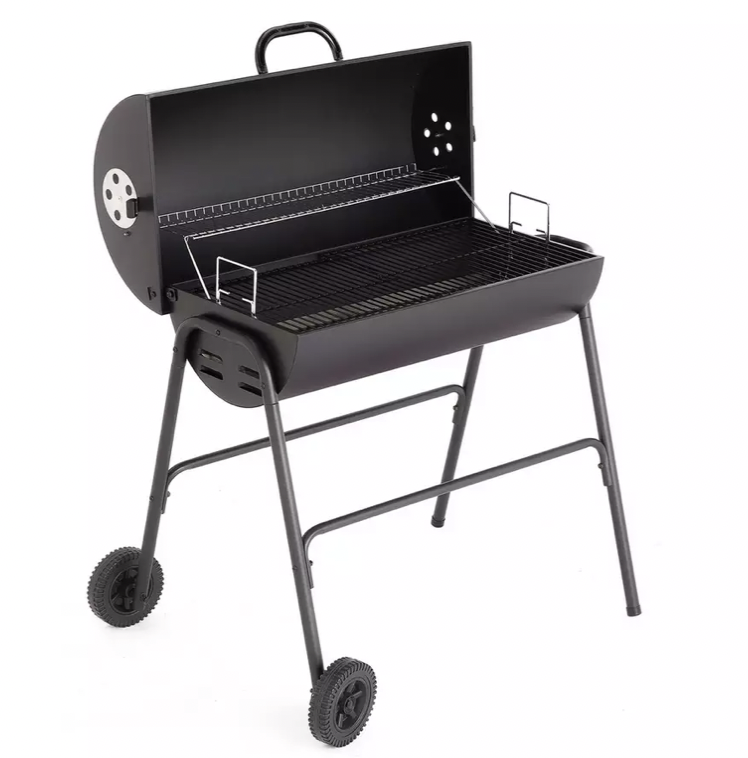 AUTO WIN – Charcoal Oil Drum BBQ, Cover & Utensils – 22/03
Description
AUTO WIN – Charcoal Oil Drum BBQ, Cover & Utensils – 22/03
AUTO WIN – NO LIVE DRAW – WINNER WILL BE CONTACTED THE NEXT DAY
With a cooking surface of 35 x 71cm, this oil drum charcoal BBQ is a great size for garden gatherings of around 10 people. It has an adjustable height for the grill, so you can control the distance between the charcoal and cooking grill and cook your food to perfection. It's also equipped with a chrome plated warming rack, to keep food warm while you cook the next round, and its removeable ash tray makes cleaning easy. Its 2 wheels mean you can move it around the garden with ease, whether you're chasing the sun or seeking out some shade.
Coming with 3 utensils (tongs, a fork and a spatula) you've got everything you need to sizzle and sear this summer. It also comes with a protective cover for when it's not in use.
Constructed from steel.
Warming rack.
Overall size H90, W93, D64.5cm.
Size of cooking area 35 x 71cm.
BBQ Cover.
Weight 15.06kg.
Self-assembly.
| Winner Name | Ticket Number | Draw Date |
| --- | --- | --- |
| Ron Tunkin | 257 | 22/03/2023 |
| Ticket Number | Date | Name |
| --- | --- | --- |
| 1 | 2023-03-22 19:22:35 | kerry b |
| 2 | 2023-03-22 09:48:06 | jeanette rich |
| 3 | 2023-03-22 19:14:06 | Katie-Louise Chalk |
| 4 | 2023-03-22 17:56:58 | Lisa Sanders |
| 5 | 2023-03-22 20:20:35 | Jacob Cobley |
| 6 | 2023-03-22 16:56:03 | Naomi still |
| 7 | 2023-03-17 14:38:33 | Maria Hyne |
| 8 | 2023-03-22 20:17:14 | Laura Chatfield |
| 9 | 2023-03-17 10:37:47 | Kelly Hearn |
| 10 | 2023-03-22 20:17:14 | Laura Chatfield |
| 11 | 2023-03-22 09:19:30 | Tassia Griffiths |
| 12 | 2023-03-22 22:41:25 | Rachael Kenny |
| 13 | 2023-03-22 09:48:06 | jeanette rich |
| 14 | 2023-03-22 22:24:19 | Steve Dyer |
| 15 | 2023-03-22 20:20:49 | Sophie St-claire |
| 17 | 2023-03-22 21:44:48 | Sarah Voaden |
| 18 | 2023-03-22 20:20:49 | Sophie St-claire |
| 19 | 2023-03-22 09:19:30 | Tassia Griffiths |
| 20 | 2023-03-20 22:03:18 | Abby-rose Davison |
| 21 | 2023-03-22 04:46:23 | Kate W |
| 22 | 2023-03-22 09:48:06 | jeanette rich |
| 23 | 2023-03-22 21:44:48 | Sarah Voaden |
| 25 | 2023-03-17 09:05:19 | Sharon Noble |
| 27 | 2023-03-22 21:44:48 | Sarah Voaden |
| 28 | 2023-03-22 21:40:26 | Josh Ansell |
| 31 | 2023-03-22 16:31:57 | Adam Cheeseworth |
| 32 | 2023-03-22 20:14:48 | Bren Last |
| 33 | 2023-03-22 22:57:18 | Rachael Kenny |
| 34 | 2023-03-22 18:37:33 | Joanne Pursey |
| 35 | 2023-03-22 18:55:11 | Donna Harvey |
| 38 | 2023-03-22 19:45:25 | Nicola Holland |
| 39 | 2023-03-22 19:53:13 | emma mccauley |
| 40 | 2023-03-22 22:24:19 | Steve Dyer |
| 41 | 2023-03-22 12:02:11 | sue fogarty |
| 42 | 2023-03-22 20:03:08 | Abi Parnell |
| 43 | 2023-03-22 20:43:09 | Alison Massey |
| 44 | 2023-03-22 18:37:33 | Joanne Pursey |
| 45 | 2023-03-22 20:53:41 | Martin Nicholson |
| 47 | 2023-03-22 18:37:33 | Joanne Pursey |
| 48 | 2023-03-17 20:46:49 | Tim Hallam |
| 49 | 2023-03-22 14:48:59 | Thomas Tooley |
| 52 | 2023-03-22 21:46:20 | Elizabeth Cornes-soper |
| 53 | 2023-03-21 12:51:00 | Vicky Wesson |
| 54 | 2023-03-20 13:09:29 | Liam PArker |
| 55 | 2023-03-22 16:56:03 | Naomi still |
| 56 | 2023-03-22 19:22:35 | kerry b |
| 57 | 2023-03-22 22:41:24 | Esmé Kershaw. |
| 58 | 2023-03-22 19:52:54 | Lynne Swift |
| 59 | 2023-03-22 11:19:47 | Avril Wotton |
| 62 | 2023-03-22 15:43:49 | Carl Hoare |
| 63 | 2023-03-22 20:02:48 | Kelly Hearn |
| 64 | 2023-03-22 13:57:08 | Kevin Hayes |
| 65 | 2023-03-22 19:52:54 | Lynne Swift |
| 66 | 2023-03-22 20:08:31 | Cristina Evans |
| 68 | 2023-03-22 21:23:49 | Emma Ormrod |
| 69 | 2023-03-22 21:44:04 | Rose Barlow |
| 70 | 2023-03-22 04:58:24 | Wendy Potts |
| 72 | 2023-03-22 20:03:08 | Abi Parnell |
| 73 | 2023-03-22 22:07:49 | Stephanie Morton |
| 74 | 2023-03-20 20:10:23 | Rob Waters |
| 75 | 2023-03-22 07:54:30 | Ron Tunkin |
| 76 | 2023-03-22 12:13:15 | Glyn Wellings |
| 77 | 2023-03-17 10:18:04 | Rebecca Spencer |
| 80 | 2023-03-22 21:21:54 | Corey Salter |
| 81 | 2023-03-22 07:54:30 | Ron Tunkin |
| 82 | 2023-03-22 19:57:57 | Jack Munns |
| 83 | 2023-03-22 16:31:57 | Adam Cheeseworth |
| 85 | 2023-03-21 19:34:39 | Paige MacDonald |
| 86 | 2023-03-21 12:08:51 | emma mccauley |
| 87 | 2023-03-22 20:12:41 | Jane Evans |
| 88 | 2023-03-21 16:24:17 | Lorraine Reeves |
| 91 | 2023-03-17 09:05:19 | Sharon Noble |
| 92 | 2023-03-22 22:24:19 | Steve Dyer |
| 93 | 2023-03-22 11:50:08 | Turner Daphne |
| 95 | 2023-03-22 20:08:15 | Jodie Hepburn |
| 97 | 2023-03-22 18:55:11 | Donna Harvey |
| 98 | 2023-03-22 19:53:13 | emma mccauley |
| 99 | 2023-03-22 22:24:19 | Steve Dyer |
| 100 | 2023-03-22 09:48:06 | jeanette rich |
| 102 | 2023-03-22 20:08:15 | Jodie Hepburn |
| 103 | 2023-03-22 22:24:19 | Steve Dyer |
| 106 | 2023-03-22 14:49:17 | Franky Boy |
| 108 | 2023-03-22 20:08:15 | Jodie Hepburn |
| 112 | 2023-03-22 21:57:47 | Mandy Cove |
| 113 | 2023-03-22 18:37:33 | Joanne Pursey |
| 114 | 2023-03-19 19:49:36 | Hannah Riley |
| 115 | 2023-03-22 11:16:55 | Claire Jones |
| 117 | 2023-03-22 21:40:26 | Josh Ansell |
| 118 | 2023-03-22 11:14:03 | Zoe Rowsell |
| 120 | 2023-03-22 21:46:20 | Elizabeth Cornes-soper |
| 121 | 2023-03-22 15:26:48 | Zoe Budd |
| 122 | 2023-03-22 02:04:14 | Lisa Burgess |
| 124 | 2023-03-22 19:07:52 | Sarah Barlow |
| 125 | 2023-03-20 08:52:27 | Riley Parsonage |
| 126 | 2023-03-22 19:42:23 | Roxanne Cane |
| 127 | 2023-03-22 11:45:31 | Andy Casey |
| 130 | 2023-03-22 04:58:24 | Wendy Potts |
| 131 | 2023-03-22 19:50:29 | Hayley Jackson |
| 132 | 2023-03-22 20:53:41 | Martin Nicholson |
| 133 | 2023-03-22 20:51:39 | Becci Vayle |
| 135 | 2023-03-22 22:58:38 | Rachael Kenny |
| 137 | 2023-03-22 19:53:13 | emma mccauley |
| 139 | 2023-03-20 23:23:48 | Caron Phillips |
| 140 | 2023-03-22 21:44:48 | Sarah Voaden |