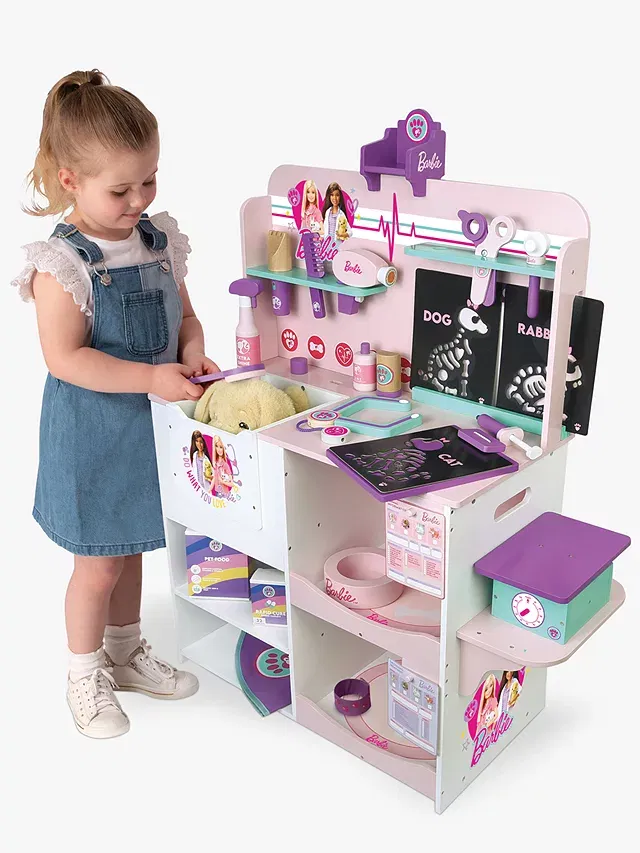 AUTO WIN – Barbie Vet and Grooming Centre – 12/11
Description
AUTO WIN – Barbie Vet and Grooming Centre – 12/11
AUTO WIN – NO LIVE DRAW – WINNER WILL BE CONTACTED WITHIN 24 HOURS
Do what you love, says Barbie. With this Grooming Station you can live out your dreams of being a vet and taking care of animals!
Use the 2 in 1 shampoo, comb, clippers, hair drier and extra shine spray to make them look brand-new.
Not only does the Vet station encourage creative play but it inspires children to do what they love, and in this case, being a vet!
| Winner Name | Ticket Number | Draw Date |
| --- | --- | --- |
| Carol Chappell | 2 | 12/11/2023 |
| Ticket Number | Date | Name |
| --- | --- | --- |
| 1 | 2023-11-12 16:38:53 | Jazmin Usher |
| 2 | 2023-11-12 17:39:49 | Carol Chappell |
| 3 | 2023-11-12 14:58:10 | Claire Hewitt |
| 4 | 2023-11-09 23:58:57 | charlie clegg |
| 6 | 2023-11-12 17:28:50 | Chelsea Mills |
| 7 | 2023-11-12 13:29:32 | Claire Adams |
| 9 | 2023-11-12 16:46:58 | Ian Munroe |
| 10 | 2023-11-12 17:39:49 | Carol Chappell |
| 11 | 2023-11-12 19:53:20 | Philip Eddy |
| 13 | 2023-11-12 15:48:19 | Morgan Samuels |
| 14 | 2023-11-12 00:19:01 | Carol Chappell |
| 15 | 2023-11-12 17:39:49 | Carol Chappell |
| 16 | 2023-11-11 19:57:53 | Kayleigh Smith |
| 17 | 2023-11-10 09:02:29 | Anouska Johannson |
| 18 | 2023-11-12 16:16:19 | Louise Gourley |
| 19 | 2023-11-12 15:32:49 | Lucy Fenner |
| 20 | 2023-11-12 16:40:27 | Sharon Smith |
| 21 | 2023-11-12 00:52:55 | Louise Hodge |
| 22 | 2023-11-12 15:02:34 | Dianne H |
| 23 | 2023-11-12 17:28:35 | Siobhan Atkinson |
| 24 | 2023-11-12 17:30:11 | Pamela Honeyman |
| 25 | 2023-11-12 17:30:11 | Pamela Honeyman |
| 26 | 2023-11-12 12:25:00 | Rebecca Spencer |
| 27 | 2023-11-12 17:28:50 | Chelsea Mills |
| 28 | 2023-11-12 15:50:04 | Rachel Scott |
| 29 | 2023-11-12 17:28:50 | Chelsea Mills |
| 30 | 2023-11-12 17:04:27 | Denise Skingle |
| 31 | 2023-11-12 16:40:27 | Sharon Smith |
| 32 | 2023-11-12 16:38:53 | Jazmin Usher |
| 33 | 2023-11-12 17:47:22 | Marie Mckenna |
| 34 | 2023-11-12 12:42:51 | Andrew Fielder |
| 35 | 2023-11-12 16:40:27 | Sharon Smith |
| 36 | 2023-11-12 16:54:27 | Leanne Pearce |
| 37 | 2023-11-12 07:35:17 | Alan Gowland |
| 39 | 2023-11-11 13:07:17 | Donna Spicer |
| 40 | 2023-11-12 14:02:51 | Kirsty Messenger |
| 41 | 2023-11-12 19:44:56 | Alexander Ross |
| 43 | 2023-11-12 16:54:27 | Leanne Pearce |
| 44 | 2023-11-12 16:38:53 | Jazmin Usher |
| 45 | 2023-11-12 15:32:49 | Lucy Fenner |
| 47 | 2023-11-12 16:16:19 | Louise Gourley |
| 49 | 2023-11-12 19:53:20 | Philip Eddy |
| 50 | 2023-11-12 07:35:17 | Alan Gowland |
| 51 | 2023-11-11 19:36:16 | Charlotte Steel |
| 54 | 2023-11-12 18:12:02 | Chris Carr |
| 55 | 2023-11-12 16:16:19 | Louise Gourley |
| 56 | 2023-11-12 11:38:47 | S E P |
| 59 | 2023-11-12 16:16:19 | Louise Gourley |
| 60 | 2023-11-12 19:32:19 | Caroline Dreesden |
| 61 | 2023-11-11 18:24:01 | Stacey Karpinski |
| 62 | 2023-11-12 15:02:34 | Dianne H |
| 64 | 2023-11-07 13:09:13 | Jackie Dyer |
| 65 | 2023-11-12 13:19:35 | Emma & lee |
| 68 | 2023-11-12 13:24:44 | Jacqueline Rees |
| 69 | 2023-11-12 12:42:51 | Andrew Fielder |
| 72 | 2023-11-12 19:58:23 | R S |
| 73 | 2023-11-12 14:13:25 | Sammy jo Smith |
| 74 | 2023-11-12 18:58:34 | Kathy Donald |
| 76 | 2023-11-12 19:58:54 | Rachel Gilbert |
| 78 | 2023-11-12 17:28:35 | Siobhan Atkinson |
| 79 | 2023-11-12 19:53:20 | Philip Eddy |
| 82 | 2023-11-12 07:35:17 | Alan Gowland |
| 83 | 2023-11-12 19:57:03 | A MM |
| 88 | 2023-11-12 19:58:23 | R S |
| 89 | 2023-11-12 19:53:20 | Philip Eddy |
| 99 | 2023-11-12 19:39:22 | Sammy Waldron |