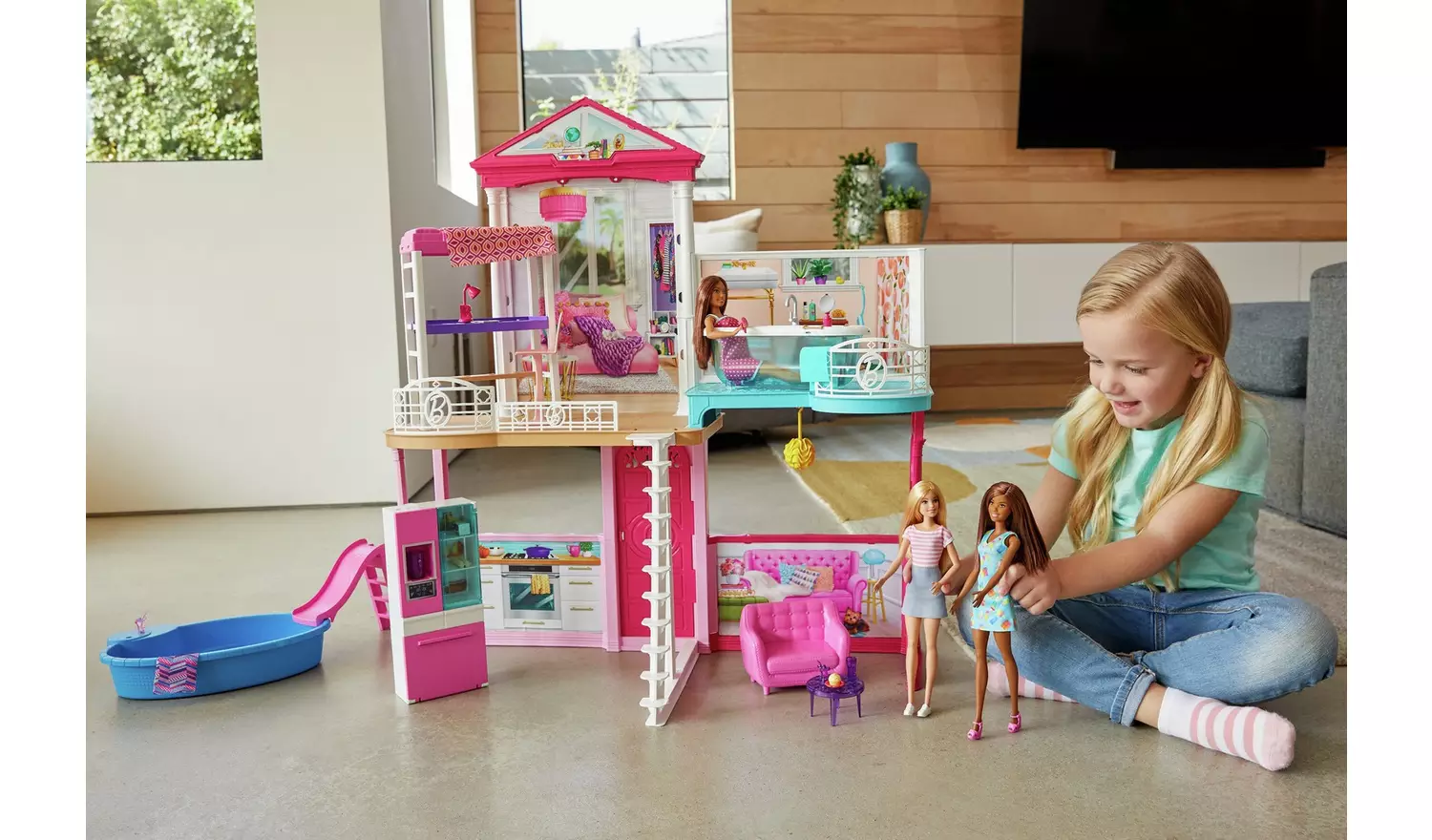 AUTO WIN-Barbie Estate Dolls House and 3 Dolls
Description
AUTO WIN-Barbie Estate Dolls House and 3 Dolls
This Barbie doll-house is ready for move-in! Three dolls, furniture and accessories — including a pool with slide -help imaginations set a storytelling scene. The doll-house has plenty of space: its two storyes are connected by a slim white staircase, and its four rooms include a kitchen, living room, bedroom and bathroom. A pool with a slide brings the fun outside for all-around play — fill it with water and dive into a pool party!
These 3 barbie dolls are ready to be roomies – they have a 2-storey doll house ready to move-in with furniture and accessories including a pool! four rooms include a kitchen and living room on the first floor and a bedroom and bathroom on the second.
Move right in and arrange the furniture, like a loft bed with desk and chair for barbie doll, a couch that seats 2 and a bathtub that really holds water!
Working features add role-play fun: open the refrigerator to store snacks or fill the pump with water and press to watch it pour into a cup or pitcher below.
The brightly coloured pool has a slide with ladder and plug-and-play design for 2 drinks — fill it with water and send a doll down the slide to make a playtime splash! Three dolls pictured come included.
Dimensions of the box – Height 93.7, Width 109.8, Length 13.8cm. Weight of the box – 7943g.
NO LIVE DRAW FOR AUTO WIN- WINNERS AUTOMATICALLY SELECTED ONCE THE COMPETITION HAS SOLD OUT OR ENDED
| Winner Name | Ticket Number | Draw Date |
| --- | --- | --- |
| Carol Chappell | 14 | 21/11/2023 |
| Ticket Number | Date | Name |
| --- | --- | --- |
| 2 | 2023-11-21 19:25:43 | Carol Chappell |
| 3 | 2023-11-21 19:25:43 | Carol Chappell |
| 4 | 2023-11-21 19:21:13 | Kelly Couch |
| 6 | 2023-11-21 19:31:14 | Shelley Clewes |
| 7 | 2023-11-21 19:55:47 | Jeanette Anderson |
| 8 | 2023-11-21 19:32:10 | Steven Morley |
| 10 | 2023-11-21 19:25:43 | Carol Chappell |
| 11 | 2023-11-21 19:25:54 | Ann Marie May |
| 12 | 2023-11-21 19:25:59 | Mark Lofthouse |
| 13 | 2023-11-21 19:22:23 | Sam Lillico |
| 14 | 2023-11-21 19:25:43 | Carol Chappell |
| 16 | 2023-11-21 19:55:05 | Katrina S |
| 17 | 2023-11-21 19:28:42 | Jamie Knight |
| 19 | 2023-11-21 19:25:59 | Mark Lofthouse |
| 20 | 2023-11-21 19:25:54 | Ann Marie May |
| 21 | 2023-11-21 19:49:41 | Chris Carr |
| 22 | 2023-11-21 19:25:59 | Mark Lofthouse |
| 23 | 2023-11-21 19:29:04 | Carol Chappell |
| 24 | 2023-11-21 20:05:05 | Amy Jennings |
| 26 | 2023-11-21 19:33:22 | Kim Ellis |
| 27 | 2023-11-21 19:22:23 | Sam Lillico |
| 29 | 2023-11-21 19:25:59 | Mark Lofthouse |
| 30 | 2023-11-21 19:32:27 | Brandie Squires |
| 32 | 2023-11-21 19:50:58 | Liam Chard-maple |
| 33 | 2023-11-21 19:55:47 | Jeanette Anderson |
| 34 | 2023-11-21 19:55:47 | Jeanette Anderson |
| 35 | 2023-11-21 19:49:41 | Chris Carr |
| 36 | 2023-11-21 20:18:39 | T C |
| 38 | 2023-11-21 19:25:59 | Mark Lofthouse |
| 39 | 2023-11-21 20:19:16 | Lucy Orme |
| 42 | 2023-11-21 20:01:27 | Kirstie Cobb |
| 43 | 2023-11-21 19:57:17 | Shannon Dempsey |
| 44 | 2023-11-21 19:50:58 | Liam Chard-maple |
| 46 | 2023-11-21 20:03:23 | Nick Oldham |
| 48 | 2023-11-21 19:49:41 | Chris Carr |
| 51 | 2023-11-21 20:18:39 | T C |
| 52 | 2023-11-21 19:46:12 | rosie bradley |
| 54 | 2023-11-21 19:33:12 | Jade Bayliss |
| 56 | 2023-11-21 20:17:22 | S S |
| 59 | 2023-11-21 20:03:56 | Hannah Tait |
| 60 | 2023-11-21 19:50:58 | Liam Chard-maple |
| 61 | 2023-11-21 20:04:54 | Roseanna Cobley |
| 62 | 2023-11-21 20:03:23 | Nick Oldham |
| 63 | 2023-11-21 19:50:58 | Liam Chard-maple |
| 64 | 2023-11-21 19:28:12 | Liam Conway |
| 67 | 2023-11-21 19:32:27 | Brandie Squires |
| 68 | 2023-11-21 19:29:21 | Jason Moore |
| 69 | 2023-11-21 19:32:27 | Brandie Squires |
| 71 | 2023-11-21 20:19:36 | Emma & lee |
| 75 | 2023-11-21 19:32:27 | Brandie Squires |
| 77 | 2023-11-21 19:50:58 | Liam Chard-maple |
| 79 | 2023-11-21 20:18:39 | T C |
| 80 | 2023-11-21 19:29:28 | Lau X |
| 85 | 2023-11-21 19:32:23 | sarah cartwright |