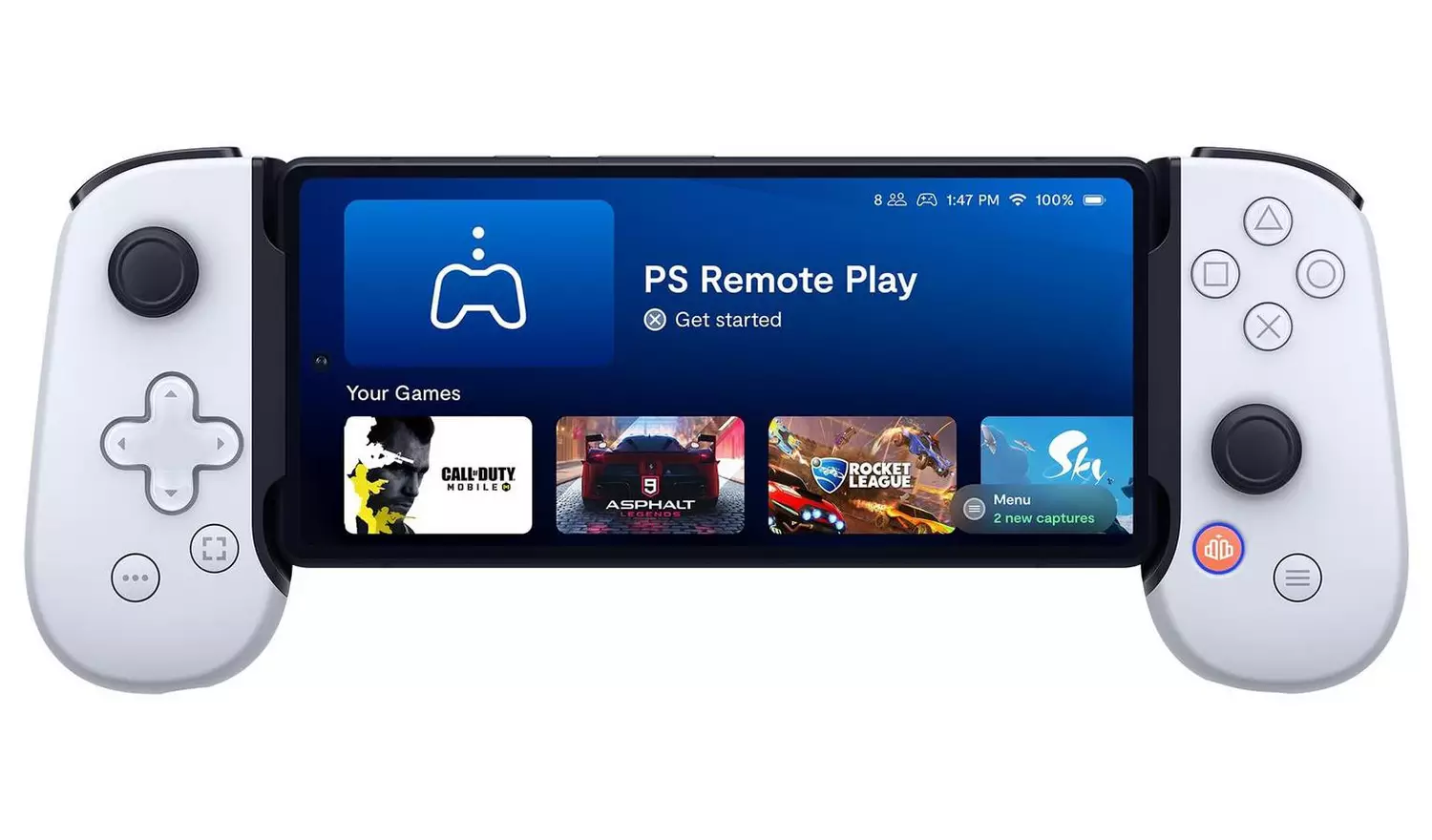 AUTO WIN – Backbone One: PlayStation Gaming Controller – 27/11
Description
AUTO WIN – Backbone One: PlayStation Gaming Controller – 27/11
Winners chooses between for Android or for IOS 
Phone not included
Transform your  phone into the ultimate gaming console. Snap in your phone and play any game or service that supports controllers, including Xbox Cloud Gaming, or even stream directly from your Xbox or PC. No tedious setup. Fast charge via a pass-through USB-C port and listen with wired headphones using the 3.5mm audio port. Uncover a new world of premium gaming in seconds.
The Backbone One gives users tactile controls to enhance their gaming experience on Android and iOS. Pair with the PS Remote Play App and you can play your PlayStation games anywhere with ease.
Simply plug your phone into the Backbone One and start playing. Stream any game installed on your PS4 console or PS5 console, from God of War to Horizon Forbidden West, right from your phone.
AUTO WIN – NO LIVE DRAW – WINNER WILL BE CONTACTED WITHIN 24 HOURS
| Winner Name | Ticket Number | Draw Date |
| --- | --- | --- |
| Rebecca Brewer | 85 | 27/11/2023 |
| Ticket Number | Date | Name |
| --- | --- | --- |
| 1 | 2023-11-27 09:38:03 | Jason Brown |
| 2 | 2023-11-27 16:09:57 | Darren Mclean |
| 3 | 2023-11-27 14:16:14 | Joanne Stewart |
| 4 | 2023-11-23 14:03:16 | Tracey Milne |
| 5 | 2023-11-26 14:51:22 | Donald Hughes |
| 6 | 2023-11-27 15:16:37 | Nichola Brown |
| 7 | 2023-11-27 16:16:20 | James Cliffe |
| 8 | 2023-11-27 16:09:57 | Darren Mclean |
| 9 | 2023-11-27 14:16:14 | Joanne Stewart |
| 10 | 2023-11-27 10:12:00 | Kerry Davies |
| 11 | 2023-11-26 06:40:00 | Lee Gable |
| 12 | 2023-11-27 14:45:39 | Paige Whittingham |
| 13 | 2023-11-25 08:02:44 | Maxine Claxton |
| 14 | 2023-11-27 16:03:56 | Trudi Aitken |
| 15 | 2023-11-26 22:41:22 | Sindy Scott |
| 16 | 2023-11-27 16:09:57 | Darren Mclean |
| 17 | 2023-11-27 16:09:57 | Darren Mclean |
| 18 | 2023-11-23 14:21:55 | Richard Higham |
| 19 | 2023-11-26 12:15:57 | Mark Godfrey |
| 20 | 2023-11-27 13:52:44 | Joe Morris |
| 21 | 2023-11-26 19:24:40 | Kayleigh Garrett |
| 22 | 2023-11-27 14:16:14 | Joanne Stewart |
| 23 | 2023-11-27 16:09:57 | Darren Mclean |
| 24 | 2023-11-27 08:04:29 | Emma Lou |
| 25 | 2023-11-27 11:32:31 | E L |
| 26 | 2023-11-27 13:52:44 | Joe Morris |
| 27 | 2023-11-26 21:43:46 | Rachi B |
| 28 | 2023-11-26 21:43:46 | Rachi B |
| 29 | 2023-11-27 00:09:43 | Cristian Mocanu |
| 30 | 2023-11-26 19:36:57 | Sharon Howe |
| 31 | 2023-11-27 17:25:48 | Tarah Courtenay |
| 32 | 2023-11-27 09:38:03 | Jason Brown |
| 33 | 2023-11-27 16:17:01 | Georgia Samuel |
| 34 | 2023-11-27 09:53:15 | Emma Jordan |
| 35 | 2023-11-27 16:09:57 | Darren Mclean |
| 36 | 2023-11-27 10:12:00 | Kerry Davies |
| 37 | 2023-11-27 09:29:17 | Kerry Davies |
| 38 | 2023-11-27 07:20:16 | Kimberley Escott |
| 39 | 2023-11-26 17:24:41 | Becky H |
| 40 | 2023-11-26 21:37:57 | katrina haynes |
| 41 | 2023-11-26 18:17:28 | Gary Cattell |
| 42 | 2023-11-27 09:29:17 | Kerry Davies |
| 43 | 2023-11-26 21:36:14 | Natasha Edworthy |
| 44 | 2023-11-27 02:22:57 | Heather Bower |
| 45 | 2023-11-27 17:25:48 | Tarah Courtenay |
| 46 | 2023-11-27 10:50:58 | Gemma Morgan |
| 47 | 2023-11-27 10:03:00 | Alison Collins |
| 48 | 2023-11-27 13:58:19 | Nicholas Heath |
| 49 | 2023-11-27 13:52:44 | Joe Morris |
| 50 | 2023-11-26 19:24:40 | Kayleigh Garrett |
| 51 | 2023-11-26 19:45:04 | P C |
| 52 | 2023-11-27 08:27:28 | Holly Sheppard |
| 53 | 2023-11-26 18:34:53 | Emma Smith |
| 54 | 2023-11-27 16:09:57 | Darren Mclean |
| 55 | 2023-11-27 09:33:46 | Leanne Metcalfe |
| 56 | 2023-11-25 21:10:32 | S S |
| 57 | 2023-11-27 09:38:03 | Jason Brown |
| 58 | 2023-11-26 21:43:46 | Rachi B |
| 59 | 2023-11-26 19:24:40 | Kayleigh Garrett |
| 60 | 2023-11-26 16:58:28 | Jade Ryan |
| 61 | 2023-11-27 16:24:24 | Steven Brown |
| 62 | 2023-11-27 14:29:41 | Emma Ormrod |
| 63 | 2023-11-26 21:43:46 | Rachi B |
| 64 | 2023-11-26 21:43:46 | Rachi B |
| 65 | 2023-11-27 15:20:30 | Mandy Adams |
| 66 | 2023-11-26 11:59:30 | Steph Bendall |
| 67 | 2023-11-27 11:13:41 | Mandy Hayman |
| 68 | 2023-11-27 14:16:14 | Joanne Stewart |
| 69 | 2023-11-27 16:09:57 | Darren Mclean |
| 70 | 2023-11-27 00:29:26 | Stacey B |
| 71 | 2023-11-26 17:21:35 | Kelly Freeman |
| 72 | 2023-11-26 07:50:48 | Rachael Marshall |
| 73 | 2023-11-27 17:25:48 | Tarah Courtenay |
| 74 | 2023-11-27 17:16:07 | Chris Penny |
| 75 | 2023-11-27 16:09:57 | Darren Mclean |
| 76 | 2023-11-26 21:43:46 | Rachi B |
| 77 | 2023-11-27 10:03:00 | Alison Collins |
| 78 | 2023-11-27 14:16:14 | Joanne Stewart |
| 79 | 2023-11-27 14:16:14 | Joanne Stewart |
| 80 | 2023-11-26 18:34:53 | Emma Smith |
| 81 | 2023-11-27 08:27:11 | Lau X |
| 82 | 2023-11-27 06:26:10 | Kaylie T |
| 83 | 2023-11-27 09:38:03 | Jason Brown |
| 84 | 2023-11-26 16:53:45 | Ryan Pope |
| 85 | 2023-11-27 11:41:13 | Rebecca Brewer |
| 86 | 2023-11-26 22:03:13 | Reagan Julian |
| 87 | 2023-11-26 22:03:13 | Reagan Julian |
| 88 | 2023-11-27 08:35:27 | Grace Cape |
| 89 | 2023-11-27 08:35:27 | Grace Cape |
| 90 | 2023-11-27 13:58:19 | Nicholas Heath |
| 91 | 2023-11-26 16:53:45 | Ryan Pope |
| 92 | 2023-11-27 15:40:25 | Lauren cattermole |
| 93 | 2023-11-26 21:17:40 | Amber Smithers |
| 94 | 2023-11-27 13:05:59 | Callum Deathridge |
| 95 | 2023-11-26 18:34:53 | Emma Smith |
| 96 | 2023-11-27 15:40:25 | Lauren cattermole |
| 97 | 2023-11-27 16:09:57 | Darren Mclean |
| 98 | 2023-11-26 21:17:40 | Amber Smithers |
| 99 | 2023-11-27 17:25:48 | Tarah Courtenay |
| 100 | 2023-11-27 17:25:48 | Tarah Courtenay |