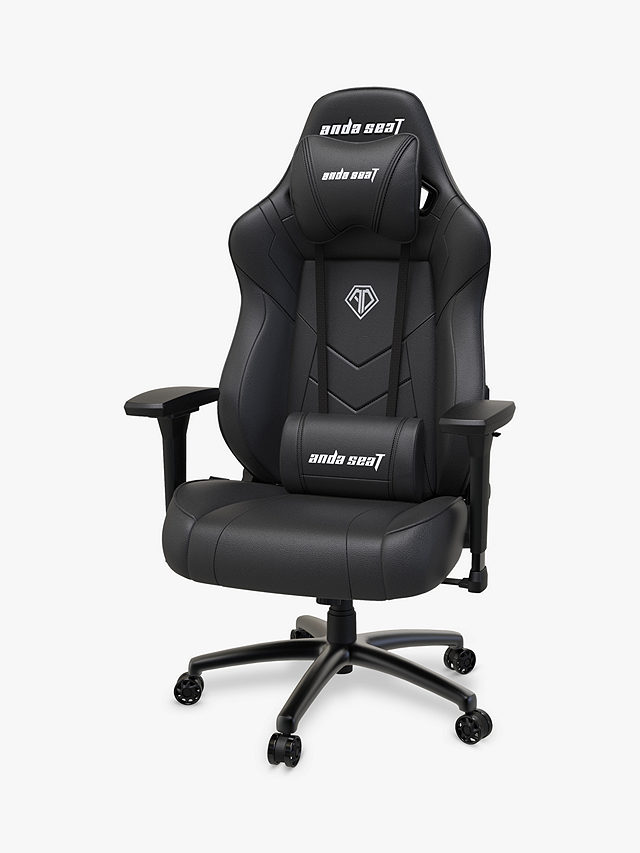 AUTO WIN-anda seaT Dark Demon Premium Gaming Chair, Black
Description
AUTO WIN-anda seaT Dark Demon Premium Gaming Chair, Black
anda seatT has created a racing chair designed with an emphasis on comfort and ergonomics – the Dark Demon Premium Gaming Chair. Created with scratch and stain resistant, smooth bonded PVC leather, a precision manufactured steel frame with an iron 5-point base, 4D armrests and Class 4 hydraulic nitrogen pistons, this luxurious racing chair will contour to your shape, thanks to high-density one piece 60kg/m³ foam.
The Dark Demon Premium Gaming Chair's removable large sized 'H shaped' headrest pillow and lumbar cushion provides spine and neck support, whilst the 4D armrests offer optimum comfort by supporting the forearm – to relieve wrist pressure and muscle strain when gaming or working.
Handily, the chair tilts 90 to 160 degrees with a angle lock at 5 different positions.
Recommended maximum height: 6'10" / 210cm. Maximum weight capacity: 440lbs / 200kgs.
Please be aware: every anda seatT comes supplied with detailed instructions, enabling easy installation. Assembling the chair should be completed in in less than 30 minutes. Please be sure to install the product according to the instructions.
AUTO WIN- NO LIVE DRAW- WINNER IS AUTOMATICALLY SELECTED WHEN THE COMPETITION SELLS OUT OR CLOSES
| Winner Name | Ticket Number | Draw Date |
| --- | --- | --- |
| Liam Chard-maple | 1065 | 10/11/2023 |
| Ticket Number | Date | Name |
| --- | --- | --- |
| 1 | 2023-11-10 06:33:32 | Corrina Tekin |
| 2 | 2023-11-08 20:42:23 | David Smith |
| 3 | 2023-11-03 18:29:42 | Sandra Ball |
| 4 | 2023-11-04 09:35:19 | Sarah Wilson |
| 5 | 2023-11-03 23:11:26 | Naomi still |
| 6 | 2023-11-03 23:11:26 | Naomi still |
| 7 | 2023-11-06 11:14:40 | Victoria Haslam |
| 8 | 2023-11-05 00:10:03 | Kathryn Budd |
| 9 | 2023-11-05 17:37:02 | Katie Bastian |
| 10 | 2023-11-10 06:33:32 | Corrina Tekin |
| 11 | 2023-11-05 09:43:20 | D T |
| 12 | 2023-11-03 15:22:56 | Kevin Wilson |
| 13 | 2023-11-04 19:39:27 | Scott Stewart |
| 14 | 2023-11-10 03:02:21 | Stephanie Grant |
| 15 | 2023-11-04 14:30:04 | Marie Taylor |
| 16 | 2023-11-03 21:44:41 | Leah Knight |
| 17 | 2023-11-03 22:07:37 | Maria Mahoney |
| 18 | 2023-11-10 13:32:36 | Jazmin Usher |
| 19 | 2023-11-10 03:02:21 | Stephanie Grant |
| 20 | 2023-11-10 06:33:32 | Corrina Tekin |
| 21 | 2023-11-05 09:43:20 | D T |
| 22 | 2023-11-04 09:35:19 | Sarah Wilson |
| 23 | 2023-11-06 08:01:14 | Lisa Roberts |
| 24 | 2023-11-10 06:33:32 | Corrina Tekin |
| 25 | 2023-11-10 03:02:21 | Stephanie Grant |
| 26 | 2023-11-06 11:14:40 | Victoria Haslam |
| 27 | 2023-11-04 15:29:42 | Oliver Lucas |
| 28 | 2023-11-10 13:21:56 | Sarah T |
| 29 | 2023-11-03 21:44:41 | Leah Knight |
| 30 | 2023-11-05 17:37:02 | Katie Bastian |
| 31 | 2023-11-06 19:54:07 | Leanne Smith |
| 32 | 2023-11-09 18:54:44 | Leanne Pearce |
| 33 | 2023-11-07 11:50:21 | Matthew Tilley |
| 34 | 2023-11-09 18:54:44 | Leanne Pearce |
| 35 | 2023-11-10 16:14:22 | Nichola Brown |
| 36 | 2023-11-10 11:45:21 | Leanne Pearce |
| 37 | 2023-11-07 03:22:19 | D T |
| 38 | 2023-11-10 09:39:17 | Kirsty Kilkenny |
| 39 | 2023-11-10 17:45:20 | Jennifer Mccartney |
| 40 | 2023-11-10 13:32:36 | Jazmin Usher |
| 41 | 2023-11-10 09:13:17 | Terry-Ann Chase |
| 42 | 2023-11-10 17:12:10 | Jo Fry |
| 43 | 2023-11-10 16:46:48 | Kathryn Budd |
| 44 | 2023-11-10 14:51:04 | Marie Mckenna |
| 45 | 2023-11-10 16:54:56 | Melanie Bailey |
| 46 | 2023-11-10 15:50:25 | John Sutton |
| 47 | 2023-11-09 22:12:57 | Sarah Edwards |
| 48 | 2023-11-10 18:08:28 | Liam Chard-maple |
| 49 | 2023-11-10 15:53:13 | Nicky Howarth |
| 50 | 2023-11-04 19:17:11 | AGISH JOHNY |
| 51 | 2023-11-09 22:12:57 | Sarah Edwards |
| 53 | 2023-11-10 14:35:36 | Susan Graham |
| 54 | 2023-11-10 18:45:34 | Scott Milton |
| 55 | 2023-11-10 15:39:57 | Claire Lang |
| 56 | 2023-11-10 18:37:46 | S S |
| 58 | 2023-11-10 11:06:11 | James Yearling |
| 59 | 2023-11-10 02:37:22 | Kerry Saunders |
| 60 | 2023-11-10 18:52:40 | carrie Porter |
| 61 | 2023-11-10 11:00:31 | Tia Potter |
| 63 | 2023-11-10 11:45:21 | Leanne Pearce |
| 64 | 2023-11-10 11:54:37 | Carrie Williams |
| 65 | 2023-11-10 17:27:11 | Kevin Hayes |
| 66 | 2023-11-10 16:46:48 | Kathryn Budd |
| 68 | 2023-11-10 13:21:56 | Sarah T |
| 69 | 2023-11-07 03:22:19 | D T |
| 70 | 2023-11-04 11:12:39 | Vikki Major |
| 71 | 2023-11-03 19:06:31 | Schalk Buys |
| 73 | 2023-11-10 11:45:21 | Leanne Pearce |
| 74 | 2023-11-10 16:40:51 | Tom Hutson |
| 75 | 2023-11-10 18:22:37 | Jo Clayton |
| 76 | 2023-11-10 17:04:47 | Nancy stevens |
| 77 | 2023-11-09 21:33:16 | Abbie Tolson |
| 78 | 2023-11-10 18:08:28 | Liam Chard-maple |
| 81 | 2023-11-10 13:21:56 | Sarah T |
| 82 | 2023-11-10 07:58:50 | Cameron Thompson |
| 83 | 2023-11-10 11:06:11 | James Yearling |
| 84 | 2023-11-04 19:39:27 | Scott Stewart |
| 85 | 2023-11-10 14:44:34 | Lekel North |
| 86 | 2023-11-09 21:32:58 | Sarah Millington |
| 87 | 2023-11-06 11:14:40 | Victoria Haslam |
| 88 | 2023-11-10 17:38:58 | Tasha Cox |
| 90 | 2023-11-10 13:32:36 | Jazmin Usher |
| 92 | 2023-11-10 18:25:22 | Kurt Heryet |
| 93 | 2023-11-10 18:25:22 | Kurt Heryet |
| 94 | 2023-11-09 10:15:53 | Gemma MCGuirk |
| 98 | 2023-11-10 11:06:11 | James Yearling |
| 99 | 2023-11-10 15:21:24 | Khadine Coyle |
| 101 | 2023-11-05 00:10:03 | Kathryn Budd |
| 102 | 2023-11-10 18:15:10 | Martin Sercombe |
| 105 | 2023-11-10 18:30:31 | Sebastian C |
| 107 | 2023-11-09 19:15:42 | Vicky Rutherford |
| 108 | 2023-11-10 16:58:03 | Trudi Aitken |
| 109 | 2023-11-10 18:15:10 | Martin Sercombe |
| 110 | 2023-11-04 09:35:19 | Sarah Wilson |
| 111 | 2023-11-07 03:22:19 | D T |
| 112 | 2023-11-10 18:44:48 | Paige MacDonald |
| 114 | 2023-11-04 00:48:39 | Julie Maddock |
| 117 | 2023-11-10 17:35:03 | Ellen Southern |
| 118 | 2023-11-04 09:35:19 | Sarah Wilson |
| 119 | 2023-11-10 03:02:21 | Stephanie Grant |
| 121 | 2023-11-10 18:52:40 | carrie Porter |
| 122 | 2023-11-10 16:46:48 | Kathryn Budd |
| 123 | 2023-11-10 13:32:36 | Jazmin Usher |
| 124 | 2023-11-10 16:25:10 | Joanne Howse |
| 126 | 2023-11-10 18:48:50 | Darren Mclean |
| 127 | 2023-11-10 09:39:17 | Kirsty Kilkenny |
| 129 | 2023-11-09 20:10:12 | Karl Glover |
| 130 | 2023-11-05 19:48:13 | Michelle Prosho |
| 131 | 2023-11-10 18:59:21 | Amy Aggett |
| 132 | 2023-11-10 18:59:21 | Amy Aggett |
| 133 | 2023-11-10 18:59:21 | Amy Aggett |
| 134 | 2023-11-10 18:59:21 | Amy Aggett |
| 135 | 2023-11-10 18:59:21 | Amy Aggett |
| 136 | 2023-11-09 15:47:59 | Katy Fleming |
| 137 | 2023-11-06 19:54:07 | Leanne Smith |
| 138 | 2023-11-08 20:42:23 | David Smith |
| 141 | 2023-11-10 17:35:03 | Ellen Southern |
| 142 | 2023-11-08 20:42:23 | David Smith |
| 144 | 2023-11-10 17:28:38 | Sophie Moss |
| 145 | 2023-11-10 18:08:28 | Liam Chard-maple |
| 146 | 2023-11-10 13:21:47 | Natasha Roche |
| 148 | 2023-11-10 16:18:46 | Christine Swift |
| 152 | 2023-11-10 08:35:47 | sula quinn |
| 153 | 2023-11-10 16:40:12 | Stacie Merritt |
| 155 | 2023-11-10 15:04:29 | Loren Gunn |
| 157 | 2023-11-10 18:03:37 | Jay Brownie |
| 158 | 2023-11-10 18:03:37 | Jay Brownie |
| 164 | 2023-11-10 18:08:28 | Liam Chard-maple |
| 165 | 2023-11-10 16:58:03 | Trudi Aitken |
| 166 | 2023-11-10 11:06:11 | James Yearling |
| 167 | 2023-11-03 23:11:26 | Naomi still |
| 168 | 2023-11-10 18:08:28 | Liam Chard-maple |
| 169 | 2023-11-10 18:03:37 | Jay Brownie |
| 172 | 2023-11-03 18:29:42 | Sandra Ball |
| 174 | 2023-11-09 21:51:05 | Mark Rothwell |
| 180 | 2023-11-10 18:11:29 | JOSEPH PARTINGTON |
| 182 | 2023-11-08 12:08:36 | Carla Stephens |
| 183 | 2023-11-10 13:32:36 | Jazmin Usher |
| 184 | 2023-11-10 18:37:14 | Sarah Kidd |
| 188 | 2023-11-09 21:48:43 | Charlie Liley |
| 190 | 2023-11-10 16:25:10 | Joanne Howse |
| 192 | 2023-11-08 15:31:05 | Valerie Augusti |
| 193 | 2023-11-10 14:34:42 | Wendy Kelsall |
| 195 | 2023-11-10 18:03:37 | Jay Brownie |
| 198 | 2023-11-09 21:24:51 | Ashton Coles |
| 199 | 2023-11-10 17:04:55 | Eric Marsdon |
| 200 | 2023-11-10 09:13:17 | Terry-Ann Chase |
| 203 | 2023-11-03 18:50:00 | Tahlia Cook |
| 204 | 2023-11-10 16:54:58 | Andrew Stewart |
| 205 | 2023-11-10 18:48:50 | Darren Mclean |
| 206 | 2023-11-04 00:48:39 | Julie Maddock |
| 208 | 2023-11-09 23:13:38 | Stephen Mitchell |
| 209 | 2023-11-10 17:14:10 | Ray Burgess |
| 210 | 2023-11-10 14:02:32 | Sarah Woolway |
| 211 | 2023-11-03 19:12:34 | Sharon Saunders |
| 213 | 2023-11-06 19:54:07 | Leanne Smith |
| 217 | 2023-11-10 17:28:38 | Sophie Moss |
| 219 | 2023-11-05 14:02:08 | Sharon Saunders |
| 221 | 2023-11-10 13:29:46 | Terri Enever |
| 222 | 2023-11-04 14:30:04 | Marie Taylor |
| 223 | 2023-11-10 11:06:11 | James Yearling |
| 225 | 2023-11-05 11:23:24 | Jo Boat |
| 226 | 2023-11-10 17:04:55 | Eric Marsdon |
| 227 | 2023-11-10 17:33:30 | Oliver Lucas |
| 229 | 2023-11-10 18:44:48 | Paige MacDonald |
| 231 | 2023-11-10 18:37:14 | Sarah Kidd |
| 232 | 2023-11-10 14:59:25 | Martyna Pop |
| 234 | 2023-11-10 18:03:37 | Jay Brownie |
| 235 | 2023-11-09 23:58:02 | Jodie Ellis |
| 236 | 2023-11-07 16:31:10 | Claire saunders |
| 237 | 2023-11-05 00:08:45 | IAdam Taylor |
| 238 | 2023-11-10 18:08:28 | Liam Chard-maple |
| 240 | 2023-11-10 18:57:05 | Jodie Simpson |
| 241 | 2023-11-09 20:05:10 | Karen Procter |
| 242 | 2023-11-10 03:04:41 | Brendon Harris |
| 244 | 2023-11-08 17:23:14 | gayle willis |
| 245 | 2023-11-10 02:50:28 | Nicola Copley |
| 247 | 2023-11-06 15:31:14 | Sarah Wilson |
| 248 | 2023-11-10 18:48:50 | Darren Mclean |
| 249 | 2023-11-10 17:15:48 | Sarah Pridmore |
| 250 | 2023-11-10 18:15:10 | Martin Sercombe |
| 251 | 2023-11-10 18:03:37 | Jay Brownie |
| 252 | 2023-11-10 18:48:50 | Darren Mclean |
| 253 | 2023-11-10 18:08:28 | Liam Chard-maple |
| 254 | 2023-11-10 18:03:37 | Jay Brownie |
| 255 | 2023-11-10 16:46:48 | Kathryn Budd |
| 256 | 2023-11-10 18:53:31 | Brannon Claxton |
| 257 | 2023-11-10 18:42:15 | Beth Scott |
| 258 | 2023-11-10 00:32:36 | Georgia Harries |
| 259 | 2023-11-10 13:32:36 | Jazmin Usher |
| 260 | 2023-11-10 15:44:21 | zara Crowson |
| 261 | 2023-11-05 17:37:02 | Katie Bastian |
| 266 | 2023-11-10 16:49:52 | Hannah Bowen |
| 270 | 2023-11-05 19:08:12 | Anthony Boult |
| 273 | 2023-11-10 18:08:28 | Liam Chard-maple |
| 275 | 2023-11-10 18:43:23 | Adam Frost |
| 277 | 2023-11-10 16:49:52 | Hannah Bowen |
| 278 | 2023-11-05 00:10:03 | Kathryn Budd |
| 279 | 2023-11-10 18:54:40 | Lucy King |
| 282 | 2023-11-10 14:59:16 | Kym Dalziel |
| 283 | 2023-11-10 18:15:10 | Martin Sercombe |
| 287 | 2023-11-10 18:44:16 | Jill Vowden |
| 288 | 2023-11-04 13:19:49 | Sara White |
| 289 | 2023-11-09 22:01:04 | Hayley Coy |
| 292 | 2023-11-10 18:15:10 | Martin Sercombe |
| 294 | 2023-11-09 21:51:05 | Mark Rothwell |
| 295 | 2023-11-10 11:06:11 | James Yearling |
| 298 | 2023-11-10 11:06:11 | James Yearling |
| 300 | 2023-11-10 18:53:31 | Brannon Claxton |
| 302 | 2023-11-08 18:25:54 | Kimberley Chalk |
| 303 | 2023-11-10 13:32:36 | Jazmin Usher |
| 305 | 2023-11-10 18:26:59 | Martin Breslan |
| 306 | 2023-11-10 18:20:04 | Matthew Davey |
| 308 | 2023-11-10 16:44:16 | Ian Specter |
| 309 | 2023-11-09 18:20:20 | Kevin Stothard |
| 310 | 2023-11-09 20:10:12 | Karl Glover |
| 315 | 2023-11-10 17:35:03 | Ellen Southern |
| 316 | 2023-11-03 19:12:34 | Sharon Saunders |
| 318 | 2023-11-10 11:06:11 | James Yearling |
| 319 | 2023-11-10 18:03:37 | Jay Brownie |
| 323 | 2023-11-10 17:45:20 | Jennifer Mccartney |
| 324 | 2023-11-10 11:06:11 | James Yearling |
| 325 | 2023-11-09 21:48:43 | Charlie Liley |
| 327 | 2023-11-10 09:05:35 | Emma & lee |
| 331 | 2023-11-10 17:28:38 | Sophie Moss |
| 333 | 2023-11-10 11:06:11 | James Yearling |
| 334 | 2023-11-10 17:57:53 | Linda Pearcey |
| 335 | 2023-11-08 21:59:03 | Jo Kestell |
| 339 | 2023-11-10 11:06:11 | James Yearling |
| 342 | 2023-11-10 18:15:10 | Martin Sercombe |
| 343 | 2023-11-10 14:16:01 | sarah pates |
| 345 | 2023-11-09 21:57:30 | Vikki Laws |
| 346 | 2023-11-10 16:58:18 | Mark Mansfield |
| 349 | 2023-11-10 17:04:55 | Eric Marsdon |
| 350 | 2023-11-10 13:29:46 | Terri Enever |
| 355 | 2023-11-10 18:18:52 | Lorraine Williams |
| 356 | 2023-11-10 14:59:25 | Martyna Pop |
| 357 | 2023-11-10 06:33:32 | Corrina Tekin |
| 358 | 2023-11-10 18:53:31 | Brannon Claxton |
| 359 | 2023-11-10 16:36:44 | Aron Rich |
| 360 | 2023-11-09 21:10:24 | Scott Gardner |
| 361 | 2023-11-10 18:47:07 | Mark Astin |
| 362 | 2023-11-03 19:06:31 | Schalk Buys |
| 363 | 2023-11-10 18:03:37 | Jay Brownie |
| 364 | 2023-11-03 17:18:26 | Nigel Rawles |
| 365 | 2023-11-10 18:40:56 | Jo Derrane |
| 367 | 2023-11-10 18:44:48 | Paige MacDonald |
| 369 | 2023-11-04 09:35:19 | Sarah Wilson |
| 373 | 2023-11-10 18:08:28 | Liam Chard-maple |
| 378 | 2023-11-09 18:12:31 | Amanda Hamilton |
| 379 | 2023-11-04 14:11:40 | Bj M |
| 382 | 2023-11-09 17:58:38 | Ian Craig |
| 383 | 2023-11-07 10:02:06 | Kimberley Hallett |
| 385 | 2023-11-10 18:08:28 | Liam Chard-maple |
| 387 | 2023-11-03 18:47:16 | Claire Cockram |
| 389 | 2023-11-03 19:06:31 | Schalk Buys |
| 392 | 2023-11-10 18:08:28 | Liam Chard-maple |
| 394 | 2023-11-10 18:21:47 | Amy Rabone |
| 395 | 2023-11-10 18:03:37 | Jay Brownie |
| 398 | 2023-11-10 16:46:48 | Kathryn Budd |
| 399 | 2023-11-10 02:37:22 | Kerry Saunders |
| 400 | 2023-11-05 00:10:03 | Kathryn Budd |