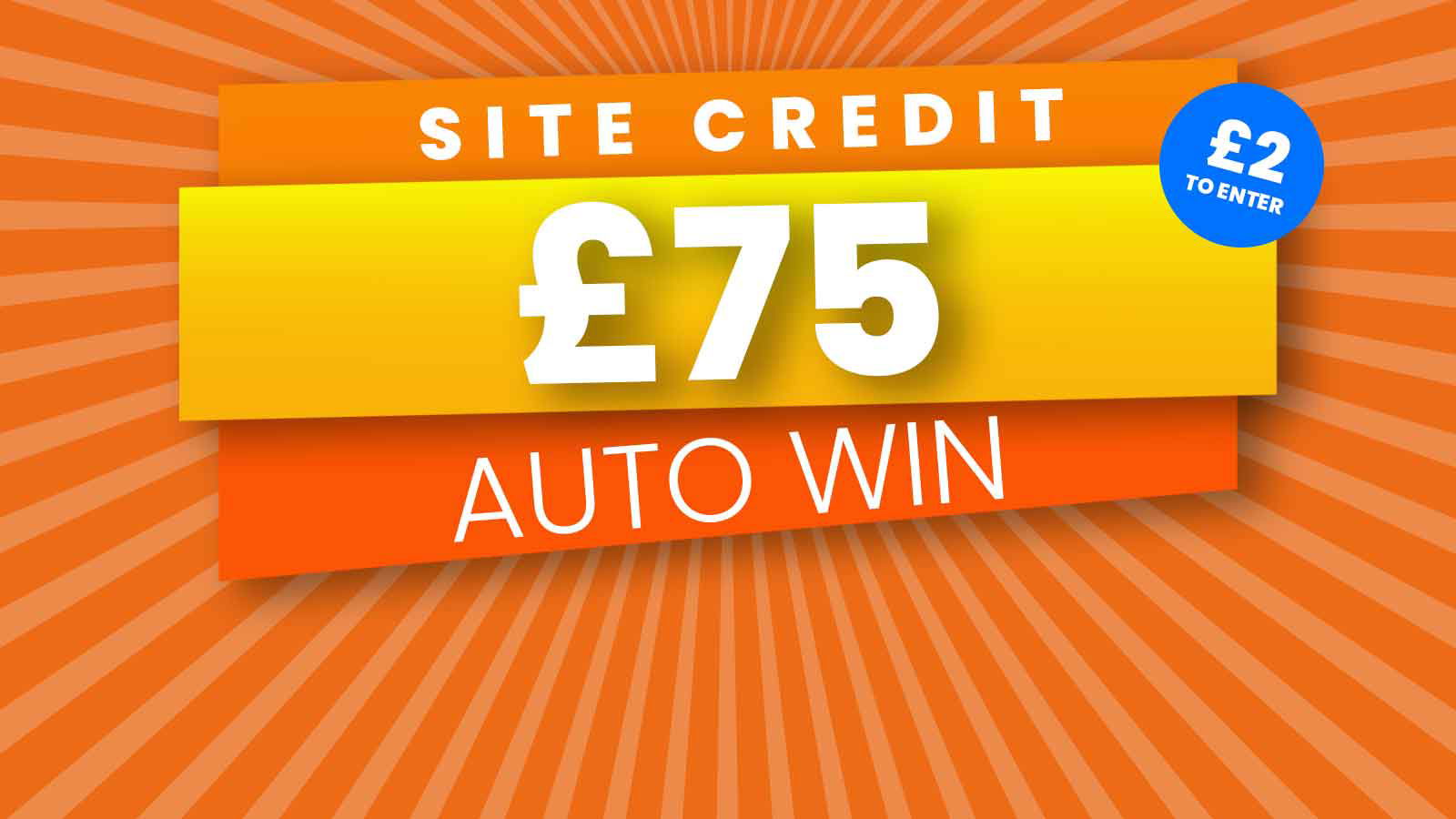 AUTO WIN – £75 SITE CREDIT – FRIDAY 23/9
Description
What would you spend £75 site credit on? You can spend it on ANY of our competitions.
The winner will be paid right after the draw is complete.
This is an auto win draw. Once the tickets are all sold or the count down timer reacher zero then a winner is automatically selected.
There is no live draw for this competition.
Good luck.
Don't forget to follow our facebook group and page for draw updates:
| Winner Name | Ticket Number | Draw Date |
| --- | --- | --- |
| James McArthur | 4 | 23/09/2022 |
| Ticket Number | Date | Name |
| --- | --- | --- |
| 1 | 2022-09-23 21:31:01 | Patricia Clarkson |
| 2 | 2022-09-23 01:27:22 | Caroline Stemp |
| 3 | 2022-09-23 14:33:22 | L G M |
| 4 | 2022-09-23 14:33:13 | James McArthur |
| 5 | 2022-09-21 22:46:30 | Louise Davis |
| 6 | 2022-09-23 20:49:36 | Nichola Martin |
| 7 | 2022-09-23 09:04:10 | phyllis steer |
| 8 | 2022-09-23 12:20:11 | Jodie Ellis |
| 9 | 2022-09-23 17:58:43 | Lindsey Roberts |
| 10 | 2022-09-23 12:16:19 | Sonia Holden |
| 11 | 2022-09-23 18:27:07 | Jonny Boy |
| 12 | 2022-09-23 19:20:11 | Annette M |
| 13 | 2022-09-23 21:10:31 | Da Ni |
| 14 | 2022-09-23 21:51:26 | Jessica Foster |
| 15 | 2022-09-23 09:54:56 | Jodie Ellis |
| 16 | 2022-09-23 12:20:11 | Jodie Ellis |
| 18 | 2022-09-23 18:34:07 | Sharon White |
| 19 | 2022-09-23 20:47:58 | Christina Williams |
| 20 | 2022-09-23 21:03:06 | Agnes Newman |
| 21 | 2022-09-23 13:42:58 | Lisa Roberts |
| 23 | 2022-09-23 09:38:04 | g Mv |
| 24 | 2022-09-23 13:44:13 | g Mv |
| 25 | 2022-09-23 21:31:01 | Patricia Clarkson |
| 26 | 2022-09-23 19:20:11 | Annette M |
| 28 | 2022-09-23 14:25:07 | Kaydee West |
| 29 | 2022-09-23 06:53:03 | Ben Stocker |
| 30 | 2022-09-23 21:57:18 | Cameron Thompson |
| 31 | 2022-09-23 20:32:31 | Tara Evans |
| 32 | 2022-09-23 18:55:17 | Nicky D |
| 33 | 2022-09-23 12:16:19 | Sonia Holden |
| 34 | 2022-09-23 17:32:06 | Chris Wills |
| 35 | 2022-09-23 15:10:18 | Jackie Maunder |
| 36 | 2022-09-23 20:45:17 | Rachel Gardiner |
| 37 | 2022-09-23 17:32:06 | Chris Wills |
| 39 | 2022-09-23 21:08:48 | marion clark |
| 41 | 2022-09-23 15:10:18 | Jackie Maunder |
| 42 | 2022-09-23 20:49:36 | Nichola Martin |
| 43 | 2022-09-23 19:20:11 | Annette M |
| 46 | 2022-09-23 15:10:18 | Jackie Maunder |
| 47 | 2022-09-23 12:16:19 | Sonia Holden |
| 49 | 2022-09-22 15:46:39 | Karen Shinner |
| 51 | 2022-09-23 09:56:55 | Jodie Ellis |
| 52 | 2022-09-23 10:50:33 | L G M |
| 53 | 2022-09-23 21:08:48 | marion clark |
| 54 | 2022-09-23 09:04:10 | phyllis steer |
| 55 | 2022-09-23 18:41:34 | Mandy Cove |
| 57 | 2022-09-23 15:10:18 | Jackie Maunder |
| 58 | 2022-09-23 19:20:11 | Annette M |
| 59 | 2022-09-23 18:50:38 | Jess Ellis |
| 60 | 2022-09-23 18:01:44 | Moira stokes |
| 62 | 2022-09-23 14:25:07 | Kaydee West |
| 64 | 2022-09-23 15:10:18 | Jackie Maunder |
| 65 | 2022-09-23 12:16:19 | Sonia Holden |
| 66 | 2022-09-23 12:16:19 | Sonia Holden |
| 67 | 2022-09-23 20:29:48 | Denise Barry |
| 68 | 2022-09-23 09:21:08 | Emma Davies |
| 69 | 2022-09-23 20:45:17 | Rachel Gardiner |
| 70 | 2022-09-22 22:46:04 | Marc Baker |
| 71 | 2022-09-23 09:38:04 | g Mv |
| 72 | 2022-09-23 19:20:11 | Annette M |
| 73 | 2022-09-23 11:31:24 | Lucinda Massey |
| 74 | 2022-09-23 20:38:58 | Rachel Williams |
| 75 | 2022-09-23 17:58:43 | Lindsey Roberts |