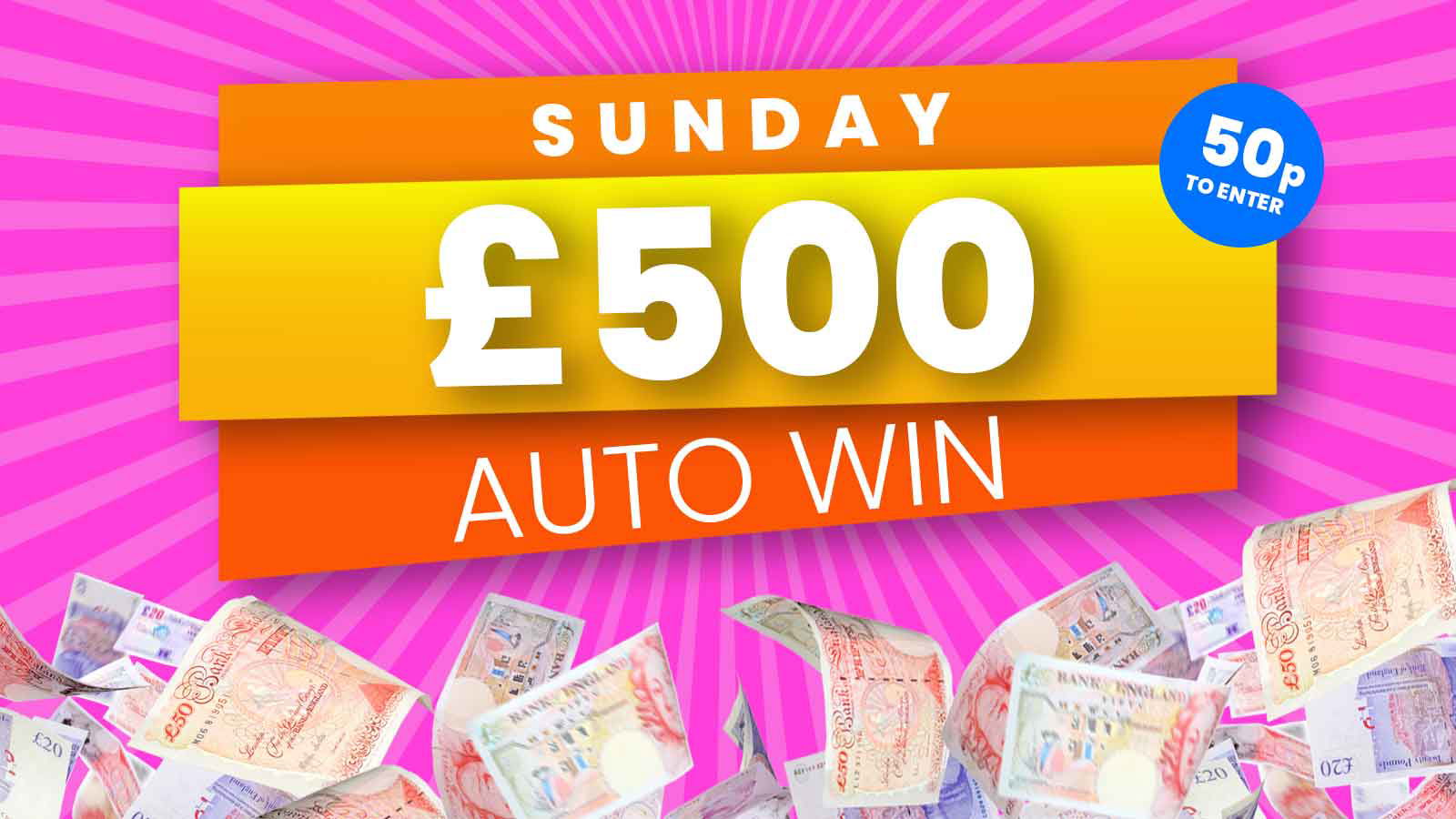 AUTO WIN £500 CASH FOR 50P – SUNDAY 30/10
Description
How amazing would it be having an extra £500 in your pocket? How good would you feel?
What would you spend your windfall on?
The winner will be paid right after the draw is complete.
This is an auto win draw. Once the tickets are all sold or the count down timer reacher zero then a winner is automatically selected.
There is no live draw for this competition.
Good luck.
Don't forget to follow our facebook group and page for draw updates:
| Winner Name | Ticket Number | Draw Date |
| --- | --- | --- |
| Sophia Poolton | 867 | 30/10/2022 |
1-200
201-400
401-600
601-800
801-1000
1001-1200
1201-1400
1401-1600
1601-1800
1801-2000
| Ticket Number | Date | Name |
| --- | --- | --- |
| 1 | 2022-10-28 09:22:36 | jan blackler |
| 2 | 2022-10-28 16:55:16 | Suzi Gooding |
| 3 | 2022-10-29 11:01:51 | C Honey |
| 4 | 2022-10-28 21:59:18 | Becci Vayle |
| 5 | 2022-10-29 11:01:51 | C Honey |
| 6 | 2022-10-28 21:41:30 | Katy Petrie |
| 7 | 2022-10-28 10:56:31 | Helen Holloway |
| 8 | 2022-10-28 10:56:31 | Helen Holloway |
| 9 | 2022-10-29 11:01:51 | C Honey |
| 10 | 2022-10-28 17:22:29 | Tracey Hardman |
| 11 | 2022-10-28 10:56:31 | Helen Holloway |
| 12 | 2022-10-28 21:41:30 | Katy Petrie |
| 13 | 2022-10-28 16:55:16 | Suzi Gooding |
| 14 | 2022-10-29 13:52:22 | Claire Lou |
| 15 | 2022-10-28 23:39:24 | Chericce Giles |
| 16 | 2022-10-29 19:29:36 | Lewis Joyce |
| 17 | 2022-10-28 08:54:23 | Charlotte Jones |
| 18 | 2022-10-30 10:33:18 | Martin Pinkney |
| 19 | 2022-10-28 15:41:10 | Ellie Bridge |
| 20 | 2022-10-30 11:15:00 | Amanda Wilton |
| 21 | 2022-10-27 19:36:16 | LJ Storer |
| 22 | 2022-10-27 19:36:16 | LJ Storer |
| 23 | 2022-10-27 19:36:16 | LJ Storer |
| 24 | 2022-10-29 15:07:11 | Emma Louise |
| 25 | 2022-10-29 19:29:36 | Lewis Joyce |
| 26 | 2022-10-30 14:58:31 | Emma Lewis |
| 27 | 2022-10-28 12:06:53 | Sally Tucker |
| 28 | 2022-10-28 10:56:31 | Helen Holloway |
| 29 | 2022-10-28 10:56:31 | Helen Holloway |
| 30 | 2022-10-28 09:22:36 | jan blackler |
| 31 | 2022-10-30 17:08:04 | Debbie Nichols |
| 32 | 2022-10-29 19:29:36 | Lewis Joyce |
| 33 | 2022-10-30 17:36:42 | Helen Rush |
| 34 | 2022-10-28 12:17:00 | Ann Fowler |
| 35 | 2022-10-30 15:19:40 | Rachel Scott |
| 36 | 2022-10-30 16:39:19 | Jamail Akhtar |
| 37 | 2022-10-29 11:01:51 | C Honey |
| 38 | 2022-10-29 11:01:51 | C Honey |
| 39 | 2022-10-30 11:11:19 | Cherie Johns |
| 40 | 2022-10-30 18:46:50 | Sharon Hobday |
| 41 | 2022-10-30 11:43:45 | Simon Soper |
| 42 | 2022-10-29 13:04:11 | Carolyne Harper |
| 43 | 2022-10-30 09:07:41 | Stephanie Bush |
| 44 | 2022-10-28 21:59:18 | Becci Vayle |
| 45 | 2022-10-30 15:19:40 | Rachel Scott |
| 46 | 2022-10-29 20:44:50 | C C |
| 47 | 2022-10-30 11:52:11 | Kathleen Starling |
| 48 | 2022-10-28 10:56:31 | Helen Holloway |
| 49 | 2022-10-30 18:44:22 | Anita Passmore |
| 50 | 2022-10-29 19:29:36 | Lewis Joyce |
| 51 | 2022-10-30 18:46:50 | Sharon Hobday |
| 52 | 2022-10-29 13:04:11 | Carolyne Harper |
| 53 | 2022-10-30 14:22:48 | Khadine Coyle |
| 54 | 2022-10-30 18:46:50 | Sharon Hobday |
| 55 | 2022-10-29 23:47:53 | Anita Maj |
| 56 | 2022-10-30 18:43:43 | Karen Hine |
| 57 | 2022-10-30 16:39:19 | Jamail Akhtar |
| 58 | 2022-10-30 11:49:05 | Emma Bray |
| 59 | 2022-10-30 12:43:51 | D Dixon |
| 60 | 2022-10-28 20:38:51 | Jen Bush |
| 61 | 2022-10-30 15:19:40 | Rachel Scott |
| 62 | 2022-10-29 13:52:22 | Claire Lou |
| 63 | 2022-10-30 00:14:47 | Laura Mc |
| 64 | 2022-10-30 18:46:50 | Sharon Hobday |
| 65 | 2022-10-30 11:10:10 | Colin Moore |
| 66 | 2022-10-28 12:41:08 | Christopher Wannell |
| 67 | 2022-10-30 10:26:28 | Cassia Lenanton |
| 68 | 2022-10-30 10:26:28 | Cassia Lenanton |
| 69 | 2022-10-28 17:22:29 | Tracey Hardman |
| 70 | 2022-10-30 18:46:50 | Sharon Hobday |
| 71 | 2022-10-30 07:11:57 | Jade Haley |
| 72 | 2022-10-29 21:34:22 | Ellen Wheatley |
| 73 | 2022-10-29 19:29:36 | Lewis Joyce |
| 74 | 2022-10-28 20:38:51 | Jen Bush |
| 75 | 2022-10-30 18:46:50 | Sharon Hobday |
| 76 | 2022-10-29 19:29:36 | Lewis Joyce |
| 77 | 2022-10-29 18:14:26 | Mark Lofthouse |
| 78 | 2022-10-30 18:16:16 | Leanne Barlow |
| 79 | 2022-10-30 12:41:26 | Michelle Wilson |
| 80 | 2022-10-28 22:53:38 | Kym Dalziel |
| 81 | 2022-10-30 15:56:51 | Tyler Baker |
| 82 | 2022-10-30 18:46:50 | Sharon Hobday |
| 83 | 2022-10-30 09:38:38 | Jodie Ellis |
| 84 | 2022-10-30 00:14:47 | Laura Mc |
| 85 | 2022-10-30 18:46:50 | Sharon Hobday |
| 86 | 2022-10-30 15:19:40 | Rachel Scott |
| 87 | 2022-10-30 10:26:28 | Cassia Lenanton |
| 88 | 2022-10-28 10:56:31 | Helen Holloway |
| 89 | 2022-10-30 10:26:28 | Cassia Lenanton |
| 90 | 2022-10-30 04:11:14 | Holly Ring |
| 91 | 2022-10-30 07:11:57 | Jade Haley |
| 92 | 2022-10-29 21:25:38 | Rebecca Boorer |
| 93 | 2022-10-30 18:46:50 | Sharon Hobday |
| 94 | 2022-10-29 06:59:46 | Rebecca Smith |
| 95 | 2022-10-30 18:06:59 | Nicola Naylor |
| 96 | 2022-10-30 18:42:03 | Lisa Cannon |
| 97 | 2022-10-30 14:58:31 | Emma Lewis |
| 98 | 2022-10-28 10:56:31 | Helen Holloway |
| 99 | 2022-10-29 18:14:26 | Mark Lofthouse |
| 100 | 2022-10-30 18:46:50 | Sharon Hobday |
| 101 | 2022-10-29 23:37:17 | Lydia Comber |
| 102 | 2022-10-30 05:42:55 | Jordan Armstrong |
| 103 | 2022-10-29 18:14:26 | Mark Lofthouse |
| 104 | 2022-10-30 10:33:18 | Martin Pinkney |
| 105 | 2022-10-30 18:36:45 | N C |
| 106 | 2022-10-30 10:26:28 | Cassia Lenanton |
| 107 | 2022-10-29 20:38:23 | Sophie Beasley |
| 108 | 2022-10-28 10:56:31 | Helen Holloway |
| 109 | 2022-10-30 09:38:22 | nicci hilson |
| 110 | 2022-10-29 18:14:26 | Mark Lofthouse |
| 111 | 2022-10-30 18:06:59 | Nicola Naylor |
| 112 | 2022-10-30 18:06:59 | Nicola Naylor |
| 113 | 2022-10-30 01:52:53 | Suzanne Riddock |
| 114 | 2022-10-29 06:59:46 | Rebecca Smith |
| 115 | 2022-10-30 12:43:51 | D Dixon |
| 116 | 2022-10-30 12:55:37 | Natalie D |
| 117 | 2022-10-28 08:54:23 | Charlotte Jones |
| 118 | 2022-10-29 18:14:26 | Mark Lofthouse |
| 119 | 2022-10-29 16:55:44 | Sharon Small |
| 120 | 2022-10-29 23:37:17 | Lydia Comber |
| 121 | 2022-10-30 18:46:50 | Sharon Hobday |
| 122 | 2022-10-30 11:15:00 | Amanda Wilton |
| 123 | 2022-10-30 17:44:32 | Dana Kiddle |
| 124 | 2022-10-30 15:56:51 | Tyler Baker |
| 125 | 2022-10-28 13:17:38 | Stephanie Jackson |
| 126 | 2022-10-30 17:00:13 | Amy Hutchings |
| 127 | 2022-10-28 10:56:31 | Helen Holloway |
| 128 | 2022-10-28 10:56:31 | Helen Holloway |
| 129 | 2022-10-28 21:41:30 | Katy Petrie |
| 130 | 2022-10-30 18:06:59 | Nicola Naylor |
| 131 | 2022-10-30 11:20:38 | Louise Williams |
| 132 | 2022-10-30 17:41:01 | Caroline Stemp |
| 133 | 2022-10-30 18:46:50 | Sharon Hobday |
| 134 | 2022-10-30 18:46:50 | Sharon Hobday |
| 135 | 2022-10-30 18:46:50 | Sharon Hobday |
| 136 | 2022-10-30 18:08:25 | Elaine Lerwill |
| 137 | 2022-10-30 18:46:50 | Sharon Hobday |
| 138 | 2022-10-30 18:46:50 | Sharon Hobday |
| 139 | 2022-10-30 18:06:59 | Nicola Naylor |
| 140 | 2022-10-30 18:46:50 | Sharon Hobday |
| 141 | 2022-10-30 12:43:51 | D Dixon |
| 142 | 2022-10-30 18:43:54 | Simon Busst |
| 143 | 2022-10-27 21:53:17 | Karen Raybone |
| 144 | 2022-10-30 16:47:45 | Maria Mccallam |
| 145 | 2022-10-30 10:57:38 | Kelly Dodd |
| 146 | 2022-10-30 18:36:45 | N C |
| 147 | 2022-10-30 10:26:28 | Cassia Lenanton |
| 148 | 2022-10-30 18:46:50 | Sharon Hobday |
| 149 | 2022-10-30 17:36:42 | Helen Rush |
| 150 | 2022-10-30 18:46:50 | Sharon Hobday |
| 151 | 2022-10-30 18:46:50 | Sharon Hobday |
| 152 | 2022-10-30 17:46:27 | Melonie Jeffery |
| 153 | 2022-10-30 18:46:50 | Sharon Hobday |
| 154 | 2022-10-30 17:36:42 | Helen Rush |
| 155 | 2022-10-30 11:11:19 | Cherie Johns |
| 156 | 2022-10-30 18:46:50 | Sharon Hobday |
| 157 | 2022-10-30 18:27:13 | Elaine Lipscombe |
| 158 | 2022-10-30 15:01:17 | Curtis Timms |
| 159 | 2022-10-30 15:40:43 | Sarah Deakin |
| 160 | 2022-10-30 18:46:50 | Sharon Hobday |
| 161 | 2022-10-30 11:02:59 | Tara Evans |
| 162 | 2022-10-30 18:46:50 | Sharon Hobday |
| 163 | 2022-10-28 12:06:53 | Sally Tucker |
| 164 | 2022-10-30 18:46:50 | Sharon Hobday |
| 165 | 2022-10-30 15:43:25 | Tracey Rea |
| 166 | 2022-10-30 08:20:36 | Mark Lofthouse |
| 167 | 2022-10-30 16:39:19 | Jamail Akhtar |
| 168 | 2022-10-30 16:39:48 | Megan Gribbon |
| 169 | 2022-10-29 13:04:11 | Carolyne Harper |
| 170 | 2022-10-30 18:14:16 | Sean Barratt |
| 171 | 2022-10-29 20:39:31 | Emma Stronach |
| 172 | 2022-10-29 21:34:22 | Ellen Wheatley |
| 173 | 2022-10-29 16:55:44 | Sharon Small |
| 174 | 2022-10-30 18:46:50 | Sharon Hobday |
| 175 | 2022-10-30 12:36:45 | Karen Wilson |
| 176 | 2022-10-29 21:34:22 | Ellen Wheatley |
| 177 | 2022-10-30 17:14:59 | Daniel Smith |
| 178 | 2022-10-30 18:43:21 | Lisa Cannon |
| 179 | 2022-10-30 18:42:03 | Lisa Cannon |
| 180 | 2022-10-30 18:46:50 | Sharon Hobday |
| 181 | 2022-10-30 10:11:39 | Raymond Burgess |
| 182 | 2022-10-30 18:46:50 | Sharon Hobday |
| 183 | 2022-10-30 08:20:36 | Mark Lofthouse |
| 184 | 2022-10-29 16:31:59 | Fiona turnbull |
| 185 | 2022-10-27 22:24:36 | Rachel Drake |
| 186 | 2022-10-27 22:24:36 | Rachel Drake |
| 187 | 2022-10-27 22:24:36 | Rachel Drake |
| 188 | 2022-10-27 22:24:36 | Rachel Drake |
| 189 | 2022-10-27 22:24:36 | Rachel Drake |
| 190 | 2022-10-27 22:24:36 | Rachel Drake |
| 191 | 2022-10-27 22:24:36 | Rachel Drake |
| 192 | 2022-10-27 22:24:36 | Rachel Drake |
| 193 | 2022-10-27 22:24:36 | Rachel Drake |
| 194 | 2022-10-27 22:24:36 | Rachel Drake |
| 195 | 2022-10-27 22:24:36 | Rachel Drake |
| 196 | 2022-10-27 22:24:36 | Rachel Drake |
| 197 | 2022-10-30 18:46:50 | Sharon Hobday |
| 198 | 2022-10-30 18:46:50 | Sharon Hobday |
| 199 | 2022-10-28 15:41:10 | Ellie Bridge |
| 200 | 2022-10-30 12:41:26 | Michelle Wilson |