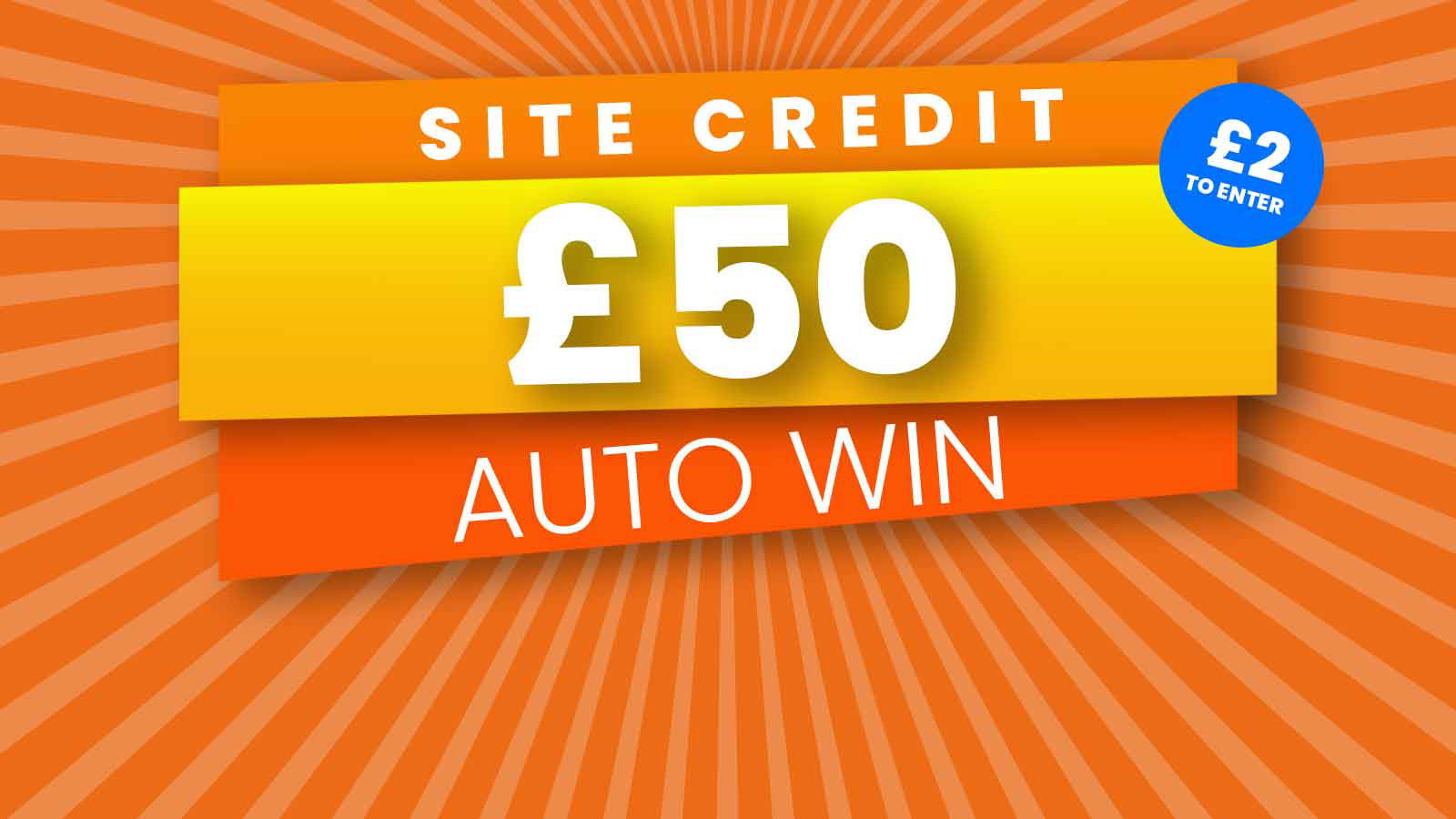 AUTO WIN – £50 SITE CREDIT – SUNDAY 11/9
Description
How would you like to win £50 site credit so spend on ANY of the live competitions?
How do the auto win competitions work?
Once the tickets are all sold or the competition timer runs out then a winner is automatically selected from the entry list. We will never extend a competition.
The winner will be contacted after the draw and the money will be paid into their account.
Good luck
| Winner Name | Ticket Number | Draw Date |
| --- | --- | --- |
| Nicola Farley | 14 | 11/09/2022 |
| Ticket Number | Date | Name |
| --- | --- | --- |
| 1 | 2022-09-11 11:04:10 | Jackie Maunder |
| 2 | 2022-09-10 10:38:41 | Sonia Holden |
| 3 | 2022-09-11 10:23:35 | Jeanette Anderson |
| 4 | 2022-09-10 10:38:41 | Sonia Holden |
| 5 | 2022-09-10 10:58:26 | Rachel Salloway |
| 6 | 2022-09-11 12:28:00 | C J |
| 7 | 2022-09-11 07:38:42 | Elaine Lipscombe |
| 8 | 2022-09-11 11:04:10 | Jackie Maunder |
| 9 | 2022-09-10 11:54:05 | phyllis steer |
| 10 | 2022-09-11 12:13:31 | Kelly Parker |
| 11 | 2022-09-11 12:23:04 | Jodie Ellis |
| 12 | 2022-09-11 12:00:05 | Chris Carr |
| 13 | 2022-09-10 16:49:09 | Jane Hasni |
| 14 | 2022-09-11 10:49:45 | Nicola Farley |
| 15 | 2022-09-10 11:54:05 | phyllis steer |
| 16 | 2022-09-10 10:38:41 | Sonia Holden |
| 17 | 2022-09-11 12:24:05 | Jennifer Lightfoot |
| 18 | 2022-09-09 09:09:24 | Joseph Clifford |
| 19 | 2022-09-11 11:18:41 | Emma L |
| 20 | 2022-09-11 12:23:04 | Jodie Ellis |
| 21 | 2022-09-10 10:38:41 | Sonia Holden |
| 22 | 2022-09-11 11:42:51 | Lisa Roberts |
| 23 | 2022-09-10 22:42:53 | Lucy Mulligan |
| 24 | 2022-09-11 08:55:56 | Caroline Stemp |
| 25 | 2022-09-11 12:25:46 | Jodie Ellis |
| 26 | 2022-09-11 10:23:35 | Jeanette Anderson |
| 27 | 2022-09-09 07:44:53 | Suzette Dodson-Rouse |
| 28 | 2022-09-11 08:23:26 | Rachel Salloway |
| 29 | 2022-09-10 07:53:04 | Clive Moxhay |
| 30 | 2022-09-10 19:58:02 | g Mv |
| 31 | 2022-09-10 22:58:02 | Roxanne Hill |
| 32 | 2022-09-10 17:26:10 | Joseph Clifford |
| 33 | 2022-09-11 12:28:00 | C J |
| 34 | 2022-09-10 20:32:11 | Peggy Phillips |
| 35 | 2022-09-10 20:32:11 | Peggy Phillips |
| 36 | 2022-09-10 19:58:02 | g Mv |
| 37 | 2022-09-11 04:46:48 | g Mv |
| 38 | 2022-09-11 08:23:26 | Rachel Salloway |
| 39 | 2022-09-11 12:00:05 | Chris Carr |
| 40 | 2022-09-10 18:45:27 | Clive Moxhay |
| 41 | 2022-09-11 12:25:46 | Jodie Ellis |
| 42 | 2022-09-10 22:42:53 | Lucy Mulligan |
| 43 | 2022-09-11 08:23:26 | Rachel Salloway |
| 44 | 2022-09-11 01:52:53 | Emma Davies |
| 45 | 2022-09-11 08:23:26 | Rachel Salloway |
| 46 | 2022-09-11 12:01:08 | Sharon Longbottom |
| 47 | 2022-09-10 10:38:41 | Sonia Holden |
| 48 | 2022-09-10 22:43:46 | Marie West |
| 49 | 2022-09-11 11:04:10 | Jackie Maunder |
| 50 | 2022-09-11 11:58:12 | Carly King |