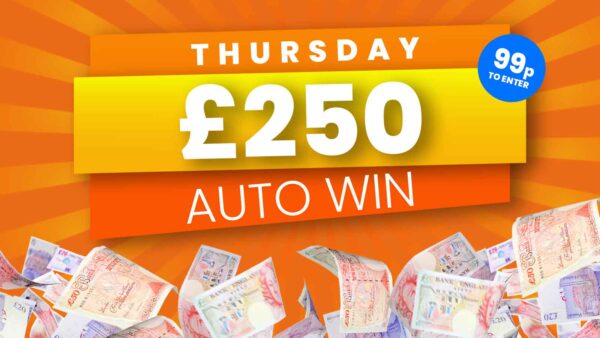 AUTO WIN – £250 CASH for 99p – THURSDAY 21/9
Description
Got a spare 99p? You could turn that into £250.
No live draw. Once the tickets are sold or the timer finishes (whichever happens first) a winner is automatically selected.
The winner will be contacted and the money will be paid into their bank account.
What would you spend £250 on?
Good luck
| Winner Name | Ticket Number | Draw Date |
| --- | --- | --- |
| Claire Baker | 384 | 22/09/2022 |
| Ticket Number | Date | Name |
| --- | --- | --- |
| 1 | 2022-09-21 23:29:42 | Riddock Suzanne |
| 2 | 2022-09-22 13:17:18 | Nicola Naylor |
| 3 | 2022-09-22 07:14:32 | Jo Butcher |
| 4 | 2022-09-22 12:06:57 | Becci Vayle |
| 5 | 2022-09-22 11:25:33 | Linda Beer |
| 6 | 2022-09-21 23:29:42 | Riddock Suzanne |
| 7 | 2022-09-22 13:17:18 | Nicola Naylor |
| 8 | 2022-09-22 04:59:47 | Riddock Suzanne |
| 9 | 2022-09-22 06:28:42 | Dale Talbot |
| 10 | 2022-09-22 04:59:47 | Riddock Suzanne |
| 11 | 2022-09-22 00:32:15 | maher Victoria |
| 12 | 2022-09-22 11:51:32 | Danielle Cottell |
| 13 | 2022-09-21 23:29:42 | Riddock Suzanne |
| 14 | 2022-09-22 09:13:44 | charlotte parnell |
| 15 | 2022-09-22 12:16:05 | Mandy Cove |
| 16 | 2022-09-22 17:25:58 | Kayleigh Skinner |
| 17 | 2022-09-22 04:59:47 | Riddock Suzanne |
| 18 | 2022-09-22 04:59:47 | Riddock Suzanne |
| 19 | 2022-09-21 23:29:42 | Riddock Suzanne |
| 20 | 2022-09-22 04:59:47 | Riddock Suzanne |
| 21 | 2022-09-17 15:50:05 | Lisa Roberts |
| 22 | 2022-09-22 04:59:47 | Riddock Suzanne |
| 23 | 2022-09-22 11:25:33 | Linda Beer |
| 24 | 2022-09-22 08:31:28 | Emma Louise |
| 25 | 2022-09-22 17:06:12 | C J |
| 26 | 2022-09-21 22:47:25 | Rachel Salloway |
| 27 | 2022-09-22 11:15:13 | Annette M |
| 28 | 2022-09-22 10:57:53 | Charlotte Leckie |
| 29 | 2022-09-22 08:20:41 | Anita Passmore |
| 30 | 2022-09-22 12:11:08 | L G M |
| 31 | 2022-09-22 12:11:08 | L G M |
| 32 | 2022-09-22 14:27:15 | Thalia Heard |
| 33 | 2022-09-22 13:17:18 | Nicola Naylor |
| 34 | 2022-09-22 18:10:05 | Lucky Devil |
| 35 | 2022-09-22 13:38:58 | Melanie jackson Jackson |
| 36 | 2022-09-22 15:59:19 | Nicola Naylor |
| 37 | 2022-09-22 11:25:33 | Linda Beer |
| 38 | 2022-09-21 23:00:18 | Jessica Stapley |
| 39 | 2022-09-22 11:25:33 | Linda Beer |
| 40 | 2022-09-22 10:12:00 | Jodie Ellis |
| 41 | 2022-09-22 13:11:45 | Esme Kershaw |
| 42 | 2022-09-21 22:06:26 | L G M |
| 43 | 2022-09-22 17:58:03 | Nikki Keetch |
| 44 | 2022-09-22 07:35:32 | Joseph Clifford |
| 45 | 2022-09-22 16:43:11 | Joanne Stewart |
| 46 | 2022-09-22 14:32:24 | Donna Heardson |
| 47 | 2022-09-22 11:50:20 | Alice Fell |
| 48 | 2022-09-22 15:59:19 | Nicola Naylor |
| 49 | 2022-09-21 23:29:42 | Riddock Suzanne |
| 50 | 2022-09-21 23:29:42 | Riddock Suzanne |
| 51 | 2022-09-22 04:16:03 | Sonia Holden |
| 52 | 2022-09-22 18:10:05 | Lucky Devil |
| 53 | 2022-09-22 13:17:18 | Nicola Naylor |
| 54 | 2022-09-22 17:06:12 | C J |
| 55 | 2022-09-22 17:06:12 | C J |
| 56 | 2022-09-22 10:29:24 | Lisa Pickersgill |
| 57 | 2022-09-22 07:19:22 | Raymond Burgess |
| 58 | 2022-09-22 18:07:33 | Caroline Stemp |
| 59 | 2022-09-22 13:19:33 | Ivana Plankova |
| 60 | 2022-09-22 18:12:16 | Kirsty Westy |
| 61 | 2022-09-22 18:07:33 | Caroline Stemp |
| 62 | 2022-09-22 11:51:32 | Danielle Cottell |
| 63 | 2022-09-22 11:04:07 | Adele Castle |
| 64 | 2022-09-22 11:19:12 | Kirsty Kilkenny |
| 65 | 2022-09-22 16:06:20 | Amy Leslie |
| 66 | 2022-09-22 17:24:23 | Janet Hardacre |
| 67 | 2022-09-22 07:59:32 | Hailey Green |
| 68 | 2022-09-22 09:48:56 | Constance Mason |
| 69 | 2022-09-22 00:31:15 | Debs Ann |
| 70 | 2022-09-22 17:24:40 | Mary Allwood |
| 71 | 2022-09-22 07:58:52 | Sasha Friday |
| 72 | 2022-09-22 17:40:04 | Stephanie L Riley |
| 73 | 2022-09-22 04:16:03 | Sonia Holden |
| 74 | 2022-09-22 11:15:13 | Annette M |
| 75 | 2022-09-22 09:13:44 | charlotte parnell |
| 76 | 2022-09-22 07:14:32 | Jo Butcher |
| 77 | 2022-09-22 13:58:05 | Kassi Bewers |
| 78 | 2022-09-19 21:11:58 | Holly Ring |
| 79 | 2022-09-22 09:41:46 | Cassia Lenanton |
| 80 | 2022-09-22 13:36:14 | Mark Lofthouse |
| 81 | 2022-09-22 07:53:15 | Jodie Ellis |
| 82 | 2022-09-22 12:58:50 | Alison Saunders |
| 83 | 2022-09-22 11:00:13 | Catherine Thomas |
| 84 | 2022-09-22 17:07:39 | Gail Anderson |
| 85 | 2022-09-22 18:10:05 | Lucky Devil |
| 86 | 2022-09-22 17:26:08 | Sean Moore |
| 87 | 2022-09-22 13:36:14 | Mark Lofthouse |
| 88 | 2022-09-22 04:59:47 | Riddock Suzanne |
| 89 | 2022-09-22 14:39:47 | Chelsie Smith |
| 90 | 2022-09-22 04:59:47 | Riddock Suzanne |
| 91 | 2022-09-22 11:08:29 | Claire Baker |
| 92 | 2022-09-22 17:54:56 | Lucky Devil |
| 93 | 2022-09-22 11:51:32 | Danielle Cottell |
| 94 | 2022-09-22 13:58:05 | Kassi Bewers |
| 95 | 2022-09-22 11:36:06 | Emily Roberts |
| 96 | 2022-09-22 17:06:12 | C J |
| 97 | 2022-09-22 11:36:06 | Emily Roberts |
| 98 | 2022-09-22 17:06:12 | C J |
| 99 | 2022-09-22 15:42:42 | Kassi Bewers |
| 100 | 2022-09-21 23:29:42 | Riddock Suzanne |
| 101 | 2022-09-22 13:24:46 | Emma Weston |
| 102 | 2022-09-22 16:47:08 | Megan Deans |
| 103 | 2022-09-22 05:52:48 | Becca Hawkins |
| 104 | 2022-09-22 13:57:23 | Mark Lofthouse |
| 105 | 2022-09-20 17:21:40 | Shiv Siobhan Kirk |
| 106 | 2022-09-22 17:06:12 | C J |
| 107 | 2022-09-22 17:24:40 | Mary Allwood |
| 108 | 2022-09-22 16:36:01 | L G M |
| 109 | 2022-09-22 16:50:14 | Chris Carr |
| 110 | 2022-09-21 23:29:42 | Riddock Suzanne |
| 111 | 2022-09-22 11:19:43 | Vicki Hadley |
| 112 | 2022-09-22 17:24:40 | Mary Allwood |
| 113 | 2022-09-22 17:54:56 | Lucky Devil |
| 114 | 2022-09-22 12:07:43 | Joanne Stewart |
| 115 | 2022-09-22 12:52:32 | Ray Burgess |
| 116 | 2022-09-22 17:58:03 | Nikki Keetch |
| 117 | 2022-09-22 13:17:18 | Nicola Naylor |
| 118 | 2022-09-22 17:46:13 | Julie Bennett |
| 119 | 2022-09-22 11:20:06 | Danni Fox |
| 120 | 2022-09-22 16:10:29 | Clare Stephens |
| 121 | 2022-09-22 16:21:26 | Caroline Stemp |
| 122 | 2022-09-22 10:57:53 | Charlotte Leckie |
| 123 | 2022-09-22 16:21:26 | Caroline Stemp |
| 124 | 2022-09-22 12:16:33 | Jessica Faye |
| 125 | 2022-09-22 13:29:07 | Clare Kimber |
| 126 | 2022-09-22 17:06:12 | C J |
| 127 | 2022-09-22 16:50:14 | Chris Carr |
| 128 | 2022-09-22 17:02:17 | S S |
| 129 | 2022-09-22 14:49:38 | Farrah Cox |
| 130 | 2022-09-22 12:58:29 | Jennifer White |
| 131 | 2022-09-22 13:17:18 | Nicola Naylor |
| 132 | 2022-09-22 07:53:15 | Jodie Ellis |
| 133 | 2022-09-22 16:09:09 | Naomi Berriman |
| 134 | 2022-09-22 13:36:14 | Mark Lofthouse |
| 135 | 2022-09-21 23:00:18 | Jessica Stapley |
| 136 | 2022-09-22 17:06:12 | C J |
| 137 | 2022-09-22 13:22:14 | Jessica Pratt |
| 138 | 2022-09-21 22:31:52 | Lisa Hallett |
| 139 | 2022-09-22 11:15:13 | Annette M |
| 140 | 2022-09-22 00:32:15 | maher Victoria |
| 141 | 2022-09-22 17:40:04 | Stephanie L Riley |
| 142 | 2022-09-22 16:06:20 | Amy Leslie |
| 143 | 2022-09-22 13:58:05 | Kassi Bewers |
| 144 | 2022-09-22 04:59:47 | Riddock Suzanne |
| 145 | 2022-09-22 13:36:14 | Mark Lofthouse |
| 146 | 2022-09-22 17:40:04 | Stephanie L Riley |
| 147 | 2022-09-22 17:06:12 | C J |
| 148 | 2022-09-22 04:59:47 | Riddock Suzanne |
| 149 | 2022-09-22 16:06:20 | Amy Leslie |
| 150 | 2022-09-22 08:49:30 | Emma Jones |
| 151 | 2022-09-22 07:19:22 | Raymond Burgess |
| 152 | 2022-09-21 23:02:57 | Luck Please |
| 153 | 2022-09-18 10:15:26 | Stephanie Heal |
| 154 | 2022-09-22 12:29:08 | Kelly Richards |
| 155 | 2022-09-20 19:18:31 | Gemma Norgate |
| 156 | 2022-09-22 10:44:30 | Jill Higham |
| 157 | 2022-09-22 13:52:21 | Georgia L |
| 158 | 2022-09-22 17:11:41 | Shana Taylor |
| 159 | 2022-09-22 10:12:00 | Jodie Ellis |
| 160 | 2022-09-22 04:59:47 | Riddock Suzanne |
| 161 | 2022-09-22 16:21:26 | Caroline Stemp |
| 162 | 2022-09-22 10:12:00 | Jodie Ellis |
| 163 | 2022-09-22 13:09:18 | Kerry Roach |
| 164 | 2022-09-22 17:23:18 | Rachel Caulkin |
| 165 | 2022-09-22 13:54:34 | Brogan Sandercock |
| 166 | 2022-09-22 15:42:42 | Kassi Bewers |
| 167 | 2022-09-22 13:36:14 | Mark Lofthouse |
| 168 | 2022-09-18 08:36:41 | Jodie Southwell |
| 169 | 2022-09-22 15:59:19 | Nicola Naylor |
| 170 | 2022-09-22 06:10:42 | Kerry NOSWORTHY |
| 171 | 2022-09-22 16:06:20 | Amy Leslie |
| 172 | 2022-09-21 23:46:18 | Riddock Suzanne |
| 173 | 2022-09-22 16:43:11 | Joanne Stewart |
| 174 | 2022-09-22 16:21:26 | Caroline Stemp |
| 175 | 2022-09-22 17:06:12 | C J |
| 176 | 2022-09-22 11:36:06 | Emily Roberts |
| 177 | 2022-09-22 17:40:04 | Stephanie L Riley |
| 178 | 2022-09-22 12:07:43 | Joanne Stewart |
| 179 | 2022-09-22 13:57:23 | Mark Lofthouse |
| 180 | 2022-09-22 04:59:47 | Riddock Suzanne |
| 181 | 2022-09-22 13:45:23 | Stephen Hill |
| 182 | 2022-09-22 11:15:13 | Annette M |
| 183 | 2022-09-22 13:38:05 | kelly donnelly |
| 184 | 2022-09-22 10:16:47 | Katie Taylor |
| 185 | 2022-09-22 17:06:12 | C J |
| 186 | 2022-09-22 13:57:23 | Mark Lofthouse |
| 187 | 2022-09-22 17:06:12 | C J |
| 188 | 2022-09-22 09:06:59 | Leah Knowles |
| 189 | 2022-09-22 12:58:50 | Alison Saunders |
| 190 | 2022-09-22 17:09:41 | Rose Barlow |
| 191 | 2022-09-21 23:02:57 | Luck Please |
| 192 | 2022-09-22 17:24:40 | Mary Allwood |
| 193 | 2022-09-22 14:23:31 | Jodie Evans |
| 194 | 2022-09-22 17:40:04 | Stephanie L Riley |
| 195 | 2022-09-22 15:59:19 | Nicola Naylor |
| 196 | 2022-09-22 18:09:51 | Di Hodge |
| 197 | 2022-09-22 17:48:40 | Trina . |
| 198 | 2022-09-22 11:10:12 | Jaclyn Pile |
| 199 | 2022-09-22 04:59:47 | Riddock Suzanne |
| 200 | 2022-09-21 23:29:42 | Riddock Suzanne |