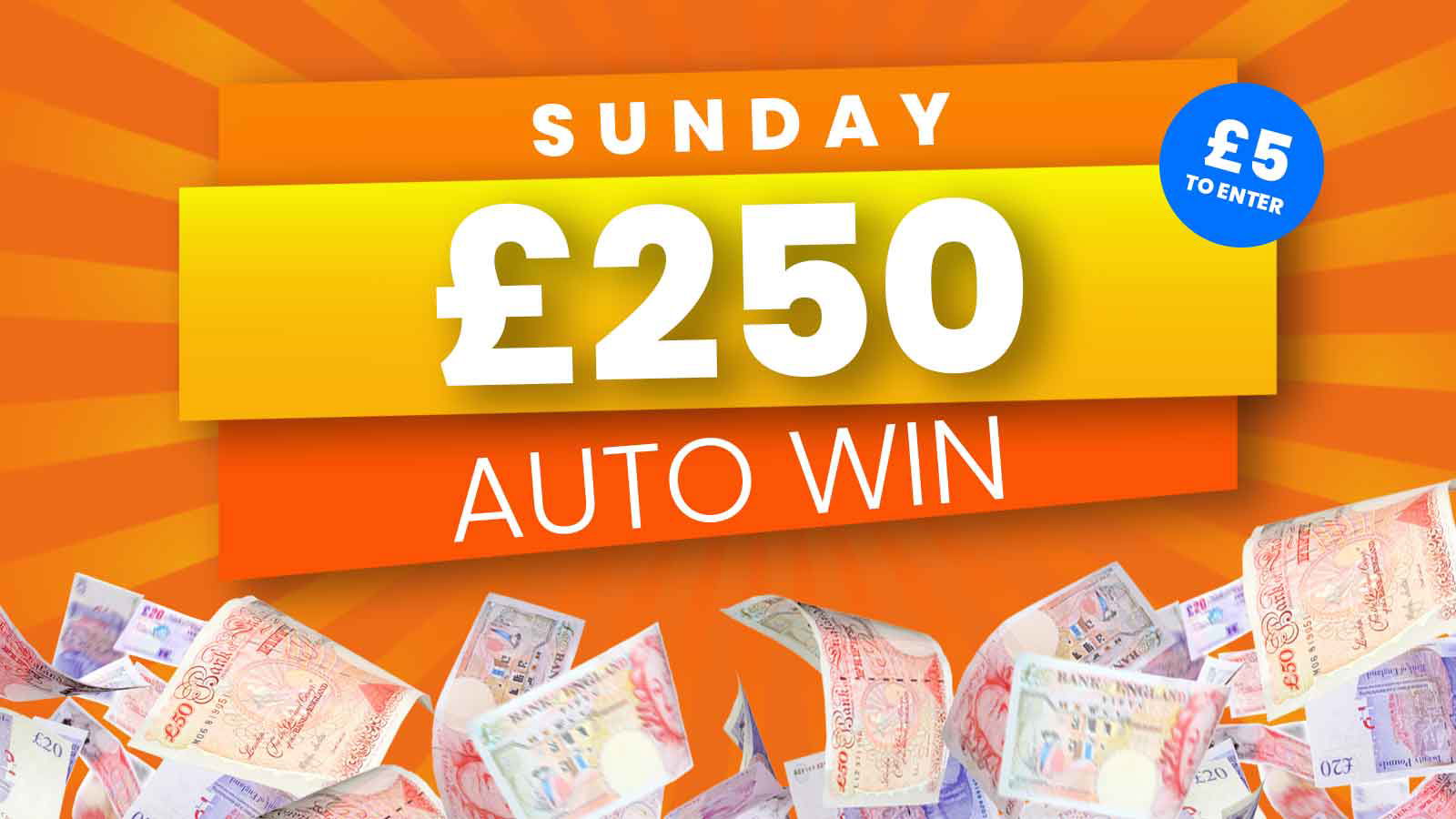 AUTO WIN – £250 CASH – 21/8
Description
How do you fancy winning £250?
Once all tickets are sold or the countdown timer has run out a winner is randomly selected from all of the entries. There is no live draw this is done automatically.
The winner will be contacted about their win and the money will be paid into their bank account.
What will you spend £250 on?
Good luck.
| Winner Name | Ticket Number | Draw Date |
| --- | --- | --- |
| Sharon Hobday | 6 | 21/08/2022 |
| Ticket Number | Date | Name |
| --- | --- | --- |
| 1 | 2022-08-21 12:26:23 | Debs Talbot |
| 2 | 2022-08-21 12:32:24 | charlotte parnell |
| 3 | 2022-08-20 22:19:55 | Sonia Holden |
| 4 | 2022-08-21 11:12:16 | Kelly Parker |
| 5 | 2022-08-21 12:09:28 | Caroline Stemp |
| 6 | 2022-08-21 11:27:12 | Sharon Hobday |
| 7 | 2022-08-20 20:03:07 | Kim Ayres |
| 8 | 2022-08-19 16:15:45 | Chris Birt |
| 9 | 2022-08-20 19:30:04 | Sharon Harvey |
| 10 | 2022-08-21 11:06:31 | Trudi Henderson |
| 11 | 2022-08-20 22:19:55 | Sonia Holden |
| 12 | 2022-08-20 23:24:15 | Mark Lofthouse |
| 13 | 2022-08-21 11:51:38 | Nicola King |
| 14 | 2022-08-21 00:24:32 | Sharon Hobday |
| 15 | 2022-08-21 12:32:24 | charlotte parnell |
| 16 | 2022-08-21 10:56:17 | Jeanette Anderson |
| 17 | 2022-08-21 10:22:42 | Nicola King |
| 18 | 2022-08-21 11:51:38 | Nicola King |
| 19 | 2022-08-21 10:26:48 | Katie Donaldson |
| 20 | 2022-08-21 10:22:42 | Nicola King |
| 21 | 2022-08-16 13:06:28 | Lisa Roberts |
| 22 | 2022-08-20 23:24:15 | Mark Lofthouse |
| 23 | 2022-08-20 22:04:16 | Lucy Mulligan |
| 24 | 2022-08-20 22:57:33 | Jodie Ellis |
| 25 | 2022-08-20 20:20:54 | Megan Little |
| 26 | 2022-08-21 11:55:48 | Debs Talbot |
| 27 | 2022-08-21 09:36:20 | Jodie Ellis |
| 28 | 2022-08-20 23:24:15 | Mark Lofthouse |
| 29 | 2022-08-20 23:25:51 | Mark Lofthouse |
| 30 | 2022-08-20 23:24:15 | Mark Lofthouse |
| 31 | 2022-08-21 07:22:53 | Linda Beer |
| 32 | 2022-08-19 16:15:45 | Chris Birt |
| 33 | 2022-08-20 20:03:07 | Kim Ayres |
| 34 | 2022-08-21 08:23:28 | Abby Highgate |
| 35 | 2022-08-21 11:13:50 | Chris Carr |
| 36 | 2022-08-20 17:47:57 | Caroline Stemp |
| 37 | 2022-08-20 17:47:57 | Caroline Stemp |
| 38 | 2022-08-20 17:47:57 | Caroline Stemp |
| 39 | 2022-08-20 19:54:18 | Eric Annison |
| 40 | 2022-08-20 16:49:25 | Rachel Salloway |
| 41 | 2022-08-21 12:31:26 | Chris Wills |
| 42 | 2022-08-21 07:22:57 | Rachel Scott |
| 43 | 2022-08-21 11:51:38 | Nicola King |
| 44 | 2022-08-20 22:19:55 | Sonia Holden |
| 45 | 2022-08-21 11:56:28 | g Mv |
| 46 | 2022-08-20 22:57:33 | Jodie Ellis |
| 47 | 2022-08-20 19:54:18 | Eric Annison |
| 48 | 2022-08-18 18:09:56 | Rachel Salloway |
| 49 | 2022-08-21 12:24:09 | Emma Louise |
| 50 | 2022-08-18 23:41:18 | Mark Pease |
| 51 | 2022-08-21 11:56:28 | g Mv |
| 52 | 2022-08-21 07:56:03 | Kate Coley |
| 53 | 2022-08-20 22:19:55 | Sonia Holden |
| 54 | 2022-08-20 22:19:55 | Sonia Holden |
| 55 | 2022-08-21 11:56:28 | g Mv |
| 56 | 2022-08-21 09:55:00 | Lauren Charlesworth |
| 57 | 2022-08-21 12:18:45 | Lauren Charlesworth |
| 58 | 2022-08-20 17:47:57 | Caroline Stemp |
| 59 | 2022-08-18 23:41:18 | Mark Pease |
| 60 | 2022-08-20 16:49:25 | Rachel Salloway |
| 61 | 2022-08-18 23:41:18 | Mark Pease |
| 62 | 2022-08-21 12:26:23 | Debs Talbot |
| 63 | 2022-08-21 09:55:00 | Lauren Charlesworth |
| 64 | 2022-08-21 10:37:58 | g Mv |
| 65 | 2022-08-21 11:50:11 | Maxime Brown |
| 66 | 2022-08-21 11:29:37 | Jodie Ellis |
| 67 | 2022-08-20 20:48:20 | Charlie Morgan |
| 68 | 2022-08-21 12:18:45 | Lauren Charlesworth |
| 69 | 2022-08-21 10:41:22 | Debs Talbot |
| 70 | 2022-08-21 09:55:00 | Lauren Charlesworth |
| 71 | 2022-08-21 12:30:39 | Chris Wills |
| 72 | 2022-08-21 11:51:36 | Debs Talbot |
| 73 | 2022-08-21 07:02:39 | Emma Jones |
| 74 | 2022-08-19 16:15:45 | Chris Birt |
| 75 | 2022-08-18 23:41:18 | Mark Pease |
| 76 | 2022-08-20 22:04:16 | Lucy Mulligan |
| 77 | 2022-08-21 09:36:20 | Jodie Ellis |
| 78 | 2022-08-20 16:49:25 | Rachel Salloway |
| 79 | 2022-08-20 16:49:25 | Rachel Salloway |
| 80 | 2022-08-18 23:41:18 | Mark Pease |