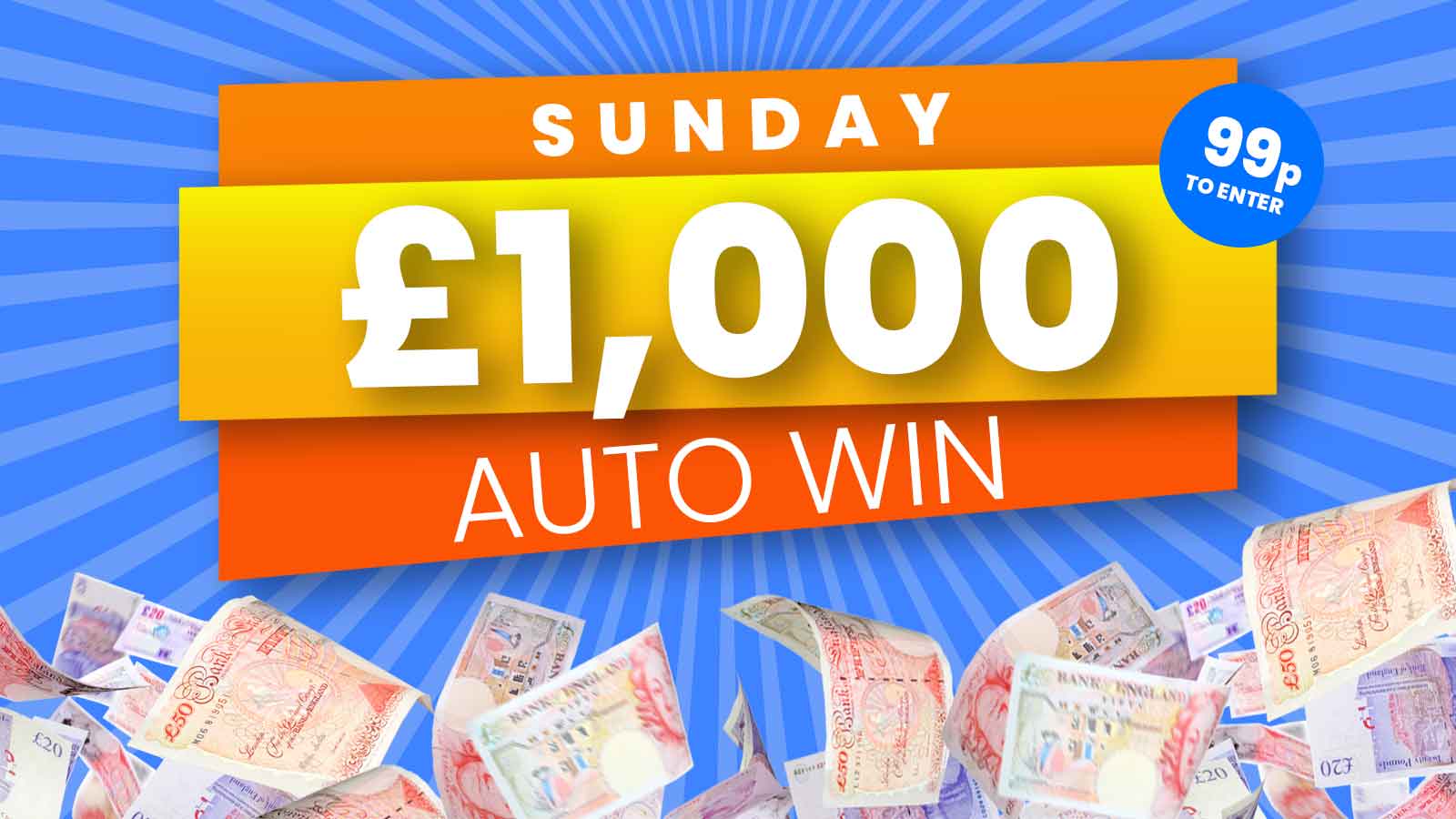 AUTO WIN £1000 CASH FOR 99p – SUNDAY 25/9
Description
How do you fancy winning £1000 cash? What's even better is the 99p ticket price.
Once all the tickets are sold or the timer runs out (whichever happens first) then a winner is automatically selected, no matter how many tickets are sold.
The winner will be contacted after the live draw.
Good luck.
| Winner Name | Ticket Number | Draw Date |
| --- | --- | --- |
| Shareen Flynn | 321 | 25/09/2022 |
1-200
201-400
401-600
601-800
801-1000
1001-1200
1201-1400
1401-1600
1601-1800
| Ticket Number | Date | Name |
| --- | --- | --- |
| 1 | 2022-09-24 01:18:02 | S T L |
| 2 | 2022-09-24 12:44:03 | Rachel Cottam |
| 3 | 2022-09-23 19:40:52 | Emma Coll |
| 4 | 2022-09-24 01:18:02 | S T L |
| 5 | 2022-09-25 09:52:12 | Fiona turnbull |
| 6 | 2022-09-25 12:40:17 | Denise Kennedy |
| 7 | 2022-09-23 22:15:08 | Krissi Honey |
| 8 | 2022-09-25 13:03:04 | Agnes Newman |
| 9 | 2022-09-25 11:33:08 | Joanne Pennington |
| 10 | 2022-09-25 10:06:18 | Samantha Collett |
| 11 | 2022-09-23 22:15:08 | Krissi Honey |
| 12 | 2022-09-25 11:34:29 | Kirstie Darragh |
| 13 | 2022-09-23 20:14:44 | Wilma Dickfit |
| 14 | 2022-09-23 20:14:44 | Wilma Dickfit |
| 15 | 2022-09-25 13:03:04 | Agnes Newman |
| 16 | 2022-09-24 01:18:02 | S T L |
| 17 | 2022-09-25 08:07:11 | Danielle Hooper |
| 18 | 2022-09-25 11:33:08 | Joanne Pennington |
| 19 | 2022-09-25 11:33:08 | Joanne Pennington |
| 20 | 2022-09-25 11:07:47 | Emily Roberts |
| 21 | 2022-09-23 19:17:12 | Lisa Roberts |
| 22 | 2022-09-23 19:17:12 | Lisa Roberts |
| 23 | 2022-09-23 19:17:12 | Lisa Roberts |
| 24 | 2022-09-25 13:03:04 | Agnes Newman |
| 25 | 2022-09-25 12:24:08 | Wilma Dickfit |
| 26 | 2022-09-24 01:18:02 | S T L |
| 27 | 2022-09-24 23:34:46 | Liahona Flores |
| 28 | 2022-09-25 10:21:43 | Jessica Wallace |
| 29 | 2022-09-24 18:55:18 | Sue Johnson |
| 30 | 2022-09-24 08:58:42 | jan blackler |
| 31 | 2022-09-25 13:03:04 | Agnes Newman |
| 32 | 2022-09-25 12:50:20 | Get in their Whoop whoop |
| 33 | 2022-09-23 20:30:04 | Jarrad Pearce |
| 34 | 2022-09-24 01:18:02 | S T L |
| 35 | 2022-09-25 12:48:35 | Rachel Scott |
| 36 | 2022-09-25 10:47:11 | Emma Jones |
| 37 | 2022-09-25 13:03:04 | Agnes Newman |
| 38 | 2022-09-25 06:28:45 | Jade Haley |
| 39 | 2022-09-25 14:42:35 | Wilma Dickfit |
| 40 | 2022-09-25 14:47:04 | Helen Holloway |
| 41 | 2022-09-25 19:59:11 | Cat F |
| 42 | 2022-09-25 12:48:35 | Rachel Scott |
| 43 | 2022-09-24 01:18:02 | S T L |
| 44 | 2022-09-25 18:42:26 | S T L |
| 45 | 2022-09-25 14:19:33 | karen wragg |
| 46 | 2022-09-25 17:39:31 | Fern Jackson |
| 47 | 2022-09-24 15:39:32 | Annabell Breslan |
| 48 | 2022-09-25 14:47:04 | Helen Holloway |
| 49 | 2022-09-25 10:50:59 | Jemma Lavercombe |
| 50 | 2022-09-25 17:00:04 | Kaitlin Davies |
| 51 | 2022-09-25 15:40:18 | Linda Beer |
| 52 | 2022-09-24 01:18:02 | S T L |
| 53 | 2022-09-24 01:18:02 | S T L |
| 54 | 2022-09-24 01:18:02 | S T L |
| 55 | 2022-09-24 01:18:02 | S T L |
| 56 | 2022-09-24 01:18:02 | S T L |
| 57 | 2022-09-25 00:41:01 | Lawrence Coombes |
| 58 | 2022-09-25 11:21:09 | William Price |
| 59 | 2022-09-25 14:47:04 | Helen Holloway |
| 60 | 2022-09-25 07:22:29 | Cherie Johns |
| 61 | 2022-09-25 18:10:55 | Jennifer Griffiths |
| 62 | 2022-09-24 18:18:03 | KIM SMITH |
| 63 | 2022-09-24 01:18:02 | S T L |
| 64 | 2022-09-24 01:18:02 | S T L |
| 65 | 2022-09-25 14:42:35 | Wilma Dickfit |
| 66 | 2022-09-25 09:18:33 | Darren Loffel |
| 67 | 2022-09-25 09:35:21 | Hope Shaw |
| 68 | 2022-09-25 12:40:17 | Denise Kennedy |
| 69 | 2022-09-24 01:18:02 | S T L |
| 70 | 2022-09-25 21:07:14 | Jess Galea |
| 71 | 2022-09-25 17:40:59 | Keedie Green |
| 72 | 2022-09-25 12:50:20 | Get in their Whoop whoop |
| 73 | 2022-09-25 18:19:25 | Rachel Scott |
| 74 | 2022-09-25 17:14:12 | Hannah Mcmurray |
| 75 | 2022-09-25 17:00:04 | Kaitlin Davies |
| 76 | 2022-09-25 20:29:54 | Katie Foley-Davies |
| 77 | 2022-09-25 11:11:19 | Jody Josolyne |
| 78 | 2022-09-25 00:41:01 | Lawrence Coombes |
| 79 | 2022-09-25 18:45:40 | Derek Cattermole |
| 80 | 2022-09-24 01:18:02 | S T L |
| 81 | 2022-09-25 11:37:29 | Lauren Wingfield |
| 82 | 2022-09-25 19:01:22 | Lee James |
| 83 | 2022-09-25 18:01:33 | Chloe Anning |
| 84 | 2022-09-24 01:18:02 | S T L |
| 85 | 2022-09-25 20:29:15 | Esme Kershaw |
| 86 | 2022-09-25 14:40:23 | Jayne Patten |
| 87 | 2022-09-25 07:17:29 | Sharon Holmes |
| 88 | 2022-09-25 09:07:00 | Janine Saunders |
| 89 | 2022-09-25 15:08:07 | Natasha Duncan |
| 90 | 2022-09-25 08:11:22 | Esme Kershaw |
| 91 | 2022-09-25 18:56:33 | Derek Cattermole |
| 92 | 2022-09-25 18:19:25 | Rachel Scott |
| 93 | 2022-09-24 01:18:02 | S T L |
| 94 | 2022-09-25 20:06:03 | Amy Jones |
| 95 | 2022-09-24 16:38:31 | Jayne Lofthouse |
| 96 | 2022-09-25 19:07:18 | Betty Boop |
| 97 | 2022-09-25 12:50:20 | Get in their Whoop whoop |
| 98 | 2022-09-25 19:47:33 | Helen Cottrell |
| 99 | 2022-09-25 16:12:01 | Beth Mason |
| 100 | 2022-09-23 21:59:04 | Chris Birt |
| 101 | 2022-09-25 18:55:36 | Maria Rawlings |
| 102 | 2022-09-24 01:18:02 | S T L |
| 103 | 2022-09-25 14:05:15 | Kelvin Courtenay |
| 104 | 2022-09-24 01:18:02 | S T L |
| 105 | 2022-09-25 11:34:29 | Kirstie Darragh |
| 106 | 2022-09-24 23:17:32 | Marc Baker |
| 107 | 2022-09-25 18:33:39 | Rachel Caulkin |
| 108 | 2022-09-25 14:47:04 | Helen Holloway |
| 109 | 2022-09-24 01:18:02 | S T L |
| 110 | 2022-09-25 00:06:47 | Verity Bath |
| 111 | 2022-09-23 20:19:34 | Jemima Richards |
| 112 | 2022-09-24 01:18:02 | S T L |
| 113 | 2022-09-24 01:18:02 | S T L |
| 114 | 2022-09-24 01:18:02 | S T L |
| 115 | 2022-09-24 01:18:02 | S T L |
| 116 | 2022-09-24 01:18:02 | S T L |
| 117 | 2022-09-24 01:18:02 | S T L |
| 118 | 2022-09-24 01:18:02 | S T L |
| 119 | 2022-09-24 01:18:02 | S T L |
| 120 | 2022-09-25 19:51:16 | Sharon Bray |
| 121 | 2022-09-25 11:14:03 | Becca Hawkins |
| 122 | 2022-09-25 00:17:37 | Katie Powell |
| 123 | 2022-09-25 12:58:40 | S T L |
| 124 | 2022-09-25 12:58:40 | S T L |
| 125 | 2022-09-25 21:38:54 | Shannon Shaw |
| 126 | 2022-09-23 18:33:38 | Dina Smart |
| 127 | 2022-09-25 10:21:43 | Jessica Wallace |
| 128 | 2022-09-25 21:38:54 | Shannon Shaw |
| 129 | 2022-09-25 20:24:42 | Helen Churchill |
| 130 | 2022-09-25 21:07:14 | Jess Galea |
| 131 | 2022-09-25 17:00:04 | Kaitlin Davies |
| 132 | 2022-09-24 01:18:02 | S T L |
| 133 | 2022-09-24 10:27:34 | Povey Paige |
| 134 | 2022-09-24 01:18:02 | S T L |
| 135 | 2022-09-25 20:42:02 | Tia Bessant |
| 136 | 2022-09-25 18:55:36 | Maria Rawlings |
| 137 | 2022-09-25 10:37:04 | Sonia Holden |
| 138 | 2022-09-25 21:07:14 | Jess Galea |
| 139 | 2022-09-25 14:36:18 | Kelly Andrews |
| 140 | 2022-09-24 01:18:02 | S T L |
| 141 | 2022-09-25 14:26:18 | Hannah Wall |
| 142 | 2022-09-24 01:18:02 | S T L |
| 143 | 2022-09-24 01:18:02 | S T L |
| 144 | 2022-09-24 01:18:02 | S T L |
| 145 | 2022-09-24 01:18:02 | S T L |
| 146 | 2022-09-24 01:18:02 | S T L |
| 147 | 2022-09-25 20:29:15 | Esme Kershaw |
| 148 | 2022-09-25 17:46:42 | Sharon Holmes |
| 149 | 2022-09-25 00:05:51 | Louise Vincent |
| 150 | 2022-09-25 21:43:23 | Lauren Hoban |
| 151 | 2022-09-25 17:40:59 | Keedie Green |
| 152 | 2022-09-24 01:18:02 | S T L |
| 153 | 2022-09-24 01:18:02 | S T L |
| 154 | 2022-09-24 00:12:48 | Michaela Pearson |
| 155 | 2022-09-25 10:58:53 | Millie Hamer |
| 156 | 2022-09-25 19:58:26 | Stacey Lumsdon |
| 157 | 2022-09-25 14:11:41 | Kirsty Lockyear |
| 158 | 2022-09-25 16:28:43 | Debbie Nichols |
| 159 | 2022-09-25 19:58:40 | Lizzi Smith |
| 160 | 2022-09-25 10:37:04 | Sonia Holden |
| 161 | 2022-09-25 07:47:21 | Nikki Keetch |
| 162 | 2022-09-25 20:53:55 | Deborah Cutland |
| 163 | 2022-09-24 01:18:02 | S T L |
| 164 | 2022-09-24 01:18:02 | S T L |
| 165 | 2022-09-25 20:27:17 | Julie Heald |
| 166 | 2022-09-25 14:44:13 | Asa Westlake |
| 167 | 2022-09-25 18:20:37 | Caroline Stemp |
| 168 | 2022-09-24 09:08:45 | Melanie Standfast |
| 169 | 2022-09-24 01:18:02 | S T L |
| 170 | 2022-09-25 20:29:54 | Katie Foley-Davies |
| 171 | 2022-09-25 16:17:55 | Julie Jackson |
| 172 | 2022-09-24 01:18:02 | S T L |
| 173 | 2022-09-25 18:54:35 | Amy Mitchelmore |
| 174 | 2022-09-24 01:18:02 | S T L |
| 175 | 2022-09-25 17:37:12 | Kayleigh Northcott |
| 176 | 2022-09-25 20:13:48 | Jodie Ellis |
| 177 | 2022-09-25 08:21:47 | Jen Stapley |
| 178 | 2022-09-25 20:51:54 | Jeanette Anderson |
| 179 | 2022-09-25 12:44:33 | Cameron Thompson |
| 180 | 2022-09-24 01:18:02 | S T L |
| 181 | 2022-09-25 19:42:05 | Lisa Burgess |
| 182 | 2022-09-24 01:18:02 | S T L |
| 183 | 2022-09-25 17:59:46 | GARETH Lloyd |
| 184 | 2022-09-24 01:18:02 | S T L |
| 185 | 2022-09-25 17:13:41 | Lee harris |
| 186 | 2022-09-25 18:10:55 | Jennifer Griffiths |
| 187 | 2022-09-25 13:13:15 | Jodie Ellis |
| 188 | 2022-09-25 14:47:04 | Helen Holloway |
| 189 | 2022-09-25 16:00:35 | Luke Mulliss |
| 190 | 2022-09-25 19:03:14 | Miss Carrie-ann French |
| 191 | 2022-09-25 09:11:03 | Chris Carr |
| 192 | 2022-09-25 21:07:14 | Jess Galea |
| 193 | 2022-09-24 01:18:02 | S T L |
| 194 | 2022-09-24 01:18:02 | S T L |
| 195 | 2022-09-23 18:43:44 | Ryan kirby |
| 196 | 2022-09-25 17:40:59 | Keedie Green |
| 197 | 2022-09-25 12:28:11 | Jonny Boy |
| 198 | 2022-09-24 21:24:50 | Maria Rawlings |
| 199 | 2022-09-25 14:47:04 | Helen Holloway |
| 200 | 2022-09-24 01:18:02 | S T L |