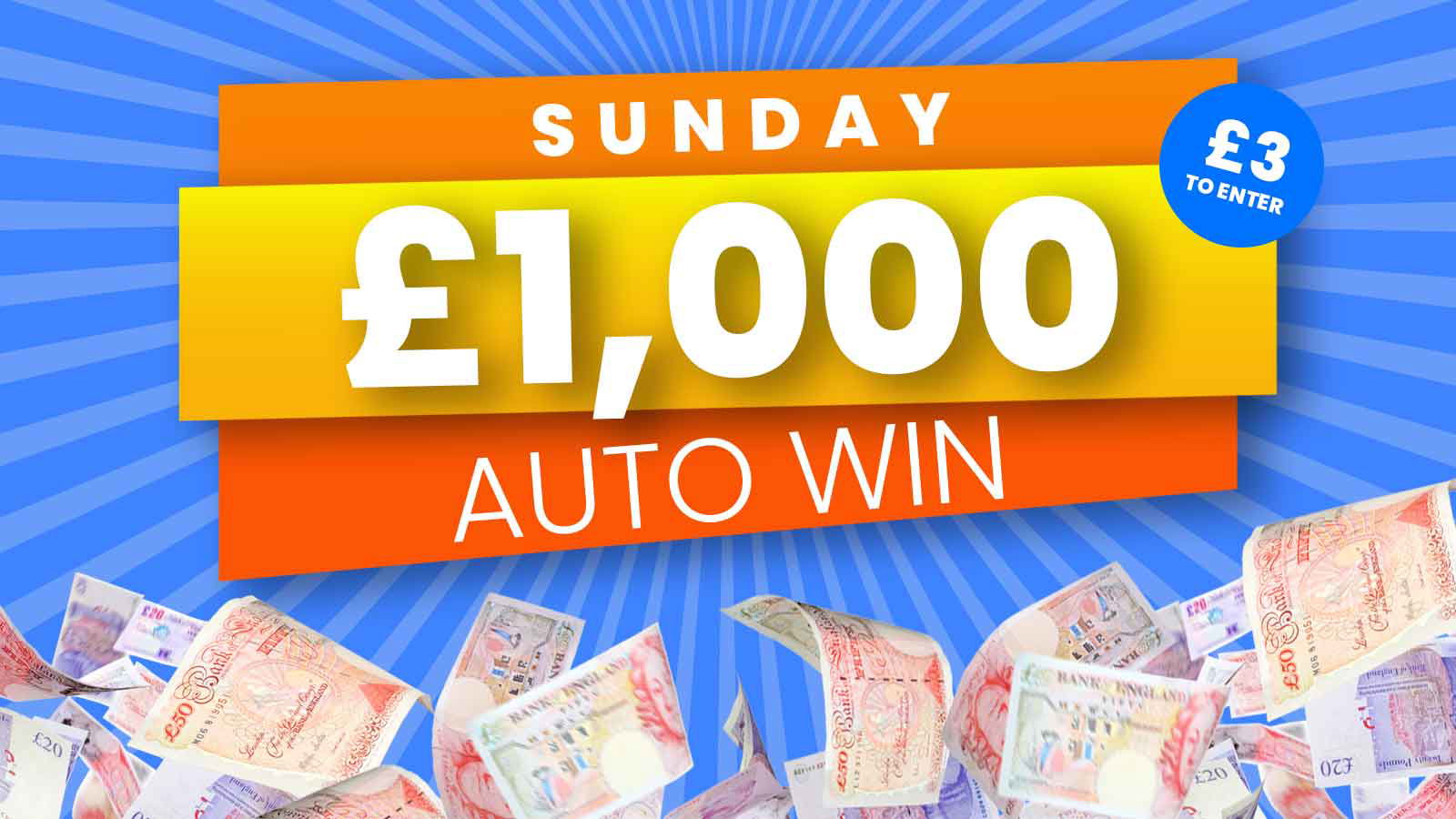 AUTO WIN – £1000 CASH FOR £3 – SUNDAY 30/10
Description
Want to try and turn £3 into £1,000? Then this is your chance.
A winner is selected regardless of ticket sales.
Once the tickets have sold or the timer has run out (whichever happens first) then a winner is selected.
The winner is contacted once the competition has been closed and the money will be transferred into their account.
Good luck
| Winner Name | Ticket Number | Draw Date |
| --- | --- | --- |
| Kathleen Starling | 485 | 30/10/2022 |
| Ticket Number | Date | Name |
| --- | --- | --- |
| 1 | 2022-10-28 16:55:16 | Suzi Gooding |
| 2 | 2022-10-28 16:55:16 | Suzi Gooding |
| 3 | 2022-10-29 22:40:33 | Jo Butcher |
| 4 | 2022-10-29 21:50:09 | clair williams |
| 5 | 2022-10-29 11:01:51 | C Honey |
| 6 | 2022-10-28 21:11:57 | Stevielee Moseley |
| 7 | 2022-10-28 10:53:44 | Helen Holloway |
| 8 | 2022-10-28 10:53:44 | Helen Holloway |
| 9 | 2022-10-29 19:29:36 | Lewis Joyce |
| 10 | 2022-10-30 09:09:08 | Brogan Sandercock |
| 11 | 2022-10-28 10:53:44 | Helen Holloway |
| 12 | 2022-10-29 11:01:51 | C Honey |
| 13 | 2022-10-28 16:55:16 | Suzi Gooding |
| 14 | 2022-10-30 09:04:08 | Sharon Hobday |
| 15 | 2022-10-29 15:33:33 | Emma & lee |
| 16 | 2022-10-30 13:47:41 | Kelvin Courtenay |
| 17 | 2022-10-29 22:23:38 | Marie Greenslade |
| 18 | 2022-10-30 14:58:31 | Emma Lewis |
| 19 | 2022-10-29 22:05:39 | Emilie Docherty |
| 20 | 2022-10-28 13:21:48 | Rachi B |
| 21 | 2022-10-27 19:36:16 | LJ Storer |
| 22 | 2022-10-29 19:29:36 | Lewis Joyce |
| 23 | 2022-10-28 16:55:16 | Suzi Gooding |
| 24 | 2022-10-28 16:48:29 | Emma Louise |
| 25 | 2022-10-29 19:29:36 | Lewis Joyce |
| 26 | 2022-10-29 22:05:39 | Emilie Docherty |
| 27 | 2022-10-29 12:17:55 | Jonny Boy |
| 28 | 2022-10-28 10:53:44 | Helen Holloway |
| 29 | 2022-10-30 14:11:49 | Amanda Davies |
| 30 | 2022-10-28 10:53:44 | Helen Holloway |
| 31 | 2022-10-30 12:57:43 | Jasmine Coates |
| 32 | 2022-10-30 09:04:08 | Sharon Hobday |
| 33 | 2022-10-30 12:11:49 | Linda Beer |
| 34 | 2022-10-30 16:43:28 | David rogerson |
| 35 | 2022-10-30 15:19:40 | Rachel Scott |
| 36 | 2022-10-30 19:08:11 | Gemma Norgate |
| 37 | 2022-10-30 09:47:25 | Sarah Bugler |
| 38 | 2022-10-30 19:20:57 | Laura Wilson |
| 39 | 2022-10-30 18:44:22 | Anita Passmore |
| 40 | 2022-10-30 19:24:45 | Michelle Spence |
| 41 | 2022-10-30 09:04:08 | Sharon Hobday |
| 42 | 2022-10-30 19:09:57 | Yana Edgecombe |
| 43 | 2022-10-30 01:50:13 | demir mahmoud |
| 44 | 2022-10-29 09:00:41 | Rachi B |
| 45 | 2022-10-30 14:58:31 | Emma Lewis |
| 46 | 2022-10-30 11:33:02 | Nicola Naylor |
| 47 | 2022-10-30 12:02:43 | Sarah Frost |
| 48 | 2022-10-30 07:53:27 | Debs Hamilton |
| 49 | 2022-10-30 18:30:37 | Sharon Hobday |
| 50 | 2022-10-30 16:50:46 | Estelle Cole |
| 51 | 2022-10-30 18:43:43 | Karen Hine |
| 52 | 2022-10-30 13:26:05 | Natalie J Clark |
| 53 | 2022-10-30 16:43:28 | David rogerson |
| 54 | 2022-10-30 18:37:58 | Crystal Taylor |
| 55 | 2022-10-30 11:12:52 | Marie Sandford |
| 56 | 2022-10-30 16:43:28 | David rogerson |
| 57 | 2022-10-30 09:38:38 | Jodie Ellis |
| 58 | 2022-10-30 21:02:22 | Christine Swift |
| 59 | 2022-10-30 17:17:54 | David Maddocks |
| 60 | 2022-10-30 20:22:26 | Tammie Isaacs |
| 61 | 2022-10-30 20:22:26 | Tammie Isaacs |
| 62 | 2022-10-30 11:11:19 | Cherie Johns |
| 63 | 2022-10-29 13:28:12 | N C |
| 64 | 2022-10-30 20:45:13 | Sharon Bray |
| 65 | 2022-10-30 20:00:47 | Dawn SOLECKI |
| 66 | 2022-10-30 16:09:09 | Amy Mitchell |
| 67 | 2022-10-29 13:28:12 | N C |
| 68 | 2022-10-30 09:34:50 | Debbie Harris |
| 69 | 2022-10-30 15:18:00 | Sarah Ciavarella |
| 70 | 2022-10-30 16:43:28 | David rogerson |
| 71 | 2022-10-30 21:10:16 | Agnes Newman |
| 72 | 2022-10-30 09:17:19 | jack gatting |
| 73 | 2022-10-30 19:09:12 | Mark Leach |
| 74 | 2022-10-27 14:40:15 | Chris Birt |
| 75 | 2022-10-30 19:20:57 | Laura Wilson |
| 76 | 2022-10-30 15:32:59 | Nadine Smallridge |
| 77 | 2022-10-30 10:14:26 | S H |
| 78 | 2022-10-30 15:18:00 | Sarah Ciavarella |
| 79 | 2022-10-30 19:08:50 | Kelvin Courtenay |
| 80 | 2022-10-30 04:11:14 | Holly Ring |
| 81 | 2022-10-28 11:11:57 | Jess Ellis |
| 82 | 2022-10-30 09:07:41 | Stephanie Bush |
| 83 | 2022-10-30 16:45:34 | Amanda Royal |
| 84 | 2022-10-28 21:11:57 | Stevielee Moseley |
| 85 | 2022-10-30 19:41:09 | Linda Beer |
| 86 | 2022-10-30 15:43:41 | Lorna Noble |
| 87 | 2022-10-28 20:32:27 | Claire Western |
| 88 | 2022-10-30 16:42:40 | Lucky Me |
| 89 | 2022-10-30 14:05:08 | Lisa Hynes |
| 90 | 2022-10-30 20:26:01 | Lauren shaw |
| 91 | 2022-10-30 11:33:02 | Nicola Naylor |
| 92 | 2022-10-30 12:33:01 | Megan Western |
| 93 | 2022-10-29 19:50:48 | David Westlake |
| 94 | 2022-10-30 20:19:26 | Karla Bradshaw |
| 95 | 2022-10-30 19:37:41 | Domm Hulme |
| 96 | 2022-10-30 20:19:03 | Hannah Mcmurray |
| 97 | 2022-10-30 14:45:24 | Emily Dyke |
| 98 | 2022-10-30 13:07:25 | Mason Hunt |
| 99 | 2022-10-29 22:59:54 | Ross Couch |
| 100 | 2022-10-30 00:05:31 | charlotte parnell |
| 101 | 2022-10-30 16:43:28 | David rogerson |
| 102 | 2022-10-30 20:13:11 | Katie May |
| 103 | 2022-10-30 16:23:15 | Luke Honey |
| 104 | 2022-10-30 18:37:32 | Nicola Moorhouse |
| 105 | 2022-10-30 19:29:41 | Stacey Smith |
| 106 | 2022-10-30 20:10:03 | Joshua Coles |
| 107 | 2022-10-30 16:43:23 | Elle Wallen |
| 108 | 2022-10-30 13:13:58 | Kelly Clarke-booth |
| 109 | 2022-10-30 20:30:52 | N C |
| 110 | 2022-10-30 19:37:41 | Domm Hulme |
| 111 | 2022-10-30 11:57:47 | C Honey |
| 112 | 2022-10-30 11:57:47 | C Honey |
| 113 | 2022-10-27 21:51:21 | Jamail Akhtar |
| 114 | 2022-10-30 09:04:08 | Sharon Hobday |
| 115 | 2022-10-30 20:20:05 | Meryl Toogood |
| 116 | 2022-10-30 14:19:58 | Charlotte Grigg |
| 117 | 2022-10-30 19:08:50 | Kelvin Courtenay |
| 118 | 2022-10-30 15:43:41 | Lorna Noble |
| 119 | 2022-10-30 16:45:34 | Amy Wills |
| 120 | 2022-10-30 19:31:26 | Jane Evans |
| 121 | 2022-10-30 17:47:07 | Samantha J |
| 122 | 2022-10-30 20:34:12 | Terri Samways |
| 123 | 2022-10-30 13:32:44 | Rebekka Lucas |
| 124 | 2022-10-30 13:04:46 | Lisa Roberts |
| 125 | 2022-10-30 13:53:50 | Sally-ann Aplin |
| 126 | 2022-10-30 17:08:42 | Sarah jane Glover |
| 127 | 2022-10-30 13:47:41 | Kelvin Courtenay |
| 128 | 2022-10-30 19:09:12 | Mark Leach |
| 129 | 2022-10-28 21:39:21 | Katy Petrie |
| 130 | 2022-10-30 18:43:43 | Karen Hine |
| 131 | 2022-10-28 15:01:46 | Ryan Chivers |
| 132 | 2022-10-30 01:24:54 | Holly Kemp |
| 133 | 2022-10-30 20:45:13 | Sharon Bray |
| 134 | 2022-10-30 17:12:01 | Talia Tucker |
| 135 | 2022-10-30 20:43:42 | Marc Black |
| 136 | 2022-10-30 17:20:10 | Cameron Thompson |
| 137 | 2022-10-29 20:29:20 | Chantel Adams |
| 138 | 2022-10-30 12:43:51 | D Dixon |
| 139 | 2022-10-30 19:24:45 | Michelle Spence |
| 140 | 2022-10-30 07:58:07 | Tracy Cramond |
| 141 | 2022-10-30 18:38:30 | Joseph Clifford |
| 142 | 2022-10-30 08:38:26 | Esme Kershaw |
| 143 | 2022-10-30 18:38:01 | J L |
| 144 | 2022-10-30 20:22:42 | Melanie Bailey |
| 145 | 2022-10-28 23:35:48 | David Lewis |
| 146 | 2022-10-29 20:38:23 | Sophie Beasley |
| 147 | 2022-10-27 21:25:25 | Claire Cartledge |
| 148 | 2022-10-28 21:39:21 | Katy Petrie |
| 149 | 2022-10-30 08:23:48 | M Brown |
| 150 | 2022-10-30 09:04:08 | Sharon Hobday |
| 151 | 2022-10-30 15:43:41 | Lorna Noble |
| 152 | 2022-10-29 19:50:48 | David Westlake |
| 153 | 2022-10-30 09:04:08 | Sharon Hobday |
| 154 | 2022-10-27 13:48:49 | H M |
| 155 | 2022-10-30 15:43:41 | Lorna Noble |
| 156 | 2022-10-30 09:04:08 | Sharon Hobday |
| 157 | 2022-10-30 18:30:37 | Sharon Hobday |
| 158 | 2022-10-30 17:52:06 | Jayne Barrett |
| 159 | 2022-10-30 18:30:37 | Sharon Hobday |
| 160 | 2022-10-30 21:11:31 | Michelle Spence |
| 161 | 2022-10-30 18:14:16 | Sean Barratt |
| 162 | 2022-10-28 21:44:40 | Lorna Lawford |
| 163 | 2022-10-30 10:55:05 | Kerry Packer |
| 164 | 2022-10-30 06:34:48 | Caroline Godfrey |
| 165 | 2022-10-30 15:43:41 | Lorna Noble |
| 166 | 2022-10-30 20:30:57 | Samantha Sedgbeer |
| 167 | 2022-10-30 20:45:13 | Sharon Bray |
| 168 | 2022-10-30 18:43:43 | Karen Hine |
| 169 | 2022-10-30 16:09:09 | Amy Mitchell |
| 170 | 2022-10-29 22:42:20 | Rose Barlow |
| 171 | 2022-10-30 20:52:09 | Victoria Roberts |
| 172 | 2022-10-30 11:33:02 | Nicola Naylor |
| 173 | 2022-10-30 20:15:58 | Clare Jason-Ryan |
| 174 | 2022-10-30 14:58:31 | Emma Lewis |
| 175 | 2022-10-30 19:37:41 | Domm Hulme |
| 176 | 2022-10-30 20:24:13 | Ella Kavanagh |
| 177 | 2022-10-30 20:36:06 | Nadine Smallridge |
| 178 | 2022-10-30 18:35:35 | Jane Wallace |
| 179 | 2022-10-30 20:06:54 | Beckie Sellick |
| 180 | 2022-10-30 19:41:21 | Kayleigh Williams |
| 181 | 2022-10-28 11:11:57 | Jess Ellis |
| 182 | 2022-10-29 20:22:36 | Vicki Hadley |
| 183 | 2022-10-30 16:23:15 | Luke Honey |
| 184 | 2022-10-27 19:06:56 | Jodie Southwell |
| 185 | 2022-10-28 21:52:26 | Carly Kelly |
| 186 | 2022-10-30 18:30:18 | Yvonne Sparkes |
| 187 | 2022-10-30 20:24:50 | Ugne Terentjevaite |
| 188 | 2022-10-30 17:17:54 | David Maddocks |
| 189 | 2022-10-30 15:39:39 | Philippa Blair |
| 190 | 2022-10-30 05:54:51 | |
| 191 | 2022-10-30 17:17:54 | David Maddocks |
| 192 | 2022-10-30 08:05:26 | Shannon Bailey |
| 193 | 2022-10-30 11:30:33 | Danielle Heywood |
| 194 | 2022-10-28 18:21:02 | Nicole Walsh |
| 195 | 2022-10-30 13:37:54 | Charlotte Horton |
| 196 | 2022-10-30 18:39:49 | L D |
| 197 | 2022-10-28 13:21:48 | Rachi B |
| 198 | 2022-10-30 17:17:54 | David Maddocks |
| 199 | 2022-10-30 16:43:28 | David rogerson |
| 200 | 2022-10-30 00:05:31 | charlotte parnell |