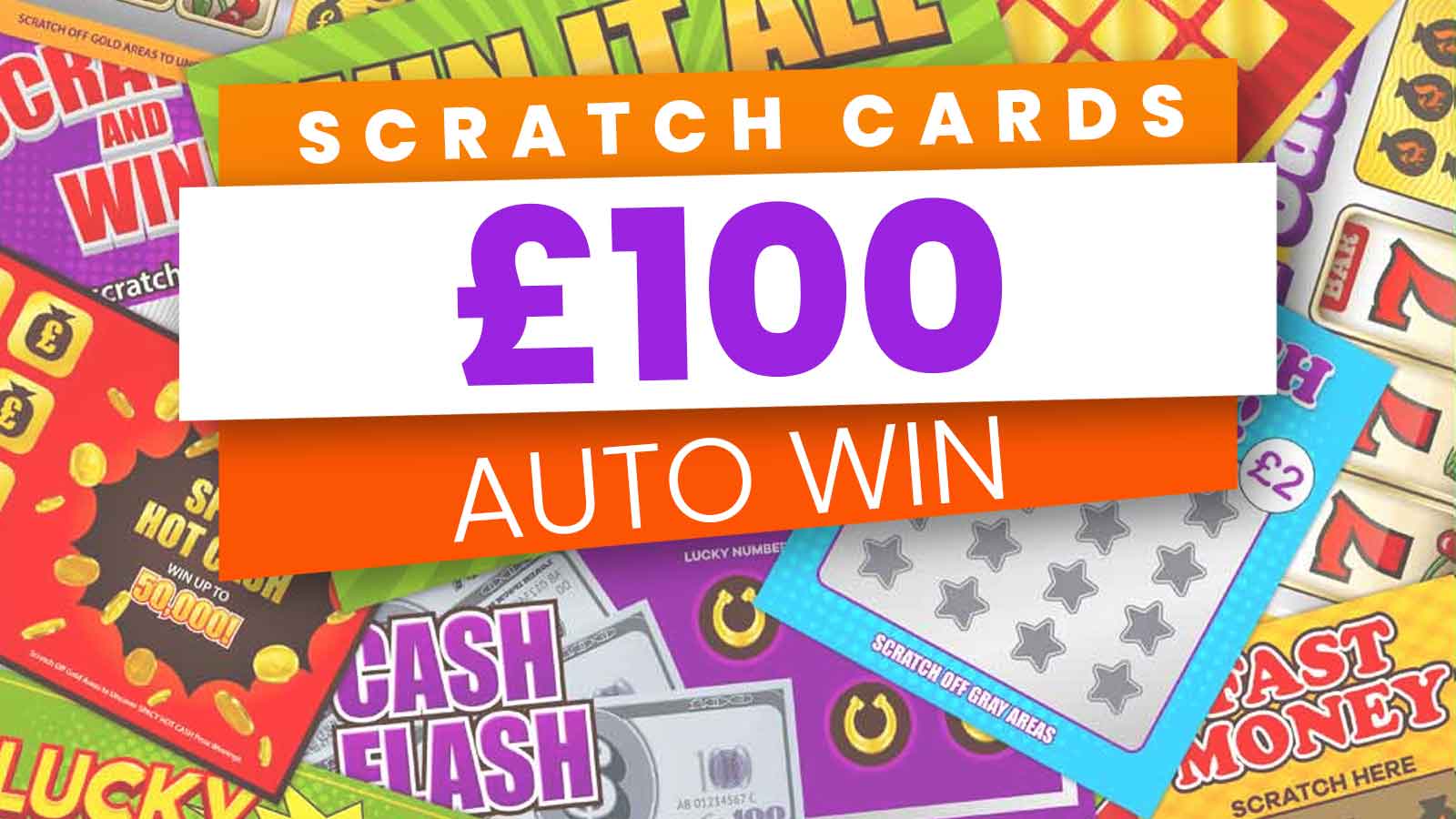 AUTO WIN £100 WORTH OF SCRATCH CARDS – SATURDAY 27/8
Description
WIN £100 WORTH OF SCRATCH CARDS FOR JUST 99p
Fancy winning £100 worth of scratch cards? Could you be lucky enough to find £1,000,000?
This is an auto win draw. Once the tickets are all sold or the count down timer reacher zero then a winner is automatically selected.
There is no live draw for this competition.
Good luck.
Don't forget to follow our facebook group and page for draw updates:
| Winner Name | Ticket Number | Draw Date |
| --- | --- | --- |
| Rachel Cottam | 92 | 27/08/2022 |
| Ticket Number | Date | Name |
| --- | --- | --- |
| 1 | 2022-08-27 16:36:27 | Nicola Joyce |
| 2 | 2022-08-27 11:37:56 | Amanda Hewitt |
| 3 | 2022-08-27 07:17:36 | Georgina Brown |
| 4 | 2022-08-27 00:01:18 | Sharon Hobday |
| 5 | 2022-08-26 10:31:48 | Betty Boop |
| 6 | 2022-08-25 22:33:11 | Debbie Bradshaw |
| 7 | 2022-08-26 07:56:53 | Jonny Boy |
| 8 | 2022-08-26 16:32:00 | |
| 9 | 2022-08-26 00:40:25 | Sarah Heal |
| 10 | 2022-08-26 18:54:20 | Tanya Sherlock |
| 11 | 2022-08-26 07:56:53 | Jonny Boy |
| 12 | 2022-08-27 07:17:36 | Georgina Brown |
| 13 | 2022-08-26 08:45:25 | Linda Beer |
| 14 | 2022-08-26 14:56:24 | Sarah James |
| 15 | 2022-08-27 16:31:43 | Claire Pocknell |
| 16 | 2022-08-26 10:37:53 | Jasmine Penza |
| 17 | 2022-08-26 10:31:48 | Betty Boop |
| 18 | 2022-08-25 12:10:25 | Danger mouse |
| 19 | 2022-08-24 19:43:10 | Crystal Taylor |
| 20 | 2022-08-26 13:53:39 | Caroline FairClough |
| 21 | 2022-08-26 14:45:55 | Thalia Heard |
| 22 | 2022-08-25 14:48:27 | Lekel North |
| 23 | 2022-08-25 14:48:27 | Lekel North |
| 24 | 2022-08-26 16:32:00 | |
| 25 | 2022-08-26 15:05:51 | Becci Vayle |
| 26 | 2022-08-27 16:41:24 | Justine Hazlewood |
| 27 | 2022-08-26 07:56:53 | Jonny Boy |
| 28 | 2022-08-27 17:17:42 | Tyler Ward |
| 29 | 2022-08-27 15:45:24 | Alisha Hackman |
| 30 | 2022-08-25 21:51:32 | Kerry Roach |
| 31 | 2022-08-27 16:51:14 | Kirsty Westy |
| 32 | 2022-08-27 16:54:49 | Di Hodge |
| 33 | 2022-08-26 20:18:33 | Rose-Marie Perry |
| 34 | 2022-08-27 15:56:44 | Tracy Mills |
| 35 | 2022-08-27 16:54:17 | Lee Williams |
| 36 | 2022-08-27 16:41:53 | Robert Cox |
| 37 | 2022-08-27 00:01:18 | Sharon Hobday |
| 38 | 2022-08-26 22:36:36 | Rachel Salloway |
| 39 | 2022-08-26 21:26:46 | Tracey Milne |
| 40 | 2022-08-26 17:11:03 | Trina . |
| 41 | 2022-08-26 17:11:03 | Trina . |
| 42 | 2022-08-27 15:05:42 | Joanne Stewart |
| 43 | 2022-08-26 16:56:18 | Anita Rollinson |
| 44 | 2022-08-27 07:17:36 | Georgina Brown |
| 45 | 2022-08-27 11:45:20 | K M |
| 46 | 2022-08-26 21:50:52 | Liam ashwelll |
| 47 | 2022-08-27 11:39:38 | Amanda Hewitt |
| 48 | 2022-08-25 09:48:45 | Debs Hamilton |
| 49 | 2022-08-27 09:50:28 | Debs Hamilton |
| 50 | 2022-08-26 15:05:51 | Becci Vayle |
| 51 | 2022-08-25 12:45:01 | Suzanne Hart |
| 52 | 2022-08-25 21:51:32 | Kerry Roach |
| 53 | 2022-08-27 15:33:56 | Jessica Stapley |
| 54 | 2022-08-26 19:13:42 | Kate Waller |
| 55 | 2022-08-26 15:34:57 | Kara Hawkins |
| 56 | 2022-08-27 08:57:57 | Lauren Dibble |
| 57 | 2022-08-27 16:48:52 | Tammy Bartlett |
| 58 | 2022-08-26 13:49:49 | Sarah Read |
| 59 | 2022-08-27 16:53:09 | Agnes Newman |
| 60 | 2022-08-27 15:33:56 | Jessica Stapley |
| 61 | 2022-08-27 13:40:13 | Emma Davies |
| 62 | 2022-08-27 09:20:53 | martina bailey |
| 63 | 2022-08-26 21:50:52 | Liam ashwelll |
| 64 | 2022-08-27 17:17:42 | Tyler Ward |
| 65 | 2022-08-25 21:51:32 | Kerry Roach |
| 66 | 2022-08-27 16:31:43 | Claire Pocknell |
| 67 | 2022-08-27 00:01:18 | Sharon Hobday |
| 68 | 2022-08-27 15:05:42 | Joanne Stewart |
| 69 | 2022-08-26 18:24:44 | Samantha Grice |
| 70 | 2022-08-26 22:19:05 | Benjamin Cook |
| 71 | 2022-08-26 21:16:10 | Sharon Harvey |
| 72 | 2022-08-27 10:13:41 | Anne Doidge |
| 73 | 2022-08-26 19:53:43 | Andy Shout |
| 74 | 2022-08-25 12:19:08 | Brenda Mossop |
| 75 | 2022-08-26 10:34:08 | graham terry |
| 76 | 2022-08-26 21:43:51 | Joanne Doyle |
| 77 | 2022-08-27 15:45:24 | Alisha Hackman |
| 78 | 2022-08-27 14:16:11 | Maxine Burchell |
| 79 | 2022-08-27 17:18:53 | Leah Borrowdale |
| 80 | 2022-08-26 14:19:24 | sarah phillimore |
| 81 | 2022-08-26 20:36:22 | Brett Palmer |
| 82 | 2022-08-26 15:16:07 | Kelly Adair |
| 83 | 2022-08-27 16:31:43 | Claire Pocknell |
| 84 | 2022-08-27 17:21:13 | Robert Cox |
| 85 | 2022-08-27 16:47:53 | phyllis steer |
| 86 | 2022-08-27 16:58:32 | Rebecca Thomas |
| 87 | 2022-08-27 15:45:24 | Alisha Hackman |
| 88 | 2022-08-27 17:16:10 | Tina Greenwood |
| 89 | 2022-08-27 09:42:05 | Donna Crocombe |
| 90 | 2022-08-27 16:41:53 | Robert Cox |
| 91 | 2022-08-26 11:53:26 | Eloise Vowles |
| 92 | 2022-08-27 16:12:15 | Rachel Cottam |
| 93 | 2022-08-27 12:50:45 | DANIEL STONELAKE |
| 94 | 2022-08-25 11:08:41 | Tina Greenwood |
| 95 | 2022-08-27 14:48:05 | marina bell |
| 96 | 2022-08-27 16:36:27 | Nicola Joyce |
| 97 | 2022-08-27 14:46:27 | Chantelle Amphlett |
| 98 | 2022-08-26 19:13:42 | Kate Waller |
| 99 | 2022-08-26 21:59:00 | Angie Goodyear |
| 100 | 2022-08-27 17:19:02 | K M |