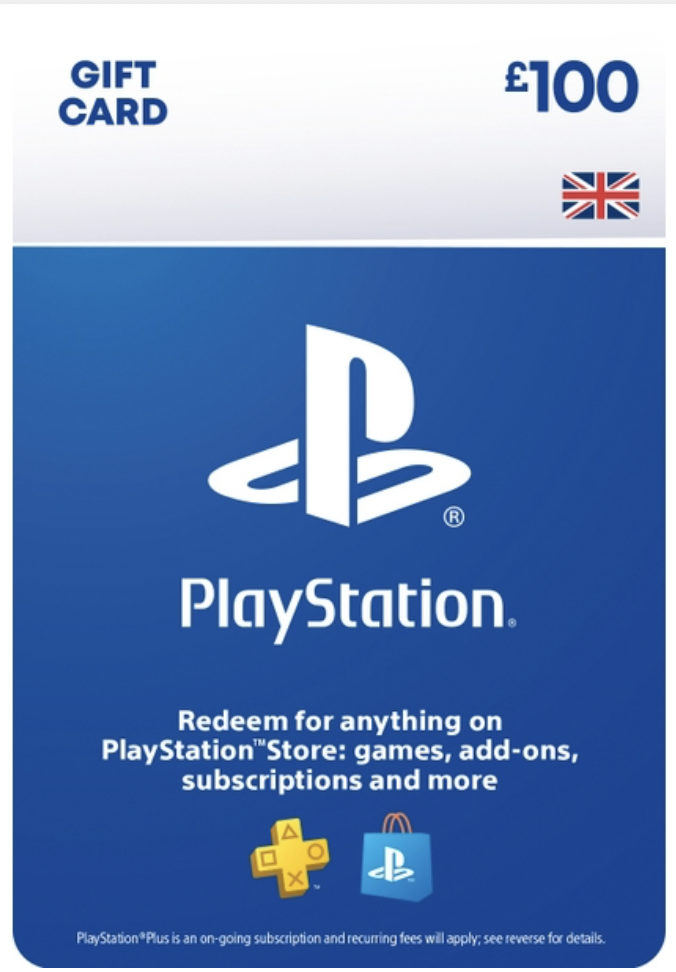 AUTO WIN – £100 PlayStation Store Gift Card
Description
AUTO WIN – £100 PlayStation Store Gift Card
AUTO WIN – NO LIVE DRAW – WINNER WILL BE CONTACTED ON MONDAY
Please Note: This is not a physical card. Digital Download code will be sent to the winner.
PlayStation® Gift Card
Get More, Play More with PlayStation® Gift Cards
Redeem for anything on PlayStationTMStore: games, add-ons, memberships and more
PlayStation®Plus
Use gift card funds to contribute towards PlayStation®Plus memberships, with online multiplayer access, games every month, exclusive discounts and more (scroll down for more details)
Find exclusive deals on top games
With regular deals and discounts, there's always something to play at a price you'll love.
Pre-order. Preload. Play
Can't wait for a game? Preload it to your console and play as soon as it's available.
Download purchases remotely
Add your purchases to your download queue from anywhere online – and start playing sooner.
Enhance your PlayStation® experience
Pick your plan with PlayStation®Plus. Discover three membership plan options, benefits, and more.
Essential
Monthly Games, Online Multiplayer, discounts and more
Extra
Discover a huge catalogue of incredible PS5TM and PS4TM games (includes everything in Essential)
Premium
Enjoy streaming, Classic games, trials and more
| Winner Name | Ticket Number | Draw Date |
| --- | --- | --- |
| Joely Quick | 298 | 19/03/2023 |
1-100
101-200
201-300
301-400
401-500
| Ticket Number | Date | Name |
| --- | --- | --- |
| 1 | 2023-03-19 10:29:00 | Sarah Ballard |
| 2 | 2023-03-18 18:11:19 | Clare OGrady |
| 3 | 2023-03-19 17:25:16 | Linda anne Green |
| 4 | 2023-03-19 18:43:27 | Jolene D |
| 7 | 2023-03-19 19:27:06 | Paul Hancock |
| 8 | 2023-03-15 22:30:32 | Nancy stevens |
| 9 | 2023-03-19 20:25:51 | Kevin Hayes |
| 10 | 2023-03-19 18:43:27 | Jolene D |
| 11 | 2023-03-18 18:11:19 | Clare OGrady |
| 12 | 2023-03-18 17:20:43 | Sinah Kroeger |
| 13 | 2023-03-19 16:18:39 | John Carlo Bustamante |
| 15 | 2023-03-18 16:48:27 | Maxine Webber |
| 17 | 2023-03-19 13:46:27 | Angela Macey |
| 18 | 2023-03-19 20:31:44 | Ben Melsome |
| 19 | 2023-03-19 12:44:11 | Victor Chappell |
| 20 | 2023-03-19 22:21:28 | Marykate Smith |
| 21 | 2023-03-19 12:08:54 | Lisa Roberts |
| 22 | 2023-03-15 17:40:23 | A S |
| 23 | 2023-03-19 12:08:54 | Lisa Roberts |
| 24 | 2023-03-15 12:07:44 | Emma Louise |
| 26 | 2023-03-19 12:33:47 | Amy Leslie |
| 27 | 2023-03-18 09:09:40 | Ashley Thorne |
| 29 | 2023-03-15 17:40:23 | A S |
| 30 | 2023-03-18 16:48:27 | Maxine Webber |
| 31 | 2023-03-19 12:05:11 | Esmé M |
| 32 | 2023-03-18 09:09:40 | Ashley Thorne |
| 33 | 2023-03-18 10:29:47 | Rachael Gunnell |
| 35 | 2023-03-18 19:46:30 | Keri Bayles |
| 36 | 2023-03-19 17:20:35 | Kirsty Worthington |
| 37 | 2023-03-19 21:10:32 | Joely Quick |
| 38 | 2023-03-18 13:40:46 | Karen Shaw |
| 39 | 2023-03-19 12:05:11 | Esmé M |
| 40 | 2023-03-19 18:43:27 | Jolene D |
| 41 | 2023-03-19 18:14:53 | Vicky Stewart-Roberts |
| 42 | 2023-03-19 17:27:06 | Paula Mcguinness |
| 44 | 2023-03-18 09:09:40 | Ashley Thorne |
| 46 | 2023-03-19 19:25:22 | Michelle Alcock |
| 53 | 2023-03-19 12:44:11 | Victor Chappell |
| 54 | 2023-03-19 17:27:06 | Paula Mcguinness |
| 55 | 2023-03-19 17:27:06 | Paula Mcguinness |
| 57 | 2023-03-19 21:53:05 | James Coombs |
| 59 | 2023-03-17 07:20:16 | Carol Chappell |
| 62 | 2023-03-18 16:48:27 | Maxine Webber |
| 63 | 2023-03-19 12:05:11 | Esmé M |
| 64 | 2023-03-19 20:25:51 | Kevin Hayes |
| 65 | 2023-03-19 12:05:11 | Esmé M |
| 69 | 2023-03-18 20:20:41 | Danielle Bennett |
| 70 | 2023-03-19 12:35:01 | Jodie Ellis |
| 71 | 2023-03-19 17:25:16 | Linda anne Green |
| 75 | 2023-03-18 21:11:53 | Claire Fuller |
| 83 | 2023-03-18 14:25:22 | Maia Bhatia |
| 85 | 2023-03-19 21:40:34 | Hayliegh Theobald |
| 87 | 2023-03-19 20:31:44 | Ben Melsome |
| 89 | 2023-03-19 17:44:54 | Liam Dooley |
| 91 | 2023-03-19 19:55:55 | Tatyana Parlikova |
| 94 | 2023-03-18 23:09:47 | emma mccauley |
| 96 | 2023-03-17 21:43:49 | Stu Mason |
| 98 | 2023-03-15 23:20:14 | Faye Turner |
| 99 | 2023-03-19 12:05:11 | Esmé M |