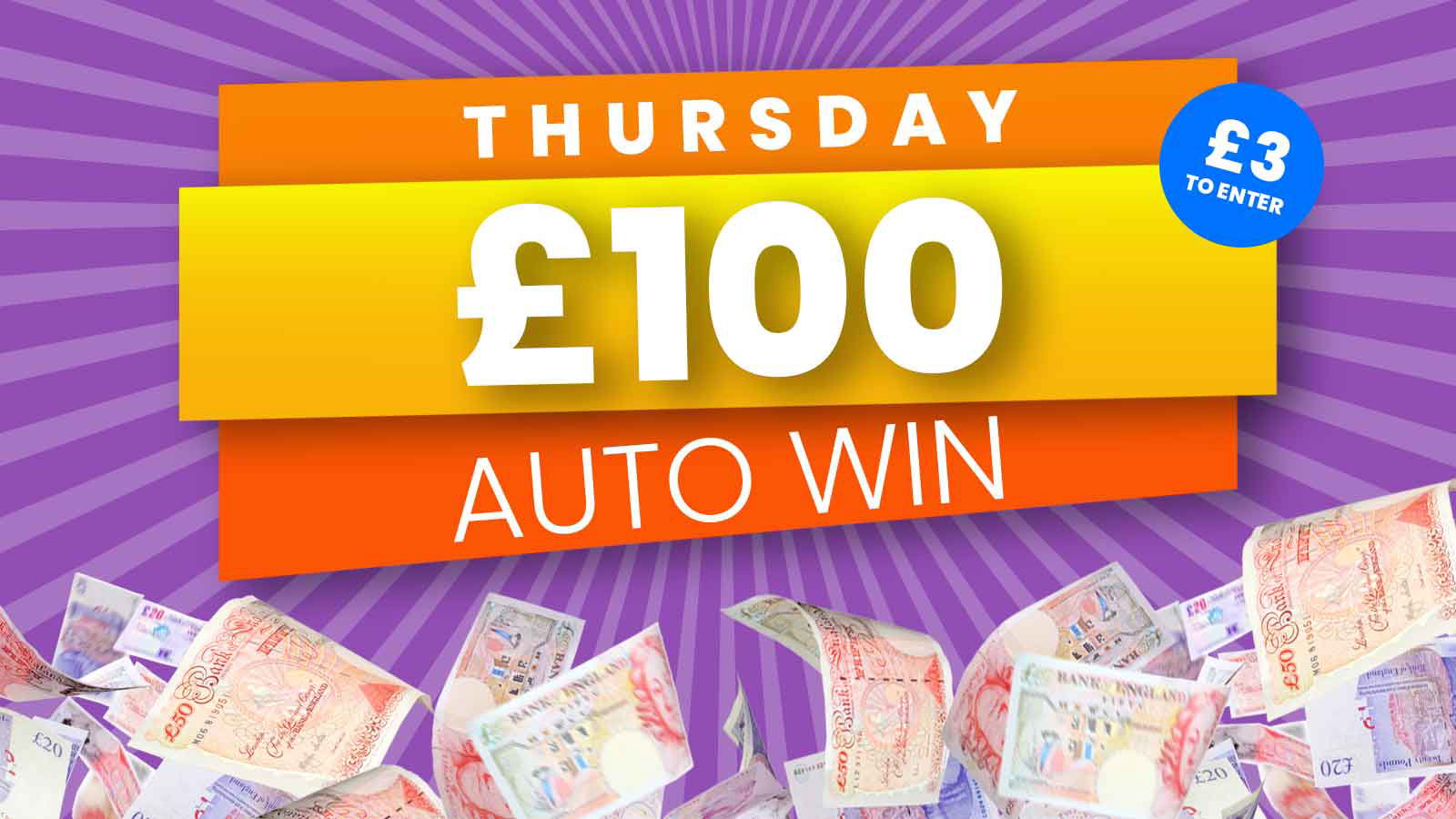 AUTO WIN – £100 CASH – THURSDAY 15/9
Description
Need a quick £100 cash? Then just £3 could make you £100 richer.
There is no live draw for this competition. The winner is automatically selected when all the tickets are sold or the timer runs out (whichever comes first).
We never extend a competition and we draw a winner regardless of ticket sales.
The winner will be contacted after the live draw and the money will be paid into their account.
Good luck.
| Winner Name | Ticket Number | Draw Date |
| --- | --- | --- |
| Patricia Clarkson | 56 | 15/09/2022 |
| Ticket Number | Date | Name |
| --- | --- | --- |
| 1 | 2022-09-15 19:07:15 | Hayley Baker |
| 3 | 2022-09-15 18:34:56 | Jodie Ellis |
| 4 | 2022-09-15 20:22:23 | Alice Fell |
| 5 | 2022-09-14 22:15:53 | Mark Pease |
| 6 | 2022-09-15 19:42:11 | Annette M |
| 7 | 2022-09-15 20:24:30 | Chris Wills |
| 8 | 2022-09-14 23:20:17 | Jodie Ravenhill |
| 9 | 2022-09-14 22:15:53 | Mark Pease |
| 10 | 2022-09-15 10:18:56 | g Mv |
| 11 | 2022-09-14 21:50:07 | L G M |
| 12 | 2022-09-15 19:50:20 | Marie West |
| 13 | 2022-09-15 17:54:56 | Tracy Daniell |
| 14 | 2022-09-15 10:18:56 | g Mv |
| 15 | 2022-09-15 13:59:20 | Kerry Roach |
| 16 | 2022-09-15 13:59:20 | Kerry Roach |
| 17 | 2022-09-14 20:26:35 | Rachael Wood |
| 18 | 2022-09-15 19:38:46 | Nicola Naylor |
| 19 | 2022-09-15 20:56:43 | Dominika Nemethiova |
| 21 | 2022-09-15 20:39:04 | Sue Ball |
| 22 | 2022-09-15 16:17:15 | Emma Davies |
| 23 | 2022-09-14 21:50:07 | L G M |
| 24 | 2022-09-15 16:24:51 | Jackie Maunder |
| 25 | 2022-09-15 16:33:36 | Melanie Bailey |
| 27 | 2022-09-15 16:55:58 | D Ann |
| 29 | 2022-09-15 19:38:46 | Nicola Naylor |
| 30 | 2022-09-14 20:26:35 | Rachael Wood |
| 31 | 2022-09-15 16:24:51 | Jackie Maunder |
| 32 | 2022-09-14 23:20:17 | Jodie Ravenhill |
| 33 | 2022-09-15 19:16:32 | Jodie Ellis |
| 34 | 2022-09-15 19:10:02 | Caroline Stemp |
| 35 | 2022-09-15 20:49:40 | Tara Evans |
| 36 | 2022-09-15 16:24:51 | Jackie Maunder |
| 38 | 2022-09-15 20:24:30 | Chris Wills |
| 39 | 2022-09-15 19:10:02 | Caroline Stemp |
| 40 | 2022-09-15 16:24:51 | Jackie Maunder |
| 41 | 2022-09-15 10:18:56 | g Mv |
| 42 | 2022-09-14 23:20:17 | Jodie Ravenhill |
| 43 | 2022-09-15 14:47:49 | K S |
| 44 | 2022-09-14 22:15:53 | Mark Pease |
| 45 | 2022-09-15 14:47:49 | K S |
| 46 | 2022-09-15 12:19:08 | K S |
| 47 | 2022-09-15 15:48:53 | Joseph Clifford |
| 48 | 2022-09-15 19:16:32 | Jodie Ellis |
| 49 | 2022-09-15 19:38:46 | Nicola Naylor |
| 50 | 2022-09-15 20:54:39 | Bryonie Dillon |
| 51 | 2022-09-14 22:15:53 | Mark Pease |
| 52 | 2022-09-15 14:48:53 | K S |
| 53 | 2022-09-15 16:24:51 | Jackie Maunder |
| 54 | 2022-09-14 23:20:17 | Jodie Ravenhill |
| 55 | 2022-09-15 19:38:46 | Nicola Naylor |
| 56 | 2022-09-15 06:52:28 | Patricia Clarkson |
| 58 | 2022-09-15 10:18:56 | g Mv |
| 59 | 2022-09-14 21:50:07 | L G M |
| 61 | 2022-09-15 13:59:20 | Kerry Roach |
| 62 | 2022-09-15 16:03:29 | K S |
| 63 | 2022-09-14 22:15:53 | Mark Pease |
| 64 | 2022-09-15 16:33:58 | Melissa Whittle |
| 65 | 2022-09-15 19:38:46 | Nicola Naylor |
| 66 | 2022-09-15 20:24:30 | Chris Wills |