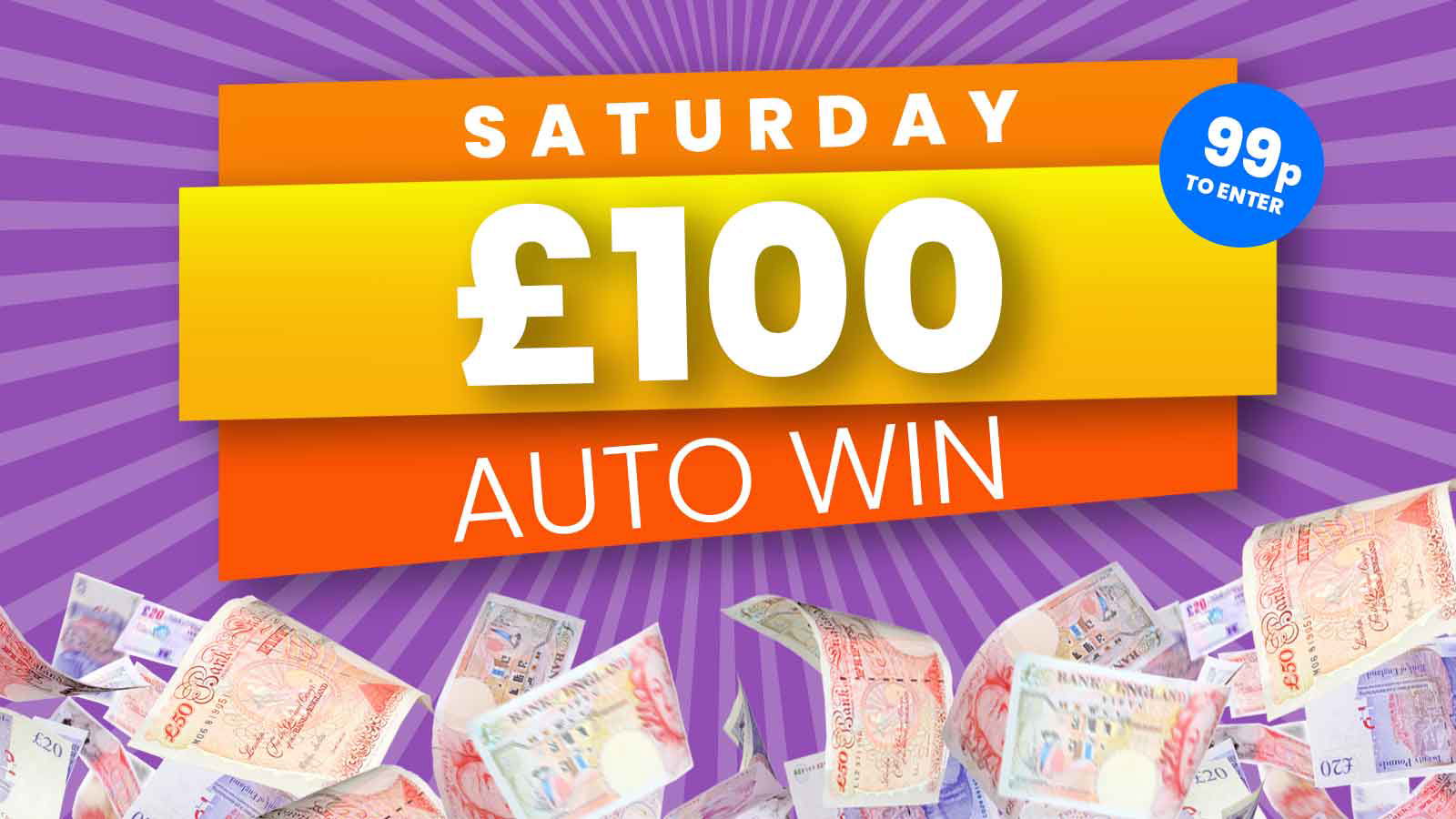 AUTO WIN – £100 CASH FOR 99p – SATURDAY 24/9
Description
Wish you has £100 more in your bank account? Well, one 99p ticket could do just that for you.
This is an auto win draw. Once the tickets are all sold or the count down timer reacher zero then a winner is automatically selected.
There is no live draw for this competition.
The winner will be contacted after the draw and the money will be transferred.
Good luck.
Don't forget to follow our facebook group and page for draw updates:
| Winner Name | Ticket Number | Draw Date |
| --- | --- | --- |
| C J | 21 | 24/09/2022 |
| Ticket Number | Date | Name |
| --- | --- | --- |
| 1 | 2022-09-24 00:11:18 | Caroline Stemp |
| 2 | 2022-09-24 06:57:49 | Hayley Twine-Hibbs |
| 3 | 2022-09-24 15:42:51 | Linda Beer |
| 4 | 2022-09-24 11:24:01 | Sharon Longbottom |
| 5 | 2022-09-24 11:35:25 | Lisa Chamberlain |
| 6 | 2022-09-24 08:26:19 | Katie Powell |
| 7 | 2022-09-24 16:23:38 | Sharon Harvey |
| 8 | 2022-09-24 11:35:25 | Lisa Chamberlain |
| 9 | 2022-09-23 05:11:06 | Mike Branch |
| 10 | 2022-09-24 06:57:49 | Hayley Twine-Hibbs |
| 11 | 2022-09-24 17:23:31 | Jodie Ellis |
| 12 | 2022-09-24 11:35:25 | Lisa Chamberlain |
| 13 | 2022-09-24 19:36:35 | Danielle Hooper |
| 14 | 2022-09-24 08:26:19 | Katie Powell |
| 15 | 2022-09-24 18:57:32 | Jeanette Anderson |
| 16 | 2022-09-23 22:20:00 | Samantha Grice |
| 17 | 2022-09-24 19:38:17 | Krissi Honey |
| 18 | 2022-09-24 20:03:09 | Jo Disley |
| 19 | 2022-09-24 20:50:47 | Lisa Burgess |
| 20 | 2022-09-23 05:11:06 | Mike Branch |
| 21 | 2022-09-24 19:05:26 | C J |
| 22 | 2022-09-24 18:57:32 | Jeanette Anderson |
| 23 | 2022-09-24 19:18:54 | Rachel Scott |
| 24 | 2022-09-24 14:41:39 | Nichola Martin |
| 25 | 2022-09-24 20:50:47 | Lisa Burgess |
| 26 | 2022-09-23 05:11:06 | Mike Branch |
| 27 | 2022-09-24 20:17:04 | Holly Louise |
| 28 | 2022-09-24 19:18:54 | Rachel Scott |
| 29 | 2022-09-24 18:04:53 | Trudi Kim |
| 30 | 2022-09-23 05:11:06 | Mike Branch |
| 31 | 2022-09-24 18:13:33 | Foghorn Gleghorn |
| 32 | 2022-09-24 19:05:26 | C J |
| 33 | 2022-09-24 14:07:15 | amelia colver |
| 34 | 2022-09-23 21:29:25 | Jodie Southwell |
| 35 | 2022-09-24 15:18:52 | Paul Ivatt |
| 36 | 2022-09-24 20:51:06 | Amy Hall |
| 37 | 2022-09-24 10:08:04 | Marie Thorne |
| 38 | 2022-09-24 15:05:25 | Marilyn Coath |
| 39 | 2022-09-24 20:34:58 | g Mv |
| 40 | 2022-09-24 10:57:11 | Jason Smith |
| 41 | 2022-09-24 20:03:09 | Jo Disley |
| 42 | 2022-09-24 20:50:47 | Lisa Burgess |
| 43 | 2022-09-24 20:50:47 | Lisa Burgess |
| 44 | 2022-09-24 11:45:41 | Jodie Ellis |
| 45 | 2022-09-24 20:34:58 | g Mv |
| 46 | 2022-09-24 20:10:23 | Nikki Keetch |
| 47 | 2022-09-24 14:41:39 | Nichola Martin |
| 48 | 2022-09-24 16:02:33 | Cristina Evans |
| 49 | 2022-09-24 20:47:53 | Holly Kemp |
| 50 | 2022-09-24 20:50:47 | Lisa Burgess |
| 51 | 2022-09-24 20:21:28 | Jackie Maunder |
| 52 | 2022-09-24 20:21:28 | Jackie Maunder |
| 53 | 2022-09-23 05:11:06 | Mike Branch |
| 54 | 2022-09-23 23:55:15 | Rhiannon Batt |
| 55 | 2022-09-24 11:24:01 | Sharon Longbottom |
| 56 | 2022-09-24 20:01:28 | Sonia Holden |
| 57 | 2022-09-24 17:05:51 | Hailey Green |
| 58 | 2022-09-23 05:11:06 | Mike Branch |
| 59 | 2022-09-24 19:05:26 | C J |
| 60 | 2022-09-24 17:23:31 | Jodie Ellis |
| 61 | 2022-09-24 19:03:03 | jemma Vooght |
| 62 | 2022-09-24 20:05:26 | Jo Broderick |
| 63 | 2022-09-24 18:57:09 | Staci Bolt |
| 64 | 2022-09-24 19:05:26 | C J |
| 65 | 2022-09-24 20:25:38 | Miss Potato Head |
| 66 | 2022-09-24 20:52:51 | Brogan Sandercock |
| 67 | 2022-09-24 19:05:26 | C J |
| 68 | 2022-09-24 17:23:31 | Jodie Ellis |
| 69 | 2022-09-24 14:50:20 | Gerry Blue |
| 70 | 2022-09-24 09:16:55 | Marie Sandford |
| 71 | 2022-09-24 06:57:49 | Hayley Twine-Hibbs |
| 72 | 2022-09-23 05:11:06 | Mike Branch |
| 73 | 2022-09-24 10:17:54 | Kate Waller |
| 74 | 2022-09-24 12:16:25 | Brogan Sandercock |
| 75 | 2022-09-24 20:21:28 | Jackie Maunder |
| 76 | 2022-09-24 20:21:28 | Jackie Maunder |
| 77 | 2022-09-24 20:03:39 | Helen Holloway |
| 78 | 2022-09-24 19:54:14 | Chelsie Smith |
| 79 | 2022-09-24 17:23:31 | Jodie Ellis |
| 80 | 2022-09-24 19:03:03 | jemma Vooght |
| 81 | 2022-09-24 11:37:26 | Lee Williams |
| 82 | 2022-09-24 19:05:26 | C J |
| 83 | 2022-09-23 05:11:06 | Mike Branch |
| 84 | 2022-09-24 12:00:17 | Emma Davies |
| 85 | 2022-09-24 08:31:56 | Christina Allen |
| 86 | 2022-09-24 19:05:26 | C J |
| 87 | 2022-09-24 15:50:25 | Stephanie Mccandless |
| 88 | 2022-09-24 20:03:39 | Helen Holloway |
| 89 | 2022-09-24 17:33:15 | Joseph Clifford |
| 90 | 2022-09-24 20:50:47 | Lisa Burgess |
| 91 | 2022-09-24 18:57:09 | Staci Bolt |
| 92 | 2022-09-24 20:17:04 | Holly Louise |
| 93 | 2022-09-24 20:51:06 | Amy Hall |
| 94 | 2022-09-24 06:57:49 | Hayley Twine-Hibbs |
| 95 | 2022-09-24 20:26:46 | Nicola Bird |
| 96 | 2022-09-23 05:11:06 | Mike Branch |
| 97 | 2022-09-24 19:05:26 | C J |
| 98 | 2022-09-24 19:05:26 | C J |
| 99 | 2022-09-24 20:50:47 | Lisa Burgess |
| 100 | 2022-09-24 20:03:39 | Helen Holloway |