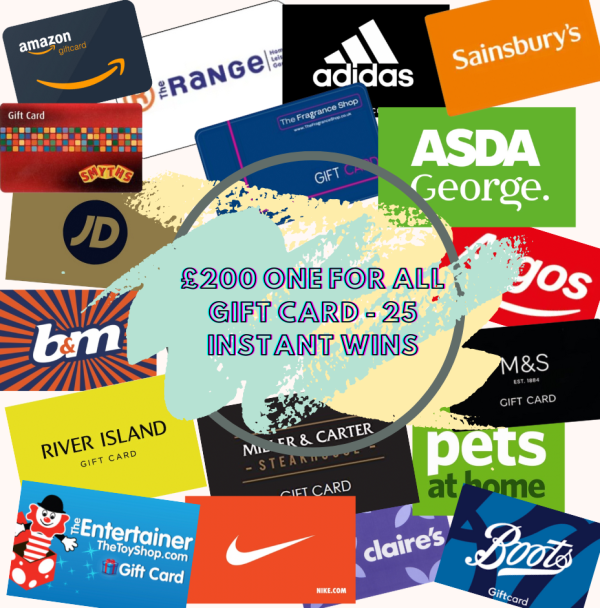 AUTO INSTANT WIN – MAIN JACKPOT £200 ONE FOR ALL GIFT CARD PLUS 25 INSTANT WINS – 25/11
Description
AUTO INSTANT WIN – MAIN JACKPOT £200 ONE FOR ALL GIFT CARD PLUS 25 INSTANT WINS – 25/11
AUTO WIN – NO LIVE DRAW – WINNER WILL BE CONTACTED WITHIN 24 HOURS
WIN A £200 ONE FOR ALL GIFT CARD MAIN JACKPOT PLUS 25 INSTANT WINS UP FOR GRABS
DESCRIPTION
ONE winner will WIN A £200 ONE FOR ALL GIFT CARD
Each ticket purchased for this competition will be entered into main prize, regardless if you win any instant wins!
Simply enter the raffle and you will be randomly allocated your tickets. If your tickets match one of the numbers in the description below, you will win that prize instantly!
Ticket numbers are allocated randomly to every order.
we will contact all instant winners
If your ticket number (s) match then you win the prize next to it.
IF YOU WISH TO EXCHANGE FOR CASH ALT ON ALL PRIZES, IT WILL BE 80% OF THE PRIZE VALUE.
YOU COULD WIN MORE THAN ONE PRIZE INSTANTLY
Even if you don't manage to secure an instant win on this occasion, you are still entered in with all your entries to our £200 ONE FOR ALL GIFT CARD MAIN PRIZE
Instant Wins
| Ticket | Prize | Winner |
| --- | --- | --- |
| 22 | £100 Argos Gift Card | Amy Shepherd |
| 84 | £100 Asda Gift Card | |
| 110 | £100 Pets at Home Gift Card | |
| 203 | £100 Entertainer Gift Card | Lynsey Sinanaj |
| 258 | £100 B&M Gift Card | Amanda Logue |
| 300 | £100 Amazon Gift Card | Lucy M |
| 357 | £100 M&S Gift Card | Ebony Henning |
| 374 | £100 Miller & Carter Gift Card | |
| 443 | £100 Adidas Gift Card | |
| 865 | £100 JD Sports Gift Card | J R |
| 923 | £100 The Fragrance Shop Gift Card | |
| 951 | £100 The Range Gift Card | Lynsey Sinanaj |
| 1110 | £100 Smyths Gift Card | |
| 1143 | £100 Boots Gift Card | Isabel Eva |
| 1781 | £100 Nandos Gift Card | |
| 1897 | £100 River Island Gift Card | |
| 1938 | £100 Iceland Gift Card | |
| 1999 | £100 Sainsburys Gift Card | Jennifer Greenham |
| 2059 | £100 Claires Gift Card | |
| 2076 | £100 h&M Gift Card | |
| 2194 | £100 Ikea Gift Card | Jo B |
| 2555 | £100 Tesco Gift Card | |
| 2580 | £100 Primark Gift Card | |
| 2614 | £100 Morrisons Gift Card | |
| 2629 | £100 Nike Gift Card | |
| Winner Name | Ticket Number | Draw Date |
| --- | --- | --- |
| Charlotte Hobson | 1359 | 25/11/2023 |
1-500
501-1000
1001-1500
1501-2000
2001-2500
2501-3000
| Ticket Number | Date | Name |
| --- | --- | --- |
| 1 | 2023-11-24 01:47:24 | Suzi Gooding |
| 12 | 2023-11-20 19:56:29 | Rachel Nicholson |
| 13 | 2023-11-24 21:55:46 | Ebony Henning |
| 16 | 2023-11-25 16:19:34 | Nicholas Warnes |
| 19 | 2023-11-23 11:27:08 | Nigel Call |
| 21 | 2023-11-24 22:13:09 | Ebony Henning |
| 22 | 2023-11-25 19:40:18 | Amy Shepherd |
| 23 | 2023-11-25 19:36:45 | James Cozens |
| 25 | 2023-11-25 19:00:38 | Ebony Henning |
| 26 | 2023-11-25 18:27:53 | Kayleigh Garrett |
| 27 | 2023-11-24 13:39:59 | Claire Bolton |
| 29 | 2023-11-20 18:34:56 | R M |
| 32 | 2023-11-25 08:05:48 | Shaun Gillard |
| 36 | 2023-11-25 11:56:55 | C L P J |
| 38 | 2023-11-25 17:54:23 | Donna Thompson |
| 39 | 2023-11-20 12:37:47 | Tahlia Cook |
| 42 | 2023-11-25 19:38:48 | Jessica Roxanne |
| 43 | 2023-11-25 18:39:09 | Adam Welsman |
| 44 | 2023-11-20 11:08:25 | Maria Mckimm |
| 46 | 2023-11-24 01:47:24 | Suzi Gooding |
| 47 | 2023-11-25 11:34:53 | Dominic Packer |
| 51 | 2023-11-24 11:29:48 | JMS S |
| 54 | 2023-11-25 16:45:47 | A.T W. |
| 55 | 2023-11-20 21:48:37 | JMS S |
| 57 | 2023-11-25 19:55:56 | Jessica Pellens |
| 61 | 2023-11-25 12:16:42 | Cameron Thompson |
| 62 | 2023-11-22 21:46:22 | Vikki Laws |
| 63 | 2023-11-25 05:55:45 | Lynsey Sinanaj |
| 64 | 2023-11-25 19:53:54 | amy Parr |
| 74 | 2023-11-20 11:08:25 | Maria Mckimm |
| 79 | 2023-11-25 19:19:37 | Lee Gable |
| 81 | 2023-11-24 21:55:46 | Ebony Henning |
| 87 | 2023-11-25 19:53:54 | amy Parr |
| 94 | 2023-11-25 13:30:17 | Tanya Sherlock |
| 100 | 2023-11-20 10:46:23 | Brooke Dolbear |
| 102 | 2023-11-25 00:31:53 | Aaron Woodbridge |
| 109 | 2023-11-25 18:33:57 | Kayleigh Garrett |
| 111 | 2023-11-25 17:14:08 | Maria Walkey |
| 112 | 2023-11-25 14:31:16 | Nicole Walsh |
| 114 | 2023-11-25 19:26:10 | Jessica Pellens |
| 115 | 2023-11-23 21:13:52 | Nigel Call |
| 118 | 2023-11-25 18:20:07 | Christopher Priest |
| 119 | 2023-11-20 10:49:59 | J E |
| 120 | 2023-11-20 10:49:59 | J E |
| 122 | 2023-11-25 08:47:50 | Sami Knott |
| 123 | 2023-11-25 19:23:42 | Gemma Bennett |
| 128 | 2023-11-25 15:34:35 | Emma Pride |
| 136 | 2023-11-24 21:02:40 | Joanne Kirk |
| 137 | 2023-11-25 15:12:36 | Rebecca Brewer |
| 138 | 2023-11-25 07:51:44 | Kayleigh Garrett |
| 140 | 2023-11-25 14:01:53 | Ebony Henning |
| 147 | 2023-11-25 08:47:50 | Sami Knott |
| 150 | 2023-11-24 21:55:46 | Ebony Henning |
| 151 | 2023-11-25 18:14:52 | Donna Heardson |
| 156 | 2023-11-25 18:20:07 | Christopher Priest |
| 157 | 2023-11-25 13:30:03 | T S |
| 158 | 2023-11-22 12:01:00 | Chelsea Jeffrey |
| 159 | 2023-11-25 18:56:06 | Rachel Gilbert |
| 160 | 2023-11-25 19:00:38 | Ebony Henning |
| 161 | 2023-11-25 16:15:49 | Robert Mucklow |
| 162 | 2023-11-24 19:43:32 | Tara Finn |
| 168 | 2023-11-21 14:32:27 | Stacey B |
| 172 | 2023-11-23 07:00:38 | Rachael Bury |
| 174 | 2023-11-25 09:14:24 | R H |
| 175 | 2023-11-25 00:03:17 | Amy Shoyer |
| 176 | 2023-11-25 19:48:08 | Jenny Stone |
| 177 | 2023-11-25 11:04:25 | Amy Galley |
| 180 | 2023-11-25 19:27:03 | Victoria M |
| 182 | 2023-11-20 20:08:53 | J R |
| 185 | 2023-11-20 10:49:59 | J E |
| 187 | 2023-11-25 07:39:53 | Hugh Parker |
| 189 | 2023-11-25 19:38:14 | James Cozens |
| 190 | 2023-11-24 08:59:15 | Kate Clifford |
| 191 | 2023-11-25 04:59:26 | Marie Sandford |
| 194 | 2023-11-25 18:58:24 | Ebony Henning |
| 195 | 2023-11-25 13:33:25 | T S |
| 198 | 2023-11-21 15:22:23 | J R |
| 202 | 2023-11-24 21:55:46 | Ebony Henning |
| 203 | 2023-11-20 21:58:52 | Lynsey Sinanaj |
| 204 | 2023-11-23 11:27:00 | Sarah Bird |
| 205 | 2023-11-25 19:47:29 | Mark Lowe |
| 208 | 2023-11-25 19:48:08 | Jenny Stone |
| 212 | 2023-11-24 23:26:13 | Jaeton Nolan |
| 215 | 2023-11-20 18:34:56 | R M |
| 217 | 2023-11-20 19:13:34 | Beth Wheeler |
| 220 | 2023-11-24 23:27:34 | Jaeton Nolan |
| 222 | 2023-11-25 18:58:24 | Ebony Henning |
| 223 | 2023-11-25 08:50:03 | Sami Knott |
| 225 | 2023-11-21 15:22:23 | J R |
| 227 | 2023-11-25 10:32:57 | Amy Shoyer |
| 234 | 2023-11-25 18:17:39 | Amy Shoyer |
| 235 | 2023-11-25 14:01:53 | Ebony Henning |
| 241 | 2023-11-20 21:57:21 | Jeanette Anderson |
| 242 | 2023-11-21 15:22:23 | J R |
| 246 | 2023-11-25 19:02:09 | Karen Mclean |
| 251 | 2023-11-25 09:56:32 | Valerie Augusti |
| 253 | 2023-11-24 23:39:54 | Jake Seldon |
| 254 | 2023-11-25 19:55:56 | Jessica Pellens |
| 257 | 2023-11-20 13:10:14 | Iain Thomas |
| 258 | 2023-11-25 19:38:44 | Amanda Logue |
| 260 | 2023-11-25 10:36:09 | Emma & lee |
| 262 | 2023-11-20 11:08:25 | Maria Mckimm |
| 264 | 2023-11-25 14:00:16 | Kerry McLean |
| 268 | 2023-11-25 19:26:10 | Jessica Pellens |
| 270 | 2023-11-25 19:13:35 | Kayleigh Garrett |
| 274 | 2023-11-25 19:58:43 | Jessica Pellens |
| 275 | 2023-11-25 11:34:13 | Samantha Bailey |
| 277 | 2023-11-20 10:48:42 | Lynn Mcfaull |
| 283 | 2023-11-22 20:10:41 | Demi Broome |
| 284 | 2023-11-24 21:34:27 | Lianne Abercrombie |
| 285 | 2023-11-25 18:06:37 | Brad Lovatt |
| 288 | 2023-11-25 19:47:29 | Mark Lowe |
| 293 | 2023-11-25 19:13:35 | Kayleigh Garrett |
| 294 | 2023-11-25 19:42:21 | Jessica Pellens |
| 295 | 2023-11-25 00:04:08 | Amy Shoyer |
| 299 | 2023-11-25 19:58:21 | K W |
| 300 | 2023-11-25 14:36:46 | Lucy M |
| 301 | 2023-11-20 10:41:51 | Jade La'moon |
| 305 | 2023-11-25 19:26:10 | Jessica Pellens |
| 308 | 2023-11-25 13:33:25 | T S |
| 313 | 2023-11-25 19:11:32 | A.T W. |
| 314 | 2023-11-25 19:33:05 | Vicky Albinson |
| 319 | 2023-11-25 19:32:37 | Julie Cornford |
| 320 | 2023-11-25 16:15:49 | Robert Mucklow |
| 323 | 2023-11-25 19:47:29 | Mark Lowe |
| 326 | 2023-11-25 18:33:57 | Kayleigh Garrett |
| 329 | 2023-11-23 11:27:08 | Nigel Call |
| 330 | 2023-11-25 00:57:27 | Lee Gable |
| 332 | 2023-11-25 13:28:49 | Tanya Sherlock |
| 333 | 2023-11-25 19:36:36 | Amy Shepherd |
| 334 | 2023-11-25 17:47:47 | Andrea Hemmings |
| 336 | 2023-11-24 22:47:14 | s E |
| 338 | 2023-11-22 22:13:59 | Niki Oates |
| 339 | 2023-11-25 13:33:25 | T S |
| 342 | 2023-11-25 17:52:39 | Jeanette Anderson |
| 344 | 2023-11-25 18:52:11 | Nancy stevens |
| 345 | 2023-11-23 19:51:44 | Alexander Ross |
| 353 | 2023-11-24 21:48:47 | Terianne Robson-Burrell |
| 357 | 2023-11-24 21:50:28 | Ebony Henning |
| 359 | 2023-11-24 17:36:29 | Claire King |
| 360 | 2023-11-24 12:29:58 | Katie Schneider |
| 361 | 2023-11-25 15:00:27 | ian McHale |
| 363 | 2023-11-25 19:42:21 | Jessica Pellens |
| 364 | 2023-11-25 00:02:34 | Amy Shoyer |
| 365 | 2023-11-25 14:04:52 | A.T W. |
| 366 | 2023-11-24 21:42:38 | Allison Potger |
| 369 | 2023-11-25 19:22:10 | Amy G |
| 372 | 2023-11-25 19:58:43 | Jessica Pellens |
| 373 | 2023-11-25 15:59:50 | Philip Eddy |
| 375 | 2023-11-25 18:59:26 | Lee Gable |
| 379 | 2023-11-25 09:53:28 | Jodie Ellis |
| 383 | 2023-11-25 15:03:08 | Kerry McLean |
| 386 | 2023-11-24 12:29:58 | Katie Schneider |
| 388 | 2023-11-25 18:59:46 | Kirsty Westwood |
| 391 | 2023-11-25 17:26:38 | Tyler Haynes |
| 392 | 2023-11-20 21:58:52 | Lynsey Sinanaj |
| 393 | 2023-11-25 15:26:01 | LL BB |
| 403 | 2023-11-25 10:07:28 | Amy Nicholls |
| 404 | 2023-11-20 11:13:52 | Brooke Dolbear |
| 405 | 2023-11-25 10:45:51 | S-L M |
| 406 | 2023-11-21 09:11:49 | Isabel Eva |
| 409 | 2023-11-20 11:00:41 | Clare Johns |
| 416 | 2023-11-25 09:34:51 | Pamela Johnston |
| 417 | 2023-11-22 12:01:00 | Chelsea Jeffrey |
| 421 | 2023-11-25 19:06:16 | Jo Allen |
| 422 | 2023-11-25 11:23:46 | Lindon Cordy |
| 424 | 2023-11-20 15:04:25 | Kayleigh Williams |
| 426 | 2023-11-22 22:16:07 | Jennifer White |
| 430 | 2023-11-25 19:32:37 | Julie Cornford |
| 432 | 2023-11-25 18:20:07 | Christopher Priest |
| 435 | 2023-11-20 19:13:34 | Beth Wheeler |
| 436 | 2023-11-21 03:47:14 | nicola o'rourke |
| 438 | 2023-11-25 15:40:01 | Alex Walters |
| 439 | 2023-11-23 00:27:11 | Claire Lou |
| 442 | 2023-11-25 19:17:33 | Tracey Rowe |
| 445 | 2023-11-25 09:44:44 | Hayley Layton |
| 448 | 2023-11-23 21:57:24 | Anna Vickery |
| 452 | 2023-11-25 18:58:24 | Ebony Henning |
| 457 | 2023-11-25 13:36:27 | Matthew Baker |
| 458 | 2023-11-20 10:52:35 | Colin Kneeshaw |
| 459 | 2023-11-25 13:59:57 | Ebony Henning |
| 466 | 2023-11-24 22:50:12 | Alexander Ross |
| 468 | 2023-11-25 17:14:08 | Maria Walkey |
| 469 | 2023-11-25 19:36:45 | James Cozens |
| 473 | 2023-11-25 19:00:20 | Shelley Lenton |
| 481 | 2023-11-25 18:33:04 | Lee Rae |
| 482 | 2023-11-25 19:05:50 | Amy C |
| 483 | 2023-11-25 00:57:27 | Lee Gable |
| 486 | 2023-11-20 10:49:59 | J E |
| 489 | 2023-11-25 19:52:08 | Jessica Pellens |
| 490 | 2023-11-24 11:47:24 | Jade Watson |
| 493 | 2023-11-25 14:31:16 | Nicole Walsh |
| 494 | 2023-11-22 20:42:39 | Hannah Fiddy |
| 497 | 2023-11-25 19:32:45 | Mike M |