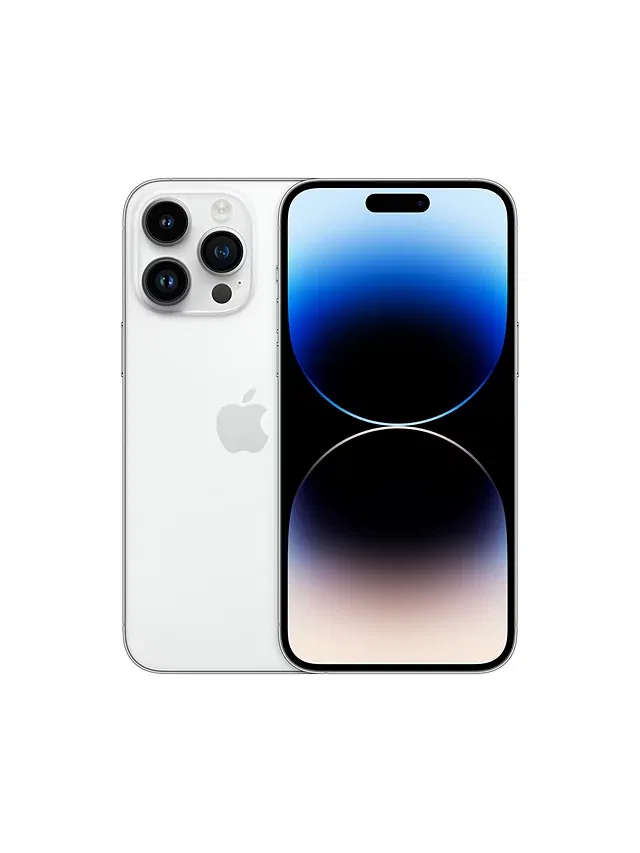 Apple iPhone 14 Pro Max, iOS, 6.7″, 5G, SIM Free, 512GB, Silver
Description
Apple iPhone 14 Pro Max, iOS, 6.7″, 5G, SIM Free, 512GB, Silver
Pro doesn't do justice to how impressive this iPhone is. With a massive camera upgrade, Apple's new super-speedy A16 Bionic chip, tonnes of safety innovations, and a screen so pretty it rivals most TVs, this is one seriously impressive piece of tech. And yet, even with all its new capabilities, it still delivers amazing all‑day battery life. Bravo, Apple. You've redefined what a smartphone can be. Again.
5G capability
Say bye-bye to buffering. The super-fast 5G ready connection zips through downloads at record pace. Stream, browse, and watch whatever you want, wherever you want. Waiting forever for your Instagram feed to load up will be a distant memory.
Meet the new face of iPhone
Replacing the notch, the new Dynamic Island blends the line between hardware and software, adapting in real-time to show important alerts, notifications, and activities. It bubbles up things like music, FaceTime and more – all without taking you away from what you're doing.
Always at the ready.
Now your Lock Screen is always glanceable, so you don't even have to tap it to stay in the know. Don't worry about battery life either. When it's turned face down or in your pocket, it goes dark to save battery life.
Easy on the eyes
Featuring Apple's ProMotion technology, the screen can refresh up to 120 times per second, giving you smoother scrolling, improved responsiveness and crystal-clear visuals. It'll adapt to whatever's on-screen; ramping up performance when you need it most, and preserving battery when you don't.
Your iPhone. Your photo. Your font. Your widgets.
iOS 16 lets you customise your Lock Screen in fun new ways. Layer a photo to make it pop, track your activity, and see live updates from your favourite apps.
Shoot like a pro
The 48MP main lens and quad-pixel sensor promise better-than-life holiday snaps, and the Photonic engine improves detail, colour and texture in low-to-mid-light settings. Put simply, casual or pro, every picture, day, night, indoors or out, looks great.
Lights. Camera. Action.
Cinematic mode now shoots in 4K HDR at 24 fps, the film industry standard. And if you're on the move, Action mode ensures smooth videos – no editing required.
Dust, drop and splash resistant
Ceramic Shield safeguards against unexpected bumps and knocks, whilst the fingerprint-resistant coating helps keep your phone looking glamorous. IP68 water resistance also means there's no need to worry if you accidentally drop it in the bath either. Still, best to avoid taking a dip together if you can.
For the bigger bumps and knocks
Crash Detection calls for help when you can't. Identifying any sudden shifts in speed, direction and pressure, the iPhone 14 Pro Max automatically calls 999 and notifies emergency contacts if you don't respond.
Emergency SOS via Satellite
With Emergency SOS via Satellite, you can text with the emergency services, even when cellular and Wi-Fi coverage aren't available. (This service is included free for two years with the activation of any iPhone 14 model, after which time charges will apply. Connection and response times vary based on location, site conditions and other factors.)
A battery for all day and all night
Run apps like YouTube and Netflix for over 29 hours without the need to grab the nearest charger. If you're listening to music or an audiobook, it's even longer at 95 hours. When you do need a bit more juice, it's Fast Charging compatible, so don't worry about being tied to an outlet for too long.
SIM free
This mobile phone comes SIM-free and unlocked. You'll have access to SIM-only deals, so there's no requirement to commit to any network. These usually offer far better value for money – especially for all-important data plans.
| Winner Name | Ticket Number | Draw Date |
| --- | --- | --- |
| Lee Wallace | 88 | 01/12/2023 |
1-500
501-1000
1001-1500
1501-2000
2001-2500
2501-3000
3001-3500
3501-4000
| Ticket Number | Date | Name |
| --- | --- | --- |
| 1 | 2023-11-30 19:45:37 | Bonnie Van Beek |
| 2 | 2023-11-30 19:45:37 | Bonnie Van Beek |
| 3 | 2023-11-30 17:34:24 | JMS S |
| 4 | 2023-12-01 12:44:42 | Ria Dance |
| 5 | 2023-12-01 00:08:00 | Mark Wilson |
| 6 | 2023-11-29 18:58:23 | Tanya Lopez |
| 7 | 2023-11-29 10:47:58 | Joyce Cunliffe |
| 8 | 2023-12-01 10:17:34 | Sarah Heal |
| 9 | 2023-11-29 22:49:18 | Carol Harvey |
| 10 | 2023-11-29 18:58:23 | Tanya Lopez |
| 11 | 2023-11-29 18:19:47 | D T |
| 12 | 2023-11-30 17:34:24 | JMS S |
| 13 | 2023-11-29 19:38:57 | Natalie Mogg |
| 14 | 2023-11-30 22:26:50 | Sarah Frost |
| 15 | 2023-11-30 20:47:41 | Ashleigh Hambly |
| 16 | 2023-12-01 09:29:21 | Linda Mcgillivray |
| 17 | 2023-11-29 18:19:47 | D T |
| 18 | 2023-11-30 15:03:04 | Gary Cousins |
| 19 | 2023-11-30 14:17:26 | Tara Grant |
| 20 | 2023-11-29 10:47:58 | Joyce Cunliffe |
| 21 | 2023-11-29 10:47:58 | Joyce Cunliffe |
| 22 | 2023-11-29 18:19:47 | D T |
| 23 | 2023-11-30 23:46:00 | Suzi Gooding |
| 24 | 2023-11-30 19:45:37 | Bonnie Van Beek |
| 25 | 2023-12-01 18:01:08 | Donna Bowden |
| 26 | 2023-12-01 12:18:22 | Jade Mallon |
| 27 | 2023-11-29 10:47:58 | Joyce Cunliffe |
| 28 | 2023-11-30 22:26:50 | Sarah Frost |
| 29 | 2023-11-30 14:43:28 | Helen Taylor-Bartle |
| 30 | 2023-11-30 15:03:04 | Gary Cousins |
| 31 | 2023-11-30 23:44:20 | Lee Gable |
| 32 | 2023-12-01 18:01:08 | Donna Bowden |
| 33 | 2023-11-29 10:47:58 | Joyce Cunliffe |
| 34 | 2023-11-30 14:17:26 | Tara Grant |
| 35 | 2023-12-01 13:24:48 | Hannah Jones |
| 36 | 2023-12-01 17:15:31 | Chelsea Mills |
| 37 | 2023-12-01 00:12:24 | Carolyn Chapple |
| 38 | 2023-11-29 22:49:18 | Carol Harvey |
| 39 | 2023-12-01 01:39:38 | Kimberley OLeary |
| 40 | 2023-12-01 16:03:02 | Christopher Priest |
| 41 | 2023-11-29 21:26:28 | Barrie Watts |
| 42 | 2023-12-01 14:39:08 | Denise Murphy |
| 43 | 2023-12-01 16:33:35 | Leslie Mills |
| 44 | 2023-12-01 16:37:26 | Marie Mckenna |
| 45 | 2023-11-30 22:21:04 | Helen Moore |
| 46 | 2023-11-30 19:45:37 | Bonnie Van Beek |
| 47 | 2023-12-01 17:14:59 | Josh Maddick |
| 48 | 2023-11-29 00:40:46 | Robert Carthew |
| 49 | 2023-12-01 18:43:52 | GARETH Lloyd |
| 50 | 2023-11-29 18:19:47 | D T |
| 51 | 2023-11-30 15:03:04 | Gary Cousins |
| 52 | 2023-11-29 18:19:47 | D T |
| 53 | 2023-11-30 19:45:37 | Bonnie Van Beek |
| 54 | 2023-12-01 10:26:13 | Angela jones |
| 55 | 2023-12-01 18:43:52 | GARETH Lloyd |
| 56 | 2023-11-30 23:46:00 | Suzi Gooding |
| 57 | 2023-12-01 18:54:23 | Simon Soper |
| 58 | 2023-11-30 22:21:04 | Helen Moore |
| 59 | 2023-11-28 21:54:18 | Jodie Smith |
| 60 | 2023-12-01 17:54:21 | Anthony Moss |
| 61 | 2023-12-01 13:26:35 | Rhianna Evans |
| 62 | 2023-12-01 18:54:23 | Simon Soper |
| 63 | 2023-12-01 13:24:48 | Hannah Jones |
| 64 | 2023-11-30 22:24:26 | Callum Deathridge |
| 65 | 2023-12-01 12:18:22 | Jade Mallon |
| 66 | 2023-12-01 09:29:21 | Linda Mcgillivray |
| 67 | 2023-12-01 16:33:35 | Leslie Mills |
| 68 | 2023-12-01 17:14:59 | Josh Maddick |
| 69 | 2023-11-29 18:19:47 | D T |
| 70 | 2023-11-30 19:45:37 | Bonnie Van Beek |
| 71 | 2023-11-28 21:48:06 | Lucia James |
| 72 | 2023-12-01 13:35:49 | Donna Higgins |
| 73 | 2023-12-01 17:04:40 | Pru Parnell |
| 74 | 2023-12-01 18:29:58 | William Danks |
| 75 | 2023-12-01 17:54:21 | Anthony Moss |
| 76 | 2023-12-01 18:54:47 | Debbie Deane |
| 77 | 2023-12-01 18:54:23 | Simon Soper |
| 78 | 2023-12-01 17:05:29 | Lisa Roberts |
| 79 | 2023-12-01 19:08:35 | Kate Mills |
| 80 | 2023-11-30 20:12:34 | Marie Mace |
| 81 | 2023-12-01 19:52:42 | Christie Ball |
| 82 | 2023-12-01 19:54:18 | Michaela Sanders |
| 83 | 2023-12-01 20:05:00 | Rachel Evans |
| 84 | 2023-12-01 09:57:15 | Kate B |
| 85 | 2023-11-30 22:26:50 | Sarah Frost |
| 86 | 2023-12-01 12:18:22 | Jade Mallon |
| 87 | 2023-12-01 16:45:30 | PAMELA ALLEN |
| 88 | 2023-12-01 18:51:22 | Lee Wallace |
| 89 | 2023-12-01 19:11:33 | Louisa Drew |
| 90 | 2023-12-01 19:52:42 | Christie Ball |
| 91 | 2023-12-01 18:41:00 | Allison Potger |
| 92 | 2023-12-01 20:05:00 | Rachel Evans |
| 93 | 2023-12-01 13:31:49 | Sophie Rowland |
| 94 | 2023-12-01 18:27:36 | Dean Hepburn |
| 95 | 2023-12-01 16:24:29 | Elizabeth Sansom |
| 96 | 2023-12-01 12:18:22 | Jade Mallon |
| 97 | 2023-12-01 19:35:08 | Miss Kimberley Sharman |
| 98 | 2023-12-01 19:35:08 | Miss Kimberley Sharman |
| 99 | 2023-11-29 18:19:47 | D T |
| 100 | 2023-11-29 19:38:57 | Natalie Mogg |
| 101 | 2023-11-29 18:19:47 | D T |
| 102 | 2023-12-01 19:09:48 | Claire Sullivan |
| 103 | 2023-11-30 17:34:24 | JMS S |
| 104 | 2023-12-01 19:29:14 | barbara warne |
| 105 | 2023-12-01 16:33:35 | Leslie Mills |
| 106 | 2023-12-01 19:31:36 | Darren Mclean |
| 107 | 2023-12-01 17:27:59 | Nic B |
| 108 | 2023-12-01 12:42:52 | Lynn Kennedy |
| 109 | 2023-12-01 09:02:28 | Kim Loosemore |
| 110 | 2023-12-01 15:13:46 | Linda Grimshaw |
| 111 | 2023-11-30 21:39:23 | D T |
| 112 | 2023-11-30 20:40:36 | Wayne Mills |
| 113 | 2023-12-01 00:12:24 | Carolyn Chapple |
| 114 | 2023-12-01 11:35:22 | Jennifer White |
| 115 | 2023-11-30 14:17:26 | Tara Grant |
| 116 | 2023-12-01 20:20:21 | Bill Danks |
| 117 | 2023-11-30 10:07:48 | Molly Meads |
| 118 | 2023-11-30 21:39:23 | D T |
| 119 | 2023-12-01 19:39:11 | Sue Manders |
| 120 | 2023-12-01 15:10:51 | Justin Lashley |
| 121 | 2023-12-01 07:25:12 | Jon Moss |
| 122 | 2023-12-01 20:30:29 | Irene Evans |
| 123 | 2023-12-01 10:10:14 | D T |
| 124 | 2023-12-01 20:20:21 | Bill Danks |
| 125 | 2023-12-01 20:03:59 | Chris Cook |
| 126 | 2023-12-01 20:34:40 | Hannah Jones |
| 129 | 2023-12-01 12:27:37 | Emily Griffiths |
| 133 | 2023-12-01 18:54:23 | Simon Soper |
| 134 | 2023-12-01 19:29:14 | barbara warne |
| 135 | 2023-12-01 19:06:45 | Liane Keenan |
| 136 | 2023-12-01 20:27:27 | Tasha Jones |
| 138 | 2023-12-01 20:34:40 | Hannah Jones |
| 139 | 2023-11-30 21:34:53 | Jacqui Plain |
| 140 | 2023-12-01 20:44:45 | Rachi B |
| 143 | 2023-12-01 19:33:24 | Emma M |
| 144 | 2023-11-30 20:33:41 | Clare Keating |
| 145 | 2023-12-01 16:45:30 | PAMELA ALLEN |
| 146 | 2023-12-01 00:08:00 | Mark Wilson |
| 147 | 2023-11-30 15:03:04 | Gary Cousins |
| 148 | 2023-12-01 00:08:00 | Mark Wilson |
| 152 | 2023-12-01 20:33:43 | Kirsty Griffin |
| 153 | 2023-12-01 19:55:51 | Elise Watling |
| 155 | 2023-12-01 16:03:02 | Christopher Priest |
| 157 | 2023-12-01 19:37:49 | Lindsay Jones |
| 158 | 2023-12-01 19:54:18 | Michaela Sanders |
| 160 | 2023-12-01 12:27:37 | Emily Griffiths |
| 161 | 2023-12-01 20:26:36 | John Higgs |
| 162 | 2023-12-01 20:43:14 | Julie Woodmore |
| 163 | 2023-12-01 19:31:36 | Darren Mclean |
| 164 | 2023-12-01 20:31:48 | Julie Owens |
| 165 | 2023-12-01 19:37:49 | Lindsay Jones |
| 166 | 2023-12-01 16:03:02 | Christopher Priest |
| 167 | 2023-12-01 19:52:42 | Christie Ball |
| 168 | 2023-12-01 17:24:26 | Kaitlin Hamilton |
| 169 | 2023-12-01 10:10:14 | D T |
| 170 | 2023-12-01 16:00:49 | Vivien V |
| 171 | 2023-12-01 06:45:46 | Jake Pitman |
| 172 | 2023-12-01 19:58:21 | Rebecca Wells |
| 173 | 2023-12-01 17:33:45 | Tahlia Cook |
| 177 | 2023-12-01 20:19:59 | David Pemberton |
| 178 | 2023-12-01 19:33:24 | Jackie bowman |
| 179 | 2023-12-01 19:29:39 | Simon Sherlock |
| 180 | 2023-12-01 18:59:15 | Louise Street |
| 182 | 2023-12-01 19:45:53 | Lewis Dennis |
| 183 | 2023-12-01 19:35:46 | Sasha Conway |
| 187 | 2023-12-01 16:56:08 | Tracy Wigmore |
| 191 | 2023-11-30 13:04:46 | Katie Taylor |
| 193 | 2023-12-01 10:15:39 | Jay Brownie |
| 194 | 2023-12-01 08:25:05 | Lyn Peters |
| 195 | 2023-12-01 17:24:26 | Kaitlin Hamilton |
| 196 | 2023-12-01 20:30:29 | Irene Evans |
| 197 | 2023-12-01 20:14:21 | Rebecca Slade |
| 198 | 2023-12-01 19:31:36 | Darren Mclean |
| 200 | 2023-12-01 18:07:49 | Jennie Barnard |
| 201 | 2023-12-01 19:01:51 | m c |
| 202 | 2023-11-30 12:07:36 | Mrs Louise g parker Parker |
| 203 | 2023-12-01 16:33:35 | Leslie Mills |
| 205 | 2023-12-01 20:11:58 | Rachael Triggs |
| 206 | 2023-12-01 12:44:50 | Jessica Roxanne |
| 207 | 2023-12-01 20:40:05 | Paul Gardner |
| 209 | 2023-12-01 19:10:44 | Paul George |
| 210 | 2023-12-01 20:06:57 | KN B |
| 211 | 2023-12-01 12:53:43 | Callum Noyce |
| 212 | 2023-12-01 20:29:42 | Helen Corbyn |
| 213 | 2023-12-01 20:49:42 | D Th |
| 215 | 2023-11-30 19:43:12 | Natalie Mogg |
| 217 | 2023-12-01 19:11:01 | Rachel Low |
| 218 | 2023-12-01 19:22:23 | T C |
| 219 | 2023-11-29 20:51:52 | D S |
| 221 | 2023-12-01 00:08:00 | Mark Wilson |
| 222 | 2023-12-01 19:31:10 | Katrina S |
| 223 | 2023-12-01 19:29:39 | Simon Sherlock |
| 224 | 2023-12-01 20:12:56 | Amanda Moore |
| 225 | 2023-12-01 17:41:40 | Emma Wills |
| 227 | 2023-12-01 18:51:22 | Lee Wallace |
| 229 | 2023-11-29 20:55:20 | Hannah Haines |
| 231 | 2023-11-30 14:17:26 | Tara Grant |
| 232 | 2023-11-29 19:50:46 | Gemma McCarthy |
| 233 | 2023-12-01 07:25:12 | Jon Moss |
| 234 | 2023-12-01 19:11:01 | Rachel Low |
| 235 | 2023-12-01 20:30:29 | Irene Evans |
| 238 | 2023-12-01 14:53:55 | Marc Speed |
| 239 | 2023-11-30 14:19:56 | Christina Doyle |
| 241 | 2023-12-01 02:31:10 | Nicholas Heath |
| 242 | 2023-12-01 16:30:13 | Tia Rice |
| 245 | 2023-11-30 20:42:46 | Sarah Creer |
| 246 | 2023-11-29 21:26:28 | Barrie Watts |
| 247 | 2023-12-01 19:22:23 | T C |
| 249 | 2023-12-01 20:31:08 | Lesley Jones |
| 250 | 2023-12-01 20:22:43 | Amanda Rivers |
| 251 | 2023-12-01 19:28:32 | Amanda Williams |
| 252 | 2023-12-01 07:25:12 | Jon Moss |
| 253 | 2023-12-01 08:43:04 | A.T W. |
| 254 | 2023-11-30 20:19:57 | Hayley Mailey |
| 257 | 2023-12-01 20:20:21 | Bill Danks |
| 258 | 2023-12-01 17:27:59 | Nic B |
| 259 | 2023-12-01 18:47:06 | Georgia Brown |
| 260 | 2023-12-01 18:47:32 | Jake Mole |
| 261 | 2023-12-01 20:15:25 | NEIL wagstaffe |
| 262 | 2023-12-01 20:55:38 | Ellie Wilkins |
| 263 | 2023-12-01 20:20:21 | Bill Danks |
| 264 | 2023-12-01 20:35:59 | Darren Wass |
| 265 | 2023-12-01 15:30:24 | linda hi hi Brown |
| 266 | 2023-12-01 19:31:36 | Darren Mclean |
| 267 | 2023-12-01 19:17:09 | Thomas Boyling |
| 268 | 2023-12-01 19:46:37 | Rachi B |
| 269 | 2023-12-01 10:10:14 | D T |
| 271 | 2023-12-01 19:52:42 | Christie Ball |
| 272 | 2023-12-01 20:48:21 | carly payne |
| 273 | 2023-11-30 23:46:00 | Suzi Gooding |
| 274 | 2023-12-01 08:56:51 | Shiobhan Westcott |
| 275 | 2023-12-01 10:10:14 | D T |
| 276 | 2023-12-01 19:01:51 | m c |
| 277 | 2023-11-29 19:50:46 | Gemma McCarthy |
| 278 | 2023-12-01 17:14:59 | Josh Maddick |
| 279 | 2023-12-01 20:19:57 | Michelle Harvey |
| 280 | 2023-12-01 12:53:43 | Callum Noyce |
| 281 | 2023-12-01 15:04:35 | Kevin Wilson |
| 282 | 2023-12-01 20:17:02 | Tracey Woodcock |
| 285 | 2023-12-01 19:55:12 | juliet cullen |
| 286 | 2023-12-01 19:11:01 | Rachel Low |
| 287 | 2023-12-01 19:31:36 | Darren Mclean |
| 288 | 2023-11-29 00:40:46 | Robert Carthew |
| 291 | 2023-12-01 08:56:51 | Shiobhan Westcott |
| 292 | 2023-11-30 18:36:54 | Vikki Laws |
| 293 | 2023-12-01 19:02:41 | Joshua Halls-Duncan |
| 295 | 2023-12-01 20:45:45 | D T |
| 296 | 2023-12-01 18:59:15 | Jessica Roxanne |
| 297 | 2023-12-01 09:57:15 | Kate B |
| 298 | 2023-12-01 19:31:36 | Darren Mclean |
| 307 | 2023-12-01 19:31:36 | Darren Mclean |
| 308 | 2023-12-01 19:11:33 | Louisa Drew |
| 310 | 2023-11-30 14:17:26 | Tara Grant |
| 311 | 2023-12-01 15:49:52 | Laura Smith |
| 312 | 2023-12-01 18:52:46 | Elizabeth Williams |
| 313 | 2023-12-01 19:11:01 | Leeì faulkner |
| 315 | 2023-12-01 17:24:12 | Sindy Scott |
| 316 | 2023-12-01 15:04:35 | Kevin Wilson |
| 318 | 2023-12-01 20:43:25 | Rodel Gonzales |
| 320 | 2023-12-01 20:33:43 | Kirsty Griffin |
| 322 | 2023-12-01 12:25:26 | Kylie Aveyard |
| 324 | 2023-12-01 19:31:36 | Darren Mclean |
| 327 | 2023-12-01 02:31:10 | Nicholas Heath |
| 329 | 2023-12-01 20:40:36 | C R |
| 330 | 2023-12-01 18:17:29 | Kelly Fru |
| 331 | 2023-12-01 20:28:14 | Victoria Brown |
| 333 | 2023-12-01 00:12:24 | Carolyn Chapple |
| 334 | 2023-12-01 19:58:57 | Lisa Fisher |
| 335 | 2023-12-01 20:44:03 | Nicola Berry |
| 336 | 2023-12-01 19:28:32 | Amanda Williams |
| 337 | 2023-11-29 20:51:52 | D S |
| 338 | 2023-11-29 10:50:46 | Gabrielle Morgan |
| 342 | 2023-12-01 16:07:21 | Sinead Cummings |
| 343 | 2023-12-01 20:14:21 | Rebecca Slade |
| 346 | 2023-12-01 20:40:36 | C R |
| 348 | 2023-12-01 20:53:50 | Jeffery Moseley |
| 349 | 2023-12-01 20:33:43 | Kirsty Griffin |
| 350 | 2023-12-01 18:32:34 | Gavin Argyle |
| 353 | 2023-12-01 07:49:23 | Victoria J |
| 355 | 2023-12-01 19:27:07 | Paige Collins |
| 356 | 2023-12-01 10:00:01 | Gavin Plumb |
| 357 | 2023-12-01 19:34:38 | Danielle Kelly |
| 358 | 2023-12-01 20:43:25 | Rodel Gonzales |
| 360 | 2023-12-01 20:43:42 | Jack Fleet |
| 362 | 2023-11-29 20:55:20 | Hannah Haines |
| 363 | 2023-12-01 12:53:43 | Callum Noyce |
| 364 | 2023-12-01 20:29:48 | Ellie Black |
| 365 | 2023-11-30 20:12:59 | Tracey Long |
| 366 | 2023-12-01 19:31:36 | Darren Mclean |
| 367 | 2023-12-01 19:10:44 | Paul George |
| 368 | 2023-12-01 18:32:34 | Gavin Argyle |
| 369 | 2023-12-01 15:04:35 | Kevin Wilson |
| 370 | 2023-12-01 19:22:23 | T C |
| 373 | 2023-12-01 20:08:09 | Hi Janine Tidball |
| 374 | 2023-12-01 19:31:36 | Darren Mclean |
| 375 | 2023-12-01 20:44:45 | Rachi B |
| 376 | 2023-11-29 22:49:18 | Carol Harvey |
| 377 | 2023-12-01 19:31:36 | Darren Mclean |
| 379 | 2023-11-30 18:39:32 | Ma Roberts |
| 380 | 2023-12-01 20:15:25 | NEIL wagstaffe |
| 383 | 2023-12-01 18:40:54 | Gary Pitt |
| 384 | 2023-12-01 20:42:00 | Kathryn Macleod |
| 386 | 2023-12-01 18:54:47 | Debbie Deane |
| 387 | 2023-12-01 07:00:34 | Margaret Hall |
| 388 | 2023-11-29 22:49:18 | Carol Harvey |
| 392 | 2023-12-01 19:27:00 | Catherine Beanland |
| 393 | 2023-12-01 20:29:48 | Ellie Black |
| 394 | 2023-12-01 18:24:22 | Paul Kelly |
| 396 | 2023-12-01 19:00:48 | Jade Vickers |
| 398 | 2023-12-01 20:09:35 | Dominic Rea |
| 399 | 2023-12-01 10:49:46 | Rachel Gilbert |
| 400 | 2023-12-01 20:09:33 | Gabrielle Morgan |
| 401 | 2023-11-30 18:39:32 | Ma Roberts |
| 402 | 2023-12-01 19:10:44 | Paul George |
| 403 | 2023-12-01 19:31:36 | Darren Mclean |
| 404 | 2023-12-01 18:27:36 | Dean Hepburn |
| 405 | 2023-12-01 19:48:55 | Rachel Brewer |
| 406 | 2023-12-01 13:43:40 | Colin Watkins |
| 407 | 2023-12-01 18:50:01 | Joanne Brolan |
| 409 | 2023-12-01 20:03:30 | Andrew Cooke |
| 412 | 2023-12-01 19:35:45 | Michelle Henry |
| 415 | 2023-12-01 20:14:28 | Paul Massheder |
| 417 | 2023-12-01 19:31:36 | Darren Mclean |
| 418 | 2023-12-01 19:06:45 | Liane Keenan |
| 419 | 2023-12-01 12:53:43 | Callum Noyce |
| 421 | 2023-12-01 12:22:06 | Fleur Egington |
| 422 | 2023-12-01 05:55:00 | emma mccauley |
| 425 | 2023-12-01 20:57:22 | Emma Lou |
| 427 | 2023-12-01 15:11:39 | Lauren Hoban |
| 429 | 2023-11-30 22:48:33 | Lucy Grant |
| 430 | 2023-12-01 20:52:58 | Joanne Corner |
| 431 | 2023-12-01 19:31:36 | Darren Mclean |
| 433 | 2023-12-01 20:38:58 | Paul Brailsford-dunn |
| 435 | 2023-12-01 19:22:23 | T C |
| 436 | 2023-12-01 20:38:33 | Jessica Roxanne |
| 437 | 2023-12-01 11:42:23 | Sarah Taylor |
| 438 | 2023-12-01 16:23:26 | Charlie Millar |
| 439 | 2023-12-01 10:55:47 | Stacey Karpinski |
| 441 | 2023-12-01 19:23:36 | Bex Dimmick |
| 442 | 2023-12-01 10:49:46 | Rachel Gilbert |
| 444 | 2023-11-30 22:20:30 | Tara Allen |
| 445 | 2023-12-01 18:52:43 | Zoe Egan |
| 447 | 2023-12-01 19:24:37 | Kirsty Bennett |
| 448 | 2023-12-01 20:38:52 | Kayleigh Leicester |
| 450 | 2023-11-30 22:29:31 | Nickey Bukin |
| 453 | 2023-12-01 19:45:53 | Lewis Dennis |
| 455 | 2023-12-01 20:43:42 | Jack Fleet |
| 456 | 2023-12-01 18:05:01 | David Mccandless |
| 457 | 2023-12-01 20:20:21 | Bill Danks |
| 458 | 2023-12-01 20:07:59 | Daniel Lillico |
| 459 | 2023-12-01 18:02:33 | Melanie Marks |
| 460 | 2023-12-01 19:46:37 | Rachi B |
| 461 | 2023-12-01 20:20:21 | Bill Danks |
| 462 | 2023-12-01 20:40:47 | Rodel Gonzales |
| 463 | 2023-12-01 20:20:21 | Bill Danks |
| 465 | 2023-12-01 19:46:37 | Rachi B |
| 466 | 2023-12-01 00:08:00 | Mark Wilson |
| 467 | 2023-12-01 20:20:21 | Bill Danks |
| 468 | 2023-12-01 20:59:29 | K S |
| 469 | 2023-12-01 20:26:36 | John Higgs |
| 471 | 2023-12-01 20:30:29 | Irene Evans |
| 476 | 2023-12-01 18:32:34 | Gavin Argyle |
| 482 | 2023-12-01 10:55:47 | Stacey Karpinski |
| 484 | 2023-12-01 20:44:45 | Rachi B |
| 486 | 2023-12-01 18:37:31 | Mitchell Butler |
| 488 | 2023-12-01 19:58:21 | Rebecca Wells |
| 491 | 2023-11-30 16:37:22 | Linda Grimshaw |
| 493 | 2023-12-01 18:58:41 | Richard Legge |
| 494 | 2023-12-01 12:06:31 | Victoria Soper |
| 495 | 2023-12-01 17:40:31 | Olivia Patchett |
| 498 | 2023-11-30 19:11:18 | Caroline Pressland |
| 499 | 2023-12-01 20:40:47 | Rodel Gonzales |
| 500 | 2023-12-01 00:12:24 | Carolyn Chapple |